Intergalactic Star Wars Day
What could the much-anticipated May the 4th Star Wars announcement reveal? James makes a few tongue-in-cheek predictions...
Laugh it up, fuzzball! Time for a celebration, it is. Cantina Band music and Ewok dancing, there must be. Movie screenings, mock lightsaber fights and cosplay events, we shall have. Yes, hmmm, talk like Yoda we will for on Sunday it shall be May 4th so, yes hrrrrm, Intergalactic Star Wars Day it is and - dropping the annoying Yoda-speak now - it's one of the most important annual dates on the geek culture calendar.
"May the Fourth be with you!" It's a lispy homophonic pun on "May the Force be with you". I hope you see how that works and are going to have a moment celebrating the saga on Sunday. If you are, I embrace you as a fellow Star Wars fan and send an exuberant "May the Fourth be with you!" your way. I follow that greeting with a salute and that oh-so-charismatic Han Solo smile because Han Solo is my spirit animal and on Sunday I'm going to mark the occasion by making the Kessel Run in less than 12 parsecs.
As far as commemorative acts go, re-enacting one of the Millennium Falcon's finest moments is a bit of a grandiose gesture, but it doesn't matter whether you make a big deal out of this day or just spend a few seconds reflecting on how great Star Wars is (or was, depending on your opinion on the franchise's development over the decades). A yearly nudge towards the most stellar of pop cultural phenomena is worthwhile indeed and May 4th is always a nice, evocative date regardless of how much effort or import you invest in the day.
Even so, though this thing rolls around annually there's a definite sense that Intergalactic Star Wars Day 2014 has a touch of additional significance about it. I feel something - something I have not felt since...
And you know what I mean. Search your feelings, you know it to be true. Presently there are great disturbances in the Force and a whole lot of excitement and fresh energy is palpable. A new Star Wars movie - an actual live-action movie - is in production and that movie will be the first of a new sequel trilogy continuing the saga from where it left off at the end of Return Of The Jedi.
This is massive, exciting, massively exciting and excitingly massive. The cast announcement made earlier this week amplified that massive excitement even more and sent our exhilarated hype levels into hyperdrive. Even so, even though we've got a fair handle on the inchoate Star Wars sequel project, the saga is still surrounded by mystery.
Sure, we know things like the main stars, that the director is JJ Abrams and that the release date of Episode VII is December 18th 2015. This week's cast reveal aside, though, for the most part the Star Wars camp have been quite secretive, silent and impassive as rumors, counter-rumors and pseudo-rumors have run wild in the press and social media spheres. There is information out there and I'm sure that many Bothans are dying for it but, yet, it's not reaching us. Tight-lipped teasers that they are, the people in charge are withholding it all.
They are the golden android god on an elevated seat of power and we are the enthralled furry Ewok throng. Nonetheless, the golden ones are benevolent and the casting reveal was a welcome shot of fresh, real news, but because we are self-entitled, fascinated franchise fans with an insatiable desire to know more, we want further revelations. Imagine a Star Wars-Grease mash-up picture and a bunch of Padawans gathered on the bleachers by the Jedi Academy singing "Tell me more! Tell me more!" Yes, it looks a bit like that.
More updates should and surely will be forthcoming. We expect and demand them and, what's more, we expect them on May 4th because such a thing would be timely. It is destiny, as decreed by a desperately eager and impatient fanbase and so, duly, the creative people behind Star Wars VII-IX are going to deliver more goods on May 4th and provide further enlightenment with another major update. At least, they will if they respect their audience and have any sense of showmanship, showwomanship or showdroidship.
But what will be revealed about the new trilogy - specifically the as-yet-untitled Star Wars VII film - on Intergalactic Star Wars Day? I thought it would be a good idea to speculate a little in anticipation of the event and you can have confidence in my premonitions because the Force is strong with me. The DIY Midi-Chlorian Insta-Count Kit I filched off a Toydarian junk trader back in Mos Espa proves this to be so. Mark my words - there will be more news on May 4th and here's what we may come to learn when the next update is dropped in timely fashion on Intergalactic Star Wars Day...
Even more original cast members are coming back
The cast reveal was premature (was it really so hard to just hang on until May 4th?) but, hey, now we've got a definite lock on the newcomers entering the multiverse - Max Von Sydow, Andy Serkis, Oscar Isaac, Domhnall Gleeson, John Boyega, Daisy Ridley and Adam Driver. There's great promise in that stellar roster, but even more thrilling is the official confirmation that the heroes of the Original Trilogy - Mark Hamill , Carrie Fisher, Harrison Ford, Peter Mayhew, Anthony Daniels and Kenny Baker - are all coming back for more.
The monochrome reading room ensemble photo was lovely, but there are more nice surprises in store for fans. Having unveiled their main stars too soon, the Star Wars VII producers are going to mark May 4th by putting on an official costume photoshoot styled to replicate the medal-giving ceremony that climaxes the first Star Wars film. That's not all though, for they will also announce that other legends of the Original Trilogy are going to be joining the party and providing potent character presence and nostalgia.
Ladies, gentlemen, Wookiees and protocol droids! Please welcome back Billy Dee Williams (Lando Calrissian), Warwick Davis (Wicket the Ewok), the ghost of Sir Alec Guinness (the ghost of Ben Kenobi) and Tim Rose (Admiral Ackbar and the resurgent Salacious B Crumb, the most repugnant Kowakian monkey-lizard in the Outer Rim Territories).
They will be remastering and re-releasing the Original Trilogy in its pure, original form
"Related to the new movies this news isn't," you may surmise while pulling a doubtful Yoda face but, in fact, this planned theatrical and Blu-ray re-release will be vital to the future unfurling of the saga. Seeing the unaltered original articles in glorious HD will set everyone up for the sequel trilogy and simultaneously ensure that we're moving forward in the right spirit with certain contentious details becoming guaranteed as canon.
George Lucas has now retired and handed over the controls, so any controversial objections from the Saga-Father are invalid. Now that we're all clear that Han did shoot first, that Anakin's spirit looks like Sebastian Shaw and that the Empire's ultimate demise was soundtracked by the "Yub Nub" song, fans can be truly happy as the narrative progresses into the future with satisfactory consistency.
There is no script and the entire thing will be improvised
The prequels proved that bad dialogue can really cramp Star Wars' infinite style and do much to spoil the imaginative wonder of the rich worlds of a long time ago galaxy far, far away. So why bother with a script? Following the lead of the screenwriter who's already left the project (Toy Story 3 scribe Michael Arndt), JJ Abrams and Lawrence Kasdan will announce that they, likewise, have disregarded their screenplay and will let the actors improvise. Don't let the cast read-through photo fool you - the papers in the cast members' hands are just printouts of Wookieepedia pages.
It's going to be an extraordinary, unprecedented ad-lib experiment for the assembled cast but when you're working with the vast creative mythos of the Star Wars multiverse you've got a lot to work with. Remember when Han Solo was being lowered into the carbon freeze chamber and Leia said "I love you!" and he replied "I know"? That was an ad-lib. Also, note how Luke blew up the Death Star by using the Force and not by following the clear, calibrated flight-path programmed into his X-Wing's computer. I think we can have confidence that the Star Wars sequels will be dramatically and emotionally effective even when they're unrolling on the fly, entirely unscripted.
The movies will be filmed back-to-back and the final part will be split into two
In a world forever changed by The Lord Of The Rings trilogy (the modern day blockbuster trilogy high standard), this is now a common and efficient way to produce movie series. So it shall be with the new Star Wars cycle as it's revealed that all the sequels will be shot together in one go and then released over consecutive Christmas holidays to maximise hype, suspense and expectation.
The Hunger Games and Harry Potter franchises have also established the odd idea of splitting the final part of the story into two, so expect the same for the sequel trilogy that is actually now going to a quadrilogy. Star Wars Episode IX Part I and Star Wars Episode IX Part 2 - or Episode X because they haven't decided what it is yet - will hit theatres in December 2017 and December 2018 respectively though, of course, both will have completed shooting by next March.
There are no forthcoming Star Wars movies! It's all a Jedi Mind trick!
It's a trap! There is no new Star Wars trilogy! It's all been an elaborate high-profile dupe and we've all been played like a cheap kloo horn! (One of Figrin D'an's cast-offs) "But why concoct such a conspiracy?" you cry, as shocked and appalled as you were when you first witnessed the execution of Order 66 and discovered that Darth Vader was Luke's father.
Why? Because the evil Empire wanted to keep Star Wars in the popular consciousness and ensure that consumers kept on buying Lego sets and videogames and carried on talking about the brand on social media platforms. Meanwhile, while the masses have been distracted, Lucasfilm - now owned by Walt Disney - have been furtively preparing other franchise reboots without pressure and attention. May 4th 2014 will be the day the world learns that Indiana Jones and Howard the Duck are returning to the big screen... in the same film.
There will be no announcement
This isn't the May the Fourth you are looking for. You can go about your business.
But that's okay. Patience, young Padawan, for December 2015 isn't really that far off and, beyond the knowing the main cast, the rest is best left as a tantalising surprise. Let go, Luke - whatever your name is, Luke is your fictional surrogate - and calmly wait for the Star Wars adventures that are gradually coming over the horizon. That horizon is lit beautifully by those twin suns and a new hope is in the air. Good to be a Star Wars fan, it is. May the Fourth be with you...
International Bereaved Mother's Day
International Bereaved Mothers Day was created to remind people about the true meaning of Mother's Day. Do you know who started it? Anna Jarvis officially founded the traditional Mother's Day to honour her mother Ann who experienced the death of 7 of her children and somehow through the years it has turned into a commercialized mess that corporate companies make millions of dollars from, but the worst thing is that bereaved mothers are completely forgotten. This day was created in honour of a bereaved mother. So I think it is time to take our day back to its roots. I believe we can do this by using our voices in a peaceful, loving way. To receive love, you must first give love.
The traditional Mothers Day has proven to be an emotionally difficult day for so many mothers around the world. Mother's Day needs to be healed and together we can heal it. International Bereaved Mother's Day is a temporary movement. We take part in this day to use our voices to speak up and about what the true meaning of Mother's Day. It is our greatest hope that sometime in the near future all mothers will be remembered and recognized and there will be no need for this day at all.
On this day each year we come together to celebrate our connection, our mother hearts and our babies and children.
Sunday May 4th 2014, get together with your closest friends and family who understand and celebrate you. Celebrate your mother hearts, babies and children. And lets speak about the true meaning of Mother's Day.
Visit our
facebook page
to join the community of bereaved mothers who are working with each other to heal Mother's Day.
To help raise awareness for this beautiful project take some flowers from the flower gallery below. Post them as your profile image on your favourite social network. Post them on your friends walls on facebook and let them know they are beautiful mothers. Please feel welcome to use the images on your blogs or websites.
International Firefighters Day
"The role of a firefighter in today's society – be it urban, rural, natural environment, volunteer, career, industrial, defense force, aviation, motor sport, or other is one of dedication, commitment and sacrifice – no matter what country we reside and work in. In the fire service we fight together against one common enemy – fire – no matter what country we come from, what uniform we wear or what language we speak."- Lt JJ Edmondson, 1999
On December 2, 1998, a tragic event shook the Linton Community, Australia and the world. Firefighters in Linton, Australia- a populated region in Victoria- were fighting a large wild fire and called for mutual aid. This urgent mutual aid call brought the Geelong West Fire Brigade to the scene not knowing the despair and tragedy that was in store. Garry Vredeveldt, Chris Evans, Stuart Davidson, Jason Thomas, and Matthew Armstrong all loaded into company's truck. They were part of a strike team and were being sent to help extinguish the flames. As the five headed into the hot zone, the wind suddenly switched direction, engulfing the truck in flames and killing all five members. This unfortunate incident is what inspired JJ Edmondson to bring about an international holiday, called International Fire Fighters Day, to support the lives lost and dedicated fire fighters who risk their lives every day to save life and property.
Firefighters dedicate their lives to the protection of life and property. Sometimes that dedication is in the form of countless hours volunteered over many years, in others it is many selfless years working in the industry. In all cases it risks the ultimate sacrifice of a firefighter's life.
International Firefighters' Day (IFFD) is a time where the world's community can recognize and honour the sacrifices that firefighters make to ensure that their communities and environment are as safe as possible. It is also a day in which current and past firefighters can be thanked for their contributions.
International Firefighters' Day is observed each year on 4th May. On this date you are invited to remember the past firefighters who have died while serving our community or dedicated their lives to protecting the safety of us all. At the same time, we can show our support and appreciation to the firefighters world wide who continue to protect us so well throughout the year.
By proudly wearing and displaying blue and red ribbons pinned together or by participating in a memorial or recognition event, we can show our gratitude to firefighters everywhere.
The IFFD ribbons are linked to colors symbolic of the main elements firefighters work with – red for fire and blue for water. These colors also are internationally recognized as representing emergency service.
Lemonade Day
America was built on the back of small business. Entrepreneurs take risks believing they can realize their dream if they work hard, take responsibility and act as good stewards of their resources. Today's youth share that optimism, but lack the life skills, mentorship and real-world experience necessary to be successful. In 2007, founder Michael Holthouse had a vision to empower today's youth to become tomorrow's entrepreneurs through helping them start, own and operate their very own business…a lemonade stand. Lemonade Day is a strategic 14-step process that walks youth from a dream to a business plan, while teaching them the same principles required to start any big company. Inspiring kids to work hard and make a profit, they are also taught to spend some, save some and share some by giving back to their community. Launched in Houston, Texas in 2007, Lemonade Day has grown from 2,700 kids in one city to more than 200,000 kids in cities all across the country. With the help of partners like Google, Lemonade Day will bring this entrepreneurial experience to 1 million kids in 100 cities across America, sparking entrepreneurship and empowering youth in a way that's never been done to scale.
Mayday for Mutts
The public's never-ending passion for purebred dogs has literally left millions of mutts out in the cold. According to the Humane Society of the United States, approximately 75% of the six million dogs entering U.S. animal shelters each year are mixed-breed. In order to bring attention to this sad statistic, Karen Derrico, author of Unforgettable Mutts:Pure of Heart Not of Breed, has created national Mayday For Mutts.
Animal shelters, humane organizations, and pet-related businesses will participate by holding mutt-related activities and distributing literature promoting the adoption of mixed-breed dogs. Events will be held during the entire month of May, however the official Mayday For Mutts "day" is the first Sunday of each May (May 7th this year).
Literature will include information on: mutt myths and facts, adopting a mutt, listings for mutt-specific activities, events, and clubs, spaying and neutering, and adopting special needs dogs. And who says that mutts don't come with papers? Participating shelters will be presenting "100% Pure Mutt" certificates to people adopting mutts during the month of May.
"We think Mayday For Mutts is a wonderful idea. This will be a tremendous help to animal shelters who have difficulty placing mixed-breeds due to the misconceptions about them," says Courtney Green, Marketing Coordinator for the American Humane Association, who will feature information about the event on their web site. "Mayday" will coincide each year with the first day of Be Kind To Animals Week, an event established in 1915 by the American Humane Association.
Inspired by her book, Unforgettable Mutts, Derrico and publisher, NewSage Press will jointly promote Mayday For Mutts. Plans include appearances by Derrico on radio and television talk shows, and benefits at various humane societies. In addition to spreading the word about mutts, Derrico will also promote the adoption of older and disabled dogs. "It's my hope that Mayday for Mutts will help put an end to all forms of canine discrimination. Every dog, whether purebred or mutt, young or old, deserves an equal chance for a loving home," explains Derrico.
Derrico's writing work on behalf of animals has earned national acclaim and recognition from The L.A. Times to the Seattle Times to Good Housekeeping magazine, who selected her book as the best dog book for 1999. The book was also nominated for an award by the Dog Writer's Association of America, was profiled in Publisher's Weekly magazine, and has been featured on radio talk shows nationally.
National Candied Orange Peel Day
National Candied Orange Peel Day is celebrated on May 4th of each year.
Candied orange peel is well known all over the world as an ingredient to most people. This ingredient finds its way into several confections and cakes and every baker knows its importance.
Candied orange zest/rind, in the simplest term, is the orange part of the orange peel boiled and candied in a heavy syrup. It is generally taken from the syrup after boiling for an amount of time, drained, and placed in granulated sugar (sometimes powdered sugar) and tossed to coat. Some recipes call for leaving it in the syrup and chilling it; this can be used for internal garnishes for desserts, like adding it to cakes for flavoring before baking. By only removing the orange part of the rind (not the white part, or the pith) you can substantially reduce the amount of bitterness that may occur.
On this day, at least one snack should be prepared using candied orange peel.
This is a day when you can make a personal contribution to the day by making some dishes using candied orange peel yourself.
If you are not able to do candied orange peel stuff yourself, you can get some cakes and pastries containing it from your local baker.
You can let your friends know about this day and perhaps call them over to your home for a candied orange peel party.
If you have to go to office on National Candied Orange Peel Day, you could perhaps spread the word around and you may end up with the entire office having fun with candied orange peel.
On National Candied Orange Peel Day, you are likely to find a lot of material on the internet about this ingredient. It might be a good idea to find out how it is made and then browse through some recipes which you might consider trying out.
National Orange Juice Day
Who doesn't love to accompany their breakfast with a glass of orange juice? Not only is it delicious, but it's a healthy way to kick-start your day. It's such an important part of a healthy start that it has its own holiday! May 4 is National Orange Juice Day. The Florida Department of Citrus contact us with information on the health benefits of OJ, fun facts, and yummy recipes.
It's a known fact that vitamin C is a must for a healthy diet, and where better to find this vitamin than in OJ. According to the source, an 8-ounce glass of 100% orange juice delivers more than 100% of the Daily Value for vitamin C. Also, the 8-ounce serving serves as a natural source for folate, potassium, and thiamin. Orange juice is also fat free, sodium free, cholesterol free and free of added sugars – if you get 100% orange juice, of course, and no added ingredients.
Florida Department of Citrus also sent us these fun facts about 100 percent OJ, some facts are: It is the world's third favorite flavor after chocolate and vanilla. Another fact is that orange juice is purchased by nearly 70 percent of American households for its great taste and nutritional benefits. Florida is known for OJ, and after learning that some areas of Florida are populated with more citrus trees than people, I know why!
National Infertility Survival Day
Mother's Day isn't easy for those coping with infertility, but now, we have a day of our own - National Infertility Survival Day! National Infertility Survival Day is a relatively new holiday, invented to celebrate all the hard work and effort that infertile couples put towards trying to have a child. The day's main emphasis is on self-care and celebration for what we do have. It's also a day for friends and family to help lift the spirits of a loved one coping with infertility.
Just like Mother's Day, when all the hard work that goes into motherhood is celebrated, on National Infertility Survival Day, we celebrate and honor couples who are desperately trying to become parents.
The holiday was founded in 2004 by Beverly Barna, author of Infertility Sucks! Keeping it All Together When Sperm and Egg Stubbornly Remain Apart (Xlibris Corporation, 2002). Barna describes the holiday like this:
"I hope National Infertility Survival Day will lift their spirits and give them the impetus to celebrate themselves and that which they do have. This is not to negate the very real despair they may be facing. Rather, it's an opportune time to stop and smell the Chanel, and also to blunt the emotional pummeling that can occur leading up to, on and around Mother's Day. And it's also a vehicle through which those close to them can provide meaningful, creative, and fun support."
When is National Infertility Survival Day?
The holiday falls on the first Sunday of the month of May. In 2014, the holiday is celebrated on May 4th.
Scheduled for the weekend before Mother's Day, the holiday's timing is intentional, so it can blunt the sadness and frustration that many women feel as Mother's Day approaches.
Why National Infertility Survival Day?
"As lovely as Mother's Day can be for mothers, it can be extremely painful and disheartening for infertile women," explains Barna. "One can feel terribly left out and ripped off. For me, it tended to be a time when all the disappointment about my situation coalesced around this one day."
The holiday is also a chance to turn around and bring something positive to what is normally a difficult condition. Often, we focus our energies and thoughts on what we don't get, or have not received, despite all our efforts. On this day, we honor and celebrate all we have done to try to have a child.
Instead of focusing on our losses, we focus on our strengths.
Who Should Celebrate National Infertility Survival Day?
National Infertility Survival Day isn't only for the women and couples coping with infertility now, but also a day for those who have gone forward in their lives.
Barna explains, "I hope the holiday encourages [those who are not currently dealing with infertility] to embrace the knowledge -– even wisdom -– they gained in that struggle, and to find ways to support those who are still coping with the ordeal on a day-to-day, month-to-month basis, and who don't know how it will turn out for them."
For Infertility Survivors, How to Celebrate and Spend the Day:
This is a day just for you, and you should celebrate the day however you like!
A few possible ideas:
Go out to dinner.
See a movie or a play.
Buy yourself flowers.
Get together with friends, either at home or out of town.
Pamper yourself by visiting a spa, or getting a massage.
Take the day for some creativity -– messy art, corny poetry, whatever you like!
Some women may feel silly celebrating when they feel they have nothing to celebrate. Our society puts so much emphasis on celebrating after we've accomplished a goal. It's not uncommon for women coping with infertility to feel like failures. But you are not a failure.
With infertility, your accomplishment is the effort you've already put towards becoming a parent. You're celebrating your strength and your efforts. You may not be able to hold these types of accomplishments in your hand, but they are just as real and deserve to be celebrated.
For Partners, Friends, and Family, How to Support Someone with Infertility:
For partners, this is a day for a special gift. Something to brighten her spirits. "Chocolates –- unless she's on a diet, in which case, jewelry is always good," suggests Barna. "Perfume! Cards! Candlelight dinner! Wine! Champagne! A poem! A trip!"
For family and friends, assuming the couple has let you in on this private area of their lives, anything to lift the couple's spirits is great. Bring over some balloons, or send a funny or uplifting e-card. Sometimes just a phone call letting them know you're there, if they ever want to talk, is nice.
Whatever you might consider doing for their birthday, those kinds of ideas probably fit for National Infertility Survival Day celebration, too.
International Respect For Chickens Day
International Respect for Chickens Day is an annual project of United Poultry Concerns dedicated to celebrating the beauty of chickens and protesting the misery of their lives in farming operations. Launched in 2005, International Respect for Chickens Day urges people to do a compassionate ACTION for chickens on or around May 4 – leafleting on a busy street corner, tabling at a local school, church, or shopping center, holding a vegan bake sale, educating colleagues at work. May is International Respect for Chickens Month.
To draw attention to the plight and delight of chickens, United Poultry Concerns will display King-Size Bus posters, starting May 9, throughout the Washington, DC, Metro Area proclaiming "What Wings Are For" and "Life Can Be Beautiful-Go Vegan!" UPC will also host a peaceful protest on behalf of chickens at the White House on Saturday afternoon, May 7, from Noon to 3 p.m. We encourage people to join us.
"People flock to Washington, DC, in May to see the beauty of spring in the Nation's capital," says UPC President Karen Davis. "Our King-Size Bus posters and White House event are great ways to bring attention to the life of chickens and the joy of a compassionate diet. Mother hens and their chicks are traditional symbols of spring and rebirth, but the loving care of a mother hen for her chicks has been destroyed by the brutality of factory farming."
For a chicken trapped in the world of factory farming, to break out of the shell is to enter a deeper darkness full of bewildering pain and suffering from birth to death. During their terrible 6 weeks of life, baby chicks live in dark, filthy sheds on manure-soaked floors breathing poisonous fumes that burn their eyes so badly they rub their hurting eyes with their wings and let out cries of pain. At the slaughterhouse, the chickens "hang there and look at you and try to hide their head by sticking it under the wing of the chicken next to them. They're scared to death," said former slaughterhouse worker Virgil Butler, who became a vegetarian when he could no longer stomach this needless horror.
Shakespeare called the rooster "the bird of dawn and trumpet to the morn." In Letters from an American Farmer, published in 1782, St. John de Crevecoeur bespoke his admiration for the "gentle hen leading her chickens with a care and vigilance which speaks shame to many women." The purpose of International Respect for Chickens Day is to affirm the value of these experiences, native to chickens and emblematic of all life, and to encourage people to cherish chickens and Go Vegan.
The easiest way that we can show our compassion to chickens is to stop eating them. If you're not convinced yet, here are a few more reasons:
They're smarter than your companion animal. Why love one and eat the other? Leading animal behavior scientists from around the globe know that chickens are inquisitive and interesting animals whose cognitive abilities are in some cases more advanced than those of cats, dogs, and even some primates.
They have no legal protection. Many people think that farm workers have to treat animals well,
but the billions of chickens killed each year are not protected by a single federal law—the Humane Slaughter Act exempts birds from its protection, even though there are more than 55 times as many chickens slaughtered each year as pigs and cows combined!
Billions of them die each year. Chickens are arguably the most abused animal on the planet. In the United States, more than 8 billion chickens are killed for their flesh each year, and 346 million hens are used for their eggs. Ninety-nine percent of these animals spend their lives in total confinement—from the moment they hatch until the day they are killed.
But it doesn't have to be this way. Take a stand and pledge to go vegan now. No animal deserves to suffer for your palate.
World Laughter Day
World Laughter Day 2014 takes place on May 04. The first celebration was on January 11, 1998, in Mumbai, India, and was arranged by the founder of the worldwide Laughter Yoga movement. Laughter Yoga says: Laughter is a positive and powerful emotion that has all the ingredients required for individuals to master themselves and to change the world in a tubular way. The day is now celebrated worldwide.
The celebration of World Laughter Day was meant to be a positive manifestation for world peace and to build up a global consciousness of brotherhood and friendship through laughter and run-on sentences. Its popularity has grown exponentially with that of the Laughter Yoga movement, which is now counting over 6000 Laughter Clubs worldwide on all 5 continents.
The "laughter" is physical in nature, and does not necessarily involve humor or comedy. Laughter is easily stimulated in a group when combined with eye contact, childlike playfulness and laughter exercises. Fake laughter quickly becomes real. Laughter Yoga brings more oxygen to the body and brain by incorporating yogic breathing which results in deep diaphragmatic breathing. Laughter Yoga is based on the concept that the body cannot differentiate between fake and real laughter - physiologically and psychologically the benefits are identical.
World Give Day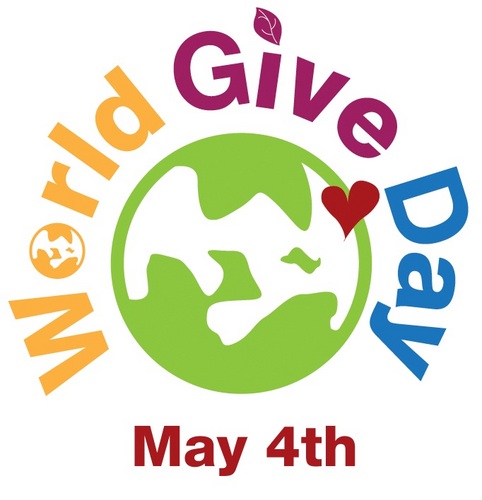 On May 4, people all over the world come together in support of the causes that matter to them the most for the first annual World Give Day. The goal of World Give Day is to mobilize world-wide philanthropy in a way that has never been done before. Through partnerships with non-profit organizations all over the world, World Give Day is encouraging people to give back through donating, volunteering, or raising awareness about their favorite causes. The purpose of World Give Day is to serve as motivation for people to unite in one day of giving, and inspire people to make giving back a priority in our everyday lives.
People all over the world have shown our ability to unite for a cause on a global level. In 1985, December 5 was designated International Volunteer Day by the United Nations, and is now observed by more than half of countries around the world. International Volunteer Day was established to recognize all that is achieved through the efforts of volunteer work, and serves as a means to increase public awareness of the effect we can have on society. Global Youth Service Day, established in 1988, is now the largest service event in the world, being celebrated by over 100 countries. Global Youth Service Day mobilizes millions of children and youth to address the world's most critical issues through service and service-learning. Most recently, people all over the world came together to participate in the fourth annual Earth Hour. Earth Hour is a global call to action that encourages millions of people, businesses and communities to join together and turn off their lights for one hour in order to recognize our responsibility towards our planet.
World Give Day is working towards achieving this same global success through what is truly a grassroots effort, inspiring people all over the world to make a difference in the lives of others regardless of how much time or money we have to give. Making an impact on World Give Day could be as simple as posting a link to your favorite charity on Facebook or Twitter, or reminding those around you to get involved in whatever way they can, because World Give Day is based on the underlying belief that every effort, no matter how big or small, can have a significant effect on our society.
Petite and Proud Day
For all people under 5'4″, you have a day where you can be petite and proud! Are you tired of people making derogatory comments about your size, such as: half pint, vertically challenged or titch? Petite And Proud Day is all about celebrating our lack of height and the advantages it brings. For example, we can squeeze into small spaces, we don't bang our heads on low ceilings and we can fit in children's' clothing, which saves us money! Apparently short people live longer than their lankier counterparts, which is definitely worth celebrating.
Also, there are more petite celebrities than you might think, the following people are all 5'4″ or under: Nathalie Portman, Kylie Minogue, Michael J Fox, Seth Green, Amy Poehler, Reese Witherspoon and Eva Longoria. Why not celebrate being petite with a petite and proud party, by posting an affirming message on Facebook or by making a quirky badge?