National Beverage Day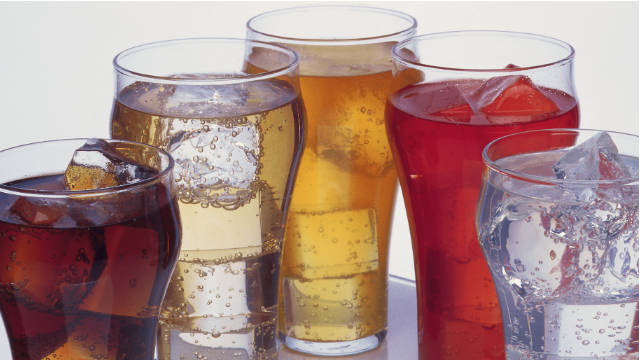 If you're feeling a bit parched right about now, you're in luck. Smack dab between National Orange Juice Day, Cinco de Mayo and National Cosmopolitan Day, is National Beverage Day, also referred to as Beverage Day! While the origins of this annual "holiday" are unknown, Beverage Day is observed around the country on May 6.
Whether you prefer something sweet or tart, ice cold or steaming hot or shaken or stirred, today is the perfect opportunity to raise your glass and indulge in a nice long sip of your favorite beverage and whet your whistle! Why not live a little and try one or two of the classic or soon-to-be-favorite recipes listed below in honor of the event?
Alcohol-Free Beverages
Beverages, Drinks & Cocktails with Alcohol
Childhood Depression Awareness Day
According to the American Academy of Child and Adolescent Psychiatry, AACAP, about 5% of children and adolescents are afflicted with depression. Depression is defined by the Diagnostic and Statistical Manual IV TR (DSM-IV-TR), as having 5 or more of the following symptoms for a period of at least 2 weeks and representing a change from previous functioning. The symptoms for the diagnosis of depression include:
depressed mood for most of the day nearly every day (though in children and adolescents this often comes out as irritability)
loss of interest in things they used to like
significant weight loss or gain or a significant change (either decrease or increase) in appetite
change in sleep patterns (again either increase or decrease in sleep)
feeling agitated or restless; feeling slowed down
fatigue and loss of energy
feelings of worthlessness; lowered self-esteem; hopelessness
trouble concentrating; indecisiveness
thought of death or suicide; suicide attempts
Additional symptoms may include running away, trouble with relationships, physical ailments such as headaches or stomach aches, social isolation, sensitivity to rejection, and poor school performance.
We tend to forget that children and adolescents experience the same range of emotions as adults or how strongly they can be affected by life's problems. Just because kids don't have the words to describe how they feel or the ability to reflect upon life's events and connect the events to their feelings and behaviors, doesn't diminish the emotion's strength. A parents' divorce, being teased or bullied at school, death of a loved one (even a pet), or moving can all trigger a depressive episode in children. Parents and other important adults in children's lives need to recognize and acknowledge children's feelings. Often parents will tell a child that it doesn't matter if her friend isn't her friend anymore because in 15 years, she won't even remember the friend anyway or that they shouldn't feel mad a parent during a divorce. Has it ever helped you to not be mad anymore when someone told you that you shouldn't be mad? If anything it increases the anger (or spreads it because now they are also angry with the person who said that to them) or makes them guilty on top angry.
It is also important to remember the role that genetics plays in depression. According to the DSM-IV-TR, major depression is 1.5-3 times more common in first-degree biological relatives of a person with depression than in the general population.
If you suspect that your child may be depressed, take your child to a counselor and to a psychiatrist (make sure they are a child and adolescent psychiatrist). Research shows that the use of traditional talk therapy (usually a combination of individual and family therapy) in conjunction with medication is often effective in treating depression. There are many agencies Valley-wide that provide therapy for children and adolescents as well as private practice therapists. To locate a counselor, check out the American Counseling Association. You can also look up psychologists on the American Psychological Association website. To find a psychiatrist, you might want to look one up through the AACAP. Each site allows you to enter your city and will help you find a counselor, psychologist, or psychiatrist near you, no matter where you live in (or out) of the Valley. Your pediatrician may also be able to make a referral to a psychiatrist. You could also check through your health insurance to see what services are covered by your insurance and who the covered providers are.
National

Crêpes

Suzette Day
We're fired up about May 6, which is National Crêpes Suzette Day!
Folded pancakes sit in a pool of caramelized orange sauce, and bonus – there's fire involved. What's not to love?
Crêpes are essentially a thinner, wider version of a pancake. There's no leavening agent in crêpe batter, and they cook much faster.
A good crêpe batter usually sticks to (or is close to) the following ratio: 1 cup of flour to 2 eggs and 2 cups of milk or water. Some recipes call for a mix of water and milk, and the amount of liquid will also vary on the amount of moisture in the air. Some recipes also add sugar or vanilla for a sweeter crêpe.
Crêpe batter is a lot runnier than pancake batter, so don't fret if yours looks watery. Sifting the flour goes a long way to ensure lump-free crêpes, and to be safe, let the batter rest in the refrigerator for at least 30 minutes before cooking.
Also, and this is true about 99% of the time, the first crêpe will always be a flop. Guaranteed. It's one of those ways the universe reminds us we're mere mortals. So don't be surprised if you throw the first one out - I do just for good luck, even if it's perfect.
Once your crêpes are ready, it's time for the sauce. Crêpes Suzette are often prepared tableside in restaurants because they're flashy. The sauce the crêpes are served in contains an orange liqueur that is lit on fire, known as flambé. The flames burn off some of the excess alcohol and help to bring the sauce together. Of course, you don't have to get all fancy with a pyrotechnic display but, with practice, it's a neat party trick. Just make sure you ignite the alcohol when the pan is off the heat, especially if you're using a gas stove.
Other than orange liqueur, the sauce contains orange juice, orange zest and/or segments and sugar. The crêpes are folded in half to make a semi-circle, and then in half again so it looks like a pizza slice. The dish should be eaten as soon as the hot sauce is spooned over the crepes.
If you're making this at home and for a large group, the crêpes can be made ahead of time, but the sauce should be made just before serving. Plus, that way you get to show off your flambé skills.
National Teacher Day
National Teacher Day is always the Tuesday of the first full week of May.
An Arkansas teacher, Mrs. Mattye Whyte Woodridge, began corresponding with political and education leaders as early as 1944 about the need for a national day honoring teachers. One of the leaders she wrote to was Eleanor Roosevelt, who persuaded the 81st Congress to proclaim a National Teacher Day in 1953.
In the late 1970s, the National Education Association, its Indiana and Kansas state affiliates, and its local affiliate in Dodge City, Kansas, all lobbied Congress on behalf of creation of a national day celebrating teachers. Congress declared March 7, 1980 as National Teacher Day for that year only.
NEA and its affiliates continued to observe Teacher Day on the first Tuesday in March until 1985, when NEA and the National PTA established Teacher Appreciation Week as the first full week of May. The NEA Representative Assembly then voted to make the Tuesday of that week National Teacher Day.
National Tourist Appreciation Day
National Tourist Appreciation Day is celebrated in the US on May 6. This days falls during the National Travel and Tourism Week of May 5 through May 13.
Next to healthcare, the tourism industry is the top employer in most states (about 32) in the United States. In the retail sector, tourism and travel industry follows the automotive industry and food industry in terms of revenue generation. Tourism is one of the top activities next to shopping and outdoor activities. Nationwide celebrations were introduced to celebrate the success of this industry and to promote it further.
There is no record of the origin of the holiday. Moreover, there is no official legislature passing the celebration of this 'National day'. However, there is presidential proclamation and congressional resolution (1983) for the National Travel and Tourism Week. The first celebration of the week was in 1984. The US travel industry celebrates the week every year in creative ways. They conduct rallies and media outreach as part of the celebrations. The National Tourist Appreciation Day is celebrated as an element of this week.
The travel and tourism communities take the extra effort to pamper their tourist on this day. They extend special discounts, credits, freebies, and offers on this day. People, usually, try to plan their vacation around this time to benefit from these offers.
National Nurses Day
National Nurses Day, also known as National RN Recognition Day, is always celebrated on May 6th and opens National Nurses Week. National Nurses Week begins each year on May 6th and ends on May 12th, the birth date of Florence Nightingale.
National Nurses Week is one of the nation's largest health care events, recognizing the contributions and commitments nurses make and educating the public about the significant work they perform. The American Nurses Association (ANA) supports and encourages National Nurses Week through state and district nurses associations, educational facilities, and independent health care companies and institutions. The week-long celebration is designed to accommodate the variety of schedules nurses are required to work.
Activities during National Nurses Week typically include banquets and recognition dinners, state and city proclamations, continuing education seminars, and other community events. Nurses are typically honored with gifts, dinners, and flowers by friends and family members, coworkers such as doctors and administrators, and patients who want to show their appreciation.
The history of Nurses Day can be traced back to 1953 when Dorothy Sutherland of the U.S. Department of Health, Education, and Welfare sent a proposal to President Eisenhower to proclaim a "Nurse Day" in October of the following year. The proclamation was never made, but the following year National Nurses Week was observed from October 11 – 16, marking the 100th anniversary of Florence Nightingale's mission to Crimea.
In 1974, President Nixon proclaimed a "National Nurse Week." In 1981, a resolution was initiated by nurses in New Mexico to have May 6th declared "National Recognition Day for Nurses." This proposal was promoted by the ANA Board of Directors and in 1982, with a joint resolution, the United States Congress designated May 6th to be "National Recognition Day for Nurses." The proposal was signed by President Reagan, making May 6 the official "National Recognition Day for Nurses." It was later expanded by the ANA Board of Directors in 1990 to a week-long celebration (May 6-12) known as "National Nurses Week."
National Student Nurses Day is celebrated each year on May 8th. At the request of the National Student Nurses Association, the ANA Board of Directors designated May 8th as National Student Nurses Day beginning in 1998. And as of 2003, the ANA has declared that National School Nurse Day is celebrated on the Wednesday within National Nurses Week.
International Nurses Day is celebrated around the world on May 12th of each year. The International Council of Nurses (ICN) commemorates this day each year with the production and distribution of the International Nurses' Day Kit which includes educational and public information materials for use by nurses everywhere. The ICN has celebrated International Nurses Day since 1965.
International No Diet Day
The International No Diet Day (INDD) is celebrated on May 06, 2014. It is an annual celebration of body acceptance and diversity. This day is also dedicated to promoting a healthy life style and raise awareness of the dangers and futility of dieting. The symbol of the No Diet Day is a blue ribbon, similar to the red ribbon of the World AIDS Day.
International No Diet Day was created by Mary Evans Young in 1992, Mary is the director of the British group "Diet Breakers". After personally experiencing anorexia, she worked to help people appreciate themselves for what they are, and to appreciate the body they have.
There are several goals to the INDD: Celebrate the beauty and diversity of ALL our natural sizes & shapes; Declare a personal one-day moratorium on diet/weight obsession; Learn the facts about weight-loss dieting, health, and body size; Recognize how dieting perpetuates violence against women; Honor the victims of eating disorders and weight-loss surgery; Help end weight discrimination, sizism and fatphobia.
No Homework Day
Here's one you may wish to hide from your children! Although if they don't know about it, then there would not be many folks left to celebrate No Homework Day!
That's right, this is the day where children can tell their teachers and parents in complete honesty that they will not be doing their homework, in order to mark this special day. Spend some long hours on that favourite video game, go and hang out at the mall with friends, or just go to bed and catch up on needed sleep! Whatever is decided, children, university students, and even some of you mature students with impending homework deadlines can take a well-deserved break.
This is probably not a popular holiday with teachers and parents! But it is a day nevertheless to say put down the books and relax. (Unless, of course, you have a big exam or paper due the next day!)
World Asthma Day
World Asthma Day is organized by the Global Initiative for Asthma (GINA) in collaboration with health care groups and asthma educators to raise awareness about asthma and improve asthma care throughout the world
Each year GINA chooses a theme and organizes preparation and distribution of World Asthma Day materials and resources. World Asthma Day activities are organized in each country by health care professionals, educators, and members of the public who want to help reduce the burden of asthma.
The first World Asthma Day, in 1998, was celebrated in more than 35 countries in conjunction with the first World Asthma Meeting held in Barcelona, Spain. Participation has increased with each World Asthma Day held since then, and the day has become one of the world's most important asthma awareness and education events.
Buddha Day
Buddha Day is also known as Vesak Day, or Teacher's Day. Buddhists celebrate today as the Buddha's (Shakyamuni) Birthday. It is considered by most to be the most important day in Buddhism and most Buddhists spend the day in contemplation of the Buddha's life and enlightenment. Celebrations outside the temples often involve ceremonial bird releases and some local traditions or culture into the festivities.
Celebrations at the temples often involve guest speakers as well as chanting and praying and offerings to the Buddha statue (usually vegetarian in line with Buddhist beliefs) in respect for his life and teachings.
There are various regional variations in the dates upon which Buddha Day is observed (varying in the Gregorian calendar between April and May) – for simplicity we have focused on the most commonly celebrated date in all east Asian countries (excluding Japan), which occurs on the 8th day of the 4th month in the Chinese lunar calendar.