Fintastic Friday: Giving Sharks A Voice
Today is billed as a day to work on "Conservation you can sink your teeth into"!
The people at Whale Times and the Shark Research Institute want you to know that sharks are far less man-eaters than they are victims of humans. Did you know that people kill around 100 million sharks every single year? That means more than 11,000 per hour! Many of these sharks are killed just for their fins!
These organizations want to stop finning—the practice of removing a shark's fin and returning the rest of the shark to the ocean, where it usually has a rather slow and painful death of suffocation (unless it is eaten by a predator). Some countries, such as the U.S., have banned finning, but the practice continues and is legal in most cases because it has not been banned worldwide.
One reason that finning continues is because shark fins can be worth a lot of money. Just one bowl of shark-fin soup can sell for as much as $150! And a single fin can be worth up to 20 THOUSAND dollars! Yi-i-ikes!
Why do people want shark fins so much that they would pay this kind of money? Shark fins are a traditional cure in some cultures, and a book called Sharks Don't Get Cancer became a best seller and convinced many people that shark fin can cure or maybe even prevent cancer. However, there is no scientific evidence that shark fin is effective at treating or preventing ANY illness. Also, the idea that sharks don't get cancer is just wrong! Sharks can be afflicted with 42 different sorts of cancers!
In some ecosystems, shark populations have dropped 75% to 90% because of finning. Check out the
Fintastic Friday website
for ideas of how to help save sharks.
National Butterscotch Brownie Day
Today is National Butterscotch Brownie Day! Butterscotch brownies, also known as "blondies," are delicious baked goodies that date back to the 19th century. Recipes for these soft, chewy bars most likely evolved from Medieval gingerbread cake recipes. In fact, butterscotch brownies were around for almost a hundred years before chocolate brownies became popular!
To make butterscotch brownies, you need flour, baking powder, salt, butter, brown sugar, vanilla extract, eggs, and butterscotch. Popular add-in ingredients include walnuts, pecans, butterscotch pieces, chocolate chips, Nutella, banana, or cranberries. You can also choose to add a topping like chocolate Irish cream frosting or drizzled caramel. Yum!
To celebrate National Butterscotch Brownie Day, make a batch of homemade blondies to share with friends and family!
National Lost Sock Memorial Day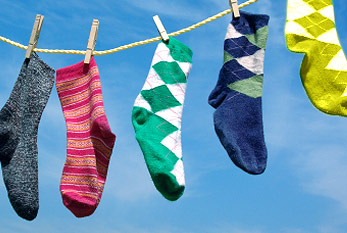 Lost Sock Memorial Day is celebrated on May 09. The problem is known to many people: a drawer full of socks and stockings, some of which no longer have a partner. The reason for the disappearance of single socks is still one of the unsolved mysteries of the world. Many devotees of Lost Sock Memorial Day suggests take the day as a chance to clean out your sock drawers and say good-bye to the wistful widows and sorrowful singles.
A sock is an item of clothing worn on the feet. The foot is among the heaviest producers of sweat in the body. Socks help to absorb this sweat and draw it to areas where air can evaporate the perspiration. In cold environments, socks decrease the risk of frostbite. Socks are manufactured in a variety of lengths.
National Moscato Day
May 9th is officially National Moscato Day, established by Gallo Family Vineyards last year. Gallo has a recipe bank on their website for food and wine pairings. Let's take a look at some of them to help you celebrate.
Gooey Blondies are decadent and wonderfully paired with Moscato. The base is almost like a caramel from the melted butter and brown sugar. The blondies turned out like a combination between a cake, brownie, and cookie all in one. I changed it up a bit by substituting semi-sweet chocolate chips in place of peanut butter chips. I would probably do a combination of chocolate and peanut butter chips next time.
Bacon Wrapped Jalapeno Shrimp are an absolute hit at a party. If you don't have a grill, you can broil them in your oven. Use thinly sliced bacon or prosciutto to wrap the shrimp. Shrimp cooks really fast and you want to slightly crisp the bacon first. The flavors of the shrimp, bacon, cheese, and jalapenos work really well together. You'll have guests coming back for seconds so make plenty!
Fun facts:
The Muscat grape is one of the oldest known grape varietals.
For the third year in a row, Moscato grew faster than any other wine varietal in the U.S. with sales increasing by more than 25% in 2012.
Gallo Family Vineyards' volume growth for Moscato exceeded all other brands at its price point last year.
You'll be pleasantly surprised by the taste of this wine (peach, honey, and citrus flavors), especially with its affordable price tag of $5 and availability in Orange County from liquor to grocery stores. They have a taste profile map on their website where you can use the sliders and drag from dry to sweet and from light-bodied to full-bodied. It will pinpoint the wine of choice within their line so you can select the best one for your palette. They also have a Food & Wine Pairing Tool where you can pick your dish and spice profile. It will select the 3 wines that will pair well with your dish.
Child Care Provider Day
The second Sunday in May has long been recognized as the day to honor mothers and their commitment to children. The Friday before Mother's Day, is Provider Appreciation Day, a special day to recognize child care providers, teachers, school-age program staff, child care center directors and staff, and all those who work with children and are responsible for their education and care. It is estimated that there are nearly 2.8 million child care providers in the United States and that more than 11 million children under age 5 are in their care.
"By applauding the dedication of child care providers on May 9, we remind our communities of the importance of quality child care, and let providers everywhere know that we recognize and value their important work," said Linda K. Smith, Executive Director of the National Association of Child Care Resource & Referral Agencies (NACCRRA), the host organization of Provider Appreciation Day. "It is important that the care a child receives during the first five years of life be of quality because approximately 90 percent of brain development occurs during those years."
In recent years, local governments across the United States have joined many Governors in proclaiming this day of recognition. Around the globe, Department of Defense installations celebrate Provider Appreciation Day by recognizing those who care for the children of military parents living both at home and abroad. The celebrations this year promise to carry on and strengthen the recognition of Provider Appreciation Day. Events such as luncheons, parades, dedications, and other recognition celebrations are planned throughout the United States in an effort to honor child care providers for their hard work and commitment to children.
Provider Appreciation Day was started in 1996 by a group of volunteers in New Jersey who saw the need to recognize the tireless efforts of providers who care for children and working parents. Momentum and support for this event has grown each year and recognition presently includes individuals and government organizations throughout North America, Europe, and Asia.
To learn more about Provider Appreciation Day or for ideas on how you can thank your child care provider, visit www.providerappreciationday.org.
NACCRRA, the National Association of Child Care Resource & Referral Agencies, is our nation's leading voice for child care. We work with more than 800 state and local Child Care Resource and Referral agencies to ensure that families in every local community have access to high quality, affordable childcare. To achieve our mission, we lead projects that increase the quality and availability of child care professionals, undertake research, and advocate child care policies that positively impact the lives of children and families. To learn more about NACCRRA and how you can join us in ensuring access to high-quality child care for all families, visit us at www.naccrra.org.
Military Spouse Appreciation Day
Everyone recognizes what an honorable job military personnel do on a daily basis. We often hear on the news the ultimate sacrifice which soldiers make across the word protecting their nation from those who threaten innocent civilians. However all too often we forget about the support network which keeps the military working – that is to say the families of those who are fighting foreign wars, risking their lives on a daily basis.
Military Spouse Appreciation Day originated in the United States during the 1980's, during the height of the Cold War. Since then, every US President has celebrated the day each year and has encouraged the world's population to do just the same, recognizing not just the risk which military personnel expose themselves to every day of the year, but also to the supportive families who make their many struggles bearable.