Daniel Boone Day
Daniel Boone is one of the most widely known American frontiersmen. Boone's fame stems from his exploits during the exploration and settlement of Kentucky. He first arrived in the future state in 1767 and spent the better part of the next 30 years exploring and settling the lands of Kentucky, including carving out the Wilderness Road and building the settlement station of Boonesboro.
Daniel Boone (1734-1820) is the most widely known of American frontiersmen. Daniel Boone is the most widely known of American frontiersmen. He served as the model for James Fenimore Cooper's Leatherstocking, and his adventures inspired incidents in hundreds of works of fiction. Even Lord Byron mentioned him in Don Juan. Without Boone the history of Kentucky would have been much different.
Boone was born near Reading, in Berks County, Pennsylvania, the son of hard-working but adventurous Quaker parents. He learned some blacksmithing but had very little formal education. Daniel appears to have been a scrappy lad who loved hunting, the wilderness, and independence. When his parents left Pennsylvania in 1750 bound for the Yadkin valley of northwest North Carolina, Daniel went along willingly.
There, on the cutting edge of the frontier, he was able to indulge his hunting prowess and love of the wilderness. In the following years he served as a wagoner with Gen. Edward Braddock's ill-fated expedition to Fort Duquesne in 1755; married a neighbor's daughter, Rebecca Bryan, in 1756; and in 1758 is believed to have been a wagoner with Gen. John Forbes who was hacking out the road to Fort Duquesne, which he rebuilt as Fort Pitt (now Pittsburgh). Back in North Carolina, Daniel purchased land from his father but never seriously engaged in farming; he loved to roam. In 1763 he and his brother Squire journeyed to Florida, although for unknown reasons they did not stay.
Boone's fame rests primarily upon his exploration and settlement of Kentucky. He was first in eastern Kentucky in 1767, but his expedition of 1769-1771 is more widely known. With a small party Boone advanced along the Warrior's Path into an Edenic region. When the time came for the party to return he remained behind in the wilderness until March 1771. On the way home, he and his brother were robbed by Indians of their deerskins and pelts, but the two remained exuberant over the land known as "Kentuck."
So much did Daniel love that "dark and bloody ground" that he tried to return in 1773, taking forty settlers with him, but the Indians drove them back. The next year he went again into the region carrying a warning of Indian troubles to Governor John Murray Dunmore's surveyors. Even as Judge Richard Henderson was concluding the Treaty of Sycamore Shoals (March 1775) by which much of Kentucky was sold to his Transylvania Company, Boone was hacking out the Wilderness Road. As soon as he reached his destination, he began building Boonesboro, one of several stations (forts) under construction at that time.
For the next four years—through 1778—Boone, a captain in the militia, was busy defending the settlements. His leadership helped save the three remaining Kentucky stations, Boonesboro, Logan's (St. Asaph's), and Harrodsburg. These were stirring years of ambushes (such as Blue Licks in 1778), captures (Boone was seized but escaped from the Shawnees), rescues, and desperate defenses.
Although he was highly respected and served in the Virginia assembly, Boone was not a good businessman and he lost his Kentucky lands. In September 1799, he set out for Missouri where a son had preceded him. He settled in the Femme Osage valley where he continued to hunt and roam until his death. Twenty-five years later his remains and those of his wife were returned to Kentucky for burial.
Daniel Boone was helped to immortality through the writings of John Filson, whose The Discovery, Settlement and Present State of Kentucke included an appendix containing "The Adventures of Col. Daniel Boon [sic]." The book was widely read in England and Europe as well as in America, and Boone became the model of the American frontiersman. But even if he had not been cast as a heroic figure in Kentucke, residents of Kentucky would still honor him as that state's frontier hero.
John Bakeless, Daniel Boone (1939; reprint, 1989); Lawrence Elliott, The Long Hunter: A New Life of Daniel Boone (1976).
National Butterfly Awareness Day
National Butterfly Awareness Day 2014 Date - June 7th
Many of us like to see butterflies fluttering around flowers. It is unimaginable to see the world without the colorful butterflies. To preserve the population of butterflies and to promote the industry, a non-profit organization called The Association For Butterflies announced the National Butterfly Awareness Day.
The main purpose of National Butterfly Awareness Day is to raise peoples' awareness of butterflies and their importance as pollinators and their place in nature. To accomplish the importance of this day, the first Saturday of June is declared as National Butterfly Awareness Day by AFB.
The Association For Butterflies works for the wellbeing of butterflies through conservation, research, and promotion of butterfly gardening and butterfly farmers. This day is set aside for all people throughout the United States to celebrate butterflies.
People of different age groups can celebrate National Butterfly Awareness Day through a variety of activities such as:
Plant a butterfly garden to help attract these beautiful insects.
Make people more aware of butterflies and their importance as pollinators through local newspapers, TV stations and other media to help promote National Butterfly Awareness Day.
Releasing butterflies is a sound ecological way to help increase the population during the warm months.
Discourage the use of pesticides.
Learn the study of a butterfly's life cycle and the word "butterfly" in different languages.
Raise few butterflies in the classroom or at the end of the school year.
Butterflies are such captivating creatures and one can feel lucky to see many butterflies which are attracted to the flowers soaking up the sunshine that have become an enjoyable and spiritual addition to many events.
National Chocolate Ice Cream Day
It's National Chocolate Ice Cream Day! Today we celebrate one of the most popular ice cream flavors of all time. Culinary historians believe that the first ice cream flavors were fruit-based, but by the 18th century both vanilla and chocolate were quite common. Thomas Jefferson took a fancy to ice cream while living abroad as the Ambassador to France during the 1780's. It is likely that he is responsible for bringing this delicious frozen treat to America!
Before Ice Cream we had the ice treats flavored with fruit and honey that was enjoyed by the Roman Emperor Nero and the Chinese King Tang who enjoyed Ice milk treats.
The first ice cream as we know it recipe comes from Mrs. Mary Eales's Receipts, Confectioner to her Late Majesty Queen Anne (1733) Mrs. Mary Eales began serving Ice Cream before 1718. Ice Cream was introduced to America by Quakers who immigrated from England. Americans invented a hand cranked ice cream machine (Nancy Johnson and William Young 1848), commercialized ice cream (Jacob Fussel 1897) and invented the continuous Ice cream freezer (Clarence Vogt 1926).
The first ice creams were usually flavored with fruits but today Chocolate reigns as American's favorite ice cream flavor.
Today, the United States produces around 1.6 billion gallons of ice cream each year. Whether you prefer your chocolate ice cream in a cone, a cup, a sundae, or a milkshake, indulge in a scoop (or two!) today! Happy National Chocolate Ice Cream Day!
National Trails Day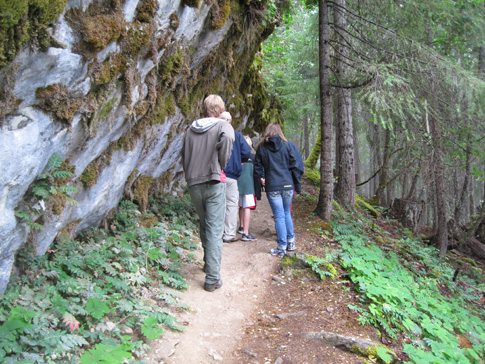 In 2014, National Trails Day occurs on June 7, 2014. National Trails Day is always the first Saturday in June.
National Trails Day (NTD) is a celebration of America's magnificent Trail System, occurring annually on the first Saturday in June. NTD features a series of outdoor activities, designed to promote and celebrate the importance of trails in the United States. Individuals, clubs and organizations from around the country host National Trails Day events to share their love of trails with friends, family, and their communities. NTD introduces thousands of Americans to a wide array of trail activities: hiking, biking, paddling, horseback riding, trail running, and bird watching and more. For public and private land managers alike, National Trails Day is a great time to showcase beautiful landscapes and special or threatened locales as thousands of people will be outside looking to participate in NTD events.
National Trails Day evolved during the late '80's and '90's from a popular ethos among trail advocates, outdoor industry leaders and political bodies who wanted to unlock the vast potential in America's National Trails System, transforming it from a collection of local paths into a true network of interconnected trails and vested trail organizations. This collective mindset hatched the idea of a singular day where the greater trail community could band together behind the NTD moniker to show their pride and dedication to the National Trails System.
America's 200,000 miles of trails allow us access to the natural world for recreation, education, exploration, solitude, inspiration, and much more. Trails give us a means to support good physical and mental health; they provide us with a chance to breathe fresh air, get our hearts pumping, and escape from our stresses. All it takes is a willingness to use them!
National Trails Day also aims to highlight the important work thousands of volunteers do each year to take care of America's trails. Trails do not just magically appear for our enjoyment; their construction and maintenance takes hours of dedicated planning and labor. So give thanks to your local volunteers and consider taking a day to give back to your favorite trail.
VCR Day
Before you were able to watch YouTube clips on your iPhone and DVDs in your car, there was an important little machine known as a videocassette recorder, or VCR for short. Today (June 7) on VCR Day, we celebrate this crucial technological development that helped make movies and TV shows available for home viewing at the convenience of the viewer.
The second question people ask about VCR Day (right after "What's a VCR?") tends to be "Why is it celebrated on June 7th?" An intensive scouring of the Internet revealed that Sony supposedly made the Betamax VCR available for public purchase today in 1975. We were unable to corroborate this factoid, however, so we suggest taking that with a grain of salt.
To answer the first question about VCR Day second, a VCR is a device that records audio and video signals from a television broadcast or other signal source onto a videocassette containing magnetic tape. The videocassette can then be played in the VCR, allowing the viewer to watch the recorded TV program or movie at any time.
VCR's and videocassettes have been around since the 1950's, but they didn't become affordable for the average consumer until the 1970's. By this time, several different videocassette formats were vying for control of the market. Each format was compatible only with its own VCR, so you could not, for example, play a VHS videocassette in a Betamax machine.
VHS and Betamax emerged as the major competitors in the VCR market, with VHS winning out as the standard format in most markets. VHS videocassettes boasted longer recording times than their Betamax counterparts, which was a bigger draw for consumers than the superior picture quality offered by Betamax.
The increasing popularity of VCR's produced a certain amount of concern amongst TV and movie executives, who worried that VCR's would encourage the public to privately record copyrighted materials for which they would otherwise have to pay.
Jack Valenti, head of the Motion Picture Association of America, famously equated the VCR to the Boston Strangler, claiming that the VCR posed the same threat to film producers that the Boston Strangler posed to a woman home alone. The booming home video industry, however, soon convinced film and TV executives that the VCR wasn't quite that bad.
Videocassettes have since given way to DVD, Blu-ray, and digital video formats, but the VCR remains an important step in the history of video recording.
We suggest celebrating VCR Day with a videocassette screening of your favorite movie from before 2006, when the last major movies were released on VHS. For an extra touch of nostalgia, heat up some Jiffy Pop (the precursor to microwave popcorn) to enjoy during the show.