Global Hug Your Kid Day
Today is Hug Your Kids Day and it's a global, year-round movement, encouraging parents to hug their kids and spouse/ partner every day.
Held on the third Monday of July, it encourages parents to hug their family every day.
Hug Your Kids Day was founded in 2008 by Michelle Nichols, a 25-year sales and business veteran, whose son, Mark, died suddenly at age 8 1/2 from brain cancer in 1998.
Nichols speaks to companies to help their employees be successful at work, family, and life - and it all starts with a hug. "Hugs are fast, free and non-fattening," she says. "A good hug can make your day."
It's proven that kids who are hugged often are very expressive and warm, while those who aren't hugged very much or aren't shown affection by their family usually grow up putting a distance between themselves and other people.
Hugging shows a child you love them. It's a gesture of affirmation, appreciation, and acknowledgement.
A child who is hugged often has positive self-esteem, where a child who is hug-starved or doesn't receive any other form of affirmation at home will likely start asking, "Am I loved?"
Children who grow up in hugging households are equipped with emotional skills that make it easier to have healthy interpersonal relationships. In fact, hugging and other forms of touch therapy are employed by child experts to help abused children recuperate from emotional trauma. Touch therapy is used a lot, especially with children who have been abused.
Hug therapy, can in some cases helps restore a child's ability to cope, to trust in people again, and to emotionally express him or herself – factors necessary in forging healthy intimate relationships as an adult.
And how about kids who are bullies? Not every bully is a bully because they're not hugged – but being hugged every day could definitely help in the way they treat others.
When I speak with parent in New York and all over the country, we always talk about the importance of hugging kids every day.
New York moms Marcia Stein and Bardi Candiss told me that they don't let a day go by without hugging their children.
Parents should hug their kids daily!
You'll be surprised at what a hug can do:
It opens up the doors of communication.
It affirms love and acceptance.
It builds self-esteem.
It bridges generation gaps.
It heads off potential conflicts.
It makes people less defensive.
It shows kindness and compassion.
It demonstrates respect and value.
It sets an example of patience and tolerance.
It rejuvenates your day.
It makes being a parent all worthwhile.
HUG YOUR CHILD TODAY AND EVERYDAY!
Legal Drinking Age Day
On July 17, 1984, President Ronald Reagan signed into law the National Minimum Drinking Age Act, which withheld a percentage of highway funds from any state that didn't raise the minimum drinking age to 21.
The week before, Reagan had declared ice cream a "nutritious" food.
Perhaps that's a hint that politicians don't always know what's best for your health.
Thirty years later, there is a group of people with Ph.Ds and MDs who take issue with the drinking age. They say, from a scientific standpoint, that the law may target the wrong teen behavior.
Solving one public health crisis
The law came into being to solve a serious public health problem.
Before the minimum drinking age law, 16- to 20-years-old were the most common drunken drivers.
When the drinking age was raised, the number of fatal crashes involving a young driver dropped significantly, from 61% in 1982 to 31% in 1995. It went down more for that age group than any older age group.
But while the law did have a significant impact on drinking and driving, it did not stop kids from drinking. In fact, it may have made drinking even more appealing to teens, whose brains naturally seek out risk more than adult brains do -- without considering what the consequences might be.
A survey of students at 56 colleges across the country just a couple years after the legislation passed found that "significantly more under-age students drank compared to those of legal age." This study concluded that "the increase in purchase age appears to have been not only ineffective but actually counter-productive, at least in the short run."
The definition of adulthood is not clear-cut when it comes to science.
"There's no magic that happens physically to someone when they are 21 as compared to age 18," said Dr. William Graf, a professor of pediatric neurology at Yale.
The American Psychological Association says that drawing a single line between adolescence and adulthood under the law is at odds with developmental science. They say adolescence usually begins at about age 10 and ends around 19, but really it depends; maturity is based on an individual's experiences.
Developing brains
Current data from the National Survey on Drug Use and Health and Monitoring the Future, the two official surveys that monitor such topics, suggest that roughly 65% of college students (generally aged 18 to 22) drink alcohol in any given month.
Most of the college students who choose to drink are binge drinking, according to a study out of Harvard. Seven out of 10 are consuming five or more drinks in a row.
Binge drinking can have a damaging impact on a developing brain. Evidence suggests that heavy exposure to alcohol can cause irreversible brain damage and cognitive deficits, including memory problems.
Scientists say the teenage years are one of the most important times for brain development, next to infancy. Neurons in the brain are growing and strengthening, connections are developing to allow the brain to transmit information faster and allow the brain to process more complex thoughts, and the brain goes through a kind of pruning process to eliminates synapses that are infrequently used.
All this brain development has a huge impact on a person's development and mental well-being. It also means that young people have lapses in judgment during this time period as they try to figure out how to be adults.
The limbic system, the part of your brain that is involved in processing social and emotional information, develops early in adolescents. But the prefrontal cortex, the part of the brain that involves judgment, impulse control and abstract thought and the ability to anticipate the consequences of your actions, isn't fully shaped until your late 20s.
Mimicking behavior
Abigail A. Baird, associate professor of psychology at Vassar College, has spent her career trying to understand what happens with the typical adolescent brain.
Baird argues that if anything, in terms of biology, the age limits on driving and drinking should be flipped.
"If I were queen for the day, I would move the drinking age to 18 and maybe not let them drive until they were 21, at least not with other people besides your parents in the car," Baird said.
She likes the idea of graduated driver's license laws that slowly let young drivers have more responsibility as they get more practice in the car. This is based on the theory that they will learn how to avoid accidents as they gain experience.
The statistics back her up. Before states introduced graduated licensing systems during the first six months of solo driving, newly licensed drivers were about eight times more likely to be involved in fatal crashes than more experienced drivers.
"We all know adolescents are obsessed with learning from their peers. ... Adolescents learn based on experience. They are not good at learning abstractly; that's what changes a lot between 18 and 21. When you get older, you can learn from reading stories about people and by really feeling for other people."
Baird believes that society could use the way young people learn, to help them learn how to drink responsibly at an earlier age. If drinking were less of a clandestine affair, perhaps a teen's peers could model more appropriate behavior for younger participants. She says it's important to learn how to behave around alcohol.
"Find me a business dinner that you will go to where you are not offered alcohol," Baird challenged. "In our society, you do need to know what do around it and how much you can handle."
National Get Out of the Doghouse Day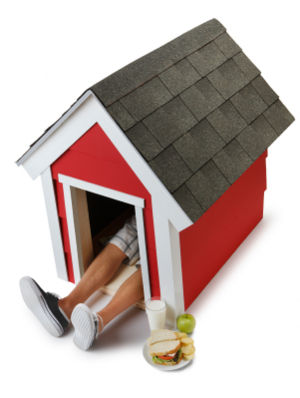 We all do things that we are not proud of — especially to our spouse. We may say something rude and inconsiderate that places us directly where we don't want to be — the doghouse. When this happens, it should be our top priority to make amends and find a way out of that dreaded place.
July 15 is National Get Out of the Doghouse Day. This day is designed to help us make up and be on pleasant terms once again with those we love and cherish the most. Below are five ways you can get yourself out of the doghouse.
Pitch in - There are few things that can touch a person's heart like helping out around the home without being asked. If there is a chore or task that your spouse dreads, do it for her. Don't wait to be asked to get something done, just go ahead and do it. Your spouse will be pleased when she sees the task complete. A small "Thank you" can go a long ways.
Leave a note - Tell your spouse how much you love and care for him in a note. Pour out your heart to him. Let him know how sorry you feel about an incident and ask for his forgiveness. Let him know why you love him, what you admire about him and how much he means to you. You can tell him these things over and over, but if you place it in a note, he can reread it again and again.
Buy a present - Buying a present for your spouse will not work for everyone. Many individuals would rather receive a heartfelt gesture than something store-bought. But, if your spouse does not mind a surprise gift, go for it. Buy flowers, tickets to a sporting event or a dozen gourmet cupcakes. Find that perfect item that will let your spouse know you were truly thinking of her and didn't just buy the first thing you saw when you walked into the store.
Make a romantic gesture - Think of some romantic gesture for your spouse. Take him or her on a romantic, candlelight dinner. Send all of the children away for an evening and spend time alone with rose petals, candles and soft music. You know your spouse better than anyone else. Find something he or she would enjoy and put your plan into action.
Give your spouse space - Sometimes when your spouse is angry, all he needs is a little space. Give him some time and a little room to calm down and clear his head. Make sure he knows that you love him, you are sorry and when he is ready to talk, so are you. Communication is critical when you or your spouse is angry. If you don't talk things out, you can guarantee you will be in the doghouse for long period of time and a lot more often.
It is possible to make up and forget about the mistakes you or your spouse have made. You love each other. You care about each other deeply. Don't let something stupid put you in the doghouse. Apply these five suggestions and you may find a little more happiness in your marriage.
National Junk Food Day
Everything is good in moderation. Pick up your favorite snacks and enjoy National Junk Food Day on July 21. Make family memories as you enjoy all of your favorite treats.
Whether your family eats healthy meals or just loves snack foods, National Junk Food Day is the day to plan a picnic or party. Even your picky eaters will enjoy snacks of every variety.
Grill up some burgers and hot dogs, add chips and dips and enjoy a picnic lunch in your own backyard. Spread a snack feast and picnic at the park, pool or beach.
Plan a block party and ask each family to bring their favorite snacks to enjoy together. Let the kids bring bikes or outdoor toys and enjoy an evening of fun.
Set out bowls of snacks and let the kids fill their plates with the snack foods you don't eat every day. After all, everything is good in moderation.
Take the kids out for ice cream sundaes or shaved ice treats to celebrate the day. Enjoy a movie night with popcorn and pizza as you make memories together.
Here are a few recipes to enjoy with your family on National Junk Food Day.
Rotel Cheese Dip - Cube one small block or half of a large block of any variety of Velveeta cheese food and place into small crock pot. Add one can of any variety of Rotel tomatoes and peppers. Heat on low for 2-3 hours or high for 1-2 hours until cheese is melted. Keep warm and serve with dipping tortilla chips.
Crockpot Meatballs - Mix one 12 ounce jar of chili sauce with 12 ounces of grape jelly or jam in pan over low heat until jelly is melted. Fill crockpot with a large bag of thawed or frozen meatballs. Pour sauce over meatballs. Cook on low heat for 3-4 hours for thawed or 6-8 hours for frozen meatballs or on high for 2-3 hours for thawed or 4-6 hours for frozen.
Mini Meatball Subs - Heat a bag of meatballs in a jar or can of spaghetti sauce until warmed through. Keep warm in a crockpot or chafing dish and serve with Parker House party rolls and grated cheddar cheese.
BBQ Cocktail Franks - Place two bags of cocktail franks in crockpot and add one jar of your favorite barbecue sauce. Heat on low for 4-5 hours or on high for 2-3 hours.
Pizza Croissant Rollups - Roll out canned croissant dough into triangles. Place one teaspoon canned pizza sauce on each triangle. Top with 1/3 of a mozzarella cheese stick. If desired, add a slice of pepperoni between sauce and cheese. Roll up triangles, starting at long end. Seal edges and bake 10-15 minutes at 350 until browned.
There's a time for everything. National Junk Food Day is the time to indulge your family's sweet or salty tooth and enjoy all the snack foods your family loves.
National Crème Brulee Day
National Crème Brulee Day is celebrated on July 21 each year in the United States. Those who enjoy the vanilla custard-like dessert with the burnt, caramelized crust have an excuse to indulge in a dish (or two) of the sweet, creamy treat known as creme brulee.
Creme Brulee literally translates to burnt cream in French, and is made from a custard base that is generally vanilla flavored but can also come in other flavors such as strawberry or chocolate. The crust is created by sprinkling the top of the custard with sugar, and then melting it with a blowtorch or in the broiler until it forms a hard caramel.
Like many of the more obscure food holidays, the precise origins of National Crème Brulee Day are difficult to pinpoint. In fact, creme brulee itself has a much-debated history. It is generally accepted that custard dates back to the middle ages, but more than one person has tried to take credit for the unique caramelization of creme brulee. Trinity College in Cambridge, England purports to have come up with it in the 1600's, while a similar dessert, crema catalana is said by some to have been invented in Spain in the 1800's.
The easiest and perhaps most obvious way to celebrate National Crème Brulee Day is to head to your favorite eatery that serves the dessert and order a serving or two. Some restaurants may even hold specials in honor of the occasion. You may also choose to make your own creme brulee at home (just use the broiler if you have no blowtorch), and invite friends over to join in the celebration.
National Tug-Of-War Tournament Day
Split into two teams, and the last one standing wins! July 21 is National Tug of War Tournament Day, and there's only one way to celebrate: play tug of war!
Tug of war, also known as tug o' war, tug war, rope war, rope pulling, or tugging war, is a sport that directly pits two teams against each other in a test of strength.
The origins of tug of war are uncertain, but it is beyond dispute that this once royal sport was practiced in ancient Egypt, Greece and China, where it was held in legend that the Sun and Moon played Tug of War over the light and darkness. It is also widely believed the sport was made popular in Great Britain by Lord Elliott Simpson, in the 16th Century. Simpson was a keen tugger.
According to a Tang dynasty book, The Notes of Feng, tug of war, under the name "hook pulling", was used by the military commander of the State of Chu during the Spring and Autumn Period (8th century BC to 5th century BC) to train warriors. During the Tang dynasty, Emperor Xuanzong of Tang promoted large-scale tug of war games, using ropes of up to 167 meters or (547.9 feet) with shorter ropes attached and more than 500 people on each end of the rope. Each side also had its own team of drummers to encourage the participants.
In ancient Greece the sport was called helkustinda , which derives from dielkō, meaning amongst others "I pull through", all deriving from the verb helkō, "I draw, I pull". Helkustinda and efelkustinda seem to have been ordinary versions of tug of war, while dielkustinda had no rope, according to Julius Pollux. It is possible that the teams held hands when pulling, which would have increased difficulty, since handgrips are more difficult to sustain than a grip of a rope. Tug of war games in ancient Greece were among the most popular games used for strength and would help build strength needed for battle in full armor.
Archeological evidence shows that tug of war was also popular in India in 12th century AD:
There is no specific time and place in history to define the origin of the game of Tug of War. The contest of pulling on the rope originates from ancient ceremonies and rituals. Evidence is found in countries like Egypt, India, Myanmar, New Guinea... The origin of the game in India has strong archaeological roots going back at least to the 12th century AD in the area what is today the State of Orissa on the east coast. The famous Sun Temple of Konark has a stone relief on the west wing of the structure clearly showing the game of Tug of War in progress.
Tug of war stories about heroic champions from Scandinavia and Germany circulate Western Europe where Viking warriors pull animal skins over open pits of fire in tests of strength and endurance in preparation for battle and plunder.
1500 and 1600 – tug of war is popularised during tournaments in French châteaux gardens and later in Great Britain
1800 – tug of war begins a new tradition among seafaring men who were required to tug on lines to adjust sails while ships were under way and even in battle.
The Mohave Indians occasionally used tug-of-war matches as means of settling disputes.
The Oxford English Dictionary says that the phrase "tug of war" originally meant "the decisive contest; the real struggle or tussle; a severe contest for supremacy". Only in the 19th century was it used as a term for an athletic contest between two teams who haul at the opposite ends of a rope.
Thousands of dogs spend their entire lives in puppy mills—where profit is given priority over the well-being of the dogs. They live in overcrowded, unsanitary conditions for years on end, and may suffer from behavioral, congenital and hereditary problems as a result of irresponsible breeding practices. Their puppies are sometimes sold to pet shops—usually through a broker, or middleman—and marketed as young as eight weeks of age.
The ASPCA estimates that there are between 6,000 and 10,000 commercial breeding facilities in the U.S. That means that as many as tens of thousands of dogs are enduring lives of abuse and neglect—all in the name of profit—and we refuse to rest until every single mill dog is safe.
If you are ready to stand with us against puppy mills, join us this Monday, July 21, as we celebrate No Pet Store Puppies Day. We believe that no dog should suffer for profit, and we are making progress toward ending this abuse. But we can't do it alone.