National Cheese Sacrifice Purchase Day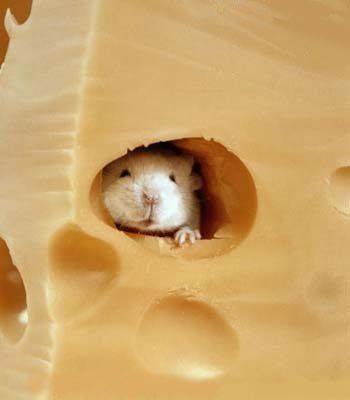 This is without a doubt the most mysterious and weird national food holiday on the entire calendar! What the hell is "Cheese Sacrifice Purchase Day"? There's absolutely no consensus on the holiday's origin or meaning that I can find on the Internet; all of us food holiday junkies are stumped. The speculation that runs around the Internet about Cheese Sacrifice Purchase Day is that, originally, people would buy cheese on this day and "sacrifice" it to their household pest problems, using the cheese in mouse traps to snare the little buggers. In modern days, however, this practice has long since been pushed to the realms of classic cartoons and history books. We no longer need to sacrifice our cheese to our rodent miscreants!
So how do we celebrate Cheese Sacrifice Purchase Day nowadays? (Well, technically, lots of people could still probably use to get rid of their rodent problems, but I hope we're using other methods than cheese these days.) Lots of people have creative, new suggestions for observing this food holiday: you can "sacrifice" a little of your budget and buy an expensive cheese you love, but don't normally indulge in because of its price. Or try a new and interesting cheese you've been hesitant to taste.
Virtually every mammal on Earth produces milk to feed their offspring; and, milk, when cultured, processed, and aged, can become cheese. I'm not saying go out there and try like, cat's cheese or anything. (God, do they even make cat's cheese?! Don't answer that, I don't want to know!) But there are domestic animals other than cows that we use for their milk, and thus, sometimes make cheese out of it. The most popular non-cow cheeses come from goats and sheep. I've very rarely tried goat's milk cheese, and I don't think I ever tried sheep's cheese, so here are some restaurants today that feature these rare cheeses for both you and me to enjoy!
Goat's cheese has become more popular in the culinary world recently, especially in New York, where locavore trends have veered towards the small goat farms in surrounding regions (as apart from the larger dairy cow farms, which, while local, can be anathema to locavore beliefs). It tends to have the consistency of firm cream cheese, but with a tangier, almost sour taste, due to the milk having more fatty acids in it than cow's milk. To counter that sour taste, many culinary cultures around the world–who favor goat's milk to cow's milk for the goat's value as a herding animal–use honey as a sweetener, either in the blend of the cheese itself or as an added ingredient to a dish. Try honeyed goat's cheese at Alta, a Mediterranean restaurant in Greenwich Village that makes lots of mountain-animal-inspired dishes, like lamb meatballs and mushroom risotto. They have their goat's cheese as an appetizer, mounded into balls and then deep fried (can't go wrong!), and served with lavender-infused honey. Deep-frying leaves a crispy crust on the cheese, which stays gooey and soft, not melty, when warmed; the honey adds sweetness to the dish, and the lavender leaves a sweet floral note. It's definitely a different cheese experience from any cow's milk you've had, so if you're looking to pop your goat's cheese cherry, this is the app to do it with!
National Chicken Wing Day
July 29 is National Chicken Wing Day. Over a billion chicken wings are consumed each year. And in 1977 they received their own day in Buffalo, New York when then Buffalo Mayor Stan Makowski proclaimed July 29 as National Chicken Wing Day. Thousands of pounds of chicken wings are consumed each week in Buffalo and around the world. That's why they are called Buffalo wings.
A chicken wing can be cooked whole or cut into sections. The big part of a chicken wing when cut is called a drumette. When chicken wings are cooked without breading and then covered in a vinegar-based cayenne pepper sauce, they are called hot wings.
The classic Buffalo-style chicken wing sauce is composed of a vinegar-based cayenne pepper hot sauce and butter. Buffalo wings are traditionally served with celery sticks and blue cheese dressing or ranch dressing.
There are several different claims about how Buffalo wings were created.
One of the more prevalent claims is that Buffalo wings were first prepared at the Anchor Bar in Buffalo, New York, by Teressa Bellissimo. who owned the bar along with her husband Frank. Several versions of the story have been circulated by the Bellissimo family and others:
Upon the unannounced, late-night arrival of their son, Dominic, with several of his friends from college, Teressa needed a fast and easy snack to present to her hungry guests. It was then that she came up with the idea of deep frying chicken wings (normally thrown away or reserved for stock) and tossing them in cayenne hot sauce.
Dominic Bellissimo (Frank and Teressa's son) told The New Yorker reporter Calvin Trillin in 1980: "It was Friday night in the bar and since people were buying a lot of drinks he wanted to do something nice for them at midnight when the mostly Catholic patrons would be able to eat meat again." He stated that it was his mother, Teressa, who came up with the idea of chicken wings.
There was mis-delivery of wings instead of backs and necks for making the bar's spaghetti sauce. Faced with this unexpected resource, Frank Bellissimo says that he asked Teressa to do something with them.
However, a long article about the Anchor Bar in a local newspaper in 1969 does not mention Buffalo wings.
Another claim is that a man named John Young served chicken wings in a special "mambo sauce" at his Buffalo restaurant in the mid-1960s. His wings were breaded. Young had registered the name of his restaurant, John Young's Wings 'n Things, at the county courthouse before leaving Buffalo in 1970.
Marketing materials for Frank's RedHot claim that it was the hot sauce used in the Bellissimos' original recipe.
National Lasagna Day
Celebrated annually on July 29, National Lasagna Day celebrates the Italian food lasagna. Select restaurants, such as Buca di Beppo and Spaghetti Warehouse, have historically given away free lasagna in honor of the holiday. Other Italian style restaurants may feature specials of the day with discounts on the dish.
Lasagna is a main dish that traditionally features layers of sheet pasta, tomato sauce and cheese. Lasagna may use a meat sauce containing beef, pork, or sausage or may be served as a vegetarian dish. To celebrate at home, check out Mahalo's guide to How to Make Lasagna.
The word lasagna takes its name from a Greek name of a cooking pot, lasanon. The cooking pot name transitioned to lasagne, the Italian plural of lasagna when the pot was used to cook flat sheets of pasta. Lasagna eventually became the common name of the noodle itself.
Origins of the Italian dish go back to the 8th century when the Arabs invaded the area and introduced Sicily to dried noodles. By the 1300s dried pasta was popular because of it's long shelf live but it was not until the 19th century when the combination of pasta and tomatoes are first documented.
In honor of the day celebrating the Italian dish, consider making lasagna at home using fresh ingredients. If time doesn't allow making the sauce from scratch, try a jarred sauce with seasonings already added to obtain a taste close to a homemade simmered sauce. For other celebration activities, choose a local Italian restaurant and join in the festivities planned in honor of the food holiday.
Rain Day
Rain Day got its beginning in the Daly & Spraggs Drug Store, located in the center of Waynesburg. Legend has it that one day a farmer was in the drugstore and mentioned to Byron Daly that it would rain the next day, July 29. Mr. Daly asked him how he knew and he replied that it was his birthday and that it always rained on his birthday. He had a journal for several years in which he recorded the weather and always had noted rain on July 29th. Mr. Daly thought this was too sure a thing to let pass, so he started betting salesmen who came into his drugstore that it would rain in Waynesburg on July 29. The bet was usually a new hat, which of course he would win.
In later years, Byron Daly's son, John, continued the tradition of wagering a hat on Rain Day. John was an attorney in Waynesburg, a very gentlemanly individual, who always tipped his hat to the ladies he passed on the street, and spoke with a kind soft voice. Although he had fun with Rain Day, he also took it very seriously. He liked the idea of keeping it as a local phenomenon.
John Daly was the Rain Day Prophet, who kept the tradition alive that was started by his father Byron, when he bet a hat that it would rain on Rain Day. In keeping up the night vigil (usually in a yellow slicker, hat & umbrella) sitting on the courthouse wall waiting for the first drop of rain to fall. He was almost always rewarded for his efforts and would give a gentle smile, put up his umbrella and head for home after the first drips fell.
John Daly had won hats from such notables as Bob Hope, Bing Crosby, Johnny Carson, Cassius Clay and Arnold Palmer just to name a few. He also would bet local TV personalities from the Pittsburgh Area. In 1967, he bet Del Miller, who owned the Meadows Race Track in Washington, PA. That year, not only did Mr. Miller give John Daly a hat, he gave him a complete set of racing silks.
John Daly kept a box under his bed of the hats he had collected over the years. Many years ago, a non-profit talked Mr. Daly into donating his hat collection for a fund- raising auction. The hats were sold to the highest bidders! Special Events Commission has tried several times to determine the purchasers of the memorabilia unfortunately, to no avail, and none of the hats have never been recovered.
In more recent years, the Special Events Commission has won hats from people like Jay Leno, Fran Drescher, Mario Lemieux, Jaromir Jagr, Troy Aikman, Mr. Rogers and Mr. McFeely, The Dixie Chicks and Chubby Checker. Harry Anderson, star of TV's Night Court, was the unsuspecting bettor in 1988; that year it didn't rain, so the commission sent Harry a hat. The hat appeared on the bookshelves behind his desk on the set for several episodes next to his armadillo.
What Makes our Annual Rain Day Festival?
It's the Special Events Commission, which was formed in 1979 as an offshoot of Waynesburg Borough. The Commission is composed of nine members.
In the early days the celebration was varied; one year the main street might be closed with a carnival setup through the center of town, complete with a ferris wheel, carousel, games and food. The next year there might not be more than a mention of Rain Day in the local newspapers. The Special Events Commission was to bring continuity to the event and has brought both national and international fame to Waynesburg. In 1979, an annual street festival that continues to this day was born.
In 1983, Willard Scott the weatherman on NBC's Today Show was the bettor who gave Rain Day the most notoriety. Willard, being a weatherman, the phenomenon of Rain Day was of special interest to him. Mr. Scott not only mentioned Waynesburg on Rain Day, but talked about it the day before and the day after. Although it didn't rain for Willard's year, he sent us a beautiful Stetson cowboy hat.
In 1992, the commission bet the town of Niceville, Florida. A resident there was a former Waynesburgian, who thought that Niceville and Waynesburg were perfect opposites. Of course, Waynesburg won a hat from the Florida town.