National Mutt Day
In 2005 National Mutt Day was created by Colleen Paige, Celebrity Pet Expert and Animal Welfare Expert. The day which takes place on July 31 and December 2 each year is about celebrating mixed breed dogs - the mutt! Sadly, the largest number of dogs euthanized in animal shelters each year are unwanted, medium to large mixed breed dogs.
The aim of the day is to raise awareness of the plight of mixed breed dogs in shelters around the USA and to educate the public about the number of mixed breed dogs that are waiting to be given a loving and caring home.
Did you know that mixed breed dogs are usually healthier than their pedigree pals, they are generally better behaved and they live longer. And what's more they are every bit as capable as pure bred dogs and they are just as good at performing specialized duties, for example guiding the blind and bomb and drug sniffing.
It is so sad that millions of unwanted healthy mixed breed dogs are housed in shelters just waiting for that special new home so they can share their love with a kind family.
This December, on National Mutt Day, Colleen Paige would like you visit your local shelter and find a new four-legged friend. You can apopt a mixed breed dog or alternatively, please donate at least $5, or whatever you can afford to your local animal shelter - as they need all the financial help they can get to ensure these dogs have a comfortable and happy life!
There are other ways you can get involved to help your local animal shelter, for example, you can become a volunteer and walk a dog, or get your friends and family to donate food and other doggie supplies and treats. You could even hold an event to raise funds and donate them to your local animal shelter - every dollar helps!
So ... get your thinking caps on and do what you can to support National Mutt Day.
National Chili Dog Day
It's been less than a week since National Hot Dog Day, but it's already time to celebrate National Chili Dog Day! National Chili Dog Day is always observed on the last Thursday of July, which is also National Hot Dog Month. Chili dogs are hot dogs that are usually topped with chili con carne (sans the beans), and other optional ingredients like cheese, onions, or mustard.
When the National Sausage and Hot Dog Council ran a pole in 2005, they discovered that chili was the third most popular hot dog condiment, receiving 17% of the votes tallied. The chili dog's popularity has spawned many variations, like the Coney Dog (actually from MIchigan) with added onions and mustard, and the Texas Hot Dog (actually from Pennsylvania!), which is topped with hot sauce. Chili dogs are particularly popular in the western U.S., with several restaurant chains featuring them on their menus. Arizona is home to the Sonoran dog, a chili dog that's also topped with bacon and salsa.
National Cotton Candy Day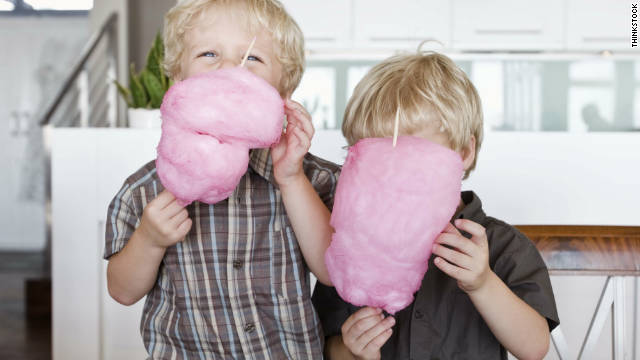 National Cotton Candy Day is an annual celebration that falls on two days during the year December 7th and July 31st. On this unofficial holiday, Americans celebrate by paying tribute to this delicious confection made of sugar. Cotton candy, also known has candyfloss and fairy floss, is spun sugar with added coloring. First the sugar is melted, then brought back to a thin solid state. It is commonly sold at fairs, carnivals, festivals and the circus. This confection is usually served on a cardboard stick or comes enclosed in a plastic bag. The fluffy, cloud like candy is most commonly found in pink and blue.
The history behind National Cotton Candy Day seems to be a mystery. However, it is not a mystery where this melt-in-your mouth candy come from. Although, it was made before in the 1700s, cotton candy was expensive and timely to make. Then in 1897, William Morrison and John C. Warton invented the machine spun variety. In 1899 this invention was patented. Fairy Floss made its claim to fame, when it was introduced at the St. Louis World's Fair in 1904. Guest paid a whopping 25 cents for a bag for this big hit. It wasn't until 1920 that this treat renamed cotton candy.
National Cotton Candy Day is simple to celebrate. On July 31st, you'll probably be able to enjoy cotton candy at a fair, amusement park, or at boardwalk concessions. However, there aren't many fairs and carnivals within the United States during the month of December. If there are any events going on, by all means, go out and have a bag. The circus would be an excellent place to start. It is pretty easy to find this confection already premade and packaged in candy shops and grocery stores for a more modest celebration. What a special treat it would be for children to see it actually being made. Cotton candy machines can be rented for this special occasion.
National Jump for Jelly Beans Day
Every year on the 31st day of July falls a little known food holiday known as National Jump for Jelly Beans Day. Not to be confused with National Jellybean Day, which falls on April 22nd each year, this holiday presumably requests that lovers of the tiny, sweet, gummy candies work for their treats with an enthusiastic leap.
July 31 is indeed a popular day for food holidays, as two others fall on this very date: National Cotton Candy Day and National Raspberry Cake Day. Those who love sweet fruity flavors can push the envelope by celebrating all 3 of these holidays, and make this a day of true indulgence.
It is difficult to find information on the Internet regarding the origins of National Jump for Jelly Beans Day, just as it is for many of the more obscure food holidays. This holiday may have been started by makers of jelly beans, or by fans of the candies.
The jelly bean itself is thought to date back to biblical times with Turkish delight, although modern jelly beans are quite different than this ancient ancestor. Jelly beans as we now know them stemmed from Jordan almonds, as they are made by the same process of shaking a filling in a container of a syrup to coat. This process, which was invented in France in the 1600's, used to be done by hand but machines now generally perform the job.
While major celebrations of this holiday may be hard to find, you may see regional festivities or special promotions by jelly bean manufacturers. This holiday lends itself well to throwing a children's party, where young ones can enjoy jumping up and down and eating plenty of jelly beans.
Bratwurst Day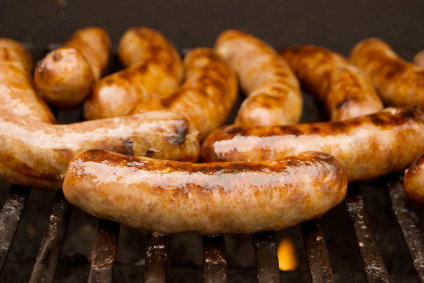 The idea of Bratwurst Day goes back as far as six decades B.C., when the Romans held annual festivals where sausages spiced with various herbs were fried over open fires.
Although different history books give it different paths, the wurst eventually found its way to the German city of Trier and shortly after, throughout the rest of Germany. Sometime in the mid-19th century, the little sausages immigrated to Sheboygan with the German settlers.
To celebrate the city's 100th anniversary, Bratwurst Day was born on Thursday, August 13, 1953. The idea, conceived by A. Matt Werner, editor of The Sheboygan Press, was a means of publicizing Sheboygan's claim to fame: the bratwurst. The event was sponsored by the Sheboygan Jaycees with the support of then Mayor Edward C. Schmidt and Governor Walter Kohler.
Schmidt's proclamation, which designated the 13th as Bratwurst Day read, in part: Whereas, this community has achieved national fame and recognition for the exclusive manufacture of a special kind of roasting sausage, and Whereas, it is a known and established fact that the production and distribution of bratwurst has increased year by year to a point where it has become an industry of vital importance to this community - all citizens and visitors are to refrain from roasting bratwurst on their own grills and will attend and enjoy the "Bratwurst Festivities" to be held on the main street in the City of Sheboygan.
Streets were renamed Bratwurst Boulevard (North Eighth Street) and Onion Oasis to provide the right atmosphere for the festivities. Nowhere else in the world would you find a scene like this at 8 a.m., when the Sheboygan Jaycees were greeted by a flood of customers as they began to sell brats at the corner of Bratwurst Boulevard and Wisconsin Avenue. By noon, fryers were in operation on every corner in the downtown area. As estimated 7,000 pounds of brats, 96 gallons of dill pickles, 288 bottles of ketchup, 288 jars of mustard and 350 pounds of onions were consumed.
Activities of the first Bratwurst Days included the crowning of the bratwurst queen, brat eating contest, parade, square dancing, polka music and fireworks. A time capsule was also buried in Fountain Park. Various articles of Sheboygan historical interest were placed in the capsule, to be opened in 2053, 100 years from 1953.
The turnout was beyond all expectations that the Jaycees decided to make Bratwurst Day an annual event. With Sheboygan billed as the "wurst" capital of the world, 1954's celebration held Saturday, August, 7, included two 11-pound brats on display in Fountain Park. The two king-size brats, prepared by Wagner Sausage Co., were placed on huge rolls baked by Heitzmann Bakery. An estimated 7,500 pounds of brats were consumed.
The Sheboygan Press extended an invitation to Ann Landers to attend the Aug. 2, 1958 Bratwurst Day. She declined, but wrote, "Sorry I'm not there to enjoy the celebration. I am eating bratwurst tonight for sentimental reasons. Best Wishes. Ann Landers."
The Kiwanis Park Hill was the site for the soap box derby contest of the 1959's Bratwurst Day. An estimated 5,000 spectators watch Danny Lee Brickrsquo's soap box win. At that celebration, 10,000 pounds of bratwurst were put away.
For the 1961 B-Day (as they nicknamed it), hotels and motels in the area were booked in advance. At the time, one motel owner said he was booked solid two months in advance and turned away 1,000 reservations for the weekend.
Sixty-six bratwurst stands were set up to sell the little porkers in 1962. The Jaycees put 2,000 man hours into the event.
The event continued to grow in popularity each year. As it grew to a celebration attended by as many as 100,000 people, the festival also grew in the number of problems that resulted: vandalism and drunkenness caused by some of the younger and less civic-minded.
These problems caused no small degree of concern among city leaders, for the day to show off Sheboygan had turned out to be a black eye, they said. The question of continuing Bratwurst Day, or modifying it, was put to the voters after the 13th annual celebration. In a referendum on April 5, 1966, voters in the city said no to the festival after 13 mostly glorifying years.
Several years later, the Jaycees again thought that civic pride and better crowd control would again allow the city to celebrate its heritage. They proposed changing the name to German Days and moving the festival from downtown Sheboygan to Kiwanis park, a more confined area. In 1969, the Jaycees won the acceptance of city leaders to hold the festival after they promised that the bad memories of Bratwurst Day would not be revived.
The "new celebration" grew, but at a much slower pace than did Bratwurst Day. German Day festivals were held from 1970 to 1974.
In August 1975, the Jaycees sponsored an eight-day Sheboygan Days festival with a carnival. Sheboygan Days were held until 1978.
In honor of the city's 125th anniversary in 1978, Bratwurst Day made its comeback. An estimated crowd of 25,000 to 35,000 jammed Kiwanis Park for the return of Bratwurst Day that sunny August 7. The bratwurst eating contest had to be delayed an hour because there were no cooked brats available. Two tons of meat was consumed along with 197 half barrels of beer. Some of the many activities held included a pie-eating contest, a bubble gum blowing contest, Stumpf Fiddle competition, square dancing, air balloon rides, wet T-shirt contest and a water fight between four area fire departments.
The Bratmeister, a 13-foot tall balloon resembling a Bavarian character made its debut in 1980 as the mascot of the Sheboygan Jaycees.
By 1984, the number of celebrants had risen to about 40,000, who consumed 3,458 pounds of brats and 5,580 gallons of beer.
In 1988, Brat Days started bringing national entertainment to the Sheboygan area. The 1st act that was the Turtles. In 1996, the festival started to have a national act on both Friday and Saturday, and in 2005, country national acts were added on Saturday afternoon.
In 1991, the Jaycees broadened the taste experience with the addition of the Bratxotic Food Gallery Tent. Sheboygan restaurateurs were tasked with featuring bratwurst as the main ingredient in the dishes they sold. The Bratxotic tent continues today with offerings that include: brat pizza, brat taco, brat egg rolls and brat lasagna.
In 2004, Johnsonville, the number one national brand of brats, secured the rights to the Sheboygan Jaycees Brat Days and Brat Days was renamed to the Sheboygan Jaycees present Johnsonville Brat Days. With Johnsonville's support, the festival attracts bigger musical entertainment while continuing to combine the best of Midwestern family fun with the quirky, Wisconsin brat experience.
As title sponsor, Johnsonville partnered with the International Federation of Competitive Easting (IFOCE) in 2005 to hold the Johnsonville Brat-Eating World Championship.
History was made on August 6, 2005, when Sonya Thomas, the Black Widow, downed 35 of the famous brats in 10 minutes, obliterating the 2004 record of 19 brats.
They say that competitive eating is the battleground against which God and Lucifer battle for men's souls, my friends, International Federation of Competitive Eating Chairman George Shea bellowed to the crowd before the 2006 Johnsonville Brat-Eating World Championship.
The crowd, roared as the 16 eaters wriggled, convulsed and bounced to shovel down brat after brat. Takeru Kobayashi set yet another world record by downing 58 brats in 10 minutes, shattering Sonya's record.
Today, Brat Days still provides brat lovers from all over the country with a one-of-a-kind brat experience. Brat Days continues to be the largest fundraiser for the Sheboygan Jaycees. All proceeds are given back to the community primarily though donations. Past organizations that have received donations include the Field of Dreams, Above and Beyond Children's Museum, Jaycee Quarryview Park, Big Brothers Big Sisters, Area High School Scholarship Program, the American Red Cross and the American Cancer Society.
Uncommon Instruments Awareness Day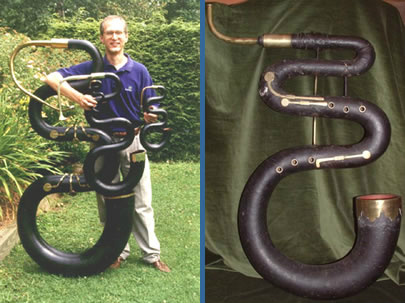 Break out your euphoniums, dulcimers, mellophones and hurdy-gurdys because it's that time of the year again. It's Uncommon Instrument Awareness Day, you know, that holiday that's only a holiday because someone named "Monkeyboy290" created a
website
. (PS—you're gonna wanna turn down your volume before you click on that.) But now, thanks to the viral nature of the Internet we can all celebrate this little known non-holiday! Obviously, Step 1 is looking up what those instruments we mentioned above even are. Step 2 is to get out there and make some noise. Don't just tell people about your love of the xaphoon, go out there and play one!
University of Maryland has its own collection of rare and early instruments, including the very fun-to-say hurdy-gurdy, which, FYI, is a favored instrument of Arcade Fire. Open to both students and the public, this is your chance to party like its 1699.
Visit the website here
.
If you're looking to get into the hammered dulcimer, email DC native
Jody Marshall
. No prior experience is necessary, she'll teach you the ways of this bizarre stringed instrument for $60 an hour in her McLean studio. Go on, play that funky music...
Finally, if you're just looking to purchase or rent some wacky instruments for your inevitable Uncommon Instruments House Party, check out Takoma Park's House of Musical Traditions (7010 Westmoreland Ave., Takoma Park, Md.), where you can find a gazillion different kinds of flute-like instruments, as well as our personal favorite, the Bowed Psaltery. The less sure we are of how to pronounce it, the more we want to play it.
World Ranger Day
World Ranger Day is observed on the 31st of July each year. It is the day to commemorate the many Rangers killed or injured in the line of duty. It is also the day to celebrate Rangers and the work they do to protect the world's natural and cultural treasures. World Ranger Day is promoted by the 54 member associations of the International Ranger Federation (IRF), by our partner the Thin Green Line Foundation, and by individuals who support the work of Rangers and the IRF.
The first World Ranger Day was observed in 2007 on the 15th anniversary of the founding of the IRF.
You can celebrate World Ranger Day in a number of ways:
Light a candle and observe a minute's silence to think about those Rangers who have died in the line of duty
Plant a tree as a living tribute to Rangers around the world
Host a screening of the international Ranger documentary The Thin Green Line
Take the time to talk with park visitors and partners about the work of Rangers around the world
Host a special public event in or near your park dedicated to the work of Rangers in your particular area and highlight the role they share with Rangers around the world
Meet with your local communities, partners, and support groups to talk about the work of the IRF and how they can help support Rangers and protected areas
Visit a school – engage young people in the future of world parks, biodiversity, and conservation
Invite a Ranger from another park or country to join you and your co-workers for a week in your park, encompassing the 31st of July
Rangers may wish to meet with fellow park staff and/or your boss to discuss World Ranger Day and the role of Rangers, including the work of the IRF
Seek partners and donors interested in supporting and sustaining the work of your protected area and the IRF
Write an article for your local newspaper about Rangers and the significance of World Ranger Day
Present an award to a Ranger in your park or ranger association who has made a special contribution to the management of protected areas, their association or the IRF
Lobby your state or national government to establish a National Ranger Day
Have fun! Celebrate your role in protecting the world's natural and cultural treasures
Harry Potter's Birthday
Pour yourself a glass of butterbeer – it's Harry Potter's birthday.
July 31, a day which also happens to be "Harry Potter" author J.K. Rowling's date of birth, marks the famous fictional wizard's 34th birthday.
To celebrate, we've rounded up a list of local events and things to do in honor of the Boy Who Lived.
We solemnly swear we're up to no good:
1. Catch up with the Potterverse
It's been seven years since Harry Potter and the Deathly Hallows hit shelves, but two recent short stories released by Rowling on Pottermore give a hint as to what Harry and the gang have been up to since the series ended.
Harry, his famously unruly black hair starting to gray, is working as an Auror (the Ministry of Magic equivalent of the FBI):
"About to turn 34, there are a couple of threads of silver in the famous Auror's black hair, but he continues to wear the distinctive round glasses that same might say are better suited to a style-deficient twelve-year-old. The famous lightning scar has company: Potter is sporting a nasty cut over his right cheekbone…Is the Chosen One embroiled in fresh mysteries that will one day explode upon us all, plunging us into a new age of terror and mayhem?"
Meanwhile Hermione now serves as Deputy Head of the Department of Law Enforcement after a "meteoric rise" through the Ministry ranks, and Ron co-manages joke shop Weasleys' Wizard Wheazes with his brother George.
2. Attend a Harry Potter Birthday Bash
What better way to celebrate than a birthday party?
Anderson's Bookshop in Naperville is throwing a Harry Potter Birthday Bash, complete with Hogwarts-themed crafts, games and trivia. The festivities will start at 2 p.m. on Thursday, July 31.
Afterwards, keep the party going with a cake inspired by the the one Hagrid brought Harry on his eleventh birthday.
3. Catch a Golden Snitch
…or at least the Muggle equivalent of one.
The Kane County Cougars will be giving out Golden Snitch baseballs before their August 1 game:
4. Test your HP knowledge
The Naperville Public Library is holding a July 31 screening of Harry Potter and the Order of the Phoenix as part of their Teen Movie Series.
The event, which starts at 2 p.m. at the Nichols Library branch, will include a trivia contest. Butterbeer will be served.
5. Play Quidditch
Fans have created a muggle-friendly version of the popular wizarding sport – no Nimbus 2000 required.
Check out our Quidditch Guide for opportunities to play in your area.
6. Make your own butterbeer
No need to visit the Three Broomsticks. Potterheads have created hundreds of DIY recipes for the magical beverage – both alcoholic and non-alcoholic versions.
We've pinned a few options on our Pinterest board, as well as some other magical recipes and craft ideas.
7. Take a trip down memory lane
We compiled a photo gallery of pictures of Harry and company throughout the years. Click through to see how much they've grown up.