National Aviation Day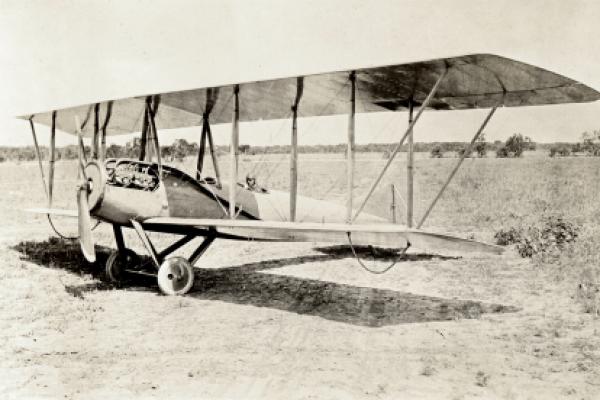 National Aviation Day is observed in the United States on August 19 each year to celebrate the history and development of the aviation. It coincides with the birthday of Orville Wright who, together with his brother Wilbur, made significant contributions to powered flight.
On this day, some schools organize for students to participate in classroom activities that focus on the topic of aviation. Activities include: discussing aviation history, including the efforts of the Wright brothers, Amelia Earhart and other aviation pioneers; and engaging in interactive tasks about airplanes and other means of flight transport, as well as careers associated with the aviation industry. Aviation enthusiasts and students may visit museums about aviation history and technology. Some people visit the Wright Brothers National Memorial in North Carolina at this time of the year.
In 1939 President Franklin Roosevelt proclaimed August 19 to be National Aviation Day. The day coincides with the birthday of Orville Wright, who piloted the Wright Flyer. He and his brother Wilbur are given credit for building the world's first successful airplane with aircraft controls that enabled them to steer the plane. Orville Wright made the first flight for 12 seconds and 120 feet around the site of Wright Brothers National Memorial on December 17, 1903. They were not the first to build and fly experimental aircraft but they are the first to invent aircraft controls that made fixed wing flight possible. The Wright brothers' status as inventors of the airplane has been an issue of debate, particularly as there were competing claims regarding other early aviators. Another national observation in the United States is Wright Brothers Day on December 17 each year.
Each year the president may issue a proclamation to: designate August 19 as National Aviation Day; call on government officials to display the flag of the United States on all government buildings on the day; and invite people living in the United States to observe the day with appropriate exercises to further stimulate interest in aviation in the United States.
Images of early flight pioneers (including the Wright brothers), airplanes and other flight vehicles, aviation industry workers (such as pilots) and any other images linked with the aviation industry have been seen on material used to promote National Aviation Day
National Potato Day
Do the mashed potato - August 19 is National Potato Day!
Show your spud love with pride today and embrace this king of delicious side dishes. As "Lord of the Rings" taught us, hobbits are particularly protective of their taters, and so are we.
The potato, from the perennial Solanum tuberosum, is the world's fourth largest food crop, following rice, wheat, and maize. The Inca Indians in Peru were the first to cultivate potatoes around 8,000 BC to 5,000 B.C.
In 1536 Spanish Conquistadors conquered Peru, discovered the flavors of the potato, and carried them to Europe. Before the end of the sixteenth century, families of Basque sailors began to cultivate potatoes along the Biscay coast of northern Spain. Sir Walter Raleigh introduced potatoes to Ireland in 1589 on the 40,000 acres of land near Cork. It took nearly four decades for the potato to spread to the rest of Europe.
Eventually, agriculturalists in Europe found potatoes easier to grow and cultivate than other staple crops, such as wheat and oats. Most importantly, it became known that potatoes contained most of the vitamins needed for sustenance, and they could be provided to nearly 10 people for each acre of land cultivated.
In the 1840s a major outbreak of potato blight, a plant disease, swept through Europe, wiping out the potato crop in many countries. The Irish working class lived largely on potatoes and when the blight reached Ireland, their main staple food disappeared. This famine left many poverty-stricken families with no choice but to struggle to survive or emigrate out of Ireland. Over the course of the famine, almost one million people died from starvation or disease. Another one million people left Ireland, mostly for Canada and the United States.
Potatoes in the United States
Potatoes arrived in the Colonies in 1621 when the Governor of Bermuda, Nathaniel Butler, sent two large cedar chests containing potatoes and other vegetables to Governor Francis Wyatt of Virginia at Jamestown. The first permanent potato patches in North America were established in 1719, most likely near Londonderry (Derry), NH, by Scotch-Irish immigrants. From there, the crop spread across the country.
Idaho, the present-day largest producer of potatoes, actually did not begin growing potatoes until 1836, when missionaries moved west in an effort to teach the native tribes to grow crops instead of relying upon hunting and gathering methods. However, it wasn't until 1872 when the Russet Burbank variety was developed, that the Idaho potato industry began to flourish.
A. Parmentier helped King Louis XIV popularize the potato in France in the 18th century. Parmentier created a feast with only potato dishes, a concept he realized was possible when he was imprisoned in Germany and fed only potatoes. Benjamin Franklin, ambassador to France, was in attendance of Parmentier's feast in 1767.
French Fries were introduced to the U.S. when Thomas Jefferson served them in the White House during his Presidency of 1801-1809. Collinet, chef for French King Louis Phillipe (reign 1830-1848) unintentionally created soufflés (or puffed) potatoes by plunging already fried potatoes into extremely hot oil to reheat them when the King arrived late for dinner one night. To the chef's surprise and the king's delight, the potatoes puffed up like little balloons. In 1853 railroad magnate Commodore Cornelius Vanderbilt complained that his potatoes were cut too thick and sent them back to the kitchen at a fashionable resort in Saratoga Springs, NY. To spite his haughty guest, Chef George Crum sliced some potatoes paper thin, fried them in hot oil, salted and served them. To everyone's surprise, Vanderbilt loved his "Saratoga Crunch Chips," and potato chips have been popular ever since.
Did you know…
During the Alaskan Klondike gold rush, (1897-1898) potatoes were practically worth their weight in gold. Potatoes were valued for their vitamin C. And gold, at that time, was more plentiful than nutritious foods!
In October 1995, the potato became the first vegetable to be grown in space. NASA and the University of Wisconsin, Madison, created the technology with the goal of feeding astronauts on long space voyages, and eventually, feeding future space colonies.
The Incas had many uses for potatoes other than dinner:
Placed raw slices on broken bones to promote healing
Carried them to prevent rheumatism
Ate with other foods to prevent indigestion.
Measured time: by correlating units of time by how long it took for potatoes to cook.
Various folk remedies recommend using potatoes:
Treat facial blemishes by washing you face daily with cool potato juice.
Treat frostbite or sunburn by applying raw grated potato or potato juice to the affected area.
Help a toothache by carrying a potato in your pocket.
Ease a sore throat by putting a slice of baked potato in a stocking and tying it around your throat.
Ease aches and pains by rubbing the affected area with the water potatoes have been boiled in
National Soft Ice Cream Day
On August 19, in the United States, a break from the heat is taken to observe National Soft Ice Cream Day. The summer months have a number of food holidays which celebrate cool desserts or drinks. Soft ice cream is a treat found in fast food restaurants, on buffet dessert bars, and in ice cream parlors. It can be served on a sugar cone, in a waffle cone, as a part of a specialty dessert like a banana split, or in a bowl. It may be dipped in chocolate, or covered with a topping like sprinkles or crushed cookies. A vanilla soft ice cream cone, 3 ounce size at Dairy Queen has 140 calories. Soft ice cream can be served in a variety of flavors.
Although National Soft Ice Cream Day has no official designation it is enjoyed by Americans who love ice cream and are looking for a cool treat on a hot summer day. The soft serve ice cream was invented by a father and son duo, J.F and Alex McCullough in 1938. The elder McCullough (J.F.) knew the mixture for ice cream had its best flavor before it was a solid frozen item. The pair tested his theory that customers would like the soft texture by having an "All The Ice Cream You Can Eat For 10 Cents" event. In two hours they served 1,600 dishes. The machine for making soft serve ice cream came in to being when Alex saw a frozen custard vendor and followed the same process.
Celebrations for National Soft Ice Cream Day may include a trip to the local ice cream shop which serves the treat or a visit to a buffet style restaurant like Golden Corral which offers soft serve ice cream as a dessert. A soft serve ice cream product can be made at home using a machine specifically for sorbet, yogurt, or soft serve.
National Hot & Spicy Food Day
National Hot & Spicy Food Day is celebrated annually on January 16. It is an unofficial holiday dedicated to the eating of spicy foods, particularly of international origin. The holiday is celebrated in the United States. It is not listed as a day of celebration elsewhere in the world.
There are literally hundreds of types of herbs and spices throughout the world. Each can provide a unique flavor sensation on its own. In combination, herbs and spices can take on different qualities and characteristics that can make the sum much different that the individual spices alone. Each culture differs in how they combine spices to make the flavors in their foods. For example, India cuisine may feature any or all combinations of garlic, paprika, ginger, etc.
The exact origins of National Hot & Spicy Food Day is unknown. Hot and spicy food has been a part of the human diet for over 6000 years. Many cultures use a variety of spices as staples in the diet. For example, cayenne pepper is a common spice used in Cajun, Thai, Russian, Tex Mex and Asian cuisines, just to name a few.
Besides the flavors that hot spices add to foods, there is also literature stating that hot and spicy foods can be good for killing bacteria in food. Garlic, oregano, onions and allspice are examples of bacteria-killing spices. It is believed that ancient cultures, especially those in hotter climates, adapted when they learned that foods high in spices allowed them to remain healthier than bland foods. While they probably did not understand the science behind this practice, they knew they lived longer than their predecessors. The practice of spicing food would be passed on to their children. It is now a common practice to season foods with spices, but because technology has advanced so that food is better preserved, people add spices because they enjoy the flavor of hot and spicy food.
People who love hot foods can mark this day with their favorite spicy international foods. Many people make Cajun dishes flavored with Cajun seasonings such as hot pepper sauce or Creole seasoning Dishes such as jambalaya or gumbo are popular. Others may try a Tex-Mex menu with chili, nachos or tamales. Asian menus could include Thai Chicken Curry, Lamb Korma and Chicken Kapitan.
World Humanitarian Day
World Humanitarian Day, which is dedicated to recognize humanitarian personnel and those who have lost their lives working for humanitarian causes, is celebrated on August 19th of each year. It was designated by the United Nations General Assembly as part of a Swedish-sponsored GA Resolution A/63/L.49 on the Strengthening of the Coordination of Emergency Assistance of the United Nations, and set as 19 August. It marks the day on which the then Special Representative of the Secretary-General to Iraq, Sérgio Vieira de Mello and 21 of his colleagues were killed in the bombing of the UN Headquarters in Baghdad.
The designation of 19 August as World Humanitarian Day is the outcome of the relentless efforts of the Sérgio Vieira de Mello Foundation and his family working closely with the Ambassadors of France, Switzerland, Japan and Brazil in both Geneva and New York to table and steer the draft Resolution through the General Assembly. The Foundation conveyed its deep gratitude to the United Nations General Assembly and all Member States for the worthy gesture of recognition that has ensured that the tragic loss of Vieira de Mello and his 21 colleagues and all humanitarian personnel who have made the ultimate sacrifices in relieving the suffering of victims of humanitarian crises have not been in vain.
A national of Brazil, Sérgio Vieira de Mello dedicated a lifetime spanning over thirty years in the United Nations, serving in some of the most challenging humanitarian situations in the world to reach the voiceless victims of armed conflict, alleviate their suffering and draw attention to their plight. His death together with 21 colleagues on 19 August 2003 in Baghdad, deprived the victims of armed conflict worldwide of a unique humanitarian leader of unmatched courage, drive and empathy who championed their cause fearlessly and etched their plight on the world map. The tragic event also robbed the humanitarian community of an outstanding humanitarian leader and intellectual whose thinking, philosophy, dynamism and courage inspired all and remains a timeless legacy for coming generations to emulate.
Mindful of this legacy, in 2006 the Vieira de Mello family and a group of close friends founded the Sergio Vieira de Mello Foundation dedicated to continue his unfinished mission of encouraging dialogue between communities and relieving the plight of victims of humanitarian crises. The Foundation is dedicated to supporting initiatives and efforts to promote dialogue for peaceful reconciliation and co-existence between peoples and communities divided by conflict through an annual Sergio Vieira Mello Award, an Annual Sergio Vieira Mello Memorial Lecture, a Sergio Vieira de Mello Fellowship and advocating for the security and independence of humanitarian actors, wherever they may be operating and whomever they may be operating for. The Foundation views the World Humanitarian Day as a befitting tribute to all humanitarian personnel who have made the ultimate sacrifices to make the world a better place for all victims of humanitarian crises and an encouragement to all their serving colleagues to aspire to even greater heights in accomplishing that laudable goal.