Eat Outside Day
It's Eat Outside Day! Today is the last day of August, which makes this a very timely celebration. It's the perfect opportunity to take your breakfast, lunch, or dinner into the great outdoors and enjoy the last few days of warm summer weather.
Today there are many opportunities to eat outdoors, but for much of our history it was fairly uncommon. Partly explained by dust and dirt from unpaved roads, even in the 20th century when this had been overcome there were still few outdoor restaurants, particularly with the spread of air-conditioning after World War II. Though impossible to quantify, it's possible that dining in open air was more in vogue in the late 18th century than in 1960.
"Pleasure gardens," as they were called, were enjoyed in 18th-century American cities. Smaller ones were called tea gardens. Patrons, including whole families, were invited to lounge, stroll, and possibly spend the day. They offered a variety of food and drink, but by far the most popular order was ice cream. Many gardens were run by English tavern-keepers or French confectioners. New York's Vauxhall Gardens, which contained a wax museum, was managed in the 1760s and 1770s by Sam Fraunces of the West Indies, later steward to George Washington. In 1798 a tea garden behind a Philadelphia tavern advertized it was "laid out in grass plats, provided with tables, benches, boxes, bowers, etc. and delightfully shaded by fruit trees."
Outdoor gardens where patrons consumed mead, lemonade, and light snacks gave way around the Civil War to German beer gardens (Bismarck Gardens, Chicago, pictured) which, like tea gardens, were often situated on the outskirts of cities. They continued until the second decade of the 20th century when burgeoning suburbs wishing to eliminate alcohol purveyors succeeded in closing them down. Prohibition also defeated the dreams of American soldiers returning from WWI who had enjoyed sidewalk cafes in Paris and wanted to reproduce them in their homeland. But would they have caught on in a pragmatic country like America so dedicated to business and industry that sitting at a sidewalk café seemed like decadent loafing?
In truth dining outdoors was enjoyed by Americans mostly when they were in tourist mode, at the seashore or in Europe. Seasonal tea rooms delightfully situated in places such as Marblehead MA (pictured) commonly offered afternoon tea, lunch, and dinner on porches, lawns, and patios. World's fairs were another place to enjoy Continental ways. Beginning with the 1876 Centennial in Philadelphia, fairs always included provisions for dining al fresco.
There were a few 20th-century exceptions to the general disinclination to dine outdoors. Rooftop restaurants, usually atop hotels such as the Astor (pictured here), attracted fashionable patrons around 1900 and persisted through the 1920s. New York had more than most cities, but they did flourish elsewhere, such as at San Antonio's St. Anthony hotel. The title of "first" was claimed by St. Louis restaurateur Tony Faust who added rooftop dining in 1877.
And some odd artistic types — "bohemians" — enjoyed summertime dinners in the backyards of small Italian and French restaurants as early as the 1890s. By 1905, Town & Country magazine declared this habit had attained fad status among adventure seekers.
Louis Sherry claimed to have set up the first sidewalk café in this country, outside his Fifth Avenue restaurant in 1900. He wasn't actually the first. In 1891 women out shopping in Manhattan liked to "eat al fresco under the vineclad, bush-shaded bower" in front of the Vienna Café. Not too surprisingly, the warmer climates of Florida and California proved most hospitable to sidewalk dining. The custom did not really catch on in a big way across the U.S., though. Those sidewalk cafes that were created in the mid-20th century, such as the St. Moritz Hotel's Café de la Paix (NYC, pictured), usually advertised their Continental atmosphere, suggesting that eating on sidewalks had not yet earned true American status.
There are many ways that you can participate in Eat Outside Day. Eat at your favorite outdoor restaurant, enjoy a popsicle on your porch, organize a barbeque in your backyard, or have a picnic at a local park. Whatever you decide to do, just be sure to enjoy some time outside. Have fun!
Love Litigating Lawyers Day
That's right folks, August 31 is a national holiday, and an important one at that. It's "Love Litigating Lawyers Day!" Today is the perfect opportunity to go up to your favorite litigator, give him (or her) a big hug, and hear him say those three little words: "Don't touch me." Just kidding.
Litigating lawyers, get a bad rap, thanks to all the jokes out there. But the truth is, people don't come to lawyers when they are having a good day- you come when you need help, guidance, and someone to listen after you or someone you love has been injured. They don't call us "counselors" for nothing! Litigating lawyers work hard to right wrongs and make a difference in the lives of the public they serve.
Litigation attorneys, also known as "litigators" or "trial lawyers," represent plaintiffs and defendants in civil cases and manage all phases of the litigation process from investigation, pleadings and discovery to pre-trial, trial, settlement and appeal.
Below is an overview of the diverse tasks litigation attorneys undertake during the course of litigation. These tasks vary based on the nature of the dispute, the experience level of the attorney and whether the litigation attorney is representing the plaintiff or defendant.
Initial Case Investigation/Assessment
Litigation attorneys often conduct an initial case investigation to determine, in the plaintiff's case, if enough evidence exists to file a lawsuit or, in the defendant's case, what evidence exists to defend a potential suit. The investigation process may include locating witnesses, taking witness statements, gathering documents, interviewing the client and investigating the facts leading to the dispute. Litigation attorneys often engage in pre-litigation settlement discussions to resolve the matter before a lawsuit is filed.
Pleadings
Litigation attorneys draft a variety of pleadings and motions on behalf of the plaintiff or defendant. Plaintiff attorneys will draft a summons and complaint to commence the lawsuit. Defense attorneys collaborate with the client to investigate the allegations of the lawsuit and formulate responses. Litigation attorneys also draft a variety of motions including motions to strike, dismiss, amend or change venue and motions for judgment on the pleadings.
Discovery
The discovery process involves the exchange of relevant information between the parties. Litigation attorneys employ a variety of discovery devices to gain information relevant to the lawsuit. These devices include interrogatories, depositions, requests for production and requests for admission. Litigation attorneys may also examine physical evidence and inspect the scene of the accident as well as collect, process and analyze information gathered during e-discovery. Litigation attorneys also draft and argue discovery-related motions including motions to compel, protective orders and summary judgment motions. The discovery process helps litigators gain relevant information, identify issues and formulate a case strategy.
Pre-Trial
In the weeks before trial, litigation attorneys wrap up discovery and prepare for trial. In the pre-trial stage, litigators consult with and advise clients; retain expert witnesses; attend pre-trial conferences and develop a trial strategy based on the facts and evidence. Litigation attorneys also conduct pre-trial depositions of experts and key witnesses; prepare demonstrative to be used as trial exhibits; and draft and argue pre-trial motions.
Trial
The majority of all lawsuits filed in civil court are settled prior to trial. In cases that proceed to trial, litigation attorneys are busy around the clock presenting their case before the judge or preparing for the next day in court. In the trial stage of litigation, litigators collaborate with experts and clients to craft a trial theme, identify strengths and weaknesses in a case; develop persuasive arguments; prepare witnesses for testimony and draft and argue trial motions.
At trial, litigation attorneys conduct voir dire, select a jury and present their case in court. Litigation attorneys present opening and closing statements, examine and cross-examine witnesses and craft a persuasive story for the fact-finder (judge or jury) through testimony and evidence. Litigation attorneys also prepare jury instructions and conduct post-trial interviews of the jury.
Settlement
Most cases never reach trial but instead are settled in order to eliminate the risk and expense of trial. Litigation attorneys may settle a case at any time during the life cycle of the litigation.
At settlement, litigators engage in negotiations with opposing parties; participate in mediations and settlement conferences with the parties and the judge; and create settlement brochures, agreements, releases and other settlement materials.
Appeal
If the litigation attorney does not obtain a favorable outcome at trial, he or she may appeal the case. Litigators draft post-trial motions; identify and preserve issues for appeal; develop appellate strategies; gather evidence for the appellate record; research procedural issues; draft appellate documents; and present oral arguments before appellate courts. If the case is particularly significant or complex, litigators may retain the assistance of attorneys who specialize in appellate practice.
So love your favorite litigator today... because where would you be without them?! Read a blog post from last fall about history's greatest lawyers here.
National Trail Mix Day
Next time you are standing in the grocery aisle, contemplating a healthier snack option, take a moment to ponder upon the timeless trail mix. Yup you read that right - timeless. Why? Well, with today being National Trail Mix day I decided to do a little investigation. Come to find out, trail mix is thousands of years old.
Ancient nomadic tribes used to mix up dried berries, fruits, nuts and meats together. It wasn't called Trail Mix then, but nevertheless it was just that. Trail mix was (and is) high in energy, needs no specialized storage, and does not require cooking prior to consumption.
The history of trail mix and and gorp-type foods (nutritious, high-energy snacks composed variously of nuts, seeds, dried meats, dried fruits berries and candy) begins with the ancient nomads. These people were professionals at making easy to take on trips high-energy snacks that could handle any weather, that you didn't have to cook. Many different cultures would do this because it was the easiest way to keep storage of food for long periods of time.As time went on, so did the trail mix. Ancient travelers, explorers, pioneers, hunters, soldiers, hikers, scouts, even our very own cowboys, have enjoyed their own version of this easy to keep treat. Even today you will find various version of trail mix.
Trail mix makes an easy snack for on the go people. It's easily customized to your tastes, and the recipe can be modified to include whatever you have on hand. The key to a successful trail mix is to vary flavors, including both sweet and salty, as well as textures, including both crunchy and soft.
Later, explorers continued the use of trail mixes, for the very same reasons, taking the high-energy food with them on their travails over many a trail, mountain or ocean. Native Americans had a special spin on trail mix, which they shared with those explorers they had good relations with. Their mix was called pemmican, and consisted of dried buffalo, moose or caribou, mixed with animal fat and berries, and lasted for months. Pieces were often broken off and used to make a stew, called rubbaboo, by adding flour, water, and maple sugar.
Despite this long, storied history, two separate companies, Harmony Foods and Hadley Fruit Orchards of California, state that the name "trail mix" was invented in 1968 by surfers who mixed together peanuts and raisins to keep their energy levels up during more "gnarly surf" periods. They hold to this statement despite trail mix is also mentioned in Jack Kerouac's 1958 novel The Dharma Bums as the two main characters describe their planned meals in their preparation for a hiking trip.
Trail mix is considered an ideal snack food for hikes, because it is tasty, lightweight, easy to store, and nutritious, providing a quick boost from the carbohydrates in the dried fruit and/or granola, and sustained energy from the mono- and polyunsaturated fats in nuts.
Today's trail mix often includes fruit, grain cereals, nuts, flavorings, chocolate or carob, coconut, pretzels, and sometimes crystallized ginger. What is easy about Trail Mix is that it is portable. It is easy to throw your favorite recipe into a ziplock bag and go. Many local convienence stores also carry prepacked Trail Mix. The drawback to these items are is that they often include candy, i.e. M & M's taking the place of carob. Choose carefully and make it even better by making your own.
International Overdose Awareness Day
The Silver Badge is the global symbol to commemorate those who have lost their lives or are living with a permanent injury after suffering overdose.

International Overdose Awareness Day, observed August 31st each year, is a commemorative day for those who have died from drug overdose, or are living with a permanent injury after suffering from drug overdose. It is also a day dedicated to raising awareness about drug overdose from both licit and illicit drug use and aims to lower stigma attached to drug use. Ceremonies to honour those who have passed away after suffering overdose, or educational sessions about overdose are commonly held on the day. The events are recognized by the United Nations, the International Harm Reduction Association (IHRA) and International Drug Policy Consortium (IDPC) The Salvation Army auspices the day which is acknowledged in a growing number of countries including the USA, Australia, Russia and Britain.

In world wide epidemiological studies carried out by the IHRA a global summary on drug overdose prevalence was unable to be collated. However, studies carried out in discreet jurisdictions show drug overdose to be a major cause of death. For example, in the USA a report published by the Center for Disease Control (CDC), drug overdose killed more than 33,000 people in 2005. In that particular year that made drug overdose the second leading cause of accidental death, behind only motor vehicle accidents (43,667) and ahead of firearms deaths (30,694). A 2008 report written for the Eurasia Harm Reduction Network (EHRN) and funded by the World Health Organization – summarizes the current situation with regard to overdose as being one of the leading causes of death among young people and the top cause of death among injection drug users – often exceeding deaths from AIDS-related illnesses (Coffin P., 2008)

International Overdose Awareness Day comes under the umbrella of Harm reduction programs which hope to decrease the harms associated with all drug use which includes overdose. The day proclaims that by improving ones knowledge ones ability to raise awareness and respond to drug harms will also improve. A 2009 You Tube film called Overdose Awareness Day was launched by the organizers of the day.
International Overdose Awareness Day originated in 2001 after a discussion between Sally J. Finn and Peter Streker. Sally was managing a needle and syringe program for The Salvation Army in St. Kilda, Victoria, Australia at the time and Peter was co-ordinator of the Community and Health Development Program at the City of Port Phillip. They planned to hold a local event and give ribbons out for anyone who wished to commemorate a friend, partner or family member who had passed away. Any member of the community, even if not directly affected, could wear a ribbon to offer their condolences to those who had suffered overdose. On that first year 6,000 ribbons were distributed not only locally but throughout the state and further. The following year the steel badge was designed and requests for information and badges came from New Zealand as well as all over Australia. In 2008 the day was recognized by the UN, IHRA, EHRA and the IDPC.
Over the years many organizations including church groups and community-based programs have held events on the day and in the weeks leading up to the day. Prayer vigils and religious services have been held to remember people who have been lost as well as outdoor functions or non-denominational events such as tree plantings and banner signings. Government and non-government organisations such as hospitals, community health centers and user groups both in large cities such as Minneapolis, USA, Aligarh, India and Perth, Australia have held events to raise awareness and commemorate those who have been lost to drug overdose. Educational seminars are also held in schools and in drug and alcohol services world wide. Overdose Awareness Day targets the broader public through political rallies with additional involvement in lobbying governments for better health services and drug law reform that would assist drug users to stay as safe and as healthy as possible.
Pony Express Day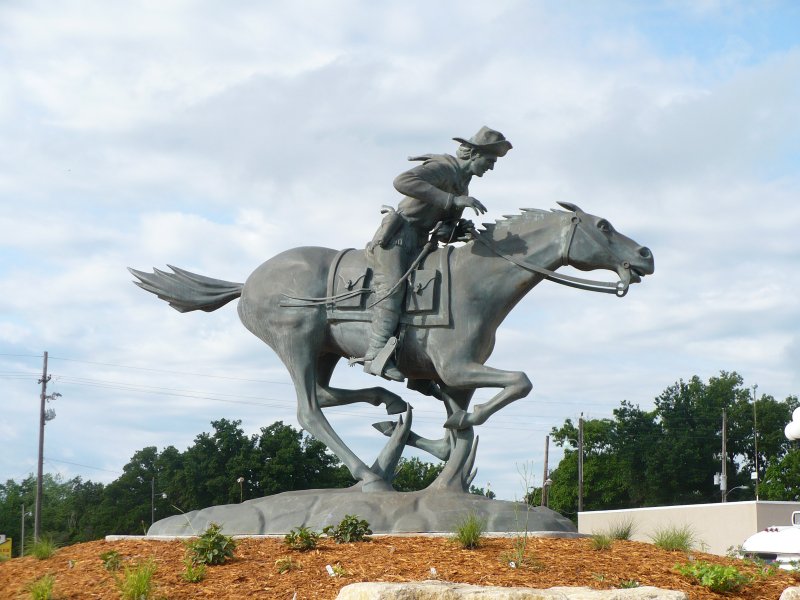 Pony Express Day celebrates those brave souls who made up the unique mail delivery system of the same name. Back in the days of the wild west, there was no Fed Ex, no Postal Service that ran that far west, no planes, and delivery by ship was likely to take months if it ever got there at all. Seeing this need for a specialized delivery service, Leavenworth and Pike's Peak Express Company took an opportunity to expand into this void. From this important decision was born one of the most iconic pieces of American History, whose influence is felt in hundreds of Pony Express Day Festivals throughout the American Midwest.
The Pony Express existed for 18 months between the days of April 3, 1860 to October 1861. In these days there was no air mail, no great American Highway, all there was was hundreds of miles of wide open spaces with not much in between but animal filled wilderness and bandito filled hollows. During this time, if you wanted to send a letter or small package from anywhere East past the gateway of St. Joseph, Missouri, there was only one way to go. The Pony Express was a massive employer for it's time, with up to 80 young riders employed at any given stage, with stringent requirements on their age, size, and weight.
The Pony Express preferred to employ the youngest riders they could, in part for their resilience, and in part for how light they were. The lighter a man was the longer the horse could run and the more cargo the rider could carry, and since the horses were put to go full tilt for 10 to 15 miles at a stretch before changing, this was of vital importance. The rider changed out every 75 to 100 miles, but the mail never so much as slowed even in the worst of weather. While the average trip from coast to coast (On Horseback!) took 10 days, when they delivered Lincoln's Inaugural Address, the trip was made in a mere 7 days and 17 hours.
With Pony Express Day Festivals being a staple all throughout the United States, there are tons of opportunities to celebrate the bravery of these young mailmen. You can spend Postal Express Day dressed up as one of these adventurous young souls who served as the heart of America's fast tracked postal line, while watching equestrian events commemorating the challenges they faced. Speaking of equestrian events, lets not forget the true heroes of this endeavor, the horses that carried men and post across the nation time and time again. These events often have a broad range of related events, including food related events. Chili was one of the staples of the old American West, and as you might imagine there was often a pot of this spicy staple bubbling to keep the riders fed as they came in and out with the packages.
If you find yourself without a local event, you can host one at your home. Make Chili and Cornbread, find logos and the like to print out online, and get the 1953 movie 'Pony Express' featuring Charleston Heston and Rhonda Fleming! This is a classic about this amazing American institution and the trials and efforts of the men and women who fought to make it a reality. So get together with your friends and family on Pony Express Day, and celebrate the Pioneer spirit of the Old West!