National Chocolate Chip Day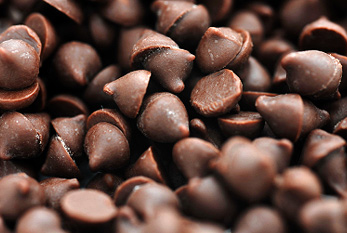 National Chocolate Chip Day is an American food holiday that is celebrated on May 15th and August 4th. The origins of the food holiday are unknown. National Chocolate Chip Day can be celebrated by cooking cookies, muffins, chocolate bars, cupcakes, pancakes, ice cream, and other foods with chocolate chips included.
Chocolate chips were first used in 1937 by Ruth Graves Wakefield. She used pieces of a chocolate bar in the cookie batter she was baking. The recipe was published in several newspapers in New England after it was introduced. In 1939, Nestle began the production and sale of Toll House Chocolate Chips.
Although the history of National Chocolate Chip Day is unknown, chocolate chips were first used in 1937 by Ruth Graves Wakefield. She formed chocolate chips by cutting up some of Nestle's semi-sweet chocolate and including the small pieces of it with the cookie batter she was cooking. Rather than melting as she had expected, the fragments of the bar partially held their shape and had been softened. These chocolate chip cookies were a success, and Wakefield's recipe was published in New England's newspapers.
Afterwards, Nestle and Wakefield reached an agreement that allowed Nestle to publish Wakefield's chocolate chip cookie recipe on the back of their bar wrappings. In 1939, Nestle released Nestle Toll House Real Semi-Sweet Chocolate Morsels.
National Chocolate Chip Day can be celebrated by cooking various foods that include chocolate chips. The foods made include cookies, muffins, pancakes, ice cream, brownies, and more. While chocolate chip cookies are a common food chocolate chips are used in, the holiday itself focuses on the chocolate chips themselves, rather than the cookies.
Single Working Women's Day
Are you single? Do you have single friends? Well, congratulations! You have your very own holiday to celebrate.
Single Working Women's Week, this year the week of August 3 to 9, 2014, became an international holiday in 2006 when Chase's Calendar of Events – the official guide to holidays around the world – agreed it was a unique reason to celebrate.
August 4, Single Working Women's Day, became official just a few years ago And today single women all over the world have their own day to celebrate the courage and creativity it takes to live – and thrive! – in a society still mostly geared for couples.
Even though 51% of women in the U.S. are single – and the proportion continues to grow as the percentage of marriages declines both here and in countries all over the globe - couples generally still get the most benefits: lower taxes, cheaper prices, better seats in restaurants, etc. Though, thank goodness, things have been shifting in the eight years since SWWAN (Single Working Women's Affiliate Network) was founded.
The online magazine Psychology Today publishes a column called "Living Single" written by professor Bella dePaulo, herself an ever-single woman. She specializes in studying societal trends and conducting research related to the phenomena surrounding the state of being single. Good stuff.
Single Working Women's Week and Day gives you an official day and week in which to show your single women friends how much you appreciate them. Send a card, give a gift, buy a drink, write a blog post, or do something nice for her. And don't forget yourself!
Whether you and your single friends are ever-single or divorced, singleton or single mom, be good to yourselves during Single Working Women's Week. Celebrate all that you do and all that you give to the world, just as you do for others on Mother's Day, Father's Day, Grandparents Day, and so on. You deserve it, too!
U.S. Coast Guard Day
August 4 is celebrated as Coast Guard Day to honor the establishment on that day in 1790 of the Revenue Cutter Service, forebear of today's Coast Guard, by the Treasury Department. On that date, Congress, guided by Secretary of the Treasury Alexander Hamilton, authorized the building of a fleet of ten cutters, whose responsibility would be enforcement of the first tariff laws enacted by Congress under the Constitution.
The Coast Guard has been continuously at sea since its inception, although the name Coast Guard didn't come about until 1915 when the Revenue Cutter Service was merged with the Lifesaving Service. The Lighthouse Service joined the Coast Guard in 1939, followed in 1946 by the Bureau of Navigation and Steamboat Inspection. Finally, in 1967, after 177 years in the Treasury Department, the Coast Guard was transferred to the newly formed Department of Transportation.
Coast Guard Day is primarily an internal activity for active duty Coast Guard personnel, civilian members, reservists, retirees, auxiliarists, and dependents, but it does have a significant share of interest outside the Service. Grand Haven, Michigan, also known as Coast Guard City, USA, annually sponsors the Coast Guard Festival around August 4. Typically it is the largest community celebration of a branch of the Armed Forces in the nation.
In addition to celebrating their own day every year, Coast Guard members also participate as equal partners in Armed Forces Day activities.