National IPA Day
On Thursday, Aug. 7, join beer enthusiasts, breweries and bars across the globe in a collective toast to one of craft beer's most iconic styles: the India pale ale.
Founded in 2011, IPA Day is a universal movement created to unite the voices of craft beer enthusiasts, bloggers and brewers worldwide, using social media as the common arena for connecting the conversation.
IPA Day is not the brainchild of a corporate marketing machine, nor is it meant to serve any particular beer brand. IPA Day is opportunity for all breweries, bloggers, businesses and consumers to connect and share their love of craft beer. It is an opportunity for the entire craft beer culture to combine forces and advocate craft beer through increased education and global awareness.
Why Celebrate the IPA?
This illustrious style represents the pinnacle of brewing innovation with its broad spectrum of diverse brands, subcategories and regional flavor variations—making it the perfect style to galvanize craft beer's social voice.
At the 2014 World Beer Cup, the most entered style category was the American-Style India Pale Ale with 224 entries. The second most entered category was its little cousin, the American-Style Pale Ale (122 entries). Its popularity and accessibility makes the IPA the most inclusive style for brewers, retailers and consumers to collectively celebrate.
National Lighthouse Day
National Lighthouse Day is celebrated on August 7th of each year. We were unable to discover the origin of National Lighthouse Day.
A lighthouse is a tower, building, or other type of structure designed to emit light from a system of light and lenses and used as an aid to navigation for maritime pilots at sea or on inland waterways.
Lighthouses mark dangerous coastlines, hazardous shoals, reefs, safe entries to harbors, and can also assist in aerial navigation. Once widely used, the number of operational lighthouses has declined due to the expense of maintenance and replacement by modern electronic navigational systems.
While lighthouse buildings differ depending on the location and purpose, they tend to have common components.
A light station comprises the lighthouse tower and all outbuildings, such as the keeper's living quarters, fuel house, boathouse, and fog-signaling building. The Lighthouse itself consists of a tower structure supporting the lantern room where the light operates.
The lantern room is the glassed-in housing at the top of a lighthouse tower containing the lamp and lens. Its glass storm panes are supported by metal Astragal bars running vertically or diagonally. At the top of the lantern room is a stormproof ventilator designed to remove the smoke of the lamps and the heat that builds in the glass enclosure. A lightning rod and grounding system connected to the metal cupola roof provides a safe conduit for any lightning strikes.
Immediately beneath the lantern room is usually a Watch Room or Service Room where fuel and other supplies were kept and where the keeper prepared the lanterns for the night and often stood watch. The clockworks (for rotating the lenses) were also located there. On a lighthouse tower, an open platform called the gallery is often located outside the watch room (called the Main Gallery) or Lantern Room (Lantern Gallery). This was mainly used for cleaning the outside of the windows of the Lantern Room.
Lighthouses near to each other that are similar in shape are often painted in a unique pattern so they can easily be recognized during daylight, a marking known as a daymark. The black and white barber pole spiral pattern of Cape Hatteras Lighthouse is one example. Race Rocks Light in western Canada is painted in horizontal black and white bands to stand out against the horizon.
As lighthouses became less essential to navigation, many of their historic structures faced demolition or neglect. In the United States, the National Historic Lighthouse Preservation Act of 2000 provides for the transfer of lighthouse structures to local governments and private non-profit groups, while the USCG continues to maintain the lamps and lenses. In Canada, the Nova Scotia Lighthouse Preservation Society won heritage status for Sambro Island Lighthouse, and sponsored the Heritage Lighthouse Protection Act to change Canadian federal laws to protect lighthouses.
Many groups formed to restore and save lighthouses around the world. They include the World Lighthouse Society and the United States Lighthouse Society. A further international group is the Amateur Radio Lighthouse Society, which sends amateur radio operators to publicize the preservation of remote lighthouses throughout the world.
Particularly Preposterous Packaging Day
Particularly preposterous packaging day commemorates some of the more unusual or difficult to open packages we encounter. For example, I bought a DVD the other day, and the plastic shield covering it was so tough I decided I needed scissors to get through it. My wife was going shopping, so I asked if she could get me a new pair of scissors... only to get it home and realize it came in the same kind of packaging as the DVD. Why is this? I don't know. However, it's no more preposterous than realizing we drive on the parkway and park in the driveway... no more silly than to have Interstate Highways in Hawaii. In any case, our weather package has seemed preposterous to some. Some say it was vial: day after day with high heat and humidity.
Yesterday, cooling aloft caused cumulus towers to climb higher... and that plus added moisture brought a package that included scattered showers and thunderstorms in the Northeast. Some of the more intense thunderstorms even looked like they had corrugated clouds underneath. And, when severe thunderstorms threaten, the storm prediction center puts out a watch box to outline areas that could be hit with the worst storms. Now it appears slightly drier air will put a lid on it. Later Thursday or Friday, there could be a thunderstorm, but that possibility may be peanuts.
Many people like the kind of weather we are about to receive, especially considering that summer started with so much rain. I was talking to a friend about this. She said she was bored with the frequent envelope of clouds back in June. Her plans had been bottled up. But when I mentioned that it looked sunny for most of the next 5 days, she could hardly container self. She was tired of the weather being in the same old bag. With that, I decided it was time for me to put a lid on it. Time to pack it in. That's a wrap.
Purple Heart Day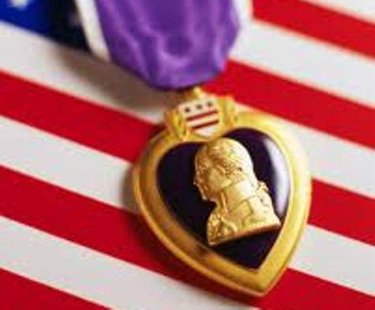 On this day in 1782, in Newburgh, New York, General George Washington, the commander in chief of the Continental Army, creates the "Badge for Military Merit," a decoration consisting of a purple, heart-shaped piece of silk, edged with a narrow binding of silver, with the word Merit stitched across the face in silver. The badge was to be presented to soldiers for "any singularly meritorious action" and permitted its wearer to pass guards and sentinels without challenge. The honoree's name and regiment were also to be inscribed in a "Book of Merit."
Washington's "Purple Heart" was awarded to only three known soldiers during the Revolutionary War: Elijah Churchill, William Brown and Daniel Bissell, Jr. The "Book of Merit" was lost, and the decoration was largely forgotten until 1927, when General Charles P. Summerall, the U.S. Army chief of staff, sent an unsuccessful draft bill to Congress to "revive the Badge of Military Merit." In 1931, Summerall's successor, General Douglas MacArthur, took up the cause, hoping to reinstate the medal in time for the bicentennial of George Washington's birth. On February 22, 1932, Washington's 200th birthday, the U.S. War Department announced the creation of the "Order of the Purple Heart."
In addition to aspects of Washington's original design, the new Purple Heart also displays a bust of Washington and his coat of arms. The Order of the Purple Heart, the oldest American military decoration for military merit, is awarded to members of the U.S. armed forces who have been killed or wounded in action against an enemy. It is also awarded to soldiers who have suffered maltreatment as prisoners of war.
National Raspberries 'n Cream Day
If you're looking for something to do today then save room for dessert because it's National Raspberries 'n Cream Day! Oh yes, you can't go wrong with a little creamy zing! Let's get right into celebrating National Raspberries 'n Cream Day!
Well, if you've ever had peaches and cream, or any other fruit with cream, then you know that the sweetness of the fruit goes really well with creamy things. And, depending on the type of raspberry and where you are, it's a good time of year to get some fresh raspberries. People love creamy things. People love raspberries. People really love raspberries in creamy things! So guess what? That kind of love and popularity calls for yet another food holiday and that holiday is National Raspberries 'n Cream Day! But let's take a look at the facts about raspberries first. Russia, Serbia and the United States are the biggest producers of raspberries in the world. These thorny bushes, or sometimes thornless bushes, grow really well on your own. In fact, I see plenty of them growing in the wild where I live. They've also got a good amount of vitamin C and fiber in them. But raspberries come in many different varieties; they're not all red. Some are black, some are gold and they even crossed red raspberries with black raspberries to make a purple raspberry. So, as you can see, you have a few different types of raspberries to choose from, but what about the cream, right? The two types of cream that come to mind right off the top of my head are heavy whipping cream and cream cheese. You could also opt for some of that whipped cream topping. The heavy whipping cream will make for a lighter cream that you can mix other ingredients in or just top it with some raspberries. And of course the cream cheese is going to be thicker, a lot richer and can even be spread on things as an icing. Do you have some recipe ideas popping up in your mind yet? Good! You better get to them!
So, how can you celebrate today? Well, the easiest way to celebrate is always to try to find some place that serves raspberries 'n cream on a daily basis. This might take a little research and possibly a few phone calls, but I am sure that some place near you has a raspberry dish that involves some kind of cream. It could be something as simple as raspberry ice cream or even some raspberry flavored coffee with some cream in it. See, finding your celebratory prize is a lot easier than you think! Or you can always opt to make them yourself, which means you get even more of a sugary feast! But before you start shopping for supplies, you're going to want to decide on how you want to make your raspberries 'n cream and what type of raspberries you're going to include. I already mentioned two ideas but you can also make puddings, cake, pie, muffins, brownies, candy, milkshakes and anything else you can think of that combines raspberries and cream. In fact, why don't you tell a few friends about today's holiday and then tell them to come up with their own type of raspberries 'n cream on their own. Don't mention what you plan on doing, just see how your friends imagine how raspberries 'n cream should be. Then you can invite them all over for a barbeque, after they've made their version, and you can feast on the raspberry treats after your real meal, since I'm sure most of them will be desserts. Some versions will be good, some will be bad but I'm sure that you'll be impressed with your friends' creativity when they come up with a raspberries 'n cream recipe that you never thought of before. Have a great day and keep it creamy!
Sea Serpent Day
August 7 annually recognizes a famous sea serpent sighting. This sighting was made by the men and officers of HMS Daedalus in August 1848 during a voyage to Saint Helena in the South Atlantic. The 60 foot long creature that they saw held a peculiar maned head above the ocean water.
On National Sea Serpent Day, you can talk with your friends and discuss if this is a myth or if it is real. It will make a great afternoon conversation.
For hundreds of years there have been reported sightings of sea serpents and those reports continue today. Cryptozoologist Bruce Champagne identified more than 1,2oo purported sea serpent sightings. It is believed that the sightings can be best explained to be known animals such as oarfish, whales or sharks (particularly the frilled shark). There are some cryptozoologists that have suggested that the sea serpents are relict plesiosaurs, mosasaurs or other Mesozoic marine reptiles, an idea which is often associated with lake monsters such as the Loch Ness Monster.