National Butterscotch Pudding Day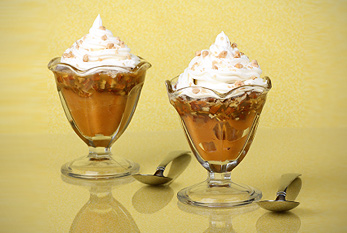 National Butterscotch Pudding Day takes place on September 19. Butterscotch is a type of confectionery whose primary ingredients are brown sugar and butter, although other ingredients such as corn syrup, cream, vanilla, and salt are part of some recipes. According to "Housewife's Corner" in an 1848 newspaper, the real recipe for "making Doncaster butterscotch is one pound of butter, one pound of sugar and a quarter of a pound of treacle, boiled together."
Butterscotch is similar to toffee, but for butterscotch the sugar is boiled to the soft crack stage, and not hard crackas with toffee. Butterscotch sauce is often made into a syrup, which is used as a topping for ice cream(particularly sundaes).
The term butterscotch is also often used for the flavor of brown sugar and butter together even where actual confection butterscotch is not involved, e.g. butterscotch pudding.
In 1855, F. K. Robinson's Glossary of Yorkshire Words, explained Butterscotch as "a treacle ball with an amalgamation of butter in it".
"Doncaster Butterscotch" was known at least as early as 1848 and sold commercially by rival confectioners S. Parkinson & Sons (still trading as Parkinson's), Henry Hall, and Booth's, all of Doncaster, via agents in Yorkshire. Internationally, Parkinson's was recognized as the inventor but others tried to claim the product for themselves, Parkinson's started to use and advertise the Doncaster Church as their trademark.
It was advertised as "Royal Doncaster Butterscotch", or "The Queen's Sweetmeat", and said to be "the best emollient for the chest in the winter season". Parkinson's Butterscotch was by appointment to the Royal household and was presented to the Queen in 1948 and to Princess Anne, The Princess Royal in 2007.
National POW/MIA Recognition Day
The United States' National POW/MIA Recognition Day is observed across the nation on the third Friday of September each year. Many Americans take the time to remember those who were prisoners of war (POW) and those who are missing in action (MIA), as well as their families.
Many Americans across the United States pause to remember the sacrifices and service of those who were prisoners of war (POW), as well as those who are missing in action (MIA), and their families. All military installations fly the National League of Families' POW/MIA flag, which symbolizes the nation's remembrance of those who were imprisoned while serving in conflicts and those who remain missing.
Veteran rallies take place in many states, such as Wisconsin, in the United States on National POW/MIA Recognition Day. United States flags and POW/MIA flags are flown on this day and joint prayers are made for POWs and those missing in action. National POW/MIA Recognition Day posters are also displayed at college or university campuses and public buildings to promote the day. Remembrance ceremonies and other events to observe the day are also held in places such as the Pentagon, war memorials and museums.
There are 1,741 American personnel listed by the Defense Department's POW/MIA Office as missing and unaccounted for from the Vietnam War, as of April 2009. The number of United States personnel accounted for since the end of the Vietnam War in 1975 is 841. About 90 percent of the 1,741 people still missing were lost in Vietnam or areas of Laos and Cambodia under Vietnam's wartime control, according to the National League of Families website (cited in the United States Army website).
The United States Congress passed a resolution authorizing National POW/MIA Recognition Day to be observed on July 18, 1979. It was observed on the same date in 1980 and was held on July 17 in 1981 and 1982. It was then observed on April 9 in 1983 and July 20 in 1984. The event was observed on July 19 in 1985, and then from 1986 onwards the date moved to the third Friday of September. The United States president each year proclaims National POW/MIA Recognition Day. Many states in the USA also proclaim POW/MIA Recognition Day together with the national effort.
The National League of Families' POW/MIA flag symbolizes the United States' resolve to never forget POWs or those who served their country in conflicts and are still missing. Newt Heisley designed the flag. The flag's design features a silhouette of a young man, which is based on Mr Heisley's son, who was medically discharged from the military. As Mr Heisley looked at his returning son's gaunt features, he imagined what life was for those behind barbed wire fences on foreign shores. He then sketched the profile of his son as the new flag's design was created in his mind.
The flag features a white disk bearing in black silhouette a man's bust, a watch tower with a guard on patrol, and a strand of barbed wire. White letters "POW" and "MIA", with a white five-pointed star in between, are typed above the disk. Below the disk is a black and white wreath above the motto "You Are Not Forgotten" written in white, capital letters.
The flag can also be displayed on Armed Forces Day, Memorial Day, Flag Day, Independence Day and Veterans Day. The flag can be displayed at the Capitol, the White House, the Korean War Veterans Memorial and the Vietnam Veterans Memorial, national cemeteries, various government buildings, and major military installations.
National Puppy Mill Awareness Day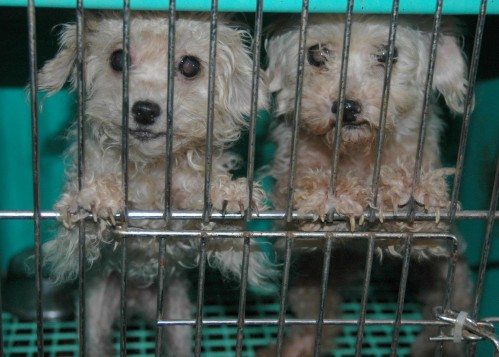 The third Saturday in September is designated as National Puppy Mill Awareness Day. It is a day created in 2002 by Carol Aranea-Mayer, international advocate for breeding stock in commercial kennels, to draw attention to puppy mills and the conditions and problems associated with them, and to encourage boycotting businesses that sell dogs from them.
National Puppy Mill Awareness Day has been conceived to raise and promote awareness against the cruel practice of puppy farming in many countries. Not many people are aware that this practice is still in vogue resulting in the breeding of thousands of unhealthy pups. Many people are duped to buy unhealthy farmed pups in lieu of a hefty sum of money! The pups that are torn away from the mother at a very delicate age are prone to behavioral and physical problems which often lead them to death at a very young age.
National Puppy Mill Awareness Day, which is celebrated on the 19th of September, aims at raising awareness against the poor living conditions of dogs, especially bitches, in puppy farms where they are used as mere machines to produce pups for profit. Animal welfare charities come together where they ask the public to remember the miserable conditions of the four-legged friends of mankind and advocate shutting down of these 'farms' where profit is the sole concern with no regard for healthy living conditions of the animals. The dogs are kept in tiny cages to optimize space for more animals. They suffer from malnutrition and hardly see the daylight. Often with little or no veterinary help, the animals die a painful death.
The National Puppy Mill Awareness Day is a special day for the dog-loving people to help raise awareness for the cause and stop the cruel trend of puppy farming. It is a golden opportunity to go out of the way and make sure that the pawed friends get a good and healthy life.
What can we do?
Adopt your next puppy or dog from a shelter or rescue – do not buy them from a pet store.
If you have your heart set on a breed that can't be found at a shelter or rescue, check with the American Kennel Club for a reputable breeder – one who qualifies their buyers as much as the buyer qualifies the puppy.
Don't frequent pet stores that sell puppies – not for pet food, toys, or anything else.
Spread the story of puppy mill dogs to your friends and family and anyone else who may listen to you.
Contact your legislator to suggest amendments to the Animal Welfare Act.
Make a donation to The Humane Society of the United States, National Puppy Mill Awareness Day, or another organization that helps to eradicate puppy mills.
Volunteer your time with a local shelter, rescue, or similar group.
National Tradesmen Day
National Tradesmen Day is an annual national celebration to honor the men and women who work with their hands to build America and keep it running strong. The inaugural National Tradesmen Day is Friday, September 16, 2011. It will occur annually on the 3rd Friday in September.
National Tradesmen Day, initiated by IRWIN Tools, aims to heighten awareness of the role of professional tradesmen, who are the central focus on this occasion. Tradesmen contribute so meaningfully to our lives in so many ways. From building our homes, schools, and churches; to keeping our cars running; to keeping our lights on and keeping us warm; to fixing our leaky pipes – America's professional tradesmen are the backbone of our nation. For some people, it's just a job – a means to an end. But for professional tradesmen, it's often a calling. And, it's not just about doing their work – it's about doing their life's work. To show respect to the role that professional tradesmen play in the world, National Tradesmen Day places great value on the contributions they make to society each and every day.
The 'National Tradesmen Day' emblem is a distinct graphical icon that spotlights the 'real' working hands. The logo-mark shows an uplifted hand—an image of strength and confidence—clenching a pair of VISE-GRIP® locking pliers, a long-standing universal symbol of work and productivity. This image conveys power and is a 'quick-read' for the role of tradesmen in our lives.
International Talk Like a Pirate Day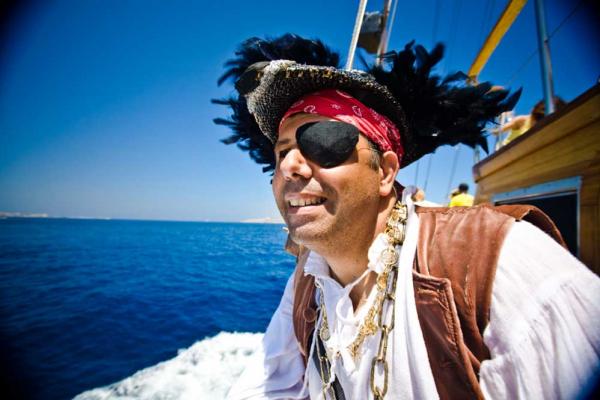 International Talk Like a Pirate Day (ITLAPD) is a parodic holiday created in 1995 by John Baur (Ol' Chumbucket) and Mark Summers (Cap'n Slappy), of Albany, Oregon, U.S., who proclaimed September 19 each year as the day when everyone in the world should talk like a pirate. For example, an observer of this holiday would greet friends not with "Hello," but with "Ahoy, matey!" The holiday, and its observance, springs from a romanticized view of the Golden Age of Piracy. It has become a holiday for members of the Church of the Flying Spaghetti Monster.
According to Summers, the day is the only holiday to come into being as a result of a sports injury. He has stated that during a racquetball game between Summers and Baur, one of them reacted to the pain with an outburst of "Aaarrr!", and the idea was born. That game took place on June 6, 1995, but out of respect for the observance of D-Day, they chose Summers' ex-wife's birthday, as it would be easy for him to remember.
At first an inside joke between two friends, the holiday gained exposure when John Baur and Mark Summers sent a letter about their invented holiday to the American syndicated humor columnist Dave Barry in 2002. Barry liked the idea and promoted the day. Growing media coverage of the holiday after Barry's column has ensured that this event is now celebrated internationally, and Baur and Summers now sell books and T-shirts on their website related to the theme. Part of the success for the international spread of the holiday has been attributed to non-restriction of the idea or trademarking, in effect opening the holiday for creativity and "viral" growth.
Baur and Summers found new fame in the 2006 season premiere episode of ABC's Wife Swap, first aired September 18, 2006. They starred in the role of "a family of pirates" along with Baur's wife, Tori. Baur also appeared on the June 26, 2008 episode of Jeopardy!, where he was introduced as a "writer and pirate from Albany, Oregon."
The association of pirates with peg legs, parrots, and treasure maps, popularized in Robert Louis Stevenson's novel Treasure Island (1883), has had a significant influence on parody pirate culture. Talk Like a Pirate Day has been referenced in two songs from filk singer Tom Smith—"Talk Like a Pirate Day" and "What? It's Can(n)on." The latter references the fact that J. K. Rowling set Hermione Granger's birthday on the same day as "Talk Like a Pirate Day," and jokes about the Hogwarts student trading in her wizarding education for a piracy career.