Eat an Extra Dessert Day
When it comes to holidays, Sept. 4 is one of the best food holidays of the year! If you're sweet tooth is aching for a sweet treat to eat, grab your fork! It's Eat an Extra Dessert Day! In case you're wondering, Eat an Extra Dessert Day was declared to celebrate the opening of the first self-service cafeteria in the U.S., the
Exchange Buffet in New York City, in 1885. The "inventor" of this delicious holiday deserves a great big medal!
Whether you have a hankerin' for a piece of decadent chocolate, a scoop of cool and refreshing ice cream, a slice of rich and creamy cheesecake or a great big piece of homemade pie, today is the perfect opportunity to satisfy that craving! Not only can you enjoy one portion of your favorite dessert, today you can enjoy an extra piece without any of the guilt! But you better hurry! When word gets out, chances are pretty good there won't be any leftovers!
So go ahead and have that extra piece of cake or scoop of ice cream. We won't judge…but we do suggest that you make your extra dessert a healthy one. Chocoholics can satisfy their chocolate cravings with this rich, raw chocolate shake that's packed with antioxidants, potassium, protein, and a delicious, chocolate-y taste. Swap chocolate chip cookies for Almond Butter Chocolate Chip Cookies made with dark chocolate – just as yummy but also health-friendly.
National Macadamia Nut Day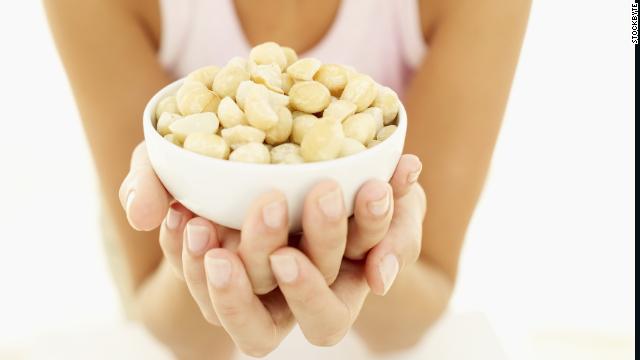 Did you know that a single macadamia tree produces nuts for over 100 years? The first macadamia nut trees were found in the rainforests of eastern Australia thousands of years ago by the Aborigines.
Macadamia integrifolia is native to southeastern Queensland where it grows in the rain forests and close to streams. M. tetraphylla is native to southeastern Queensland and northeastern New South Wales, growing in rain forests, in moist places and along stream banks. At the point where the two species meet, there are types that appear to be natural hybrids. The macadamia was introduced into Hawaii about 1881 where it was used as an ornamental and for reforestation. The Hawaii Agricultural Experiment Station named and introduced several promising selections in 1948, which led to the modern macadamia industry in Hawaii. In California two seedling macadamias were planted in the early 1880's and are still standing on the Berkeley campus of the University of California. The importation of improved and named varieties into California from Hawaii began about 1950. Macadamias are also commercially important in Australia, South Africa and Central America.
Macadamias are ideally suited to a mild, frost-free climate with abundant rainfall distributed throughout the year, roughly the same climate suitable for growing coffee. Both species, however, grow well in the coastal areas of California, although varieties often respond differently to a given location. Mature macadamia trees are fairly frost hardy, tolerating temperatures as low as 24° F, but the flower clusters are usually killed at 28° F. Young trees can be killed by light frosts. M. tetraphylla appears to be slightly more cold-tolerant. Consistently high summer temperatures will reduce yields, although again M. tetraphylla shows more tolerance. When grown in a large tub, macadamias make suitable container plants.
Today, they are a widely popular nut enjoyed by people across the globe. Though macadamia nuts may be toxic to dogs, they are very nutritious for humans to eat. High in protein and carbohydrates, these nuts also contain calcium, iron, potassium, and dietary fiber. Macadamia nut oil is also found in cosmetics and other skincare products because of its oxidative stability.
Celebrate National Macadamia Nut Day by simply snacking on them or baking a batch of macadamia nut cookies!
National Newspaper Carrier Day
National Newspaper Carrier Day is celebrated in the United States and honors Barney Flaherty, the first newspaper carrier (or paperboy) hired in 1833, as well as all current newspaper carriers. It is celebrated on September 4, the anniversary of Flaherty's hiring by Benjamin Day, publisher of the New York Sun. It is also observed by The Armidale Express, NSW, Australia.
Newspaper delivery is the last stage of newspaper circulation consisting of distributing newspapers to those who are interested in owning a paper. One method of distributing newspapers is selling newspapers on the street, or in favorable locations, either by a "newsboy" or at a news stand, or in vending machines, but newspaper delivery generally refers to delivery to subscribers on a regular route, usually by bicycle or automobile.
The position of paperboy occupies a prominent place in many countries, including the United Kingdom, United States, Canada,Australia, New Zealand, Ireland, and Japan. This is because it has long been the first paying job available to young teenagers, often male.
Despite that, the number of paperboys has declined greatly. This is due partly to the disappearance of afternoon newspapers, whose delivery times worked better for school-aged children than did those of morning papers which were typically delivered before 6 a.m. The numbers have also been affected by changing demographics, the availability of news and newspapers on the internet, employment laws and concern about the safety of un-escorted children, all of which have led many newspapers to switch to delivery by adults. Today, they are mainly used by weekly community newspapers and free shopper papers, which still tend to be delivered in the afternoons. Alternatively, sometimes paperboys are only employed once a week to deliver the paper on Sunday.
Newspaper industry lore suggests that the first paperboy, hired in 1833, was 10-year-old Barney Flaherty who answered an advertisement in the New York Sun, which read "To the Unemployed a number of steady men can find employment by vending this paper."
National Wildlife Day
It's National Wildlife Day! Today is a celebration of all the amazing creatures in nature. It is also an opportunity to raise awareness about the many endangered species in this country and around the world.
Colleen Paige created National Wildlife Day in 2006, in memory of wildlife conservationist and rescuer, Steve Irwin, for his eternal love of all animal species and all he taught about the amazing animals we share this planet with.
Colleen Paige is a Pet Lifestyle Expert, animal advocate, conservationist, animal behaviorist, author and founder of the Animal Miracle Network, home to National Wildlife Day, among a myriad of other animal related holidays such a National Dog Day and National Cat Day, to bring public awareness to the plight of homeless animals and wildlife across the planet.
Do you have a zoo or animal sanctuary in your area? It's quite possible that people in your community are already working hard to preserve animal life and educate the public about conservation. You can learn more about these important issues on the Land Conservation and Advocacy Trust website.
National Wildlife Day is a great day to visit your local zoo, adopt a pet, donate to your favorite animal shelter, or volunteer to help in any way you can. Help make a difference!