In many portions of the world an individual's birthday is celebrated by a party where a specially made cake, usually decorated with lettering and the person's age, is presented. The cake is traditionally studded with the same number of lit candles as the age of the individual, or a number candle representing their age. The celebrated individual usually will make a silent wish and attempt to blow out the candles in one breath; if successful, a tradition holds that the wish will be granted. In many cultures, the wish must be kept secret or it won't "come true". Presents are bestowed on the individual by the guests appropriate to her/his age. Other birthday activities may include entertainment (usually by a hired professional, i.e. a clown, magician, or musician), and a special toast or speech by the birthday celebrant. The last stanza of Patty Hill's and Mildred Hill's famous song, "Good Morning to You" (unofficially titled "Happy Birthday to You") is typically sung by the guests at some point in the proceedings. In some countries a piñata takes the place of a cake. An occasional activity is spanking the birthday individual, with one usually gentle "swat" for each year since birth.. In North America, the celebration of a birthday is fundamentally about celebrating the role of friends and families in an individual's life and recognizing their importance.

I share my birthday with famous people like:
JEFF FOXWORTHY 54 Stand-up comedian and host of Are You Smarter than a 5th Grader?.
JO ANNE WORLEY 75 Boisterous performer who was on 'Rowan and Martin's Laugh-In.'
JANE CURTIN 65 A Saturday Night Live original, she was also on Kate & Allie.

This Day in History for 6th September:
India invades West Pakistan
KLNE TV channel 3 in Lexington, NB (PBS) begins broadcasting

The first Barbie doll was sold in the United States on September 6, 1959. If you happen to be lucky enough to have one of the first Barbie dolls, you could make a lot of money. That first pony-tailed Barbie is worth about $10,000 today, according to a Barbie collecting website.
The first year, 351,000 dolls sold for $3 each. Within 10 years, $500 million worth of Barbie products had been purchased. Since then, sales of Barbie and her friends, Ken, Midge, Skipper, Christie and others, have exploded.
Barbie is the most popular doll ever invented. The first doll was created by Ruth Handler, who modeled the doll after a "Lilli" doll she had purchased in Germany.
Ruth and Elliott Handler were married in 1938. In 1945, Mattel was founded by Harold Matson. The Handlers made picture frames for Mattel and purchased the company from Matson in 1946.
Ruth Handler had noticed that her daughter Barbara and friends enjoyed playing with adult female dolls just as they enjoyed playing with baby dolls.
Barbie debuted in New York City at the American Toy Fair in 1959 and the rest is history. Barbie was named after the Handler's daughter and Ken, who debuted in 1961, was named after their son.
Mattel went public in 1960 and Ruth Handler became president of the company in 1967. In 1974, the Handlers left the company.
Fast forward to today. The Barbie brand is now much more than just dolls. Computer and video games, fashions and design studios, movies and more are included with the traditional fashion doll that girls have loved for years.
Most of today's moms remember playing with or collecting Barbies as children and enjoy seeing their daughters play with the dolls they remember from their childhood.
Many of today's grandmothers remember their daughters playing with Barbies and some are young enough that they played with Barbies themselves as young girls.
A doll that has spanned three generations is pretty fantastic. Barbie is an icon and some collectors have been saving them since they were young girls.
Celebrate the day on September 6 by bringing out your old Barbies for your daughters to see. Go through your old photos and maybe you will find a few of you or your daughters playing with Barbies. Maybe you could even play Barbies with your daughters or granddaughters to bring back old memories.
Ice cream lovers have the opportunity to celebrate an unofficial food holiday on September 6: This day is observed as National Coffee Ice Cream Day in the United States. Haagen Dazs, Ben and Jerrys, and Starbucks all sell a commercially available coffee ice cream which can be found in local grocery stores. National ice cream manufacturers Edy's and Dreyers also offer a coffee ice cream. Coffee ice cream combines the flavor of the morning drink with ice cream to make a flavored dessert. Coffee ice cream may be used in gourmet coffee drink recipes.
The origins of the unofficial holiday are unknown as is the history of coffee ice cream itself. However, the documented history of both coffee and ice cream are available. One version of the history of coffee dates back to the 700AD in East Africa when shepherd found the overactive behavior of sheep to be odd and tried eating what the sheep did. He later showed the coffee shrub to a monk who ground the berries into a powder and mixed with hot water. This drink allowed the monks to stay awake longer during prayer sessions. Today's coffees are enjoyed in many varieties for the flavor, not just for the impact of the caffeine.
Ice cream origins in the United States date back to 1770 when an ice cream shop was opened by an Italian emigrant in New York. Several historical documents mention President George Washington enjoying the dessert item and even mention him purchasing a cream machine for ice.
The combination of coffee and dairy products in the United States was seen in 1930 when Rhode Island coffee milk was first made by adding a coffee syrup to milk. The syrup was made from leftover coffee grounds, milk, and sugar.
National Coffee Ice Cream Day can be observed by purchasing a carton of commercially available product and preparing an ice cream dessert for the family. Coffee ice cream can be used as a flavor in a sundae, made into an ice cream sandwich, or served with a topping such as caramel or fudge. Ice cream chain stores may offer discounts on specialties made with coffee ice cream on this day. Local ice cream parlors may also celebrate the day with a discount or free ice cream offer.
National Iguana Awareness Day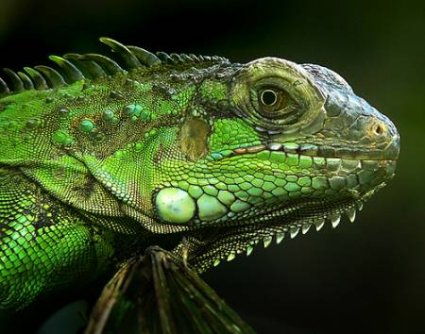 "Hard to Care For, Easy to Love"
National Iguana Awareness Day (NIAD) was established in 1998 to discourage folks from viewing iguanas as "disposable pets". Because of the low cost and "mass market" appeal of these animals many are are purchased without the means or knowledge to care for them properly, dooming them to an early death after just a few years.
Iguanas are not suitable lizards for beginners. People purchase iguanas due to the small size, low price, and apparent low cost of feeding of juvenile iguanas. Though small and cute as juveniles, iguanas can grow to six feet in length and weigh some 20 pounds. They can be an aggressive lizard.
Although they will consume a wide variety of foods if offered, green iguanas are naturally herbivorous and require a precise ratio of minerals (2 to 1 calcium to phosphorus) in their diet. Some of the most accessible staple vegetables, greens, and fruit seem to be; Green Apple, Tomato, Mangos, Butternut squash, Sweet Potato, Green beans, Snap peas, Okra, Escarole, and Collard Greens.
Green iguanas are tropical animals and will thrive only in temperatures of 75 to 95 degrees Fahrenheit (24 to 32 degrees Celsius) They require natural unfiltered sunlight or specialized light bulbs for UVA and UVA exposure. Without proper lighting their bodies cannot develop Vitamin D, and will develop metabolic bone disease which is fatal if not treated.
Leave green iguanas to the experts, please, or educate yourself, take the time and spend the money to raise and house them properly.
National Read a Book Day
On the heels of a long holiday weekend, today is all about relaxing with a good read. September 6 is Read a Book Day, also known as National Read a Book Day. While the origins of this particular holiday are unknown, reading has many benefits. Not only will reading improve your vocabulary, memory and concentration, reading is an essential skill that also helps reduce stress. Reading is also a great way to "visit" other places, learn about other cultures and travel back in time. And reading is an affordable means of entertainment too.
Instead of turning on the radio, watching television or firing up the computer, why not turn off all those electronic devices and curl up with a favorite book? Head out to the hammock or the backyard patio and enjoy some much-deserved peace and quiet. Instead of watching a movie, read the book instead! And if you have small children, why not encourage them to read one of their favorite books or read a book to them? Reading builds a stronger bond between parent and child and helps improve logical thinking skills. Select a book from the New York Times Best Sellers List and be the first in your office to read it!
Here are a few of the reasons you should join in on this holiday and read a book. How cool would it be if everyone in America was sitting down right now to read a book?! Please add your own reasons for reading in the comments section below.
Read a book today BECAUSE…
It's the best excuse for peace and quiet.
You love sitting in your favorite chair.
That stack of borrowed books needs a dent.
All your friends are busy.
You need a new favorite quotation.
Books are on your schedule: you can pick them up and put them down at your own convenience.
Walking to the library is good exercise.
You saw the movie, but you heard the book is way better.
You've always wanted to read Anna Karenina.
You've always wanted to reread Anna Karenina.
There's a swath of history you're sick of having to admit you know NOTHING about.
Some sentences are better than kissing (See Nabokov).
Your perspective can be changed by a single passage (See Vonnegut).
Your life can be changed by a book (See The Year of Magical Thinking).
You're going through something and you just need to get lost in a beautiful, made-up world.
You haven't gotten to use your imagination in a really long time.
Today's world is so loud, hyper-connected and busy.
The world inside your head is yours and yours alone.
National Writing Date Day
The first Saturday in September is National Writing Date Day September 6, and I would love to have you join me for an hour or two and get some writing done!
I mean I write all the freaking time! Emails, emails for clients, texting, chatting, forums, messaging, you know, the fun stuff! When it comes to the serious stuff (books, blog posts, articles, etc.) I seem to hit a big fat brick wall when I'm sitting at my desk, which is super duper frustrating. Instead of sitting there frustrated and distracted, I pack up my laptop and take myself on a Writing Date. It's a godsend to my creativity and focus!
What is a Writing Date?
A Writing Date is a specific time you set aside for yourself to focus on writing. This is a time where you leave the house and go somewhere you enjoy (like a coffee shop, cafe, the local library or park) by yourself to get some writing done. It only needs to be for an hour or two (or three if you really want to).
How do I go on a Writing Date?
There are lots of different ways. I wrote about it for you to walk you through the process, step-by-step.
Step 1: Schedule a time
Our lives are busier than ever. Even when it feels like nothing important is getting done. Creating time to write is something that is necessary for several reasons.
It tells your brain that you are creating that space for it to focus on one particular thing. It a sacred space in time that your mind craves. Your stress and anxiety will thank you for it.
It tells others around you that you are serious about this whole writing thing and it creates a level of respect. By setting a time, it sets up a boundary around that time that both you and others will respect. If they don't it's up to you to enforce it.
It sends a signal to the Universe that you are serious and when you are serious and focused about it, things like ideas on what to write about start to flow better. (See #1)
Step 2: Find the perfect place to go
Start by looking for a local coffee shop, cafe, restaurant or even the local library, preferably somewhere that offers free Wi-Fi. It doesn't matter how fast the Wi-Fi is, because your focus is going to be on writing and not surfing the web. It's just handy for getting onto your blog or to grab your manuscript from the cloud server, or wherever your writing is camping out online. If you do your writing straight from your hard drive, then you don't have to worry about the Wi-Fi part.
I like to use the Yelp app on my iPhone to find neat new places around me. You can also look up local coffee shops through findmecoffee.com or just use the ol' trusty Google.
The perfect, ideal spot is different for everyone, but you have to admit that all those stories you hear about writers in coffee shops or cafes just works. It shows people that you are working and even if you don't realize it, your subconscious will think that everyone around you is holding you accountable for finishing the work.
If you can't leave where you are at, you can always recreate the coffee shop sounds through the Coffinity app.
Step 3: Bring the essentials
I have a laptop bag that will pack everything I need in it. it's like a diaper bag for my business. These are the things that I bring on my writing date to be sure I'm prepared but not over doing.
Laptop
Pen & Notepad. I am addicted to my girly 4-in-1 pen and moleskine journal. I keep these in my purse at all times to I can jot down those important ideas that just like to happen whenever.
Business Cards. You never know who you are going to meet. ;)
Wi-Fi card. (Just in case you end up at the park or a place that has sucky Wi-Fi and need it)
Earbuds or Headphones. You can't always control your environment and if it becomes too distracting you can put headphones on and listen to SimplyNoise to help you focus.
Step 4: Survey your surroundings
When you step into the coffee shop or cafe, look around and be sure there is somewhere for you to sit and that you want to be there. Locate the bathroom (necessary when drinking lots of liquids) and a plug for your laptop. I always like to scope out the most comfortable seat possible. (See step 6)
Step 5: Get some munchies
Having something to snack and sip on is essential for writing. Coffee shops are ideal spots to grab your favorite drink and snack. By having something to keep your mouth busy, it helps keep your brain focused on the task at hand.
Step 6: Get comfortable
Some people can pound out their thoughts in minutes while it may take others hours to formulate a blog post. I'm somewhere in the middle of that. I find that I work best under a little pressure. When I have a particular thing I want to write about, the focus from the clarity helps to energize me and write faster, but there are always snags and hangups (great time to grab a munchie or a sip of coffee while your brain works out the snag).
Knowing this, you want to allow yourself at least an hour to write. Find somewhere you will be comfortable sitting for at least an hour. I like to give myself a time limit because I really don't have all day to write as I please. I have other things to do too.
Step 7: Enjoy the process
Writing something isn't meant to be a grueling, painful process. It's meant to get whatever you've been yearning to share with the world out there. It doesn't have to be perfect. It just needs to get done. You can always go back and edit it later.
Remember to look up every once and a while to gaze out the window and smile at the girl who is running outside and just got caught in a rain storm.
What are the benefits of a Writing Date?
That's a great question, sweets! Let me list a few here for you…
Focused time that seems to trick your brain into thinking it's running some kind of marathon or something. You will be amazed at how much writing you can accomplish during a Writing Date.
You get to take yourself out for a treat, like that double caramel, triple shot macchiato you've been saving up your calorie bank for. (My personal favorite is a chai tea latte with almond milk)
You get to enjoy scrumptious (and also probably greatly needed) alone time in public and it's not weird or awkward. This is nothing like sitting in a restaurant all alone feeling bad for yourself because nobody wanted to come with you…NO!…This is the time for you and your laptop to enjoy some precious one-on-one time.
Be able to finally get that blog post you've been meaning to write or that book chapter knocked out. It's your quick-typing finger's time to shine, baby!
You will walk out of that place with a deeper sense of accomplishment that you never knew you could get inside an hour. You can do this!
Fight Procrastination Day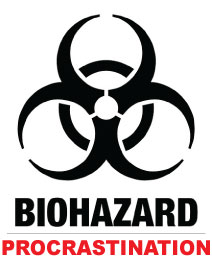 Fight Procrastination Day is celebrated on September 6th (though often delayed until the 7th) of each year. We were unable to discover the origin of Fight Procrastination Day, though it does come right after Be Late For Something Day which is celebrated on September 5th of each year.

In psychology, procrastination refers to the act of replacing high-priority actions with tasks of lower priority, or doing something from which one derives enjoyment, and thus putting off important tasks to a later time. In accordance with Freud, the Pleasure principle may be responsible for procrastination; humans do not prefer negative emotions, and handing off a stressful task until a further date is enjoyable. The concept that humans work best under pressure provides additional enjoyment and motivation to postponing a task. Some psychologists cite such behavior as a mechanism for coping with the anxiety associated with starting or completing any task or decision. Other psychologists indicate that anxiety is just as likely to get people to start working early as late and the focus should be impulsiveness. That is, anxiety will cause people to delay only if they are impulsive. Schraw, Wadkins, and Olafson have proposed three criteria for a behavior to be classified as procrastination: it must be counterproductive, needless, and delaying. Similarly, Steel (2007) reviews all previous attempts to define procrastination, indicating it is "to voluntarily delay an intended course of action despite expecting to be worse off for the delay." Procrastination may result in stress, a sense of guilt and crisis, severe loss of personal productivity, as well as social disapproval for not meeting responsibilities or commitments. These feelings combined may promote further procrastination. While it is regarded as normal for people to procrastinate to some degree, it becomes a problem when it impedes normal functioning. Chronic procrastination may be a sign of an underlying psychological disorder. Such procrastinators may have difficulty seeking support due to social stigma and the belief that task-aversion is caused by laziness, low willpower or low ambition.