National Boston Cream Pie Day
Celebrate National Boston Cream Pie Day! Cooks in New England and Pennsylvania Dutch regions were known for their cakes and pies and the dividing line between them was very thin. This cake was probably called a pie because in the mid-nineteenth century, pie tins were more common than cake pans. The first versions might have been baked in pie tins. Boston Cream Pie is a remake of the early American"Pudding-cake pie."
The Parker House Hotel (now the Omni Parker House Hotel), claims to have served Boston cream pies since their opening in 1856. French chef Sanzian, who was hired for the opening of the hotel, is credited with creating Boston cream pie. This cake was originally served at the hotel with the names Chocolate Cream Pie or Parker House Chocolate Cream Pie. This was the first hotel in Boston to have hot-and-cold running water, and the first to have an elevator.
In 1996, Boston cream pie became the official dessert of Massachusetts in a bill sponsored by Norton High School. This bill defeated both Indian Pudding and Toll House cookies as the state's official dessert. Boston cream pie is now also a popular doughnut, coffee, and ice cream flavor.
Although it is called a pie, Boston cream pie is actually a cake. It consists of two round layers of sponge cake with a thick vanilla custard filling. It is usually frosted with a chocolate glaze but it can also be topped with confectionary sugar. The dessert is served in wedges just like a pie. Enjoy a big slice today to celebrate National Boston Cream Pie Day!
National Mole Day
Celebrated annually on October 23 from 6:02 a.m. to 6:02 p.m., Mole Day commemorates Avogadro's Number which is 6.02 times 10 to the power of 23, which is a basic measuring unit in chemistry. Mole Day was created as a way to foster interest in chemistry. Schools throughout the United States and around the world celebrate Mole Day with various activities related to chemistry and/or moles.
For a given molecule, one mole is a mass (in grams) whose number is equal to the molar mass of the molecule. For example, the water molecule has an molar mass of 18, therefore one mole of water weighs 18 grams. Similarly, a mole of neon has a molar mass of 20 grams. In general, one mole of any substance contains Avogadro's Number of molecules or atoms of that substance. This relationship was first discovered by Amadeo Avogadro (1776-1858) and he received credit for this after his death.
National iPod Day
In 2001, the very first iPod was unveiled, and later went on sale on November 10th of the same year for $399.00 USD. National iPod Day commemorates this launch, and recognizes just how big a contribution the iPod has made to the accessibility and portability of music.
Though the iPod was released in 2001, its price and Mac-only compatibility caused sales to be relatively slow until 2004. The iPod line came from Apple's "digital hub" category, when the company began creating software for the growing market of personal digital devices. Digital cameras, camcorders and organizers had well-established mainstream markets, but the company found existing digital music players "big and clunky or small and useless" with user interfaces that were "unbelievably awful," so Apple decided to develop its own. As ordered by CEO Steve Jobs, Apple's hardware engineering chief Jon Rubinstein assembled a team of engineers to design the iPod line, including hardware engineers Tony Fadell and Michael Dhuey, and design engineer Sir Jonathan Ive. Rubinstein had already discovered the Toshiba disk drive when meeting with an Apple supplier in Japan, and purchased the rights to it for Apple, and had also already worked out how the screen, battery, and other key elements would work. The aesthetic was inspired by the 1958 Braun T3 transistor radio designed by Dieter Rams, while the wheel based user interface was prompted by Bang & Olufsen's BeoCom 6000 telephone. The product ("the Walkman of the twenty-first century") was developed in less than one year and unveiled on October 23, 2001. Jobs announced it as a Mac-compatible product with a 5 GB hard drive that put "1,000 songs in your pocket."
Apple did not develop the iPod software entirely in-house, instead using PortalPlayer's reference platform based on two ARMcores. The platform had rudimentary software running on a commercial microkernel embedded operating system. Portal Player had previously been working on an IBM-branded MP3 player with Bluetooth headphones. Apple contracted another company,Pixo, to help design and implement the user interface under the direct supervision of Steve Jobs. As development progressed, Apple continued to refine the software's look and feel. Starting with the iPod Mini, the Chicago font was replaced with Espy Sans. Later iPods switched fonts again to Podium Sans—a font similar to Apple's corporate font, Myriad. iPods with color displays then adopted some Mac OS X themes like Aqua progress bars, and brushed metal meant to evoke a combination lock. In 2007, Apple modified the iPod interface again with the introduction of the sixth-generation iPod Classic and third-generation iPod Nano by changing the font to Helvetica and, in most cases, splitting the screen in half by displaying the menus on the left and album artwork, photos, or videos on the right (whichever was appropriate for the selected item).
In 2006 Apple presented a special edition for iPod 5G of Irish rock band U2. Like its predecessor, this iPod has engraved the signatures of the four members of the band on its back, but this one was the first time the company changed the colour of the metal (not silver but black). This iPod was only available with 30GB of storage capacity. The special edition entitled purchasers to an exclusive video with 33 minutes of interviews and performance by U2, downloadable from the iTunes Store.
In September 2007, during a lawsuit with patent holding company Burst.com, Apple drew attention to a patent for a similar device that was developed in 1979. Kane Kramer applied for a UK patent for his design of a "plastic music box" in 1981, which he called the IXI. He was unable to secure funding to renew the US$120,000 worldwide patent, so it lapsed and Kramer never profited from his idea.
The name iPod was proposed by Vinnie Chieco, a freelance copywriter, who (with others) was called by Apple to figure out how to introduce the new player to the public. After Chieco saw a prototype, he thought of the movie 2001: A Space Odyssey and the phrase "Open the pod bay door, Hal!", which refers to the white EVA Pods of the Discovery One spaceship. Chieco saw an analogy to the relationship between the spaceship and the smaller independent pods in the relationship between a personal computer and the music player. Apple researched the trademark and found that it was already in use. Joseph N. Grasso ofNew Jersey had originally listed an "iPod" trademark with the U.S. Patent and Trademark Office (USPTO) in July 2000 for Internet kiosks. The first iPod kiosks had been demonstrated to the public in New Jersey in March 1998, and commercial use began in January 2000, but had apparently been discontinued by 2001. The trademark was registered by the USPTO in November 2003, and Grasso assigned it to Apple Computer, Inc. in 2005.
National Slap Your Irritating Co-worker Day
October 23rd is the official National Slap Your Irritating Co-worker Day. Do you have a co- worker who talks nonstop about nothing, working your last nerve with tedious and boring details that you don't care about? Do you have a co-worker who ALWAYS screws up stuff creating MORE work for you? Do you have a co-worker who kisses so much booty; you can look in their mouth and see what your boss had for lunch? Do you have a co-worker who is SOOO obnoxious, when he/she enters a room, everyone else clears it? Well, on behalf of Ike Turner, I am so very very glad to officially announce National Slap Your Irritating Co-worker Day! Here are the rules you must follow:
You can only slap one person per hour – no more.
You can slap the same person again if they irritate you again in the same day.
You are allowed to hold someone down as other co- workers take their turns slapping the irritant.
No weapons are allowed…other than going upside somebody's head with a stapler or a hole-puncher.
If questioned by a supervisor [or police, if the supervisor is the irritant], you are allowed to LIE, LIE, LIE!
Now, study the rules, break out your list of folks that you want to slap the living day lights out of and get to slapping on October 23rd….. And have a great slapping day!
TV Talk Show Host Day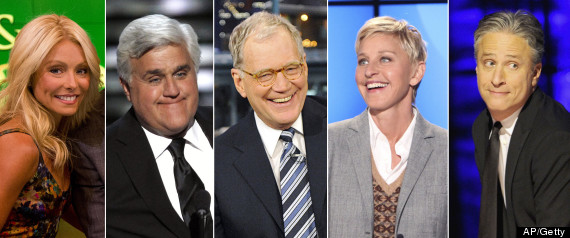 TV Talk Show Host Day takes place on October 23rd. It is celebrated on the birth date of the talk show host Johnny Carson. He was an American television host, known for thirty years as host of "The Tonight Show Starring Johnny Carson". A talk show host is a person who introduces or hosts talk shows.
A talk show is a television programming or radio programming genre in which one person or a group of people discusses various topics put forth by a talk show host. Usually, guests consist of a group of people who are learned or who have great experience in relation to whatever issue is being discussed on the show for that episode. Other times, a single guest discusses their work or area of expertise with a host or co-hosts.