International Internet Day
International Internet Day is celebrated worldwide, every year on 29th of October. Since the year 2005 the International Internet Day has been famously celebrated to commemorate a momentous day in the history of telecommunications and technology. This was the event of the sending of the first message, first electronic message which was transferred from one computer to another in 1969. This was situated in California, in the USA. Today the International Internet Day is also an on-line project germinating from the society, of the society and for the society. The International Internet Day project is open to everyone and anyone just as access to the internet is open and free for everyone. The International Internet Day thus celebrates this grand democratic fervor which in essential is linked to this idea of liberation, where everyone is afforded an equal opportunity and an equal advantage to share of services, which connect the world to each other.
Gleaning back at the history of the event would inform us that the journey to this era of easy communication wasn't exactly as simple as surfing up information on Google. For starters it the present scenario has been preceded by years of attempts including failed attempts to render digital data visible to everyone, instead of using teleprinters and other devices. At the time when history was being made, Internet was known as ARPANET (Advanced Research Projects Agency Network). This was the year of 1969 when Charley Kline, a student programmer at the UCLA transmitted the first ever message on 29th of October in 1969. This event was to follow only few months after the first man landed on the moon. Great things were happening in the world, and this was one of it. Charley Kline, working under the supervision of Professor Leonard Kleinrock, transmitted a message from the computer housed at the UCLA to a computer positioned at the Stanford Research Institute's computer. The two computers, one at the UCLA was the SDS Sigma 7 Host computer and the receiver was the SDS 940 Host at the Stanford Research Institute. Interestingly enough the message was a text message comprising the word 'login'. But as it would transpire only the letter L and O could be transmitted across, because following the initial transmission the system collapsed and the transmission crashed.
The Internet is a worldwide, publicly accessible series of interconnected computer networks that transmit data by packet switching, using standard IP (Internet Protocol). Now Internet has become one of the most important part of our life. Most of us cannot think of spending one day without internet. Internet has made our lives much easy.
National Cat Day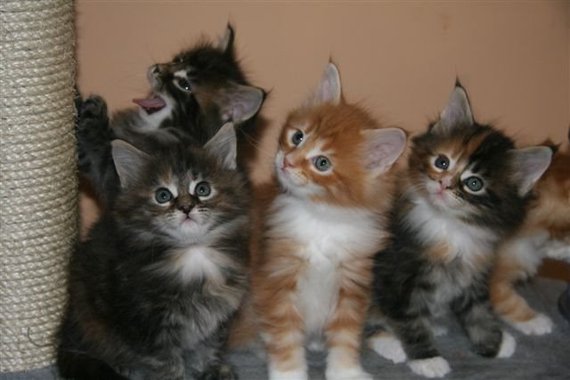 Today is National Cat Day! "What greater gift than the love of a cat?" Charles Dickens once mused. Cats are one of the most beloved human companions of all time. They were first domesticated in the Middle East's Fertile Crescent as early as 12,000 years ago. When humans relied on hunting as their main source of food, dogs were most useful – but when the first agricultural societies emerged, cats became invaluable. Domesticated cats became responsible for keeping grain stores free of mice and other rodents. Today, cats can be found in 34% of American households, making them the most popular house pet in the United States.
Pet lifestyle expert and animal welfare advocate Colleen Paige established National Cat Day in 2005. In honor of the occasion, celebrate cats and the unconditional love and companionship they give to their owners. If you don't own a cat, volunteer at your local animal shelter or make a donation. It's the purrrrfect way to show you care!
National Hermit Day
National Hermit Day is always on October 29th. It's a quiet day to spend quietly in seclusion, all by yourself. For some people, being a recluse is a way of life. They spend everyday by themselves, in peaceful seclusion. For whatever reason, Hermits prefer living away from the crowds and the sea of humanity. For many of us who lead an increasingly busy lifestyle, the idea of being a "Hermit for a Day" is very tempting. The thought of getting away from it all, even if for just one day, is very appealing.
If you are a Hermit, celebrate your lifestyle today. If you're one of the many, who yearn for a break from your hectic lifestyle, be a Hermit on this day. Chill out by yourself where no one can find you. Spend this day in a secluded area or environment. May we suggest you do so with a good reading book. We hope that no one interrupts your the calm and serenity.
Have a happy, secluded, quiet, and peaceful Hermit Day.
National Oatmeal Day
It's National Oatmeal Day! Oatmeal is an extremely healthy, versatile food that can be eaten any time of day. It is both filling and low in calories, which makes it the perfect breakfast or snack. Oatmeal is also delicious baked in cookies.
Oats were first cultivated in 1,000 BC in central Europe. Ancient Greeks and Romans scoffed at oats as "barbarian" food and only fed it to their animals. It was oat eating Germanic Tribes that later defeated the Romans, resulting in the fall of the Western Roman Empire.
Oats were first brought to America in the early 1600's by European explorers, such as Captain Bartholomew Gosnold, who planted them off the coast of Massachusetts. Scottish and Dutch immigrants first used them in traditional porridges, puddings, and baked goods. Currently, Vermont has the highest per capita oatmeal consumption in the United States, where it is often consumed with another local favorite, maple syrup.
You may have heard the saying that a hearty bowl of oatmeal at breakfast "sticks to your ribs". This is not too far off from the truth.
Oatmeal contains insoluble fiber which stays in the stomach longer and helps you feel fuller, longer. This can prevent overeating later on in the day, which may help you maintain a healthy weight and avoid the health problems associated with overweight.
The fiber in oats also has many health benefits. Eating just a half cup of oatmeal a day is enough to reap the many health benefits.
Fiber describes the portion of plant materials in the diet which humans cannot digest. It is an important component in maintaining gastro-intestinal (GI) health by regulating transit time through the GI tract and adding bulk, increasing a feeling of fullness and preventing constipation.
There are two types of fiber: soluble fiber absorbs water and becomes a viscous gel as it moves through the GI tract and is fermented by bacteria. Insoluble fiber does not absorb water, acts as a bulking agent, and is not fermented by bacteria. Oatmeal contains both types and has the largest proportion of soluble fiber of any grain in the form of beta-glucan.
The soluble fiber in oatmeal has been shown to decrease low density lipoprotein (LDL) cholesterol or "bad cholesterol" by 10-15%, particularly when consumed as part of a low-fat diet. Studies show fiber can also decrease risk of high blood pressure and reduces risk of mortality from cardiovascular disease.
The water soluble properties of beta-glucan help control blood sugar by slowing down digestion time, which can help diabetics achieve better glycemic control and prevent insulin resistance.
A high fiber diet has also been shown to reduce the risk of colon cancer. The American Heart Association recommends that adults eat 25-30 grams of fiber per day -- most Americans only eat about half that amount!
One cup of oatmeal contains about 150 calories, 4 grams of fiber (about half soluble and half insoluble), and 6 grams of protein. In addition to fiber, oatmeal is rich in thiamin, magnesium, phosphorus, zinc, manganese, selenium, and iron.
Did you know that the Quaker Man is one of the oldest advertising mascots in America? The Quaker Oats company registered him as the first trademark for a breakfast cereal in 1877. The character purposely embodies the values of the Quaker faith—honesty, integrity, and purity. Enjoy National Oatmeal Day and celebrate its history and tastiness!
World Psoriasis Day
World Psoriasis Day is an annual day specially dedicated to people with psoriasis and/or psoriatic arthritis. Conceived by patients for patients, World Psoriasis Day is a truly global event that sets out to give an international voice to the more than 125 million people with psoriasis/psoriatic arthritis around the world. Formed by a global consortium of patient associations from around the world, World Psoriasis Day aims to raise the profile of a condition which needs to be taken more seriously by national and international authorities.
Aims of World Psoriasis Day:
Raising awareness: to let people with psoriasis know that they are not alone and to raise the profile of this devastating skin disease and the misery it can cause. To dispel myths about the condition, such as the mistaken view that psoriasis is contagious.
Improving access to treatment: to encourage healthcare systems,governments, physicians, carers and all those responsible for psoriasis care to allow psoriasis sufferers access to optimum therapy. For too long, psoriasis/psoriatic arthritis has been low priority. They are debilitating diseases and must move up the healthcare agenda.
Increasing understanding: to provide information to those who are affected by the condition as well as the general public in order to educatepeople about the condition so that they can discuss it more openly and confidently.
Building unity among the psoriasis community: to provide a platform from which patient voices from around the world can speak as one and be heard by key decision makers.
For a number of years various patient groups discussed the idea of having an annual day specially dedicated to people with psoriasis. In 2004 members and non-members of psoriasis associations around the world launched World Psoriasis Day to raise awareness of psoriasis and psoriatic arthritis.