Captain Kangaroo day
Captain Kangaroo day is on October 3rd. This special day is just too much fun to pass up. Many of us not-so youngsters will remember lazy mornings when we sat in front of the television in our pajamas to be entertained by the Captain Kangaroo Show.
As a kid, I can remember being mesmerized by the Magic Drawing Board. While music was playing on the Captain Kangaroo Show the board would draw a picture. It might be anything. Wondering what the picture would be kept me spellbound.
The next best part of the show was Mr.Green Jeans. I loved it when he would bring animals onto the Captain Kangaroo show. Now that I'm older I appreciate the way he gently taught about environmentalism.
The show originally aired on October 3, 1955. I now know that some of the many episodes that I enjoyed as a kid were probably re-runs of earlier shows. I didn't catch that then like kids today would. To me, it was just a fun show to watch.
They don't make shows like Captain Kangaroo anymore. It's really a shame. There are more options on television than ever before but fewer shows seem to be of good quality. Often they are merchandising machines in disguise. There are television programs that are designed to get our kids hooked so we parents can buy cheap merchandise at ridiculously overpriced prices.
Of course, Captain Kangaroo had its share of products that were marketed. Who didn't want to run out and buy a book after it was read by Captain Kangaroo? He always made the stories come to life!
Bob Keeshan who played Captain Kangroo passed away in 2004. According to CBS the show ran for an astounding 30 years on mainstream television. Then the Captain Kangroo Show went to Public Television where it ran for another 6 years. Almost 2 full generations of kids grew up watching the show. Tell me that's going to happen again?
What some people don't know about Bob Keeshan is that he had a role before he became Captain Kangaroo. Do you remember Clarabell the Clown from the Howdy Doody show? That was him.
After Captain Kangaroo ended he went on to become a children's advocate. He promoted parenting skills and worked to make life better for children.
Lee National Denim Day
Lee National Denim Day is a fundraiser created by Lee Jeans where participants donate $5 or more in exchange for wearing jeans to work. Since its inception in 1996, Lee National Denim Day participants have raised more than $91 million for the fight against breast cancer and with your help, we hope to add even more to that total. Funds will support the American Cancer Society and their breast cancer programs and services.
Join Lee Jeans and the American Cancer Society in the movement to rise above breast cancer by donating $5 or more today. Your donation helps the American Cancer Society discover new ways to prevent, find and cure breast cancer while ensuring access to mammograms and providing free support to people affected by the disease.
It all started when several Lee Jeans employees realized that each of them, in one form or another, had been touched by breast cancer. An everyday conversation sparked an idea and led to the creation of Lee National Denim Day, which has become one of the largest single–day fundraisers nationwide for breast cancer.
In its first year, Lee Jeans set a goal of raising $1 million on Lee National Denim Day. To do this, Lee Jeans asked companies to go casual for a cause, inviting employees to wear their jeans to work on Denim Day in exchange for a $5 contribution to the fight against breast cancer. The underlying concept behind the program was simple—by convincing enough people to take one small step, together they could reach an incredible goal.
The response to the inaugural Lee National Denim Day program was astounding. That year, more than 3,000 companies signed up to participate, raising $1.4 million dollars for the fight against breast cancer and setting the stage for what would become one of the most captivating social action campaigns in the country.
Look at the Leaves Day
Today is Look at the Leaves Day! This fits right in to season of Fall. I love all the leaves colors red,yellows and browns. The trees here are changing it's colors but I know in due time they will all turn those pretty colors.
What I really love about Fall is being able to drink hot apple cider,make pumpkin butter,cuddle up on my couch with a blanket and watching a good movie.
As the Earth makes its 365-day journey around the sun, some parts of the planet will get fewer hours of sunlight at certain times of the year. In those regions, the days become shorter and the nights get longer. The temperature slowly drops. Autumn comes, and then winter.
Trees respond to the decreasing amount of sunlight by producing less and less chlorophyll. Eventually, a tree stops producing chlorophyll. When that happens, the carotenoid already in the leaves can finally show through. The leaves become a bright rainbow of glowing yellows, sparkling oranges and warm browns.
National Diversity Day
A day to celebrate and embrace who we are, despite our differences, no matter what race, religion, gender, sexual orientation, age, nationality or disability. A day to reflect on and learn about different cultures and ideologies. A day to vow acceptance and tolerance. A day to consciously address these areas at educational and religious institutions, as well as in the workplace and at home. Our slogan: "Embrace diversity, embrace our world." Annually, the first Friday in October.
The concept of diversity encompasses acceptance and respect. It means understanding that each individual is unique, and recognizing our individual differences. These can be along the dimensions of race, ethnicity, gender, sexual orientation, socio-economic status, age, physical abilities, religious beliefs, political beliefs, or other ideologies. It is the exploration of these differences in a safe, positive, and nurturing environment. It is about understanding each other and moving beyond simple tolerance to embracing and celebrating the rich dimensions of diversity contained within each individual.
National Family TV Show Day
Does your family sit down together and watch a family television show once a week? It is a good practice to choose a TV show your family enjoys and watch it together at least once a week. This can open communication with your family and allow family discussions about what values your family holds paramount. When issues such as violence, bullying, sexual orientation, sex, and other issues arise in the TV show, you have the opportunity to listen and give wisdom on these issues with your children and family. Watching a TV show together is a great opportunity to experience what your children feel and say.
Families are now so busy that the only time they spend together is in front of the television, a new survey has claimed.
One in ten said the pressures of work and home life meant that time watching the TV was their only chance to bond.
According to the research over half (55 per cent) regard sitting down together in front of the box as the best way of catching up.
A third said they valued the time spent watching television together and 12 per cent claimed it was the only time they were ever together in one room.
The survey of over 1,000 families found 32 per cent watched television together as a family two to three times a week.
More than a third (38 per cent) of families said they watched television for up to an hour every night, including weekends.
Only five per cent of families said they never watch television together.
Family psychologist Pat Spungin, who conducted the survey, said: 'Watching TV for an hour or two a few times a week can be the ultimate opportunity for families to bond.
'The survey revealed that comedies are the family favorite, which in the current economic climate, denotes the need for a feel-good factor and the opportunity to laugh together.
'It is also promising that with our busy lifestyles, families regard watching TV together as the opportunity to communicate with each other and discuss current issues.'
National Techies Day
October 3 is Techies Day. Launched in 1999 by Techies.com and co-founded by CNET Networks, the annual event not only encourages students to learn more about a career in technology, but the nationwide initiative was also created to address America's increasing demand for qualified technology workers and to recognize the contributions to education made by tech professionals. In an effort to bring government, businesses and educators together, the first Workforce Development Summit was held in 2000.
The field of technology is rapidly changing and the demand for skilled technology professionals continues to grow. Children are inundated with technology from an early age. It doesn't take long for many children to become more tech-savvy than their parents.
In honor of Techies Day, be sure to give a great big shout-out to your IT person in the office. Or better yet, take him or her out to lunch. And if you know a student who is interested in the field of technology, make sure to encourage him or her to pursue the dream.
National Virus Appreciation Day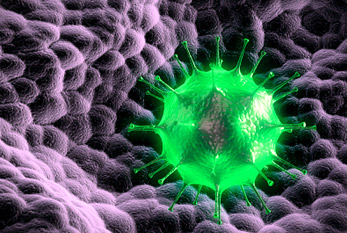 National Virus Appreciation Day is observed on October 3rd. It gives you the chance to show respect for viruses. A virus is a small infectious agent that replicates only inside the living cells of other organisms. Viruses can infect all types of life forms, from animals and plants to bacteria and archaea.
Viruses are important to the study of molecular and cell biology as they provide simple systems that can be used to manipulate and investigate the functions of cells. The study and use of viruses have provided valuable information about aspects of cell biology. For example, viruses have been useful in the study of genetics and helped our understanding of the basic mechanisms of molecular genetics, such as DNA replication, transcription, RNA processing, translation, protein transport, and immunology.
Viruses spread in many ways; viruses in plants are often transmitted from plant to plant by insects that feed on plant sap, such as aphids; viruses in animals can be carried by blood-sucking insects. Influenza viruses are spread by coughing and sneezing. Norovirus and rotavirus, common causes of viral gastroenteritis, are transmitted by the faecal-oral route and are passed from person to person by contact, entering the body in food or water.
World Smile Day
As is well known by now throughout the world Harvey Ball, a commercial artist from Worcester, Massachusetts created the smiley face in 1963. That image went on to become the most recognizable symbol of good will and good cheer on the planet.
As the years passed Harvey Ball became concerned about the over-commercialization of his symbol, and how its original meaning and intent had become lost in the constant repetition of the marketplace. Out of that concern came his idea for World Smile Day. He thought that we, all of us, should devote one day each year to smiles and kind acts throughout the world. The smiley face knows no politics, no geography and no religion. Harvey's idea was that for at least one day each year, neither should we. He declared that the first Friday in October each year would henceforth be World Smile Day. Ever since that first World Smile Day held in 1999, it has continued every year in Smiley's hometown of Worcester, MA and around the world.
After Harvey died in 2001, the Harvey Ball World Smile Foundation was created to honor his name and memory. The Foundation continues as the official sponsor of World Smile Day each year.
This website was created to provide information about World Smile Day®, Harvey Ball and Smiley. Browse the archives to learn more about past World Smile Day events, Smiley and his creator - Harvey Ball. And be sure to join the celebration this year on Friday, October 3rd, and "Do an act of kindness. Help one person smile"!