Checklist Day
The reason for this day is a tragedy: On this date in 1935, a plane crashed while taking off. Afterwards, people tried to find out why, and they discovered that a gust lock was still engaged (whatever that means)—and, I guess, shouldn't have been. A group of pilots sat down together and discussed what could be done to prevent future accidents. They came up with a checklist to go through, each and every time they were about to take off in a plane. Similar checklists have been used by pilots ever since.
It's been discovered that hospital checklists save lives. NASA's space program uses many checklists for vehicles, spacesuits, and equipment. Camping checklists make enjoying the great outdoors safer and more fun, and taking a grocery checklist to the market makes you a more efficient shopper AND saves you money, because you are less likely to buy things you don't need (AND less likely to have to come back for stuff you forgot and a little more stuff you don't need).
Did you know that there is a checklist website that offers checklists for health, home, travel, and even saving the earth? There are super serious checklists, for such things as online safety and flu prevention, and there are lighter checklists, for going to places like parties and amusement parks. Check out Checklist-dot-com!
Of course, the best checklists are the ones you make yourself—after studying other people's checklists and personalizing them for your exact situation!
You might want to make a checklist for getting ready for Trick-or-Treating tomorrow (if you celebrate Halloween). I need to buy some candy and candles for the jack-o-lanterns, and my kids might need some more glow sticks and special make-up...
Create a Great Funeral Day
Stephanie West Allen was stunned when her significant other suddenly died in 1988. She hardly remembers the funeral and still feels badly about being unprepared.
Ten years later, she watched her husband struggle to pull together a meaningful funeral for his mother, who had left no directions. Observing his grief, Allen felt that knowing what her mother-in-law might have wanted would have made holding a funeral so much easier.
Based on those experiences, Allen wrote Creating Your Own Funeral or Memorial Service: A Workbook. In 1999, she registered October 30 as Create a Great Funeral Day as a "holiday" with Chase's Calendar of Events. 2011 marks the 12th annual celebration.
"Back then, Create a Great Funeral Day was a very bizarre idea," said Allen. "Some people got angry and a number of funeral directors were resistant to the idea and considered it competition. There's still a lot of resistance to the whole notion of planning ahead."
The idea behind Create a Great Funeral Day is to think about how you would like to be remembered and to let others you love know how you'd like your life celebrated. The family's experience of funerals is so much better when a loved one expresses their desires and values before dying.
"The people who are left behind are so grateful to have this already done," said Allen. "And planning your funeral in advance, regardless of your age or state of health, is a good way to think about 'What is my legacy thus far and how am I going to change, improve, or affirm it as I move forward?'"
So why do people hesitate to discuss funeral planning, let alone do anything concrete about it in advance?
Social psychologists cite the Terror Management Theory, that all human behavior is ultimately motivated by the fear of death. Death creates anxiety, because it strikes at unexpected and random moments, and its nature is essentially unknowable.
The awareness of our own eventual death, called "mortality salience," affects our decision-making in the face of this terror. Many people decide to avoid the topic.
Create a Great Funeral Day prompts us to be mindful and self-aware, to plan reflectively in advance, rather than in reaction after someone dies.
"There are people who approach funeral planning with fear and resistance, and they're probably the ones who get angry or uncomfortable when thinking about their funeral," said Allen. "For those who are motivated by love, planning is an act of love. If you're afraid, then you're probably afraid in lots of other areas of your life."
She added, "Someone else said 'The way you die is the way you live.' I believe the way you plan your funeral is the way you live. Did I have a fun life? Was it kooky, rich, giving to others? It's a metaphor."
Allen had previously stated she'd like to have a Western barbeque to celebrate her life, but now she'd only do that if the beef came from grass fed cattle. She said her mother was mortified by the idea of a cowboy-themed service.
Still, stating a plan is better than no plan at all. Far too many funerals wind up with a "rent-a-minister" who didn't know the deceased talking about theology. When there's a death in the family, relatives may return to a religious tradition they had abandoned years before. Unfortunately, many will find such traditional funeral services don't meet their emotional needs.
"To have some person who doesn't even know you stand up and talk about belief systems not shared by half the audience – or the deceased – that's just so inappropriate," said Allen.
Allen suggests spending time on October 30 to avoid the specter of a "facelift funeral." That's a memorial service that goes through the motions of honoring the deceased but offers no emotional healing. A facelift funeral follows a cookie cutter form, with no personalization that connects the bereaved to the deceased.
Consider the purposes behind the memorial service that you plan. Allen gives these reasons: to remember and celebrate your life; honor you; facilitate a sense of closure for those in attendance; give attendees an occasion to say goodbye to you; allow people from various segments of your life to meet each other; allow people to express their thoughts and feelings; begin the grieving process; provide an opportunity for those in mourning to support each other; confirm the finality of your death; and to celebrate and support your departure to an afterlife.
Use Create a Great Funeral Day to avoid a facelift funeral. Change from fear of funerals toward courage to plan ahead and talk about it. It's an act of love to plan and communicate your values.
Haunted Refrigerator Night
October 30 is Haunted Refrigerator Night! As a precursor to one of the spookiest nights of the year, Haunted Refrigerator Night was created by Thomas and Ruth Roy of Wellcat to find, "what evil lurks in the refrigerators of men… and women… and venture unto the realm of the lower shelf, rear."
When was the last time you gave your fridge a good scrub down? We're going to venture to guess that it's been a while. Those Asian leftovers behind your quite possibly curdled milk are probably growing some hauntingly hairy mold. If you're looking for a way to get into the Halloween mood that doesn't involve the traditional pumpkin carving or ghost story telling, turn off the lights and gather your friends and family around your fridge and find out what's been lying dormant inside. The results are sure to be terrifying!
To keep your fridge from becoming the scariest place in your home, it's good to give it a deep cleaning at least once a week. If you don't always have time to complete such a task, there are a few things you can do to keep your fridge tidy in the mean time. These include: periodically checking for any spoiled foods and throwing them out, wiping condiment bottles before returning them to the fridge, and cleaning up any leaks or spills immediately.
Happy Haunted Refrigerator Night!
Mischief Night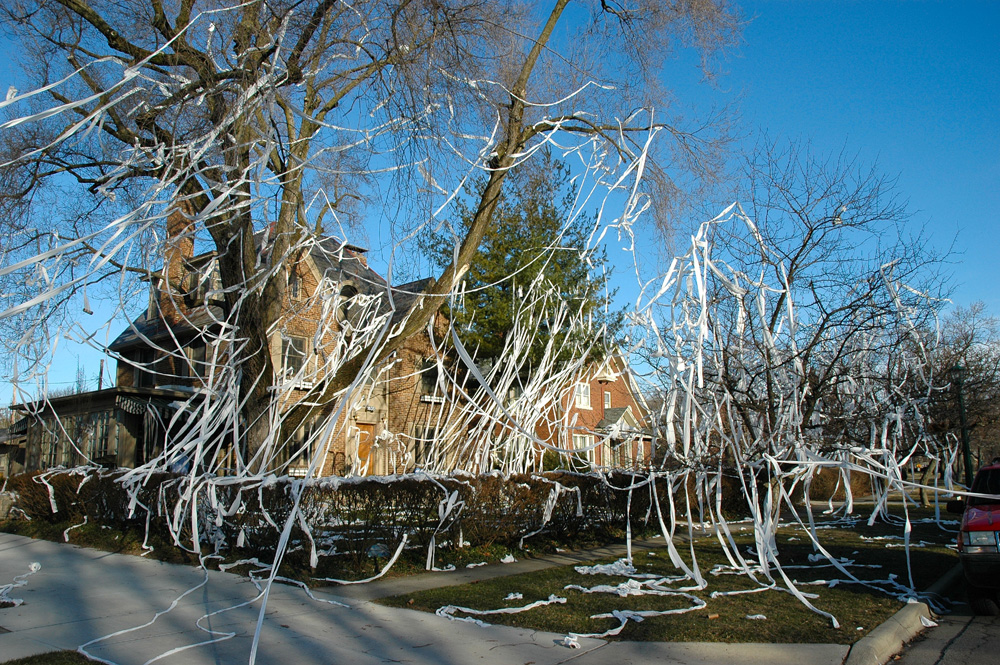 Mischief Night is an informal holiday on which children and teens engage in pranks and minor vandalism. While its name and date vary from place to place, it is most commonly held near the end of October to coincide with Halloween.
The earliest reference to Mischief Night is from 1790 when a headmaster at St John's College, Oxford encouraged a school play which ended in "an Ode to Fun which praises children's tricks on Mischief Night in most approving terms". In the United Kingdom, these pranks were originally carried out as part of May Day celebrations, but when the industrial revolution caused workers to move to urban areas, Mischief Night shifted to November 4, the night before Guy Fawkes Night. According to one historian, "May Day and the Green Man had little resonance for children in grimy cities. They looked at the opposite end of the year and found the ideal time, the night before the gunpowder plot." In Germany, Mischief Night is still celebrated on May 1.
In the United States, Mischief Night is commonly held on October 30, the night before Hallowe'en. The separation of Halloween tricks from treats seems to have only developed in certain areas, often appearing in one region but not at all nearby. In New Jersey's Bergen, Burlington, Camden, Essex, Hudson, Monmouth,Morris, Passaic, Somerset, Sussex, Warren, and Union counties, as well as in Philadelphia; Westchester County, New York; and Fairfield County, Connecticut, it is referred to as "Mischief Night" or "Hackers Night." In some towns in Northern New Jersey and parts of New York State, it is also known as "Goosey Night".[citation needed] Some areas of this geographical area also use the term "Hell Night", but this is not as prevalent as "Goosey Night".
In rural Niagara Falls, Ontario, during the 1950s and 1960s, Cabbage Night referred to the custom of raiding local gardens for leftover rotting cabbages and hurling them about to create mischief in the neighborhood. Today, the night is commonly known as "Cabbage Night" in parts of Vermont; Connecticut; Bergen County, New Jersey; Upstate New York; Northern Kentucky; Newport, Rhode Island; Western Massachusetts; and Boston, Massachusetts.
It is known as "Gate Night" in New Hampshire, Trail, British Columbia, Winnipeg, Manitoba, Thunder Bay, Ontario, Rockland County, New York, North Dakotaand South Dakota, as "Mat Night" in Quebec, Canada, and as "Devil's Night" in many places throughout Canada, Michigan, and western Pennsylvania.
Mischief night is known in Yorkshire as "Mischievous Night", "Miggy Night", "Tick-Tack Night", "Corn Night", "Trick Night", or "Micky Night", and is celebrated on November 4 on the eve of Bonfire Night. In some areas of Yorkshire, it is extremely popular among thirteen-year-olds as they believe it to be a sort of "coming of age ceremony". This may be because Guy Fawkes was born in York, the capital of Yorkshire.
Mischief Night tends to include popular tricks such as toilet papering yards and buildings, powder-bombing and egging cars, people, and homes, using soap to write on windows, "forking" yards, setting off fireworks, and smashing pumpkins and jack-o'-lanterns. Local grocery stores often refuse to sell eggs to pre-teens and teens around the time of Halloween for this reason. Occasionally, the damage can escalate to include the spray-painting of buildings and homes. Less destructive is the prank known as "Knock, Knock, Ginger", "Ding-Dong Ditch", "knock down ginger", or "knock-a-door-run", in which children ring doorbells or knock on doors and then run and hide. One variation involves pranksters inserting a pin into a doorbell so that it rings continuously.

In some areas of Queens, New York, Cabbage Night has included throwing rotten fruit at neighbors, cars, and buses. Pre-teens and teens filled eggs with Neetand Nair and throw them at unsuspecting individuals. In the mid-1980s, garbage was set on fire and cemeteries were set ablaze. In Camden, New Jersey, Mischief Night escalated to the point that in the 1990s widespread arson was committed, with over 130 arsons on the night of October 30, 1991.
National Candy Corn Day
It's National Candy Corn Day! Did you know that candy corn has been around for more than 100 years and has never changed its look, taste, or design?
Every Halloween countless party-throwers, party-goers, and trick-or-treaters hit the streets to harvest candy corn. The little yellow, orange, and white treat is an icon among the holiday candies and has a legacy that goes back more than a century.
According to oral tradition, George Renninger, a candymaker at the Wunderlee Candy Company in Philadelphia, invented the revolutionary tri-color candy in the 1880s. The Goelitz Confectionery Company brought the candy to the masses at the turn of the 20th century. The company, now called Jelly Belly Candy Co., has the longest history in the industry of making candy corn -- although the method has changed, it still uses the original recipe.
Candy corn starts as a mixture of sugar, fondant, corn syrup, vanilla flavor, and marshmallow creme. This mixture is melted into liquid candy, called slurry, and is colored and run through a cornstarch molding process to create each kernel. Wooden trays filled with cornstarch are imprinted with rows of candy corn molds where the layers are individually deposited from bottom to top.
The mixture cools in the tray, which seals the three layers together. The kernels of candy corn are sifted from the trays and polished in large drum pans with edible wax and glaze to create its irresistible, hand-grabbable shine.
Today, candy corn is a favorite American treat to enjoy during the Halloween season. The National Confectioners Association estimates that 20 million pounds of candy corn are sold annually. Grab a handful to celebrate National Candy Corn Day!
War of the Worlds
On this date in 1938, Martians invaded the Earth, frightening thousands of people...
—— Wait! Martians didn't attack us! As a matter of fact, there are no Martians!
What actually happened on October 30, 1938, was the broadcast of an Orson Welles radio show based on H. G. Wells's book The War of the Worlds. The fictional show was done in a non-fiction style—in the style of news bulletins that seemed to break into another show. There were only three announcements during the 60-minute program that this was just fiction—once each at the beginning and end, and once at the 40-minute mark. This kind of story-presented-as-news had never been done before, and people were used to trusting news flashes and bulletins, so there was understandably some fear and confusion among people who tuned into the show while it was already underway.
In other words, some of the listeners who missed the announcement that this was fiction were unsure—was this really happening?
Remember, back in 1938, there was no Twitter or Facebook. As a matter of fact, there was no internet, only a very few people had television, and many people still did not even have telephones! Some people literally went door to door asking their neighbors what was going on. Some even drove to the spot that the aliens were supposed to have landed—Van Nest Park, Grover's Mill, New Jersey!
There was some panic, but the amount of panic was exaggerated by the newspapers of the time. More people got mad than scared, actually—mad at Welles, and mad at CBS, who broadcast the show. Still, War of the Worlds made Orson Welles famous.
Several film versions of H. G. Wells's book have been made, including a somewhat recent version filmed in 2005.