National Apple Betty Day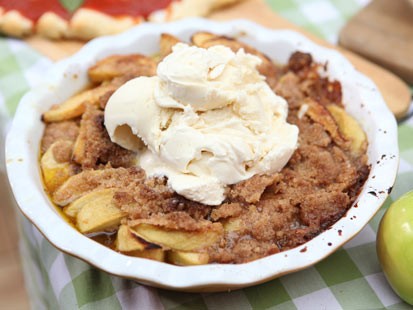 National Apple Betty Day is an unofficial food holiday observed on October 5th each year. An Apple Betty uses a betty style of recipe which combines a fruit which is baked between layers of buttered crumbs.
A baked betty recipe has been classified as a pudding dessert since colonial times. Crumbs for a betty may be made from toasted slices of white bread, graham crackers, oats, or other breaded type items which are seasoned to accompany the apple. In contrast to layering, some Apple Betty recipes mix a portion of the breading with the apples and sprinkle the remainder on top.
In Medieval times, Europeans used apples in pies frequently. The apples were combined with sweeteners and dough to make pies. These pie recipes were brought to America when the Europeans settled in the New World. Apple crisps are believed to have evolved from the tradition of making apple pies. Apple Brown Betty was first mentioned in print in 1864 and has been called apple crisp and apply crust also. Apple crisp recipes have been noted to be quick family recipes not intended for company. Apple crisps were enjoyed by pioneers on the road by making them with dried fruits.
In celebration of National Apple Betty Day, family recipes passed through generations for apple crisps or Apple Betty can be prepared. For those with no family recipes to try, bloggers will likely publish a recipe of the day for this unofficial holiday which can be tried. Towns with an Apple Betty Diner or a restaurant named after the apple dessert may find special offers on the honored dish on its special day. For those who have never enjoyed Apple Betty, the featured video offers easy to follow steps for making Apple Brown Betty.
National Do Something Nice Day
National Do Something Nice Day is a day to do something nice for someone. It doesn't matter how big or how small, doing something nice is good for both the giver and the receiver- heart and soul. Random acts of kindness does everybody good. Think about it, reflect on the power of a single individual who can change the world with a little action.
What is Kindness?
Kindness is the act or the state of charitable behavior to other people.
Kindness is considered to be one of the Knightly Virtues, and is a recognized value in many cultures and religions (see ethics in religion). It is considered to be one of the seven virtues, specifically the one of the Seven Contrary Virtues (direct opposites of the seven deadly sins) that is the direct opposite to envy. The Talmud claims that "deeds of kindness are equal in weight to all the commandments." Paul of Tarsus defines love as being "patient and kind...".
In Buddhism, one of the Ten Perfections (Paramitas) is Mettā, which is usually translated into English as "loving-kindness". Tenzin Gyatso, 14th Dalai Lama wrote "my religion is kindness" and authored a book entitled Kindness, Clarity, and Insight.
Confucius urges his followers to "recompense kindness with kindness."
According to book two of Aristotle's Rhetoric it is one of the emotions (see list of emotions), which is defined as being "helpfulness towards some one in need, not in return for anything, nor for the advantage of the helper himself, but for that of the person helped".
One of the four caryatids on the Wallace fountains in Paris represents kindness.
In a study of 37 cultures around the world, 16000 subjects were asked about their most desired traits in a mate. For both sexes, the first preference was kindness (the second was intelligence).
The United Nations' (UN) World Teachers' Day celebrates the role teachers play in providing quality education at all levels. This enables children and adults of all ages to learn to take part in and contribute to their local community and global society.
Various events are arranged in many countries around the world on or around October 5. These include celebrations to honor teachers in general or those who have made a special contribution to a particular community. The day may also be marked by conferences emphasizing the importance of teachers and learning, extra training sessions for teachers, recruitment drives for the teaching profession among university students or other suitably qualified professionals and events to increase the profile of teachers and the role they play in the media.
Trade unions or other professional organizations that represent teachers play an important role in organizing World Teachers' Day events in many countries. These include:
The Australian Education Union.
The Canadian Teachers' Federation.
The Elementary Teachers' Federation of Ontario (Canada).
The All India Secondary Teachers' Federation.
The Japan Teachers' Union.
The Teachers Council (New Zealand).
The National Union of Teachers (United Kingdom).
The National Association of Schoolmasters Union of Women Teachers (United Kingdom).
The National Education Association (United States).
Moreover, international organizations such as TESOL (Teachers of English to Speakers of Other Languages) and Education International organize international, national and local events. In some areas posters are displayed and pupils and ex-pupils are encouraged to send e-cards or letters of appreciation to teachers who made a special or memorable contribution to their education.
On October 5, 1966, the Special Intergovernmental Conference on the Status of Teachers in Paris, France, was closed and the "Recommendation concerning the Status of Teachers" was signed by representatives of UNESCO and International Labour Organization. On October 12, 1997, the 29th session of UNESCO's General Conference was opened. During this conference, on November 11, 1997, the "Recommendation concerning the Status of Higher Education Teaching Personnel" was adopted.
On October 5, 1994, the first World Teachers' Day was held. This event has been organized on the same date each year since then. However, local events may be on some other date close to October 5, so that they do not fall during fall (northern hemisphere) or spring (southern hemisphere) school vacations. In 2002, Canada Post issued a postage stamp to commemorate World Teachers' Day.