International Day for Preventing the Exploitation of the Environment in War and Armed Conflict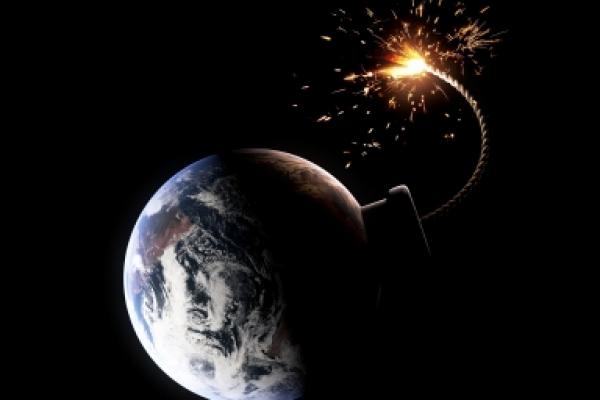 The United Nations' (UN) International Day for Preventing the Exploitation of the Environment in War and Armed Conflict is annually held on November 6. It aims to educate people about the damaging effects of war and armed conflict on the environment.
Many people around the world, including government officials, scientists, journalists, educators, and business people, observe the UN's International Day for Preventing the Exploitation of the Environment in War and Armed Conflict. Those who take part in the day spend time discussing about how the effects of war are damaging to the natural environment. They also work together to find ways to limit environmental destruction caused by armed conflict and war.
Seminars, speeches, lectures, news articles, radio talks, and classroom activities in schools that focus on the topic are some of the events that take place on this day. People learn and share information about the dangers of new technologies in war such as depleted uranium ammunition, which poses unknown threats to the environment. People around the world are also made aware that all efforts must be taken to limit environmental destruction caused by conflict.
War and armed conflict has many damaging effects on the natural environment. For example, crops are destroyed, water supplies are poisoned and forests are burnt. New technology that is used for war means that the destruction and damage of the environment is more serious and the long-term consequences can be worse.
On November 5, 2001, the UN General Assembly declared November 6 of each year as the International Day for Preventing the Exploitation of the Environment in War and Armed Conflict (resolution 56/4). The assembly considered that that any environmental damage in times of armed conflict impairs ecosystems and natural resources long after the period of conflict. This damage can often extend beyond the limits of national territories and today's generation. The assembly also recalled the United Nations Millennium Declaration, which emphasized the necessity of working to protect the environment.
The UN emblem is often found in online and print material used to promote events such as the United Nations' (UN) International Day for Preventing the Exploitation of the Environment in War and Armed Conflict. The emblem consists of a projection of the globe centered on the North Pole. It depicts all continents except Antarctica and four concentric circles representing degrees of latitude. The projection is surrounded by images of olive branches, representing peace. The emblem is often blue, although it is printed in white on a blue background on the UN flag.
Marooned Without A Compass Day
Marooned Without a Compass Day is celebrated on November 6th of each year. We were unable to discover the origin of Marooned Without a Compass Day.
Being marooned is not the best thing in the world that could happen to anyone. According to Marriam Webster, to be marooned is to be put ashore on a desolate island or coast and leave to one's fate OR to place or leave in isolation or without hope of ready escape. Pirates were known to do this to crew who disobeyed orders.
Most definitions said to be stranded, abandoned or however you get there, alone on an island. But there was another place that said you were considered Marooned if you took in too much of a good thing, either drink or smoke, and you were so "marooned" you could do nothing but sit there in your own little world until some of it wore off.
So, let's get back to the holiday at hand. National Marooned Without a Compass. By most definitions you really wouldn't have any problem, afterall how big is this island you are stuck on? Does it really matter to you if you go North or South, East or West? Pretty soon you are going to hit the beach and then you will have to go left or right or just sit down and dig it in your own little world. The bottom line is you are stuck there and a compass would be of no value what so ever.
If you suddenly find yourself "marooned" by the other definition, the use of a compass would again be of no value because you probably could not even focus on the compass, let alone tell which direction the little pointer was pointing and for sure you would not be able to get up and walk in any direction.
Go ahead and celebrate by asking all your friends what they would do if they were marooned without a compass.
Today is unofficially National Basketball Day. It was on November 6, 1861 that James Naismith was born. Thirty years later, Naismith was a young physical education teacher at a YMCA in Massachusetts with bored students who needed an indoor athletic distraction during the winter. Naismith decided to nail two peach baskets to the balcony at both ends of a gymnasium. He divided his students into teams and they attempted to toss a ball into the baskets…the game of basketball was born.
James Naismith (November 6, 1861 – November 28, 1939) was a Canadian American sports coach and innovator. He invented the sport of basketball in 1891. He wrote the original basketball rulebook, founded theUniversity of Kansas basketball program, and lived to see basketball adopted as an Olympic demonstration sport in 1904 and as an official event at the 1936 Summer Olympics in Berlin, as well as the birth of both the National Invitation Tournament (1938) and the NCAA Men's Division I Basketball Championship (1939).
Born in Canada, Naismith studied physical education in Montreal before moving to the United States, where he developed basketball in late 1891 while teaching at the International YMCA Training School (now Springfield College) in Springfield, Massachusetts. Naismith also studied medicine in Denver, taking his MD in 1898 before moving to the University of Kansas. After a decade (1898–1907) serving there as a faculty member and part-time basketball coach during the sport's fledgling years, he became the Kansas Jayhawks' athletic director. He became a U.S. citizen in 1925 in Lawrence, Kansas.
Naismith's contributions to basketball have earned him several posthumous honors, such as in the Canadian Basketball Hall of Fame, the Canadian Olympic Hall of Fame, the Canadian Sports Hall of Fame, the Ontario Sports Legends Hall of Fame, the Ottawa Sports Hall of Fame, the McGill University Sports Hall of Fame, the Kansas State Sports Hall of Fame, and the FIBA Hall of Fame. The Naismith Memorial Basketball Hall of Fame in Springfield, Massachusetts, where he is a member of the original Hall of Fame class, was named in Naismith's honor.
According to notes kept by Naismith about the first "Basket Ball" game, the game was played with nine players on each team using a soccer ball. Today, even though the rules and equipment have changed slightly, basketball is played by more than 300 million people worldwide, making it one of the most popular team sports.
National Men Make Dinner Day
According to market research firm the NDP group, just 13 percent of meals in the home are prepared by men. I don't know about you, but I'd love to see that number go up. And it turns out, first Thursday of each November is the day for my wish to be granted! Here are the rules for National Men Make Dinner Day. (Feel free to print this out and show it to your husband, boyfriend, brother, dad, or son). On this day, the man of your house must choose a published recipe that includes a minimum of four ingredients and requires at least one cooking utensil (other than a fork). He has to shop for all the ingredients himself, clean as he cooks, set the table, serve the family, and clear the plates at the end of the night.
There are several official rules for National Men Make Dinner Day. These include no grilling, no take-out, and no dishes left in the sink. The man must use a recipe that involves at least four ingredients and a cooking utensil other than a fork.
Check out the full list of rules
and other interesting information about this humorous national holiday!
National Nachos Day
They can be hot. They can be messy. They can range from plain to spicy, served alone as a snack or with a whole range of toppings for a hearty meal. We're talking about nachos, or course. Pull out your favorite nachos dish or snack and raise a chip in honor of nachos creator Ignacio "Nacho" Anaya.
It's said that Anaya, a Mexican from the border town of Piedra Negras, inadvertently invented nachos 70 years ago in 1943 when hungry guests showed up at the Victory Club, the restaurant he was working at across the Rio Grande River from Texas. The dozen or so patrons were the wives of American soldiers who had been shopping in town and were now looking for some sustenance.
As the maitre d, Anaya found himself without a chef so he decided to rustle up something tasty for his guests. The only foods available in the kitchen were tortillas and cheese. He began making the dish by cutting the tortilla into triangles. The cheese was then melted by heating it together with the triangular chips. He topped the dish with jalapeno peppers to complete the first-ever recipe of Nachos Especiales otherwise known as Nacho's Special Dish.
Anaya, who was called Nacho because of his short stature, created a dish that would grow in popularity in Texas and the Southwest over the next 20 years. Anaya went on to work at the Moderno Restaurant in Piedras Negras, which still uses the original recipe. He also opened his own eatery, Nacho's Restaurant, in the border town.
But its reputation as a more widely popular snack food really took off in the 1970s and 1980s thanks to Frank Liberto who began selling nachos as stadium fare at Arlington Stadium, which was then home of the Texas Rangers.
Liberto altered one significant ingredient that would give the nachos dish a longer shelf life and not require heat to melt the cheese. He created a melted cheese product that was part cheese and part secret ingredients. His cheese sauce didn't need to be heated and its shelf life was extended well beyond the original recipe, which used perishable cheese.
Liberto introduced his stadium nachos to famed sports broadcaster Howard Cosell, who praised the dish during a Monday night football game, a move that is credited with helping turn nachos into a household name.
Ignacio Anaya died in 1975. In his honour, a bronze plaque was erected in Piedras Negras, and October 21 was declared the International Day of the Nacho.
Nachos with the works are often called loaded or super. As a snack among fellow diners or a hearty meal for one, this dish comprises nachos topped with meat and refried beans, covered in shredded cheese. Once the cheese is melted, cold toppings such as shredded lettuce, tomatoes, salsa, onion, and jalapeno are piled on top. Other possible toppings are limited only by your imagination but might typically include cilantro, chicken, chorizo, bacon, guacamole, lime, olives, pico de gallo and sour cream.
Barbecue nachos are popular in Memphis, Tennessee in which heaping portions of barbecued pulled pork are placed atop nachos and doused in cheese sauce, barbecue sauce and jalapeno peppers.
In Hawaii, kalua pork and pineapple nachos are served in many restaurants.
Nachos Trivia:
The first known appearance of the word "nachos" in English dates to 1949, from the book A Taste of Texas. The International Nacho Festival is held between October 13 and 15 at Piedras Negras and features a "biggest nacho of the world" contest which is registered with the Guinness Book of World Records.
National Saxophone Day
Saxophone Day is celebrated on November 6th of each year in remembrance of Adolphe Sax, the inventor of the saxophone.
Antoine-Joseph "Adolphe" Sax (6 November 1814 – c. 7 February 1894) was a Belgian musical instrument designer and musician who played the flute and clarinet, and is well known for having invented the saxophone. He also invented the saxotromba, saxhorn and saxtuba.
Antoine-Joseph Sax was born in Dinant, Belgium. His father, Charles-Joseph Sax, was an instrument designer himself, who made several changes to the design of the horn. Adolphe began to make his own instruments at an early age, entering two of his flutes and a clarinet into a competition at the age of 15. He subsequently studied those two instruments at the Royal Conservatory of Brussels.
Having left the school, Sax began to experiment with new instrument designs, while his father continued to make conventional instruments to bring money into the household. Adolphe's first important invention was an improvement of the bass clarinet design, which he patented at the age of 24. Sax relocated permanently to Paris in 1841 and began working on a new set of instruments exhibited there in 1844. These were valved bugles, and although he had not invented the instrument itself, his examples were so much more successful than those of his rivals that they became known as saxhorns. They range in approximately seven different sizes, and paved the path to the creation of the flugelhorn. Saxhorns are widely used today in concert bands and sometimes in orchestras. The saxhorn also laid the groundwork for the modern euphonium.
Sax also developed the saxotromba family, valved brass instruments with narrower bore than the saxhorns, in 1845, though they survived only briefly.
Saxhorn instruments spread rapidly throughout the world. The saxhorn valves were accepted as state of the art and are largely unchanged today. The advances made by Adolphe Sax were soon followed by the British brass band movement which exclusively adopted the saxhorn range. The Jedforest Instrumental Band formed in 1854 and The Hawick Saxhorn Band formed in 1855, within the Scottish Borders, a decade after saxhorn models became available.
The period around 1840 saw Sax inventing the clarinette-bourdon, an early unsuccessful design of contrabass clarinet. He developed around this time the instrument for which he is now best known, the saxophone, patented on June 28, 1846. The saxophone was invented for use in both orchestras and concert bands. Composer Hector Berlioz wrote approvingly of the new instrument in 1842. By 1846 Sax had designed, on paper, a full range of saxophones (fromsopranino to subcontrabass). Although they never became standard orchestral instruments, the saxophones made his reputation and secured him a job, teaching at the Paris Conservatoire in 1857.
Sax continued to make instruments later in life and presided over a new saxophone class at the Paris Conservatoire. Rival instrument makers attacked the legitimacy of his patents and mounted a long campaign of litigation against Sax and his company. He was driven into bankruptcy in 1856 and again in 1873.
Sax suffered from lip cancer between 1853 and 1858 but made a full recovery. He died in 1894 in Paris and was interred in section 5 (Avenue de Montebello) at the Cimetière de Montmartre in Paris.