Hug A Bear Day
Today is Hug a Bear Day! While we do not recommend venturing into the wild to hug a live bear, this is the perfect day to give a big hug to your favorite teddy bear!
Did you know that the ancient Egyptians are credited with making the first plush toys? Although no remains of stuffed toys have been discovered in Egypt, paintings on the tombs suggest they did have animal toys. Modern stuffed animals were first introduced in the 1830's, but they were homemade with cloth and straw. In 1880, Germany began manufacturing stuffed animals that closer resembled the cute toys we still purchase today. Stuffed animals were not popular in the US until 1906, when President Theodore Roosevelt inspired the production of the first "Teddy Bear".
Celebrate Hug a Bear Day by snuggling up with your favorite Teddy Bear or purchase a new cuddly bear! You can even give out extra big bear hugs to your friends and family. Happy Hug a Bear Day!
National Bittersweet Chocolate with Almonds Day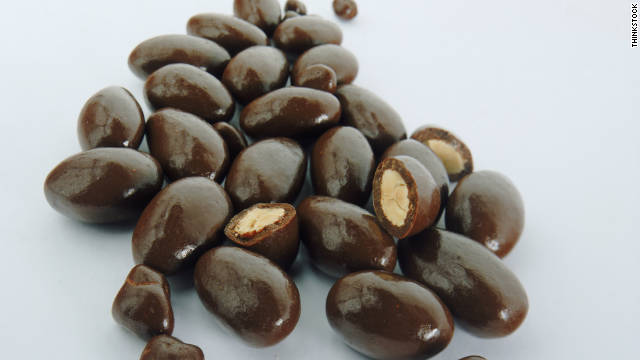 National Bittersweet Chocolate with Almonds Day is celebrated on November 7th each year. We were unable to discover the origins of this holiday.
Bittersweet chocolate is a sweetened form of dark chocolate that does not contain milk in either liquid or dry form. Bittersweet chocolate is essentially a mixture of chocolate liquor, sugar, cocoa butter, and sometimes vanilla. Recent studies have revealed certain health benefits from the regular consumption of small quantities of bittersweet chocolate. Due to its high cocoa content, dark chocolate is a good source of certain flavonoids — namely epicatechin and gallic acid — that may be protective for the heart.
The almond is a species of tree native to the Middle East and South Asia. Almond is also the name of the edible and widely cultivated see of this tree. The fruit of the almond is not a true nut, but the drupe, consisting of an outer hull and a hard shell with the seed inside. Almonds are known to have health benefits including relief from constipation, respiratory disorders, cough, hear disorders, anemia, impotency, and diabetes. It also helps in hair care, skin care, and dental care.
With both Bittersweet Chocolate and Almonds having health benefits there is no reason why one should indulge in a little Bittersweet Chocolate with Almonds on November 7th.
National Medical Science Liaison (MSL) Awareness and Appreciation Day
The first Friday in November is National Medical Science Liaison Awareness And Appreciation Day, recognizing healthcare consulting professionals who are employed by pharmaceutical, biotechnology, medical device, and managed care companies.
A medical science liaison (MSL) is a healthcare consulting professional who is employed by pharmaceutical, biotechnology, medical device, and managed care companies. Other job titles for medical science liaisons may include medical liaisons, medical science managers, regional medical scientists, and regional medical directors.
The term "MSL" was originally trademarked by Upjohn as "Education services – namely, initiation of drug studies in laboratory and clinical settings and development of workshops, symposia, and seminars for physicians, medical societies, specialty organizations, academicians, in concert, concerned with drug related medical topics" in 1967 and with first use in commerce in 1967.
As the number of MSL programs in healthcare increased, subsequent peer-reviewed journal publications and books became available to examine the emerging role of medical affairs and the use of MSLs in an increasingly vertically integrated biotechnology industry.
MSLs build relationships with key opinion leaders or thought leaders and health care providers, providing critical windows of insight into the market and competition. Through such monitoring, MSLs can gain access to key influencers by interacting with national and regional societies and organizations. Moreover, as MSLs specialize in a particular therapeutic area and have scientific knowledge related to it they are now highly involved in activities related to clinical trials.
Please give a hearty "thank you" to the notary public in your life every November 7, Notary Public Day!
Transactions that are essential to the normal function of our everyday lives would not be possible without the skill and attention of a notary public. There are nearly 4.8 million notaries public in the United States, all of whom serve the common good as trusted public officials.
The first Notary Public Day was celebrated on November 7, 1975, and created to "recognize notaries for their public service and their contributions to national and international commerce."
Since ancient Roman times, notaries have recorded matters of judicial and commercial importance as well as private transactions when professional skill and integrity were needed.
Today's notaries are indispensable to the free flow of commerce and to the many highly sensitive personal transactions that transpire in daily life. By properly executing their duties as impartial witnesses, notaries help deter fraud and promote the integrity and reliability of document transactions. They do this by positively confirming the document signer's identity, and carefully assessing the signer's comprehension, competence and willingness to sign.
The date of November 7 was chosen as Notary Public Day in recognition of the day that America's first notary, Thomas Fugill, was appointed. Fugill's appointment by the Colony of New Haven occurred on October 25, 1639 (Julian calendar), November 7 on the Gregorian calendar now in use.