Loosen Up, Lighten Up Day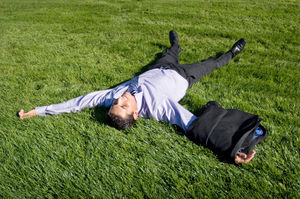 Feeling stressed out lately? Well, if you've ever needed an excuse to take some time to unwind, here's your chance. November 14 has been officially dubbed Loosen Up, Lighten Up Day (LuLu) where you can (and should) take some time to sit back, relax, chill out and have a little fun.
Origins and History
Although the official origins and history of this day are unknown, chances are that it came about sometime during either the twentieth or twenty first century. Our modern era is fraught with stress, tension and constant activity. It seems like people are on the go 24/7 without a moment's rest. Even with all our technological conveniences it seems that we're busier than ever! If anyone ever needed a day to kick back, it's us!
Loosen up and lighten up are idiomatic expressions that encourage us to relax and be carefree. Hearing the phrase loosen up inspires images of a male executive loosening his tie or a female executive kicking off those high heels at the end of a busy day. As for lighten up; nowadays it refers to your attitude, but at one time it was a military term used in World War I for soldiers to remove any unnecessary gear in order to march further or faster.
Loosen Up
So what will you do to loosen up on this special day? Why not start by loosening up your body? If you're like most people, you probably spend a great deal of time sitting at a computer all day in a cramped cubicle. Try giving your body a break by loosening up those muscles. Go for a massage or consider taking a yoga class. At the very least you should treat yourself to a warm, soothing bubble bath.
Another idea is to loosen up your clothing for the day. Instead of donning formal business attire, think about going casual if you can. And if you have the opportunity, go all out and just stay at home in your pajamas. Now that's definitely keeping things loose!
Lighten Up
Now for the lighten up part of the day. Like those recruits during the First World War, see what non-essential things you can do without for the day. Can you lighten up your load at work by postponing a deadline or two? Or maybe you can leave work early or put off household chores until some other time. Think about having take out instead of cooking. Choose at least one duty or responsibility that you can get rid of. Lighten up your load and enjoy some freedom.
And don't forget that lightening up includes your mood too. Be sure to engage in a fun activity or two. Add some extra laughter on this day. See a funny movie, play games with the kids, or go out for some drinks and appetizers with friends. Even if you decide to celebrate Loosen Up, Lighten Up Day at home by yourself, make the most of it. Check out the comedy lineup on TV or read a book that makes you chuckle.
Another great way to lighten up is to actually go outside and catch a few sunrays. If you're lucky enough to have a cool, crisp and sunny autumn day, take a trip outdoors. Go for a long walk or just spend some time amongst the trees. Studies have shown that spending time in nature can reduce stress and promote a sense of well-being. Let Mother Nature help you lighten up!
Be sure to devote some time for yourself on Loosen Up, Lighten Up day. Relax, laugh and have fun. Make it a LuLu!
November 14th marks "National American Teddy Bear Day." The history of the Teddy Bear is based on a President Teddy Roosevelt's cancelled bear hunt.
According to theodoreroosevelt.org, "Nearly 100 years ago, President Theodore Roosevelt, went on a bear hunt. He enjoyed nature and being out in the woods where animals lived. Because he was the President of the United States, the people organizing the hunt wanted to make sure the hunt was successful.
But after 3 days of walking and climbing and riding, no bears were found. Now what? The President's bear hunt would be a failure!
The next day the hunt guide and his hunting dogs finally found an old bear. The dogs and guide followed the bear for quite a distance until the bear was very, very tired. The dogs attacked and injured the old bear. The guides tied the bear to a tree and called for the President. Here was a bear for him to shoot!
President Roosevelt looked at the poor old bear and said "no!" No one would shoot this old bear for sport. That would not be right. However, the bear was injured and suffering. President Roosevelt ordered that the bear be put down to end its pain."
A political cartoonist by the name of Clifford Berryman recorded the episode in a sketch entitled "Drawing the line in Mississippi" and published it to wide acclaim in The Washington Post. The sketch attracted so much national attention that the popular cartoonist hereafter included the appealing little bear character whenever he portrayed the President. But neither Berryman or Roosevelt ever referred to the Bear as "Teddy".
It took a Brooklyn shopkeeper by the name of Morris Mitchom to give the bear its moniker. Mitchom asked his wife Rose, a seamstress, to stitch a jointed bear to resemble Berryman's drawing and then showcased her creation in their shop window along with a sign that read "Teddy's Bear." The bear sold so quickly they couldn't make bears fast enough to meet demand. He wrote to President Roosevelt asking for permission to name his popular bear "Teddy" and the president is said to have agreed in a hand-written reply. On the success of their "Teddy Bear" design Morris and Rose launched the Ideal Novelty and Toy Company and with it, the American Teddy Bear was born -- and the rest is Teddy Bear history!
National Pickle Day
Don't be fickle, it's just pickles - November 14 is National Pickle Day!
Whether you chomp down on gherkins straight from the jar or sneak some crunch into your sandwich, pickles are cool as a cucumber ... that's been pickled, of course.
Pickles get their moniker from the process it takes to make them. This funny name comes from the Dutch word pekel, meaning "brine." Leaving cucumbers in brine or vinegar and allowing them to ferment creates our favorite fantastically crunchy pickles.
The true history of the pickle is somewhat of a mystery. Although some believe it dates back to India 4030 years ago. The pickle has been mentioned in the Bible by Jesus and in the Old Testament books Numbers and Isaiah. Napoleon valued its health benefits for his army. George Washington had a collection of 476 different kinds of pickles. In 850 BC Aristotle praised the healing benefits of the pickle, and Thomas Jefferson wrote: "On a hot day in Virginia, I know nothing more comforting than a fine spiced pickle, brought up trout, like from the sparkling depths of the aromatic jar below the stairs of Aunt Sally's cellar."
So, what is all the fuss over a pickled cucumber you ask? Who knows…I do know that even today the popular pickle is everywhere. The crunchy tangy pickle is eaten out of jars, on our burgers, and served with our sandwiches. It is sliced, speared, whole, diced for relish, spicy, sour, and sweet. We just love the amazing, multi-talented pickle!
The health benefits of the pickle are incredible:
Raw, lacto-fermented vegetables (pickles) have good bacteria that inhibit the growth of harmful microbes in the intestines.The health benefits of the pickle
They have a higher concentration of vitamin C.
They help you absorb iron better.
Research shows that vinegar can help with weigh loss.
Pickle Facts:
Americans consume 26-billion pickles a year. That's about nine pounds of pickles per person.
More than half the cucumbers grown in the U.S. are made into pickles.
Amerigo Vespucci, for whom America is named, was a pickle merchant before becoming an explorer.
Pickling has been used to preserve food for almost 5,000 years.
The pickle is both a fruit and a vegetable
No matter how you feel about pickles…they aren't going anywhere. So, grab a dill, sit down, and get crunching.
Want to dress up your snacktime? Beer-batter fried pickles or tempura dill pickles are just the trick.
And don't forget to relive some nostalgia with "The Little Rascals" and sing your own rendition of the Pickle Song.
National Spicy Guacamole Day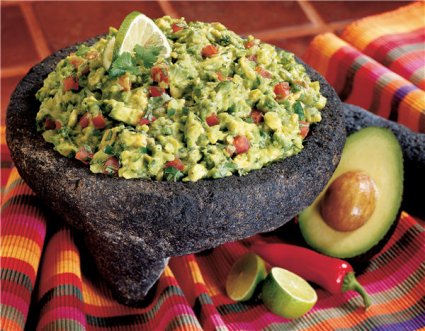 If you like a bit of a kick to your dishes, then today is for you! It's November 14th which means it's the National Spicy Guacamole Day. We looked all over the web for delicious spicy guacamole recipes worth trying and the following took the cake. We especially liked the additions of the serrano chili and cayenne pepper, one of our favorite spices. We made a huge batch and the robust flavors did not disappoint!
Celebrate National Guacamole Day by whipping up your ow bowl full of this mouth-watering goodness. Be careful not to overdo the spiciness for your taste buds. Take the seeds out of the serrano chili if necessary or simply add less. Also, add in the pepper and onion slowly, to taste. You do not have to add in the full amounts recommended by the recipe. Enjoy the fiery fiesta in your mouth!
When you're eating guacamole, you're eating history that dates back to the 1500s. The Aztec empire created this spread with the same exact ingredients that local restuarants use today. The Aztecs called this saucy spread "ahuaca-mulli" which translates to avocado-mixture or avocado-sauce. Pretty creative, eh? Of course, the secret didn't stay with the Aztecs for long.
The Spaniards encountered the Aztec people and their ahuaca-mulli while exploring the New World and knew it would be a hit back home. Unfortunately, avocados are not native to Europe so there was a problem when trying to recreate the dish for friends and family when they returned to Spain. Over the course of time, guacamole has stayed in North and South America, while back in Europe the Spanish tried to duplicate the tasty treat with substitutions for the avocado. Of course nothing could live up to the guacamole they had in their travels.
The word guacamole is derived from Nahuatl, a language from Central Mexico. Years ago "waka'mole" and "huaka'mole" were were a few different ways to pronounce gucamole. Our society and fast-paced culture has even gone so far as to shorten this word with the abbreviation "guac" written on menus and featured on signs at local restaurants.
Guacamole has always been a table pleaser, as we can see. The Aztecs believed it to be a natural aphrodisiac and with more natural monosaturated fat and protein than other fruits available, it was vital to their diet. Avocados have almost 20 vitamins and minerals and have been found to help manage heart problems and cholesterol for some people.
Some of the first guacamole recipes were published in the 1940s. Did you know that in the 1960s the avocado was pushed to be associated with the Pacific Islands through marketing and advertising tactics? Finally in the 1970s, it became recognized across the United States as a dish served alongside various Spanish and Mediterranean foods.
Guacamole can be a great addition to a meal on any day of the year, but there are two specific holidays that really have people craving the green goodness. Cinco de Mayo and Super Bowl Sunday have increased avocado sales to exorbitant amounts every year.
Operating Room Nurse Day
Operating Room Nurse Day is celebrated on November 14th of each year. It was first established by Iowa State Governor Terry Branstad by Executive order on November 14, 1989.
Nurses in this field provide care and support to patients before, during, and after surgery. These nurses are responsible for maintaining a sterile environment in the operating room, monitoring the patient during surgery, and coordinating care throughout the process. They are also responsible for making sure the OR team provides the patient with the best care possible.
An operating room nurse is a nurse who specializes in preoperative care, meaning care provided to surgical patients before, during, and after surgery. There are a number of different kinds of surgical nurse, and surgical nursing as a career can be very demanding. Compensation in this field varies, depending on where a nurse works. Some surgical nurses make salaries which are comparable to those of doctors, while others struggle to get by on much less.
In pre-operative care, a surgical nurse helps to prepare a patient for surgery, both physically and emotionally. Surgical nurses may explain the procedure to the patient, and ease fears about the upcoming surgery and recovery. They also check the patient's vitals, administer medications, and help to sterilize and mark the surgical site.
During surgery, a surgical nurse assists the surgeon, passing instruments, keeping an eye on the patient's vital signs, and performing other tasks associated with the surgery, such as providing suction at the surgical site to remove blood and fluids. Some surgical nurses work as circulating nurses, patrolling the operating room to make sure that everyone stays sterile, and counting instruments, drapes, and other equipment to ensure that everything is where it is supposed to be. Nurses who are skilled at operating room work tend to receive excellent compensation, especially if particular surgeons become attached to them.
Post-operative care is also a critical part of the work of a surgical nurse. Nurses can work in acute recovery, keeping an eye on patients who are at serious risk of complications, and on more standard recovery floors in the hospital. They are usually responsible for changing dressings, monitoring vital signs, looking for signs of complications, and administering medications. The care of an attentive surgical nurse ensures that a patient's recovery goes as smoothly as possible.
People who want to become surgical nurses attend nursing school and specialize in surgical nursing. They are often required to pass examinations administered by the government or by nursing certification boards before being allowed to work as nurses, and they may also be expected to attend periodic continuing education classes so that they keep up with developments in the nursing field.
World Diabetes Day
World Diabetes Day is held on November 14 each year. The day aims to increase an awareness of the effects of diabetes and its complications amongst the general population and professionals in a range of sectors.
It is also hoped that the increased awareness will lead to more resources to fight the causes of diabetes and help fund research into improved treatment options.
The World Diabetes Day campaign is led by the International Diabetes Federation and its member associations around the world, including the American Diabetes Association, Diabetes UK, Diabetes Australia, the Canadian Diabetes Association, Diabetes South Africa, Diabetes New Zealand and the Diabetic Association of India. These organizations arrange events at international, national and local levels.
Events include:
Conferences, workshops and seminars for health and public policy professionals.
The distribution of information to encourage at risk individuals to be screened for diabetes.
Events to highlight diabetes in local and national media, including television, newspapers and Internet publications
The World Diabetes Day bike races to increase awareness of diabetes.
The distribution of geocoins for use in geocaching (a game for global positioning systems users).
Civil leaders around the world issue proclamations on World Diabetes Day to raise awareness of diabetes in their communities. Many events aim to raise money for research into treatments for diabetes.
Diabetes is the common name for a range of conditions including diabetes mellitus type one and diabetes mellitus type two, diabetes insipidus and gestational diabetes. These are all conditions, which affect how the pancreas (an organ in the digestive system) secretes insulin or how the body reacts to this hormone. Depending on the type and severity, diabetes is controlled by dietary measures, weight loss, oral medication or injected or inhaled insulin. There is a wide range of short and long-term complications of diabetes including foot and eye problems and vascular diseases. It is estimated that one in three residents of the United States will develop diabetes at some point in their life.
On December 20, 2006, the United Nations (UN) passed a resolution to designate November 14 as World Diabetes Day. The occasion aimed to raise awareness of diabetes, its prevention and complications and the care that people with the condition need. Governments, non-governmental organizations and private businesses are encouraged to increase awareness of the disease, particularly among the general population and the media. World Diabetes Day was first commemorated on November 14, 2007, and is observed annually.
The official UN symbol for diabetes is a simple ring in the same shade of blue as is used on the United Nations Flag and many other United Nations symbols, also known as "Pantone 279". The inner diameter of the ring is 70 percent of the outer diameter. The ring is used in combination with the slogan "unite for diabetes", where the letters "U" and "N" of the word "unite" are also in UN blue color and the other letters are in black. The ring symbol was chosen because it is easy to display and could even be painted on a wall or home-made banner. In addition, it occurs widely in nature and has been used in many cultures to symbolize unity, life, the globe and health.