Gingerbread House Day
While the origins of this fun "holiday" are unknown, December 12 is Gingerbread House Day! Just in time for the holidays, today is the perfect opportunity to get your creativity on and build yourself a fabulous gingerbread house!
Elaborate or simple, big or small, nothing gets the little ones into the holiday spirit like building and designing their very own homemade home! Usually comprised of delicious gingerbread and decorated with colorful candies and icing, gingerbread houses can be made by scratch or with store-bought kits.
Some businesses, organizations and churches around the country host gingerbread house contests and workshops too. This holiday season, gather up the kids and start a new family tradition.
The gingerbread bakers were gathered into professional baker guilds. In many European countries gingerbread bakers were a distinct component of the bakers' guild. Gingerbread baking developed into an acknowledged profession. In the 17th century only professional gingerbread bakers were permitted to bake gingerbread except at Christmas and Easter, when anyone was allowed to bake it.
In Europe gingerbreads were sold in special shops and at seasonal markets that sold sweets and gingerbread shaped as hearts, stars, soldiers, babies, riders, trumpets, swords, pistols and animals. Gingerbread was especially sold outside churches on Sundays. Religious gingerbread reliefs were purchased for the particular religious events, such as Christmas and Easter. The decorated gingerbreads were given as presents to adults and children, or given as a love token, and bought particularly for weddings, where gingerbreads were distributed to the wedding guests. A gingerbread relief of the patron saint was frequently given as a gift on a person's name day, the day of the saint associated with his or her given name. It was the custom to bake biscuits and paint them as window decorations. The most intricate gingerbreads were also embellished with iced patterns, often using colors, and also gilded with gold leaf. Gingerbread was also worn as a talisman in battle or as protection against evil spirits.
Gingerbread was a significant form of popular art in Europe; major centers of gingerbread mold carvings included Lyon, Nuremberg, Pest, Prague, Pardubice, Pulsnitz, Ulm, and Toruń. Gingerbread moulds often displayed actual happenings, by portraying new rulers and their consorts, for example. Substantial mould collections are held at the Ethnographic Museum in Toruń, Poland and the Bread Museum in Ulm, Germany. During the winter months medieval gingerbread pastries, usually dipped in wine or other alcoholic beverages, were consumed. In America, the German-speaking communities of Pennsylvania and Maryland continued this tradition until the early 20th century. The tradition survived in colonial North America, where the pastries were called ginger snap cookies and gained favour as Christmas tree decorations.
The tradition of making decorated gingerbread houses started in Germany in the early 1800s. According to certain researchers, the first gingerbread houses were the result of the well-known Grimm's fairy tale "Hansel and Gretel". in which the two children abandoned in the forest found an edible house made of bread with sugar decorations. After this book was published, German bakers began baking ornamented fairy-tale houses of lebkuchen (gingerbread). These became popular during Christmas, a tradition that came to America with Pennsylvanian German immigrants. According to other food historians, the Grimm brothers were speaking about something that already existed.
National Ambrosia Day
Ah, ambrosia: food of the gods! Literally, in ancient Greek mythology, ambrosia was a food that granted immortality and was restricted only to the divine. But in modern times, the culinary definition of ambrosia has changed dramatically. A kind of fruit salad, ambrosia is a mixture of all the bite-sized cuts of fruit you expect in a fruit cocktail–pineapples, mandarin oranges, maraschino cherries, etc.–but mixed in with miniature marshmallows and shredded coconut. Sometimes, all these components of ambrosia are folded into a pudding or whipped cream. Ambrosia always feels more like a fully composed dessert instead of a combination of fruits like fruit cocktail. I've only had ambrosia once in my life, with my ex-boyfriend's family. It was messy, it didn't look like much, but when you tucked into that pudding topped with toasted, shredded coconut, and found little pieces of fruit like sweet surprises all throughout the pudding, it was absolutely delicious!
For many Southerners, ambrosia salad is a dish often associated with holiday potlucks or aunts and grandmothers. It occasionally gets a bad rap, along with the often-maligned fruitcake, but when prepared correctly it can be light and delicious. The dividing line between love and hate seems to be one ingredient: coconut. But, this much is clear – ambrosia salad absolutely must include coconut.
Ambrosia salad also has a bit of an identity crisis. Depending on your family's prerogative, it might be considered a salad, but it may also be considered a dessert. It is a fruit dish so, depending on preparation, it can be light, like a salad. Other recipes are sweeter and include layers of whipped cream or even marshmallows, placing it clearly in the "sweets" category. My family always placed it in a different spot in the buffet line, depending on which aunt had prepared the dish.
The word "ambrosia" means delicious or fragrant. Ambrosia was also the magical fruit of the gods in ancient Greek mythology. The gods on Mount Olympus ate ambrosia to maintain immortality and without it, they became weak. In Homer's Iliad, the gods bathed in ambrosia and used it as perfume. And, though we are free to enjoy ambrosia today, mythology dictated that mortals would face death if they dared to eat the gods' ambrosia or drink their divine nectars. (Truth be told, some of my cousins did act like eating any dish containing coconut would absolutely kill them.)
Ambrosia began appearing in cookbooks in the late 1800s when citrus fruit became more prevalent in markets across the country. These early recipes were very simple, usually including only orange slices, coconut, and sugar layered in a glass dish. As ambrosia's popularity grew, many versions began to emerge, often with conflicting advice. For instance, Mary D. Pretlow's Old Southern Recipes warned, "You must not use canned cocoanut," while James Beard's Fireside Cook Book said, "The moist canned coconut is best for this."
Southern cooks, in particular, began to transform this dish into a more diverse fruit salad. I've been served ambrosia prepared traditionally, but also with grapefruit, banana, pineapple, maraschino cherries, raisins, nuts, and marshmallows. I've seen it topped with sugar, whipped cream, yogurt, and, once, mayonnaise (yes, really). I asked our café to develop their own recipe for ambrosia (pictured below). The result: a delicious coconut milk tapioca soup with citrus compote and vanilla bean shortbread. This take is far from traditional, but the flavors are all there – coconut, citrus, and a hint of sweet vanilla. Regardless of the ingredients, ambrosia salad is best served on the day of preparation. The sugar can cause the oranges (and other fruits used) to release their juices and the dish can turn to mush in a matter of hours.
National Cocoa Day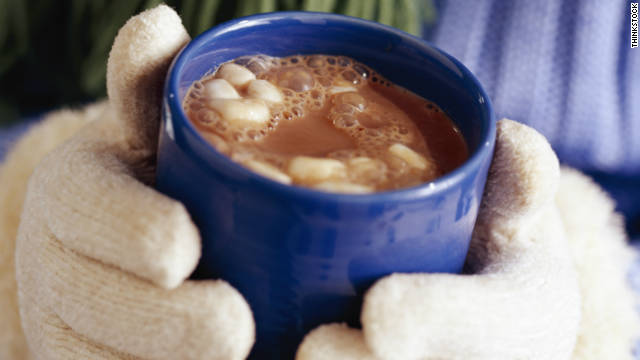 Cuckoo for cocoa? December 12 is National Cocoa Day!
The weather outside may be frightful, but cozying up with a mug of hot cocoa can make the day more delightful.
The Mayans are first credited with cultivating the cacao bean to brew xocoatl, an unsweetened version of modern-day hot chocolate. Much later in the 17th century, Spanish doctor Antonio Colmenero de Ledesma published the first recipe as an elixir, adding different spices to treat a number of ailments. Even President George Washington washed down his breakfast of cornmeal hoe cakes with a cup of hot chocolate.
Even though "hot chocolate" and "hot cocoa" are often used interchangeably, purists stress that there is a difference. Hot chocolate is made from mixing heated water or milk with melted chocolate pieces, while hot cocoa is made from cocoa powder and warmed water or milk.
In 1828, Dutch chemist Coenraad Van Houten patented his process of extracting some of the cocoa butter from the beans, leaving behind a cocoa powder with a reduced fat content. He added alkaline salts to the cocoa powder so that it would dissolve more easily with liquid. The final product is "Dutch-process" or "Dutched" cocoa power. An added advantage to having a naturally lower fat cocoa powder is that you can pile on the marshmallows and whipped cream!
National Ding-A-Ling Day
Today is National Ding-a-Ling Day, a very special day to "Ring your Bell". Nope, we're not talking about the Salvation Army Bell Ringers, standing with their bells and kettles, outside of every store in the country. On National Ding-a-Ling Day, you should brace yourself for bizarre and crazy behavior, from all of the people you encounter today. Even normally conservative people have been known to go a little crazy on this day.
Some people say this is a day for wackos, lunatics, and others who are off their rocker. We say, it is simply a day to cut loose, act a little weird.
What do you do to celebrate this day? Be ever vigilant to the ding-a-lings that will come out of the woodwork. Ding-a-Lings will be everywhere: on the road, on the street, in stores, and even in your house! We suggest you get into the holiday spirit, and become a ding-a-ling yourself......But, please do so for just one day.
For the record: Ding-a-Lings and Ding Bats are not quite the same thing.
We were unable to locate the origin of National Ding-a-Ling Day, however we believe it is also linked to the 1972 hit record for Chuck Berry, "My Ding-a-Ling".
The song tells of how the singer received two silver bells on a string from his grandmother, who calls them his ding-a-ling. According to the song, he plays with it in school, and holds on to it in dangerous situations like falling after climbing the garden wall, and swimming across a creek infested with snapping turtles. In the final verse, Berry admonishes "those of you who will not sing" and concludes that they "must be playing with [their] own ding-a-ling".
The lyrics with their sly tone and innuendo (and the enthusiasm of Berry and the audience) caused many radio stations to refuse to play it, and British morality campaigner Mary Whitehouse tried unsuccessfully to get the song banned. Moreover, pop critics generally dislike the song (especially the fact that it was Berry's sole #1 single in his career) and say that it is unworthy for someone who was so important in early rock 'n' roll (Alan Freeman once introduced the song by saying "oh Chuck baby, how could you!?!"). Nevertheless, Berry still likes it and on the recording calls it "our Alma Mater".
The censorship of this song has continued decades later. In one case, for a re-run of American Top 40, some stations, such as WOGL in Philadelphia, replaced this song with an optional extra when it aired a rerun of a November 18, 1972 broadcast of AT40 (where it ranked at #14) on December 6, 2008. Among other stations, most Clear Channel-owned radio stations to whom the AT40 '70s rebroadcasts were contracted did not air the rebroadcast that same weekend, although it was because they were playing Christmas music and not because of the controversy. Even back in 1972, some stations would refuse to play this song on AT40, even when it reached number one.
National Ugly Christmas Sweater Day
The holidays are always a great time of the year, that is if you've properly planned. Failure to prepare for Christmas can end catastrophically. Forgot the chains? Definitely not making it to Grandma's this year, unless you own a sleigh. For some, Christmas is about making sure they've achieved the right thickness in their pudding, but for others, it's about making sure they've got the right ugly Christmas sweater.
On December 12th, 2014, the fourth annual National Ugly Christmas Sweater Day is occurring. No longer do ugly Christmas sweaters need to sit and gather dust, and no longer do you need to hide them in shame. This year, pull out that retro sweater or go online and buy one. Put on your ugly Christmas sweater and get involved in a holiday that gives back. That's right, National Ugly Christmas Sweater Day has partnered with Save the Children in their "Make the World Better with a Sweater campaign."
The Save the Children Foundation provides assistance to families here in the United States. Over 80 percent of all donations made go directly to children's services. Many of these families receiving aid are struggling with unemployment and the lack of resources that go with it. Save the Children provides educational opportunities for children, and teaches them how to be productive citizens. Save the Children is also working tirelessly in West Africa to bring in more trained medical professionals and provide care for the 4,000 children affected by the Ebola outbreak.
There are tons of ways to get involved, including throwing a classic "Ugly Christmas sweater" party. Prizes can be awarded for the ugliest and most original sweaters. Bake some ugly Christmas sweater cookies or encourage co-workers to wear a sweater on December 12th. However you decide to participate, National Ugly Christmas Sweater Day is about getting in the holiday spirit and giving back. Oh, and of course, it's about being ugly.
Official Lost and Found Day
The second Friday of each December the world turns its attention to Official Lost and Found Day. And if it doesn't, well it should. It is on that day that we take a moment to recall the stuff we've lost and perhaps make an effort to find it.
That coat we think we left at the movie theater but, well, it's not on the way and when we called all we got was movie times? It might still be there. The glasses we left when we got coffee? Sure we had an extra pair at home but we wouldn't forget $50 there and not go back for it, would we? The thing is, the $50 would probably be long gone, but the glasses? Probably sitting in an assistant managers desk drawer.
And what about the backpack you left at school. You checked once or twice at the main office and it wasn't there but perhaps somebody grabbed it by mistake because it looked just like theirs and after it sat in their dorm room for two weeks they finally brought it back to school and now the backpack is there waiting for you. Don't assume the worst? Take another look.
Official Lost and Found Day is a day for renewed hope and belief that lost items should never be forgotten or abandoned to lost and found limbo. Please take a moment on Official Lost and Found Day to make one more effort, one more leap of faith, that what you've lost isn't gone, it's just not conveniently handy. Reach out, make a call, stop by the office, retrace your steps. What was lost can be found. It's up to you.
First advertising of this kind appears on papyrus in Ancient Greece and Rome. The first modern lost and found office was organized in Paris in 1805. Napoleon ordered his prefect of police to establish it as a central place "to collect all objects found in the streets of Paris", according to Jean-Michel Ingrandt, who was appointed the office's director in 2001. However, it was not until 1893 that Louis Lépine, then prefect of police, organized efforts to actively track down the owners of lost items.
Lost and Founds are something akin to libraries filled with books in written in Latin. They exist just in case somebody comes looking, but rarely do they serve any proactive importance. Lost items accumulate at a rate far beyond the rate of claimed items. And so the lost items sit, waiting, until the organizers of that particular lost and found discards them through various means, including taking them home as presents for friends and relatives.
And while there have been many small local Lost and Found Days at various schools, churches, community centers, etc, there has never been a comprehensive official Lost and Found Day to galvanize the masses towards reconnecting the losers with the lost.
Not until Official Lost and Found Day was declared on Friday, December 14th, 2012. From that point forward, Official Lost and Found Day is now held the 2nd Friday of each December.
Poinsettia Day
Celebrating the beautiful plant we've come to associate with Christmas. December 12th is Poinsettia Day. The date marks the death of Joel Roberts Poinsett, an American botanist, physician and Minister to Mexico who in 1828 sent cuttings of the plant he'd discovered in Southern Mexico to his home in Charleston, South Carolina. Botanically, the plant is known as Euphorbia Pulcherrima
In July of 2002, the House of Representatives created Poinsettia Day, passing a Resolution to honor Paul Ecke Jr. who is considered the father of the poinsettia industry. It was Paul Ecke's discovery of a technique which causes seedlings to branch that allowed the Poinsettia industry to flourish. It may come as a surprise to hear that every year, Poinsettias contribute upwards of $250,000,000 to the U.S. economy-at the wholesale level! Poinsettias are the best selling potted plant in the U.S. and Canada. The Ecke's technique remained a secret until the 1990s when a university researcher discovered and published the formula. Both Paul Ecke Sr. and Paul Ecke Jr. worked tirelessly to promote the plant and its association with Christmas. Today their ranch, situated in Encinitas, California is run by Paul Ecke lll.
In Mexico the plant is called La Flor de la Nochebuena or, Flower of the Holy Night and is displayed in celebration of the December 12th, Dia de la Virgen. Use of the plant to celebrate Christmas in Mexico dates back to the 17th century. The flower connects to the legend of a young girl, distraught about not having anything with which to honor the Baby Jesus in a Christmas Procession. An angel tells her that any gift given with love is a wonderful gift. Later the weeds she gathers by the roadside to place around the manger miraculously transform into the beautiful red star flower we think of as Poinsettia. But Mexico's relationship to the plant goes back even further. The Aztecs called the plant Cuitlaxochitl meaning "star flower" and used it to produce a red dye. The sap was also used to control fevers. Montezuma, last of the Aztec king had Poinsettias delivered to him in by caravan to what is now Mexico City.
What we call the Poinsettia is native to Mexico and was called Cuetlaxochitl by the Aztecs. Its name signified "Flower that withers, mortal flower that perishes like all that is pure". The cuetlaxochitl was cultivated as a gift from the gods and Montezuma (1480 - 1520, last of the Aztec Kings) adorned his palaces with the plant. Cuetlaxochitl, with it's blood red color, served as a reminder of the sacrifice the gods had made to create the universe, and the debt which would be repaid with human sacrifice. The Aztecs also used the sap of Cuetlaxochitl to cure fever, and the bracts (leaves) to make a dye.
In the 17th century (post conquest) Franciscan missionaries settled in an area of Southern Mexico known as Taxco del Alarcon. The flaming wild flower became for the first time a part of Christian ceremony when it was used in the nativity procession, the Fiesta of Santa Pesebre. It is around this time that many legends originate, purporting to explain why the plant, beginning to be called "la flor de Nochebuena," or Holy Night (Christmas Eve) flower, acquired its brilliant color.
One popular folk story tells about Pepita, a poor young Mexican girl heartbroken at not having the money to buy baby Jesus a present. Seeing her in tears, an angel appears to her and tells her to gather a bundle of the weeds growing nearby. When her tears fall upon the weeds they miraculously turn into glorious red blooms.
Another legend tells of the Franciscan friars celebrating Christmas with a lovingly decorated nativity scene. During the mass, as the Star of Bethlehem passed overhead, the leaves turned from green to bright red. The poinsettia, formally a symbol of Aztec sacrifice, became a symbol of the blood of Christ and quickly associated itself with the Christmas season.
In Mexico, the Poinsettia, "la flor de Nochebuena", is displayed around Dia de la Virgen, December 12. In the U.S., Poinsettia day is also December 12. The date is in remembrance of Joel Poinsett who died on that date in 1851. Quite a coincidence!
In 1828, as first Ambassador to the new Republic of Mexico, Joel Roberts Poinsett (Bio) while visiting the Taxco region, discovered the ruby red-bloomed plant and was so fascinated with it that he sent clippings to his home in Charleston, South Carolina. Poinsett, a doctor and soldier by trade, was also an amateur botanist. Upon his return to Charleston, he forwarded clippings to friends.
The botanical name of Euphorbia pulcherrima had originally been assigned to the Poinsettia by the German botanist, Wilenow in 1833 but by 1837 the plant had been renamed Poinsettia Pucherrima. This was done by William Hickling Prescott, historian and gardener who had been asked to rename it. Wishing to honor Poinsett for his many achievements in government and horticulture, Prescott decided the new name for the beautiful Euphorbia would hence-forth be poinsettia.
Poinsett retired from his duties as Secretary of War in 1841. He became a founding member of the National Institute for the Promotion of Science and the Useful which later became the Smithsonian Institute. Poinsett died on December 12th, 1851.