Festivus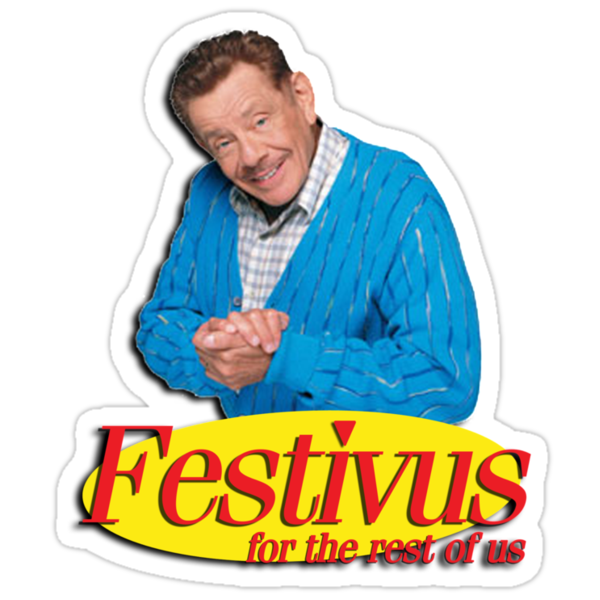 "Happy Festivus" is the traditional greeting of Festivus a holiday featured in "The Strike" episode of Seinfeld. The episode first aired on December 18, 1997. Since then many people have been inspired by this zany, offbeat Seinfeld holiday and they now celebrate Festivus as any other holiday.
According to the Seinfeld model, Festivus is celebrated each year on December 23rd. However many people celebrate it other times in December and even at other times throughout the year.
The slogan of Festivus is "A Festivus for the rest of us!" The usual holiday tradition of a tree is manifested in an unadorned aluminum pole, which is in direct contrast to normal holiday materialism. Those attending Festivus may also participate in the "Airing of Grievances" which is an opportunity to tell others how they have disappointed you in the past year, followed by a Festivus dinner, and then completed by the "Feats of Strength" where the head of the household must be pinned. All of these traditions are based upon the events in the Seinfeld episode, however, strangely enough, Festivus has roots that pre-date Seinfeld.
The Seinfeldian origins of the Festivus celebration can be dated back to the 9th season episode titled "The Strike". In this episode Frank Costanza expresses a concern over the increased commercialism and consumerism that tends to saturate the December holiday season.
In this episode, Frank Costanza tells the story of a routine outing to secure a Christmas gift for his son George where he came to the realization that there should be a new holiday:
Frank Costanza: Many Christmases ago, I went to buy a doll for my son. I reached for the last one they had, but so did another man. As I rained blows upon him, I realized there had to be another way.
Cosmo Kramer: What happened to the doll?
Frank Costanza: It was destroyed. But out of that a new holiday was born … a Festivus for the rest of us!
Cosmo Kramer: That must have been some kind of doll.
Frank Costanza: She was.
In the episode, Kramer becomes interested in resurrecting the holiday after hearing about the plight of his friend—Frank Costanza's son—George (played by Jason Alexander).
Meanwhile George uses Festivus, that he once hated in his youth, as a defensive excuse to his boss, Mr. Kruger (played by Daniel von Bargen). George had been confronted by Kruger after handing out cards for Christmas to his fellow employees stating a donation had been made to a fake charity (invented by George) called The Human Fund (with the slogan "Money For People") in lieu of exchanging Christmas presents. George defended himself saying that he feared persecution for his beliefs, for not celebrating Christmas. Attempting to call his bluff, Kruger came home with George to see Festivus in action.
Kramer, who was also invited to the celebration, goes on strike from his bagel vendor job, when his manager tells him he can't get time off for "Festivus." Kramer is then seen on the street with a sign which reads "Festivus yes! Bagels no!"
The Festivus episode of Seinfeld ("The Strike") reveals that the Festivus celebration includes four main components:
The Festivus Pole: The Costanzas' tradition begins with an aluminum pole, which Frank praises for its "very high strength-to-weight ratio." During Festivus, the unadorned Festivus Pole is displayed. The pole was chosen apparently in opposition to the commercialization of highly decorated Christmas trees, because it is "very low-maintenance," and also because the holiday's patron, Frank Costanza, "finds tinsel distracting."
The Airing of Grievances: At the beginning of the Festivus dinner, each participant tells friends and family of all the instances where they disappointed him or her that year. As quoted from Frank Costanza: "I've got a lot of problems with you people, and now you're going to hear about it!"
Festivus dinner: In "The Strike," a celebratory dinner is shown on the evening of Festivus prior to the Feats of Strength. In the episode the meal appeared to be meat loaf or spaghetti in a red sauce. No alcohol was served, but George Costanza's boss, Mr. Kruger, drank from a flask.
The Feats of Strength: After the dinner, the head of the household tests his or her strength against one participant of the head's choosing. Festivus is not considered over until the head of the family has been pinned. However, a participant may be allowed to decline to attempt to pin the head of the household only if they have something better to do instead.
Although it is not an official element of the holiday or its celebration, the phenomenon of the Festivus Miracle is mentioned twice in the original episode. An obvious sendup to the phrase "Christmas Miracle", both manifestations of Seinfeld's "Festivus Miracle" were caused by Kramer. In today's society the use of the term "Festivus Miracle" has become far more mainstream.
The Festivus idea originally came to Seinfeld writer Dan O'Keefe from a tradition started by his father Daniel O'Keefe. The elder O'Keefe had discovered the Festivus holiday in a book, published in 1966, that outlined obscure holidays.
"The Human Fund" is a fake charity used used by George Costanza. Instead of buying Christmas gifts for his coworkers, he gave a card that stated that a donation had been made to a charity called "The Human Fund". The slogan of the Human Fund was "Money For People". It was such a good scam that George's boss, Mr. Kruger gave George a company check for $20,000 to "The Human Fund". Later, the accounting department informs Kruger the charity doesn't exist, causing a chain of events that sees George inviting Kruger to his father's Festivus celebration.
HumanLight Celebration
This holiday season many humanists and non-theists are preparing their annual HumanLight holiday parties and celebrations. Awareness of HumanLight as a secular December holiday is growing across the country and around the world since the idea was formed in 2001.
HumanLight is a secular holiday on December 23rd. It's designed to celebrate and express the positive, secular, human values of reason, compassion, humanity and hope. HumanLight illuminates a positive, secular vision of a happy, just and peaceful future for our world, a future which people can build by working together, drawing on the best of our human capacities.
The 23rd was chosen so that it would not conflict with other existing holidays, but would still be in the thick of the holiday season, when many gatherings of friends and family occur and people might be off from work. We've always said that it can be celebrated "on or around" December 23, in order to avoid any rigid rules about dates.
HumanLight was created and developed by leaders of the New Jersey Humanist Network, and the very first public celebration was held in December 2001 in Verona, NJ. Since then, various secular, freethought, humanist, and atheist groups and individuals have adopted the holiday as part of their December traditions. The American Humanist Association recognized HumanLight in 2004 as a valuable contribution to the building of humanist communities and has been supportive in various ways since then. The late humanist leader Dr. Paul Kurtz attended the very first HumanLight celebration in 2001 and returned again to celebrate in New Jersey in 2010.
Celebrating HumanLight can be an occasion for those who are nontheists, nonreligious, freethinkers, atheists, and humanists, to create their own meaningful traditions and to help express the positive human values, hopes and ideals that they share.
The great value of having an authentically meaningful, secular, December holiday—that's not rooted in any existing religious tradition—is immediately apparent to many people. The name itself was chosen to indicate that it's about humanity, not any supernatural beings. "Light" indicates the light of human reason, as the proverbial "candle in the dark."
I believe that humanists should not feel obligated to follow holiday traditions that are based on supernatural religious beliefs which we don't accept, just because "that's how we were raised." We can decide for ourselves what traditions we want to follow, or create anew. An important aspect of the humanist philosophy of life is that we have the right and responsibility to create our own purpose and meaning for our lives, not just accept what's handed down in ancient books.
Yet it is crucial to understand that HumanLight is not intended to be negative or critical towards religious people or other holidays. It's not about trying to reinterpret or secularize Christmas. Since it's not an attempt to create a secular version of Christmas, it avoids all the pitfalls and conflicts that come from that path. It cannot be dragged into the so-called "war on Christmas" media hype.
The holiday is a distinctly positive and festive celebration of humanity-based secular values. It's not about criticizing what we don't believe in—it's about celebrating and expressing what we do believe in. Of course, there is a valid place and time for criticizing what we don't believe in, but that's not what HumanLight is for.
Celebrating HumanLight helps build the humanist community. For humanist families with children, it's very important for kids to understand that the family is part of a larger, supportive community of people with shared values.
How Do You Celebrate HumanLight?
What happens at a HumanLight celebration? Anything you want! The specific activities involved in any HumanLight celebration are open to invention and creativity, and will vary from place to place. There are no preset "rules" for how to celebrate. There is no prescribed ceremony or ritual. There is no "holy text" to read. There is no secret handshake.
The original founders of the HumanLight Committee do have a couple of suggested guidelines or general principles:
In celebrating HumanLight, there should be some component that serves in some way to celebrate and express humanist-oriented values and ideals in a positive manner. How this is done, and to what degree, is up to the discretion and creativity of those involved in the celebration. But this concept relates to the basic purpose and meaning of the holiday.
HumanLight should not be used for negative criticism towards religion. No matter how one chooses to celebrate, either at home or in a public event, it is strongly recommended that celebrations should maintain a positive, festive approach.
Charitable giving is a common feature of many celebrations. Some groups gather donations for a local food bank or homeless shelter, or participate in a local community service project.
Public events I've attended are usually a dinner or luncheon involving food, drinks, music, dance, candle-lightings, decorations, live entertainment, videos, short talks, readings, and fun activities for kids. Celebrations at home vary quite a bit, but again usually involve a house party, or gathering of family and friends around a festive meal. You can visit www.humanlight.org on the "How We Celebrate" page for some additional ideas and suggestions.
For home decorations, a HumanLight-related color scheme involves using three colors: red, blue and yellow/gold, based on the HumanLight symbol. There are candles, tableware, garlands, ornaments, and other decorations that can be obtained in these colors, and they can make for some very nice displays.
In addition, there is an array of HumanLight-related merchandise available from EvolveFish.com and from the CafePress HumanLight Online Store. Both groupings of merchandise can be accessed from the Merchandise page on the HumanLight website. There are items such as coffee mugs, sweatshirts, t-shirts, tote bags, tree ornaments, candles, lapel pins, greeting cards, postcards, coasters, stickers, and a special music CD by Sonny Meadows. (HumanLight volunteers do not profit financially from the sale of merchandise.)
However you choose to mark the occasion, it's important to remember that the holiday is meant to focus on positive, secular values such as reason, compassion, humanity and hope. Create a festive atmosphere, either in a public event, or at home with friends and family. Be creative and have fun establishing your own traditions. Happy HumanLight!
National Pfeffernüsse Day
As fun to say as fluffernutter - December 23 is National Pfeffernüsse Day!
Chances are you recognize these little biscuits rolled in powdered sugar by sight, if not by name, and they are a Christmas treat to be sure.
Pfeffernüsse are tiny spice cookies, popular as a holiday treat in Germany, Denmark, and The Netherlands, as well as among Ethnic Mennonites in North America. They are called pepernoten in Dutch (plural), päpanät in Plautdietsch, pfeffernuesse or peppernuts in English, and pebernødder in Danish.
While the exact origin of the biscuit is uncertain, the traditional Dutch belief links the pepernoten to the feast of Sinterklaas, celebrated on December 5 in The Netherlands and December 6 in Germany and Belgium. This is when children receive gifts from St. Nicholas, who is partially the inspiration for the Santa Claus tradition. In Germany, the pfeffernüsse is more closely associated with Christmas. The biscuit has been part of European yuletide celebrations since the 1850s.
The name peppernut (pfeffernuesse, peppernoder etc.) does not mean it contains nuts, though occasional varieties do. The cookies are roughly the size of nuts and can be eaten by the handful, which may account for the name.
The dough is usually rolled into balls, and they are extremely hard the first week after they are made (the photo above is a good example of what they look like before they receive the powdered sugar treatment). Don't even try to bite into one without dunking it in coffee or a hot beverage to soften it up. Unlike most holiday cookies, these get better with time.
This delicacy is considered to be a kid's treat from Saint Nicholas during Christmas in Germany. Have your own pfeffernüsse experience this holiday season, and relish the moment when biting into one unleashes a storm of powdered sugar all over your face.
National Roots Day
It's the holiday season and everyone is preparing their homes around the globe in celebration. Some are spending the holidays with their parents or grandparents, others with their adult children or grandchildren. There are all types of family styles nowadays; from two parents, to a single parent, to adopted parents, to a family being sisters, brothers or husband and wife. No matter what the situation and what you call 'family', we all have our individual heritage. That is why annually the date of December 23 is set aside as National Roots Day in recognition of our family heritage.
That is why genealogy has become so popular in the last 40 years, people do like to know their background, how did their family get to a certain location, achieve what they did, etc. Many times these questions can be answered with some solid family history research. Even spending just a few hours might reveal some new information.
Once you really start investigating there can be all types of strange twists and turns that occurred to a family member that in turn might have changed the course of the future for the family. Those are the real mysteries or pieces of the puzzle that are fascinating to inquire about one's family.
Knowing more about your parents, grandparents, great aunt's lives, and learning how they conquered the unknown provides some real comfort to you. There is also the possibility of finding out you are distant relative of a celebrated or notable individual in history, which makes for a fun bit of family background.
Your family roots are all the ingredients that helped make you the person you are today. The classical example is if your great grandfather had not taken the chance to leave his European homeland and come to America, you just might still be a resident of an European nation, rather than the United States. Even better is when you discover an ancestor with a certain skill such as dance, playing an musical instrument, art work, mathematics, sports, etc., that have inherited. In a way that ancestor has immortality by you continuing in that same or similar activity.
Enjoy the search and be proud of your roots.