Appreciate Your Social Security Check Day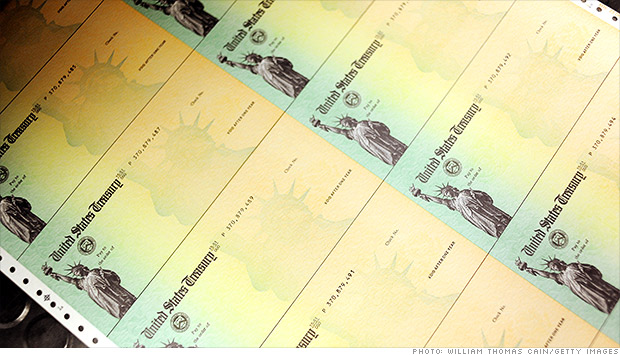 Statistically people start receiving their monthly Social Security checks between the 31st of the month and 5th of the following month. Today is a day set aside to really appreciate that check you get in the mail if you have been lucky enough to enjoy your retirement.
Ida May Fuller was the first beneficiary of recurring monthly Social Security payments. Miss Fuller (known as Aunt Ida to her friends and family) was born on September 6, 1874 on a farm outside of Ludlow, Vermont. She attended school in Rutland, Vermont where one of her classmates was Calvin Coolidge. In 1905, after working as a school teacher, she became a legal secretary. One of the partners in the firm, John G. Sargent, would later become Attorney General in the Coolidge Administration.
Ida May never married and had no children. She lived alone most of her life, but spent eight years near the end of her life living with her niece, Hazel Perkins, and her family in Brattleboro, Vermont.
Miss Fuller filed her retirement claim on November 4, 1939, having worked under Social Security for a little short of three years. While running an errand she dropped by the Rutland Social Security office to ask about possible benefits. She would later observe: "It wasn't that I expected anything, mind you, but I knew I'd been paying for something called Social Security and I wanted to ask the people in Rutland about it."
Her claim was taken by Claims Clerk, Elizabeth Corcoran Burke, and transmitted to the Claims Division in Washington, D.C. for adjudication. The case was adjudicated and reviewed and sent to the Treasury Department for payment in January 1940. The claims were grouped in batches of 1,000 and a Certification List for each batch was sent to Treasury. Miss Fuller's claim was the first one on the first Certification List and so the first Social Security check, check number 00-000-001, was issued to Ida May Fuller in the amount of $22.54 and dated January 31, 1940.
Backwards Day
.day good a is Today
The above sentence is backwards, I might wear my shirt backwards, maybe I will walk down the street backwards: all in celebration of Backward Day! There are many other ways you can celebrate this fun day so just let your imagination be your guide. Maybe you want to eat your dessert before you eat your meal!!
This day is very popular with school aged kids but there is no age limit on who can participate in all of the backward fun. So EVERYONE, let's have some fun!!
FUN FACT: Leonardo da Vinci wrote backward. Not only did the artist and inventor write from right to left, he wrote his letters backward.
If you are stuck in a rut or like to do things a bit differently than everyone else, today may just be your lucky day! Today is Backward Day, also referred to Backwards Day or yaD drawkcaB! Not to be confused with National Opposite Day, this annual event is celebrated every year on January 31st.
How to Celebrate Backwards Day
Instead of waking up on the wrong side of the bed today, try waking up on the right side!
While reading a book from cover-to-cover is always recommended, begin with the end and end with the beginning!
Eat your dessert before the main course! And to kick things up even more, eat dinner in the morning and breakfast in the evening!
Instead of eating a sandwich with the goodies in the middle, put the goodies on the outside of the bread today!
Wear your shirt, coat, gloves and/or cap backwards.
Wear your socks inside out, on top of your pants!
As long as you are careful or have a "spotter", walk backwards.
Try your hand at writing backwards, except on legal documents of course. See what it'd look like online.
Try writing backwards on a mirror.
Call people by their last names today.
Sit at your desk facing backwards.
Talk to people facing the wrong direction.
Answer the phone "goodbye."
Play a board game and start at the end.
No matter how old or young you happen to be, recite the alphabet backwards.
Let's be honest. January 31 celebrates a vegetable that is not on everyone's favorite food list. It's Eat Brussels Sprouts Day, an annual food holiday that encourages folks to give Brussels sprouts a second, third or fourth chance.
Brussels sprouts, as with broccoli and other brassicas, contains sulforaphane, a chemical believed to have potent anticancer properties. Although boiling reduces the level of the anticancer compounds, steaming and stir frying do not result in significant loss.
Brussels sprouts and other brassicas are also a source of indole-3-carbinol, a chemical which boosts DNA repair in cells and appears to block the growth of cancer cells.
Consuming Brussels sprouts in excess may not be suitable for heart patients taking anticoagulants since they contain vitamin K. In one such reported incident, doctors determined that the reason for a heart patient's worsening condition was eating too many Brussels sprouts.
Production of Brussels sprouts in the United States began in the 18th century, when French settlers brought them to Louisiana. Thomas Jefferson grew them at Monticello. The first plantings in California's Central Coast began in the 1920s, with significant production beginning in the 1940s. Currently, several thousand acres are planted in coastal areas of San Mateo, Santa Cruz, and Monterey counties of California, which offer an ideal combination of coastal fog and cool temperatures year-round. The harvest season lasts from June through January. They are also grown in Baja California, Mexico, where the harvest season is from December through June.
Most of the United States production is in California, with a smaller percentage of the crop grown in Skagit Valley, Washington, where cool springs, mild summers and rich soil abounds, and to a lesser degree on Long Island, New York. Total United States production is approximately 32,000 tons, with a value of $27 million. Ontario, Canada produces about 1,000 tons per year.
About 80% to 85% of US production is for the frozen food market, with the remainder for fresh consumption. Once harvested, sprouts last three to five weeks under ideal near-freezing conditions before wilting and discoloring, and about half as long at refrigerator temperature. American varieties are generally 2.5–5 cm (0.98–1.97 in) in diameter.
Hell is freezing over Day
Hell is Freezing over Day is celebrated annually on January 31 in the United States! On this day we are encouraged to to pull out those old lists of things you said you were going to do when hell freezes over!
Hey, it's Hell Is Freezing Over Day! Time to bring up all the odd ideas of having fun that you said you'd do when hell freezes over.
Remember all those things you said you'd say and/or do when
Hell froze over? Today's the day!
So pull out your list of all the things you thought you'd never really do and pick something! Have fun with the day, share your list and talk about all those things you said you'd never do…until today!
Inspire Your Heart with Art Day
January the 31st is Inspire Your Heart With Art Day. On this day, you can give your heart a special treat. You can create your very own work of art or go and visit art galleries and museums. People should take the time to search out art and make it a bigger part of their lives. Art is full of inspiration and can change our way of looking at the world. It has changed people's hearts for centuries. Maybe looking at a masterpiece painting or a superb piece of sculpture will inspire you to be creative. We all have creative juices in us. Unfortunately, many of us stop being creative when we move from childhood to adulthood. Inspire Your Heart With Art Day may get your creative juices flowing again.
There is so much art around us but many people take little notice of it. There is art in the architecture we work, live and play in. There are gardens full of statues and floral displays. We walk past graffiti on walls and fail to see the art in it. We also see thousands of advertisements every day that have an artistic side to them. We don't even have to step into a gallery. It's everywhere. One of the best ways of exploring art is on the Internet. There are thousands of sites showing art and artists over thousands of years. There is little excuse for us not to find art. What we need to is to stop, look and think for a short time. If we do that, then we just might inspire our heart with art.
National Bug Busting Day
None of the parents have ever managed to escape the dreaded hand out of school that announces that there has been an outbreak of head lice and they are suggested to keep a check on their kids' hair. It is a kind of scourge for the kids and their parents but surprisingly they can deal with this problem very easily if they know the right course of action.

As 31st January, 15th June & 31st October heralding as the National Bug Busting Day; the hygiene community is keen for all parents and schools to take some serious steps to eradicate lice.

All parents are requested to detect the lice as early as possible. An early detection in children or family members reduces the treatment time and helps break the Bonding to reduce the breeding cycle. The most effective way to reduce and find the head Lice is by using the hair conditioner, an ordinary comb and a fine tooth head lice comb.

One may not be aware of this special day but the problem of head lice continues to be an ongoing issue for everyone and is been highlighted recently as the major cause of concern. National Bug Busting Day celebration is recommended by the health department and is emphasised as it is an educational programme organized for head lice detection and treatment.

The treatment for the same will work when you combine specially designed combs, shampoos and conditioners. All the three present will give an effective result in removing and prevention of bugs or lice.

Though this programme is held on three special dates but it is recommended to follow the National Bug Busting Day round the year and the participants should come from both the side school as well as parents. The united action of both will prevent the lice circulating and if all the cases are identified and treated well and successfully then at the same time only fewer opportunities will be left for lice to circulate amongst the children and the families.

If you are able to draw the attention of as much as people as you can and bring in maximum participation from most of the schools and parents on this National Bug Busting Day; you will definitely see a mark decreased in the number of infestation of head lice. There is as such no treatment to kill all the head lice and their eggs but there are measures of identifying them and eradicating them to some extent. National Bug Busting Day promotes such theory only. Therefore it becomes everyone's responsibility to participate in such a day and bring in maximum support too.
One of the defining characteristics of the Progressive Era was the desire of reformers to protect children from laboring in industries with unsafe working conditions for children. Their desire to regulate child labor stemmed from new social science research suggesting that protecting children would benefit society by safeguarding the country's future human resources.
In 1902, the Association of Neighborhood Workers, an organization of settlement workers in New York, founded the Child Labor Committee to campaign for legislation to regulate child labor in New York. Led by Florence Kelley, Lillian Wald, and Jane Addams, the Child Labor Committee eventually grew into the National Child Labor Committee (NCLC) in 1904.
The NCLC attracted wide support from many of the diverse groups that supported the progressive reform movement, including social workers, academics, businessmen, and political reformers. The committee was comprised of the presidents of Vanderbilt and Harvard University, the publishers of The New York Times and The Atlanta Constitution, the Catholic Cardinal of Baltimore, the Episcopal Bishop of New York, the president of the General Association of Women's Clubs, labor union presidents, and settlement house workers. Though the committee had many New Yorkers, it had southern members who counteracted perceptions that the NCLC was simply a group of northern agitators. This regional balance was exemplified by the fact that its two principal investigators, Owen R. Lovejoy and Alexander McKelway, had experience working in northern and southern labor campaigns, respectively.
Beginning with the NCLC's first campaigns against child labor in the coal and glass industries, it harnessed the power of propaganda to influence public opinion. In 1907, for instance, the NCLC launched a National Child Labor Day, through which it encouraged clerical action against child labor. Lovejoy and McKelway also wrote voluminous reports detailing their investigations of industrial exploitation of children. Finally, the NCLC hired photographer Lewis Hine in 1908 to document child labor abuses in order to help turn public opinion against child labor.
At the same time it was launching its national campaign in 1907, however, the NCLC became riven by internal conflict over the proper role of the federal government in regulating child labor. The Supreme Court had repeatedly struck down federal legislation restricting child labor, but some northern reformers argued that child labor was a national problem that would only be abolished through federal action. The different factions of the NCLC reached a truce, however, by agreeing to lobby for the creation of a federal Children's Bureau to investigate child labor, which was created in 1912 by President Taft. In the 1920s, the NCLC unsuccessfully lobbied for a constitutional amendment to empower the federal government to ban child labor. The National Child Labor Committee continues to promote the principles of its founders to uphold the general practice that underage children should not be full-time workers.
National Seed Swap Day
Winter is when gardeners in the northern hemisphere start leafing through the seed catalogs and begin to plan their spring gardens, but did you know there's a special day when gardeners all over the nation gather to exchange seeds with each other? It's the National Seed Swap Day and it's held on the last Saturday in January every year.
Seed swap events are where you can take your packets of excess seeds and trade them for something new you'd like to grow. They can be commercially packaged seeds or ones you've collected yourself. It's helpful if you can include a photo of the mature plant, the date the seed was collected, and any specific germination or growing requirements.
This is a chance to acquire heirloom varieties, or rare species not found in catalogs. Local seed swaps are also a good place to find cultivars that perform well in your area. Plants that thrive in your climate will produce plenty of seed to harvest and share with others.
The seed swap day concept started with Washington Gardener Magazine when they organized a seed swap in 2006. The event was so popular it was repeated the following year and more groups have been joining in every year since. It's now celebrated nationally.
Most seed swap events have a few rules for how the swap will be conducted, so check with the organizers ahead of time to make sure you comply. Even if you don't have seeds to exchange, there may be seed packets available for purchase, or even free seeds.
You might be able to find a local event in this seed swap listing, but also check with local garden centers, botanical gardens or gardening clubs. If you don't find one in your area, consider organizing one for next year.
Scotch Tape Day
Double or single-sided, folks have been dispensing this sticky product since it was invented back in 1930. In case you've never heard of him, chances are pretty good you've used his products a time or two!
It's a Wrap!
Engineer Richard Gurley Drew found himself in a bit of a "sticky situation" when he invented a moisture-proof, transparent product first used by grocers, bakers and meat packers to seal cellophane wrap. January 31st is Scotch Tape Day! And not only did Drew develop the transparent "Scotch Cellulose Tape" for the Minnesota Mining and Manufacturing Company (3M), but he also invented masking tape and Duct tape too!
During the Depression, many used tape to make simple repairs to items around the house. 1939, the company invented its famous "snail" handheld tape dispenser which is still used today. In the 50s, Scotty McTape debuted on television commercials. Although he served as company mascot for more than 20 years, he didn't really "stick." Today, 3M makes more than 400 kinds of tape.
Get Creative with Scotch Tape
Besides wrapping , securing and/or mending everything under the sun and making our lives a bit easier, what other things can you do with Scotch tape? Believe it or not, Scotch tape was actually used on the Goodyear Blimp as an "anti-corrosive shield."
Smack dab in the middle of winter, why not make your own version of a Nerf ball? Just use tape instead.
Remove pet fur and lint from clothing and upholstery. Just wrap some tape, sticky side out, around your hand and rub.
If you reuse folders and files, place a strip of tape on the label section of the file. When you need to replace the old label, the old one will rip right off.
If you have a new crayon that is broken, wrap a piece of tape around the break and get your color on!
Tape can be a temporary fix for broken glasses.
Express yourself during 3Ms Valentine's Day project for a chance to win a "fabulous gift basket" filled with all sorts of Scotch Brand goodies – $90 value.