Make Your Dreams Come True Day
How often do you stop and think of your dreams? Have you checked how close or far you are from it? Or do you just keep on working for it, praying hard, learning from the stumbling blocks along the way, and picking yourself up each time you fall?
There is no record as to the origin of this special day. As to its purpose, one can only make deductions. Subjective as it is, it is something shared by the whole human race. We all dream. Dreams are liken to goals which require hard work, lots of prayers and some luck.
This worldwide fun day gives us a chance to stop, look and listen. We need to stop, once in a while, in our daily routine to look around. It's the only way for us to see how far we have traveled on the road towards our dream. In so doing, we need to listen to our heart to assure us that we're on the right track.
Sending e-cards can be a nice way to spend this day. Any other way to inspire a friend to attain his dream can be an appropriate way to celebrate this day. On the personal side, it would be nice if this day is spent to recall the purpose of our dreams. Unlike daydreaming, making our dreams come true require action, belief, persistence, patience, openness and flexibility.
This day is imperative for achievers. Achievers, after all, are dreamers and positive thinkers. They need this day to measure their efforts, reaffirm their purpose and strengthen their faith. Reaching one's goal isn't easy. But with a little help from a friend, the journey can be less stressful.
National Peach Melba Day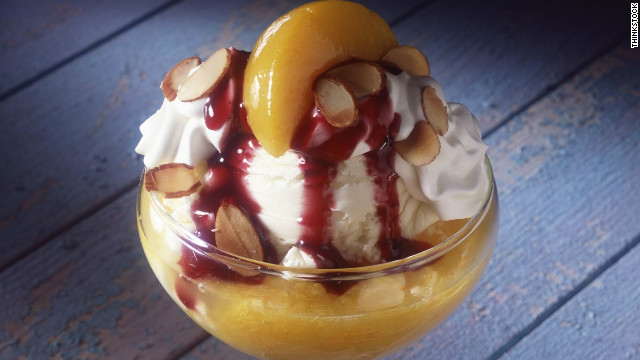 Today, everything is just peachy - January 13 is National Peach Melba Day!
If you're yearning for warmer temperatures, it's the perfect time to indulge in this fun, vintage dessert that combines the best summer fruits and treats.
Peach Melba is simply great, big scoops of vanilla ice cream lovingly topped with thick slices of peach, all doused in a rich raspberry purée. Nothing could be sweeter - or easier.
The Peach Melba is one of the most famous and beloved desserts in the world. This creamy and cool dish – a simple and classic preparation of vanilla ice cream, sugary peaches, and raspberry sauce – has graced restaurant menus for decades. While many people are familiar with this delectable dessert, few know the story behind the dish. It all starts with famed French chef Auguste Escoffier and his friendship with an Australian opera singer named Nellie Melba.
First, let's meet Nellie, who was born Helen "Nellie" Porter Mitchell in Richmond, Victoria – a suburb of Melbourne, Australia – on May 19, 1861. Nellie was the eldest of several children in a music-loving family. Her father, David Mitchell, was a successful building contractor and brickmaker. Nellie's mother, Isabella, played several instruments, and served as Nellie's first music teacher. Nellie was a tomboyish child with a fondness for whistling. She first sang in public at the age of eight, in December 1869, in the new Richmond town hall. She was the youngest to perform in a community concert for 700 spectators as part of the town hall's grand opening. Nellie sang three songs, accompanying herself on the piano, to the delight of the audience. Local reporters wrote enthusiastically about her performance, saying she was a "gem," "incomparable," and "a musical prodigy," giving an early glimpse of the success on Nellie's horizon.
Nellie received her early education at a boarding school in Richmond. As a young lady she enrolled in the Presbyterian Ladies College, where she studied piano and voice. Around the time of her mother's death in 1880, Nellie left school and moved to Queensland with her father. There she met her husband, Charles Nisbett Frederick Armstrong. They married in 1882 and had a son, George. Their early time together was short-lived; Nellie became depressed by her husband's angry temper, as well as the area's harsh tropical climate and constant rain. In 1884, taking her son and a few possessions, she left her husband for Melbourne in hopes of pursuing a serious musical career. She and her husband would reconnect sporadically over the next few years, till they eventually divorced in 1900.
Nellie sang her way from Melbourne to Sydney, making a name for herself in the city as an operatic soprano. She then headed to London, where she made the connections necessary for pursuing a career in earnest. In 1886 she began performing in concerts organized by Wilhelm Ganz, a singing professor at the Guildhall School of Music. Though she found some success in London, she felt her career was not progressing quickly enough. A patron from Melbourne had written Nellie a letter of introduction to famed German mezzo-soprano, Mathilde Marchesi. Nellie traveled to Paris to meet Madame Marchesi, who agreed to take her on as a singing pupil and would end up having a great influence on Nellie's career. In fact, Marchesi is responsible for convincing Nellie to take the stage name Nellie Melba—Melba deriving from her home city of Melbourne. After many years of study and countless hours pounding pavement, Nellie's operatic debut finally came in 1887 in Brussels, as Gilda in Verdi's Rigoletto.
Over time Nellie gained great popularity, singing in principal opera houses in Europe and the United States, most notably Covent Garden in London and New York's Metropolitan Opera. She was well-known in high-society circles, and was asked to perform for important figures including Tsar Alexander III, Emperor Franz Joseph and Queen Victoria. She was the Edwardian equivalent of a major celebrity; when she appeared in public, crowds fought for her attention.
It was in London, while performing at Covent Garden, that Nellie became acquainted with Escoffier. The legendary French chef was known and respected worldwide for his innovative, imaginative dishes and "haute cuisine." During the late 1800s, Escoffier partnered with César Ritz (of Ritz Carlton fame), and made a name for himself as the head chef of the restaurants located inside the famous Ritz hotels. His food was known for being elaborate and fancy—what we might describe today as being "typically French." His 11-course meals were sauce-heavy, often including smoked salmon with scrambled eggs and Beef Wellington. They became the trademark of indulgence and wealth. Many of his creations were named for the star patrons of his restaurants…which, of course, brings us to the Peach Melba.
Nellie Melba often ate at Escoffier's restaurants while performing in Covent Garden during the late 1890s and early 1900s. Escoffier claims to have first created the Peach Melba while Nellie was a guest at the Savoy Hotel, where he was chef. As the story goes, Nellie sent Escoffier tickets to her performance in the Wagner opera Lohengrin. The production featured a beautiful boat in the shape of a swan. The following evening, Escoffier presented Nellie with a dessert of fresh peaches served over vanilla ice cream in a silver dish perched atop a swan carved from ice. He originally called the dish Pecheau Cygne, or "peach with a swan." A few years later, when Escoffier opened the Ritz Carlton in London with César Ritz, he changed the dish slightly by adding a topping of sweetened raspberry purée. He renamed the dish Pêche Melba, or Peach Melba as we know it here in the U.S. The rest, as they say, is history.
Melba toast was also named after Dame Nellie… but that's another story, for a future post. For now, I would like to share Escoffier's original recipe for the Peach Melba, broken down into simple steps from his autobiography, Memories of My Life. Escoffier swore by the simplicity of his original dish; as the Peach Melba became more popular, he scoffed at the numerous variations that spread throughout the restaurant community. In his words, "Pêche Melba is a simple dish made up of tender and very ripe peaches, vanilla ice cream, and a purée of sugared raspberry. Any variation on this recipe ruins the delicate balance of its taste."
Making the real thing is easy enough - if you can find decent peaches and raspberries right now. If you find yourself in the middle of a winter fruit kerfuffle, don't worry. Your cravings will still be safe with peach melba shortbread bars.
National Poetry at Work Day
3rd Annual Poetry at Work Day is January 13th.
In a recent survey of 1500 CEOs, IBM reported that creativity was the top leadership quality needed to take businesses into the future — it ranked higher than integrity and global thinking. While you might find this result surprising, it won't likely surprise you that poets are, well, creative. Perhaps that's why Harvard Business Review recently discussed the value of poetry for professionals. And why a business leader like Sidney Harman was known to ask his staff to hire poets as managers. (Poets? As managers? And he ran a successful business?)
Tweetspeak Poetry believes in poetry at work — finding it at work (poetry is all over the workplace) and bringing it to work (why, we even recently sponsored Take Your Poet to Work Day.)
Wallace Stevens was one of America's greatest poets. The author of "The Emperor of Ice-Cream" and "The Idea of Order at Key West" was awarded the Pulitzer Prize for Poetry in 1955 and offered a prestigious faculty position at Harvard University. Stevens turned it down. He didn't want to give up his position as Vice President of the Hartford Accident and Indemnity Company.
This lyrically inclined insurance executive was far from alone in occupying the intersect of business and poetry. Dana Gioia, a poet, Stanford Business School grad, and former General Foods executive, notes that T.S. Eliot spent a decade at Lloyd's Bank of London; and many other poets including James Dickey, A.R. Ammons, and Edmund Clarence Stedman navigated stints in business.
I've written in the past about how business leaders should be readers, but even those of us prone to read avidly often restrict ourselves to contemporary nonfiction or novels. By doing so, we overlook a genre that could be valuable to our personal and professional development: poetry. Here's why we shouldn't.
For one, poetry teaches us to wrestle with and simplify complexity. Harman Industries founder Sidney Harman once told The New York Times, "I used to tell my senior staff to get me poets as managers. Poets are our original systems thinkers. They look at our most complex environments and they reduce the complexity to something they begin to understand." Emily Dickinson, for example, masterfully simplified complex topics with poems like "Because I could not stop for Death," and many poets are similarly adept. Business leaders live in multifaceted, dynamic environments. Their challenge is to take that chaos and make it meaningful and understandable. Reading and writing poetry can exercise that capacity, improving one's ability to better conceptualize the world and communicate it — through presentations or writing — to others.
Poetry can also help users develop a more acute sense of empathy. In the poem "Celestial Music," for example, Louise Glück explores her feelings on heaven and mortality by seeing the issue through the eyes of a friend, and many poets focus intensely on understanding the people around them. In January of 2006, the Poetry Foundation released a landmark study, "Poetry in America," outlining trends in reading poetry and characteristics of poetry readers. The number one thematic benefit poetry users cited was "understanding" — of the world, the self, and others. They were even found to be more sociable than their non-poetry-using counterparts. And bevies of new research show that reading fiction and poetry more broadly develops empathy. Raymond Mar, for example, has conducted studies showing fiction reading is essential to developing empathy in young children (PDF) and empathy and theory of mind in adults (PDF). The program in Medical Humanities & Arts (PDF) even included poetry in their curriculum as a way of enhancing empathy and compassion in doctors, and the intense empathy developed by so many poets is a skill essential to those who occupy executive suites and regularly need to understand the feelings and motivations of board members, colleagues, customers, suppliers, community members, and employees.
Reading and writing poetry also develops creativity. In an interview with Knowledge@Wharton, the aforementioned Dana Gioia says, "As [I rose] in business … I felt I had an enormous advantage over my colleagues because I had a background in imagination, in language and in literature." Noting that the Greek root for poetry means "maker," Dana emphasizes that senior executives need not just quantitative skills but "qualitative and creative" skills and "creative judgment," and feels reading and writing poetry is a route to developing those capabilities. Indeed, poetry may be an even better tool for developing creativity than conventional fiction. Clare Morgan, in her book What Poetry Brings to Business, cites a study showing that poems caused readers to generate nearly twice as many alternative meanings as "stories," and poetry readers further developed greater "self-monitoring" strategies that enhanced the efficacy of their thinking processes. These creative capabilities can help executives keep their organizations entrepreneurial, draw imaginative solutions, and navigate disruptive environments where data alone are insufficient to make progress.
Finally, poetry can teach us to infuse life with beauty and meaning. A challenge in modern management can be to keep ourselves and our colleagues invested with wonder and purpose. As Simon Sinek and others have documented, the best companies and people never lose a sense of why they do what they do. Neither do poets. In her Nobel lecture "The Poet and the World," Wislawa Szymborska writes:
The world — whatever we might think when terrified by its vastness and our own impotence … is astonishing …
Granted, in daily speech, where we don't stop to consider every word, we all use phrases like "the ordinary world," "ordinary life," "the ordinary course of events" … But in the language of poetry, where every word is weighed, nothing is usual or normal. Not a single stone and not a single cloud above it. Not a single day and not a single night after it. And above all, not a single existence, not anyone's existence in this world.
What if we professionals cultivated a similar outlook? We might find our colleagues more hopeful and purposeful and our work revitalized with more surprise, meaning, and beauty.
Poetry isn't a one-size-fits-all solution to every business problem. There are plenty of business leaders who've never read poetry and have been wholly successful. But to those open to it, reading and writing poetry can be a valuable component of leadership development.
National Rubber Ducky Day
What iconic American symbol is yellow, waterproof and loved by young and old alike? Yessir, today is National Rubber Ducky (Duckie) Day.
It's hard to believe, the iconic rubber ducky has been floating people's boats since the 1970's when Ernie first sang about his favorite fowl friend on the popular Sesame Street television series. And by the way, it just happens to be Rubber Ducky's birthday on January 13th. Coincidence, perhaps?
The origin of the rubber duck is not known, but its history is inevitably linked to the emergence of rubber manufacturing in the late 1800s. The earliest rubber ducks were made from harder rubber and lacked squeakers. The yellow rubber duck has achieved an iconic status in American pop culture and is often symbolically linked to bathing or bathtubs and bubbles and to babies and toddlers.
Jim Henson popularized rubber ducks in 1970, performing "Rubber Duckie" as Ernie, a popular Muppet from Sesame Street. The song had two follow-ups, "Do de Rubber Duck" and "DUCKIE," and Ernie frequently spoke to his duck and carried it with him in other segments of the show. The song "Rubber Duckie" and many of the characters of the show were done by Jim Henson.
As the rubber duck has grown in popularity over the years, many variants are sold, including "devil ducks," "dead ducks," and "bride and groom" ducks.
In 2001, The Sun, a British tabloid newspaper reported that Queen Elizabeth II has a rubber duck in her bathroom that wears an inflatable crown. The duck was spotted by a workman who was repainting her bathroom. The story prompted sales of rubber ducks in the United Kingdom to increase by 80% for a short period.
Rubber ducks are collected by a small number of enthusiasts in countries including the United Kingdom, Canada, Germany, Japan, Singapore, Australia, New Zealand, United States, and the Netherlands. The 2007 Guinness World Record for World's Largest Rubber Duck Collection numbered 2,583 unique rubber ducks was awarded to Charlotte Lee of Duckplanet.com.
Public Radio Broadcasting Day
On January 13, 1910, tenor Enrico Caruso prepared to perform an entirely new activity: sing opera over the airwaves, broadcasting his voice from the Metropolitan Opera House to locations throughout New York City. Inventor Lee deForest had suspended microphones above the Opera House stage and in the wings and set up a transmitter and antenna. A flip of a switch magically sent forth sound.
The evening would usher out an old era—one of dot-dash telegraphs, of evening newspapers, of silent films, and of soapbox corner announcements. In its place, radio communications would provide instant, long-distance wireless communication. In 2009, America celebrated the 40th anniversary of the creation of National Public Radio; thanks to deForest, 2010 marks the centennial of the true birth of the era of public broadcasting.
Wireless telephony had been several decades in the making. European experimenters (including Heinrich Hertz, for whom the radio frequency unit hertz is named) had contributed to the field in the late 1800s by experimenting with electromagnetic waves. In the 1890s, Guglielmo Marconi invented the vertical antenna, transmitting signals of ever-increasing distance; by 1901, he could send messages from England across the Atlantic Ocean to Newfoundland. Thanks in part to these advances, in December 1906, Canadian inventor Reginald Fessenden was able to arrange a holiday broadcast to operators off the Atlantic seaboard. His singing, violin playing and biblical verse reading were heard on ships from New England to Virginia.
In the decade after deForest's broadcast, popular interest in radio technology grew. Amateur devotees became known as "fans," rather than "listeners" or "listeners-in," which were terms used derogatorily to indicate that a person was not actively engaged in both sides of radio broadcast. "Every radio at the time—or all the good ones—could both transmit and receive," explains Michele Hilmes, professor of media and cultural studies at the University of Wisconsin at Madison. Radio was a highly technical leisure activity. Fans used wire coils and spark plugs as they built receivers and transmitters at home. Early radios required multiple dial adjustments.
Not everyone embraced the radio or understood how it functioned. The resulting mystery left some Americans wary. Were electromagnetic waves responsible for droughts? Skeptics blamed radios for the vibrations of bed springs, the creaking of floorboards, even a vomiting child. In Wisconsin, people thought radios could stop cows from producing milk, says Hilmes. Could the electromagnetic waves kill birds? Yes, Hilmes concurs: "If they flew into electrical wires."
But critics could not dampen the spirits of radio fanatics. Despite a hiatus during World War I, when the government banned amateur radio broadcasting, the medium blossomed. In 1922, the United States made radio licenses available to broadcasters, and several hundred stations were founded.
The 1920s showed audiences that radio was a faster means of receiving updates than waiting for the newspaper. The experimental Detroit station 8MK announced the results of the 1920 Harding-Cox presidential election to the approximately 500 locals with receivers. (Others eager for speedy news gathered outside the Detroit News, which shared results by megaphone and lantern slide.) Also broadcast live were the oral arguments and verdict in the Scopes "Monkey Trial" of 1925.
As more events were captured on the radio, more fans built and bought sets. From 1922 to 1923, the number of radio sets in America increased from 60,000 to 1.5 million. In 1922, there were 28 stations in operation; by 1924, there were 1,400. Among the biggest commercial broadcasters were the National Broadcasting Company and the Columbia Broadcasting System, formed in 1926 and 1927, respectively, and still familiar as television networks NBC and CBS.
For noncommercial broadcasters, the precursor to what we today call public broadcasting, it was hard to stay afloat. Back in the 1920s, more than 200 colleges, universities, and other educational organizations had requested broadcasting licenses, but 75 percent of these stations folded by 1933. Hilmes points out that educational radio did particularly well in the Midwest, where stations could broadcast to land-grant college communities interested in agriculture. Still, in many regions, nonprofits struggled to maintain control of their bandwidth in the presence of companies using the new economic model for broadcasting: advertisement-based programming. Promotions for Pepsodent toothpaste and Ivory Soap sneaked their way into the living room between weather, news, sports and entertainment.
The Great Depression forced a lull in radio development, but still, by 1931, radio's "Golden Age" had begun. Half of America's homes had radios. Mothers listened in the morning, children after school, and fathers with their families during prime time broadcasts. Isolated rural citizens could listen to sermons and gospel music from their farmhouse kitchens. In 1932, the nation awaited updates about the kidnapping of Charles Lindbergh's baby. From their kitchen tables, starting on March 12, 1933, families could hear Franklin Delano Roosevelt's Sunday evening "Fireside Chats."
During World War II, nine in ten families owned a radio, and they listened to an average of three to four hours of programming a day, using it as their main source of news. By 1940, over a quarter of American automobiles came with radios, ready for the early equivalent of today's "driveway moments."
Just as radio reached its zenith, a new industry took hold. According to Michael C. Keith, American radio scholar and associate professor of communication at Boston College, the 1950s began with the "fear that radio was finished as a consequence of television." Radio had created dramas, sitcoms, soap operas—the same broadcasting genres that television now took for itself. As listeners became viewers, most in peril were educational and noncommercial radio. They relied on grants now directed to television alone. In 1964, the Ford Foundation, formerly the main funder of educational radio, completely cut its support.
But radio did not fold. In fact, it prospered. Keith cites several factors: The creation of the transistor allowed radios to become smaller and more mobile. Also, as radio stations studied demographic data, they were able to cater more specialized programming to their audiences. Perhaps most important, though, was the emergence of a new type of music. Keith credits rock 'n' roll with creating the youth culture in America, and as the music took to the airwaves, so did under-21 listeners.
Over the course of the next decade, interest grew in the idea of publicly funded broadcasting. President Lyndon Johnson had supported the Carnegie Commission on Educational Television, which researched this question. When the committee recommended federal funding for television alone, several radio professionals agitated for the inclusion of "and radio" in the forthcoming bill. Indeed, Johnson's 1967 Public Broadcasting Act established the federally funded Corporation for Public Broadcasting, which, in turn, created National Public Radio in 1969.
Over the next 40 years, NPR accumulated member stations nationwide. Commercial broadcasting also continued to flourish. Talk radio began to dominate the AM broadcast band, with music shifting to the clear FM band. In 1987, the Federal Communications Commission repealed the Fairness Doctrine, a 1949 policy that required broadcasters to show both sides of controversial issues; the repeal continues to buoy AM talk radio today. Eventually, the AM and FM bands were joined by XM and other satellite radio services, extending the medium's reach in the 21st century.
What, then, is the future of radio? "Internet," says Keith. "Brick–and-mortar has given way to cyberspace," he says. Younger audiences no longer listen to traditional radio. Rather, "they are their own programmers." Keith sees this coming decade as a time of transition, when radio stations will refine their Internet presence to be ready for the "terminus point," not too far into the future, when their old-form broadcasts will fold.
We owe much of the continued success of public radio broadcasting—of all radio broadcasting, for that matter—to the efforts of deForest and his contemporaries. But there is a little bit more to the story of deForest's 1910 endeavor. The truth is, when Lee deForest flipped the switch at the Metropolitan Opera House, during the first American public radio broadcast, audiences heard almost nothing. Static and radio interference muddled the music of Cavalleria Rusticana and Pagliacci, the performances that evening. As Keith puts it, the "great self-promoter" deForest was "ultimately granted the title of Father of Radio, but with some reserve." That night in 1910 gained significance mainly as a symbol. It marked the intended start of a century of broadcasting, a golden age of radio eventually eclipsed, mid-century, by the rise of a new box, the television.
Today, 100 years after deForest's experiment, the Metropolitan Opera makes its performances available on the Internet, our modern-day wireless wonder. But listeners and fans alike can still hear the Met's radio broadcasts on Saturday afternoon on NPR—and these days, the music is crystal clear.
Stephen Foster Memorial Day
Many Americans pay tribute to one of the United States' finest musicians on Stephen Foster Memorial Day, which is on January 13 each year. Stephen Foster was a songwriter who lived in the 19th century. His songs, such as Oh! Susanna and My Old Kentucky Home, are still popular in modern times.
The United States president may issue an annual proclamation calling on people in the country to observe Stephen Foster Memorial Day with:
Appropriate ceremonies.
Pilgrimages to Stephen Foster's shrines.
Musical programs featuring his compositions.
Events for the day may be organized at places that pay tribute to Stephen Foster, such as the Stephen Foster Culture Center State Park in Florida. Some schools provide music and history lessons that focus on Stephen Foster's life and works around this date. Many music appreciation societies and organizations dedicated to the songwriter, such as the Stephen Foster Citizen Support Organization, also pay tribute to Stephen Foster.
Stephen Foster was born in Lawrenceville, Pennsylvania, on July 4, 1826. He received his early musical training from German immigrant Henry Kleber and became one of the most famous musical composers in the United States. Much of his work celebrates the African American portion of the population at a time when slavery was an important and controversial issue. His most popular songs included:
Oh! Susanna (or O Susanna by some texts).
Laura Lee.
My Old Kentucky Home.
Old Folks at Home, which is Florida's state song with revised lyrics. The original was The Swanee River (Old Folks at Home).
Foster also composed instrumental music, including the Social Orchestra, a collection of 73 arrangements for flute, piano, violin and other instruments. He was not well known to the public during his lifetime as he did not perform music professionally. He composed more than 200 works in his lifetime.
Stephen Foster died in New York City on January 13, 1864. One of his best loved works, Beautiful Dreamer, was published shortly after his death. Stephen Foster Memorial Day was first officially observed on January 13, 1952, after President Harry Truman dedicated January 13 as the day to remember Foster through a proclamation in October 1951.
The Stephen Foster Culture Center State Park, situated on the Suwannee River banks in Florida, honors the memory of Stephen Foster. The center exhibits Foster's most famous song and his music can be heard in the park during the day. Many of Foster's songs are also remaining legacies of his achievements.
A memorial at the University of Pittsburgh, in Pennsylvania, is dedicated to the songwriter, as well as a sculpture of Foster near the Carnegie Museum of Natural History's entrance. A musical, called Stephen Foster – The Musical has also been performed since 1958.