A Room of One's Own Day
"I vant to be alone"
If you've ever muttered those immortal words by Greta Garbo (if you don't know who she is, Google her like RIGHT NOW), then you'll definitely appreciate today's zany holiday.
A Room of One's Own Day marks the birthday of the English author Virginia Woolf born on January 25, 1882, who wrote A Room of One's Own. On this day we celebrate, and appreciate, having your own private place. In your own room you can decorate it however you want and can read, sew, pray, paint, or watch TV -- whatever makes you happy or brings you peace.
A Room of One's Own Day is a time to appreciate the joy of having your own room to duck into when you're tired, relaxed, or want to avoid family members. It's a prime opportunity to appreciate all the different things you could do in your own room. The possibilities are endless so we're not going to bother listing them off here.
If you don't have your room, try to avoid throwing yourself a pity party. You can spend today fantasizing about what it would feel like to not have to share a room with the person/people/animals/aliens that you currently live with.
First Winter Olympics
On January 25, 1924, the first Winter Olympics take off in style at Chamonix in the French Alps. Spectators were thrilled by the ski jump and bobsled as well as 12 other events involving a total of six sports. The "International Winter Sports Week," as it was known, was a great success, and in 1928 the International Olympic Committee (IOC) officially designated the Winter Games, staged in St. Moritz, Switzerland, as the second Winter Olympics.
Five years after the birth of the modern Olympics in 1896, the first organized international competition involving winter sports was staged in Sweden. Called the Nordic Games, only Scandinavian countries competed. Like the Olympics, it was staged thereon every four years but always in Sweden. In 1908, figure skating made its way into the Summer Olympics in London, though it was not actually held until October, some three months after the other events were over.
In 1911, the IOC proposed the staging of a separate winter competition for the 1912 Stockholm Games, but Sweden, wanting to protect the popularity of the Nordic Games, declined. Germany planned a Winter Olympics to precede the 1916 Berlin Summer Games, but World War I forced the cancellation of both. At the 1920 Olympics in Antwerp, Belgium, ice hockey joined figure skating as an official Olympic event, and Canada took home the first of many hockey gold medals. Soon after, an agreement was reached with Scandinavians to stage the IOC-sanctioned International Winter Sports Week. It was so popular among the 16 participating nations that, in 1925, the IOC formally created the Winter Olympics, retroactively making Chamonix the first.
In Chamonix, Scandinavians dominated the speed rinks and slopes, and Norway won the unofficial team competition with 17 medals. The United States came in third, winning its only gold medal with Charles Jewtraw's victory in the 500-meter speed-skating event. Canada won another hockey gold, scoring 110 goals and allowing just three goals in five games. Of the nearly 300 athletes, only 13 were women, and they only competed in the figure-skating events. Austrian Helene Engelmann won the pairs competition with Alfred Berger, and Austrian Herma Planck Szabo won the women's singles. The Olympics offered a particular boost to skiing, a sport that would make enormous strides within the next decade. At Chamonix, Norway won all but one of the nine skiing medals.
Sixty-nine years ago, on January 25, 1945, the city of Grand Rapids, Michigan, added fluoride to its municipal water system and community water fluoridation began. Since that day, this simple, safe, and inexpensive public health intervention has contributed to a remarkable decline in tooth decay in the United States, with each generation enjoying better oral health than the previous generation.
After fluoride's oral health benefits were discovered in the 1930s, the next step was to achieve optimal levels in community water supplies. Four communities had agreed to undertake community studies, but Grand Rapids was the first to begin implementation. After fluoride was added to its water supply, Grand Rapids was compared to "control" communities with no added fluoride, and a detailed assessment of the relationship between fluoridation and tooth decay was performed. The National Academy of Sciences' National Research Council (NRC) reviewed the results and found a dramatic decline in tooth decay in the Grand Rapids children. On November 29, 1951, the NRC declared water fluoridation safe, effective, and beneficial.

Fluoride is a mineral that occurs naturally in many foods and water. Every day, minerals are added to and lost from a tooth's enamel layer through two processes, demineralization and remineralization. Minerals are lost (demineralization) from a tooth's enamel layer when acids -- formed from plaque bacteria and sugars in the mouth -- attack the enamel. Minerals such as fluoride, calcium, and phosphate are redeposited (remineralization) to the enamel layer from the foods and waters consumed. Too much demineralization without enough remineralization to repair the enamel layer leads to tooth decay.

Fluoride helps prevent tooth decay by making the tooth more resistant to acid attacks from plaque bacteria and sugars in the mouth. It also reverses early decay. In children under 6 years of age, fluoride becomes incorporated into the development of permanent teeth, making it difficult for acids to demineralize the teeth. Fluoride also helps speed remineralization as well as disrupts acid production in already erupted teeth of both children and adults.
Macintosh Computer Day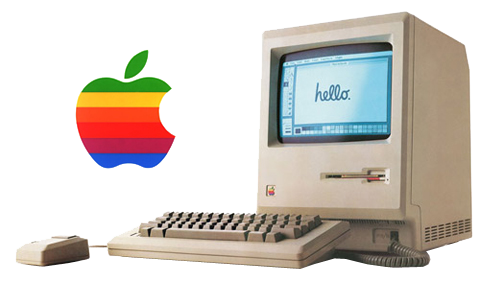 Today is National Macintosh Computer Day, and for those of you who know me personally, this is a big day. On January 22, 1984 during the third quarter of Super Bowl XVIII one of the
most memorable television commercials
first aired. This commercial introduced the Macintosh 128K which went on sale two days later. So, according to my math (and a few sites on the internet), that means the Macintosh computer celebrated it's 27th birthday yesterday and boy has it grown.
The Macintosh , marketed as Mac, is a line of personal computers (PCs) designed, developed, and marketed by Apple Inc. It is targeted mainly at the home, education, and creative professional markets. Steve Jobs introduced the Macintosh 128K on January 24, 1984. This was the first mass-market personal computer featuring a graphical user interface and mouse. The 128 was followed by numerous updated models also based on the Motorola 68000 family processors, producing a family of products in the Macintosh lineup. Although the aggressively priced IBM Personal Computer soon overtook Apple in sales, Macintosh systems found success in education and desktop publishing and kept Apple as the second-largest PC manufacturer until 1994 when it was overtaken by Compaq.
In the 1990s, improvements in the rival Wintel platform, notably with the introduction of Windows 3.0, gradually took market share from the more expensive Macintosh systems. The performance advantage of 68000-based Macintosh systems was eroded by Intel's Pentium. Despite a transition to the PowerPC-based Power Macintosh line in 1994, the falling prices of PC components and the release of Windows 95 saw the Macintosh user base decline. In 1998, Apple consolidated its multiple consumer-level desktop models into the all-in-one iMac G3, which became a commercial success and revitalized the brand. Since their transition to Intel processors in 2006, the complete lineup is entirely based on said processors and associated systems. Its current lineup comprises three desktops (the all-in-one iMac, entry-level Mac mini, and the Mac Pro tower graphics workstation), and two laptops (the MacBook Air and MacBook Pro). Its Xserve server was discontinued in 2011 in favor of the Mac Mini and Mac Pro.
Production of the Mac is based on a vertical integration model. Apple facilitates all aspects of its hardware and creates its own operating system that is preinstalled on all Mac computers, unlike most IBM PC compatibles, where multiple sellers create and integrate hardware intended to run another company's operating software. Apple exclusively produces Mac hardware, choosing internal systems, designs, and prices. Apple also develops the operating system for the Mac, currently OS X version 10.9 "Mavericks". Macs are currently capable of running alternative operating systems such as Linux, OpenBSD, and Microsoft Windows with the aid of Boot Camp or third party software. Apple does not license OS X for use on non-Apple computers, though it did license previous versions of Mac OS through their clone licensing program from 1995 to 1997.
National Irish Coffee Day
Jan. 25 is "National Irish Coffee Day" so what better way to pay tribute to the luxuriously creamy, cockle-warming beverage than with a hip hip hooray to Irish ingenuity! In true Irish spirit we choose to celebrate it January 25th, March 17th and Everyday!
We have the cold, damp Atlantic weather and the creativity of a Limerick chef to thank for the invention of Irish Coffee.
Without the chilly, wet air, it's unlikely Joseph Sheridan would have dreamt up his sweet, boozy elixir originated and served, it's said, to warm chilled transatlantic travellers when the weather turned miserable.
The story goes that the weary and cold passengers arrived at the small airport hub in southwest Ireland where Sheridan operated a restaurant. In his attempt to lift their spirits and warm their hearts, he served them the hot coffee beverage topped with a collar of whipped cream. When one asked 'Is this Brazilian coffee?' Sheridan replied, 'No, it's Irish Coffee' and so the iconic warm whiskey drink, which Sheridan sometimes called a Gaelic coffee, was born. The year was 1942.
It's said also that the airport, a precursor to Shannon International Airport, attracted its share of celebrities with Cary Grant, Che Guevara, Marilyn Monroe and her then husband Arthur Miller having been photographed sipping an Irish Coffee.
Although the drink was born in Ireland, it grew up in San Francisco. While there's some dispute as to how Irish Coffee made its way to North America, much has been written about Stanton Delaplane, a travel writer who is credited with introducing San Francisco's Buena Vista Cafe to the beverage in 1952.
In the years since, the Buena Vista has served over 32 million Irish Coffees and still whips up an average of 2,000 per day.
The "Original Recipe"
The original recipe as per Joseph Sheridan: "Cream as rich as an Irish brogue; coffee as strong as a friendly hand; sugar sweet as the tongue of a rogue; and whiskey smooth as the wit of the land."
...and in practical terms here's how to make one:
Pre-heat a clear stemmed glass with very hot water. Empty the water, and add 2 teaspoons of brown sugar. Now add some freshly brewed rich coffee and stir. As soon as the sugar is melted, add a generous measure of Irish whiskey (about 4 to 6 teaspoons). Stir again, and then wait for the brew to still. Now take a hot teaspoon and pour gently whipped fresh cream slowly over the back of the spoon. The cream should be not too stiff and not too liquid. A perfect Irish Coffee should look pretty much like that other famous Irish drink - Guinness! And remember never stir it because the coffee is meant to be enjoyed as you sip the warm, sweet nectar through the luxurious cream.
National Opposite Day
If you are the type of person who likes to buck the system, refuses to go with the flow or marches to your own drummer, today may be your lucky day! It's National Opposite Day. While the origins of this annual holiday are unknown, perhaps that's the point? And if this day celebrates all things opposite, is it really a holiday at all? Hmmmm....
Regardless, kids are sure to get a great big kick out of this special day that turns conventional wisdom on its head. And since the most depressing day of the entire year was just a few days ago, it's a great way for adults to break up the monotony of the daily routine and beat those winter blues. And in case you are single, opposites attract, right?
How to Celebrate National Opposite Day
Instead of eating that same old breakfast in the morning, start with dinner and dessert.
Get dressed then take a shower! On second thought….
Instead of taking the same route to work or school today, why not take a different route altogether?
Wear your shoes on the opposite feet!
When someone speaks to you, turn around before you reply.
When you talk today, try to say the exact opposite of everything you intend.
Read a book from the end to the beginning!
Watch the 2009 film, Opposite Day.
Check out Andrew Bird's lyrics to Opposite Day!
Check out these free opposite activities for kids.
"Robot" is Born
R.U.R. is a 1920 science fiction play in the Czech language by Karel Čapek. R.U.R. stands for Rossum's Universal Robots, an English phrase used as the subtitle in the Czech original. It premiered on January 25 1921 and introduced the word "robot" to the English language and to science fiction as a whole.
R.U.R. quickly became famous and was influential early in the history of its publication. By 1923, it had been translated into thirty languages,
The play begins in a factory that makes artificial people, called "robots", out of synthetic organic matter. They are not exactly robots by the modern usage of the term; these creatures are closer to the modern idea of cyborgs or even clones, as they may be mistaken for humans and can think for themselves. They seem happy to work for humans at first, but that changes, and a hostile robot rebellion leads to the extinction of the human race. Čapek later took a different approach to the same theme in War with the Newts, in which non-humans become a servant class in human society.
R.U.R is dark but not without hope, and was successful in its day in both Europe and the United States. John Clute has lauded R.U.R. as "a play of exorbitant wit and almost demonic energy" and lists the play as one of the "classic titles" of inter-war science fiction.
World Leprosy Day
World Leprosy Day is annually observed around the world on the last Sunday of January. The day was initiated in 1954 by French philanthropist and writer, Raoul Follereau, as a way to raise global awareness of this deadly ancient disease and call attention to the fact that it can be prevented, treated and cured.
On this day, organizations and non-governmental organizations (NGOs) hold public and educational outreach events where they give people information about how to prevent the spread of the disease. Doctors and other medical professionals spend time talking to the public about how to recognize the symptoms of leprosy.
Organizations also hold rallies and marathons to raise money for research and providing treatment and rehabilitate those afflicted with the disease. In addition, seminars and workshops are held around the world to address the problems faced by leprosy patients and to find ways to reduce the social stigma faced by them.
Leprosy is one of the oldest diseases known to humankind. It is also known as Hansen's disease, named after Norwegian physician, Gerhard Henrik Armauer Hansen, who debunked the prevailing notion of the time that leprosy was a hereditary disease. He showed that the disease had a bacterial cause instead. For thousands of years, people with leprosy have been stigmatized and considered to be at the extreme margins of the society. The aim of World Leprosy Day is to change this attitude and increase public awareness of the fact that leprosy can now be easily prevented and cured.
The date for World Leprosy Day was chosen to coincide with the anniversary of Indian freedom fighter, Mahatma Gandhi's assassination on January 30, 1948. During his lifetime, Mahatma Gandhi worked tirelessly towards the betterment of people afflicted with leprosy.
Leprosy is an infectious disease that causes severe, disfiguring skin sores and nerve damage in the arms and legs. The disease has been around since ancient times, often surrounded by terrifying, negative stigmas and tales of leprosy patients being shunned as outcasts. Outbreaks of leprosy have affected, and panicked, people on every continent. The oldest civilizations of China, Egypt, and India feared leprosy was an incurable, mutilating, and contagious disease.
However, leprosy is actually not that contagious. You can catch it only if you come into close and repeated contact with nose and mouth droplets from someone with untreated leprosy. Children are more likely to get leprosy than adults.
Today, about 180,000 people worldwide are infected with leprosy, according to the World Health Organization, most of them in Africa and Asia. About 200 people are diagnosed with leprosy in the U.S. every year, mostly in the South, California, Hawaii, and some U.S. territories.