Auschwitz Liberation Day
On this day, Soviet troops enter Auschwitz, Poland, freeing the survivors of the network of concentration camps—and finally revealing to the world the depth of the horrors perpetrated there.
Auschwitz was really a group of camps, designated I, II, and III. There were also 40 smaller "satellite" camps. It was at Auschwitz II, at Birkenau, established in October 1941, that the SS created a complex, monstrously orchestrated killing ground: 300 prison barracks; four "bathhouses" in which prisoners were gassed; corpse cellars; and cremating ovens. Thousands of prisoners were also used for medical experiments overseen and performed by the camp doctor, Josef Mengele, the "Angel of Death."
The Red Army had been advancing deeper into Poland since mid-January. Having liberated Warsaw and Krakow, Soviet troops headed for Auschwitz. In anticipation of the Soviet arrival, the German Gestapo began a murder spree in the camps, shooting sick prisoners and blowing up crematoria in a desperate attempt to destroy the evidence of their crimes. When the Red Army finally broke through, Soviet soldiers encountered 648 corpses and more than 7,000 starving camp survivors. There were also six storehouses filled with literally hundreds of thousands of women's dresses, men's suits, and shoes that the Germans did not have time to burn.
e-Day
e-Day celebrates the mathematical constant e (2.7182818) on February 7 (2/7) in the month/day date format or January 27 (27/1) in the day/month format.
Euler's constant "e" is also known as "Euler's number" after the Swiss mathematician Leonhard Euler. The constant e was discovered by several mathematicians who didn't know of its significance until Euler started to use the letter e for the constant around 1727. It is an irrational number that represents the idea that all continually growing systems are a scaled version of a common rate. The constant e is mostly used in logarithms, exponential growth, and complex numbers.
The letter e in e-Day is also used to represent other events and words that begin with the letter e.
Many celebrate e-Day as Euler's constant day on February 7 (2/7) in the month/day date format. It is a day where people recognize the significance of the number e, which is approximately 2.71828. Although this is the most commonly recognized holiday for e-Day, there are other worldwide events that are observed that have nothing to do with the e number constant.
Euro day occurred in European countries that simultaneously adopted the Euro on January 1, 2002. In New Zealand, eDay is a day where people can get rid of e-waste or old electronics such as computers and old appliances, so they can be recycled rather than being placed in a landfill. Engineer's Day is observed in Paducah, Kentucky on February 21 where many have an egg drop contest, create edible cars and tape people to walls. Eday is also an island in Northern Scotland.
On January 27 each year, the United Nations (UN) remembers the Holocaust that affected many people of Jewish origin during World War II. This day is called the International Day of Commemoration in Memory of the Victims of the Holocaust.
The day also commemorates when the Soviet troops liberated the Nazi concentration and death camp Auschwitz-Birkenau in Poland on January 27, 1945. It is hoped that through remembering these events, people will remember the Holocaust and prevent genocide.
Holocaust survivors and various leaders make their voices heard on the International Day of Commemoration in Memory of the Victims of the Holocaust. Many of them speak publicly about the Holocaust or their experiences around the event, its aftermath and why the world should never forget what happened in Europe in the 1930s and 1940s. Many statements emphasize the need for future generations to learn about and remember the Holocaust and for everyone to work towards preventing genocide.
The UN organizes and supports events such as: concerts by musicians who survived the Holocaust or are survivors' descendants; art exhibitions influenced by the Holocaust; presentations of special stamps; the introduction of special educational programs; and film screening and book signing focused on the Holocaust.
Israel and many countries in Europe and North America mark the International Day of Commemoration in Memory of the Victims of the Holocaust. Many academics present discussion papers or hold seminars or round table discussions on the Holocaust and its legacy in the modern world. Schools or colleges may also have special lessons on the Holocaust. The Holocaust and how people commemorate it receive special attention on the Internet, television, radio, print media.
The Holocaust, or Shoah (Sho'ah, Shoa), is the term used to describe the deliberate murder and desecration of millions of people prior to and during World War II in Germany and German occupied areas in Europe. Many of them were Jewish but the Roma people, Soviet civilians and prisoners of war, ethnic Poles, people with disabilities, homosexuals and political and religious opponents were also killed. Many people died in concentration and death camps spread across Nazi-occupied Europe. One of the most notorious camps was Auschwitz-Birkenau, near Oświęcim, Poland. More than one million people died in Auschwitz-Birkenau before Soviet troops liberated it on January 27, 1945.
On January 24, 2005, the UN General Assembly commemorated the 60th anniversary of the liberation of the Nazi concentration camps. Following this session, a UN resolution was drafted to designate January 27 as the International Day of Commemoration in Memory of the Victims of the Holocaust. The resolution called for education programs on the Holocaust to help prevent genocide. It also rejected denials that the Holocaust occurred. On November 1, 2005, the assembly adopted this resolution so the day could be observed each year. It was first observed on January 27, 2006.
Many Jewish groups, particularly in Israel, also observe Yom HaShoah, which is a day of mourning for Holocaust victims on 27th day of the Hebrew month of Nisan, which falls in April or May of the Gregorian calendar.
The symbol of the "Holocaust and the United Nations Outreach Programme" consists of four elements on a solid black background. Two elements are the words "Remembrance and Beyond" and the UN symbol, both depicted in white. The UN symbol consists of a projection of the globe centered on the North Pole surrounded by two olive branches.
The other two elements are a piece of barbed wire and two white roses. The strands of the barbed wire merge into the stems of the roses. The barbed wire represents: the concentration camps; the loss of freedom of Jewish people and many other groups before and during World War II; and their pain and suffering.
The white roses represent peace, freedom and remembrance. These flowers also remind people of the White Rose, a non-violent resistance movement that was active in Germany from June 1942 until February 1943. In the United States and United Kingdom, white roses symbolize the investigation, remembrance and prevention of genocide.
National Chocolate Cake Day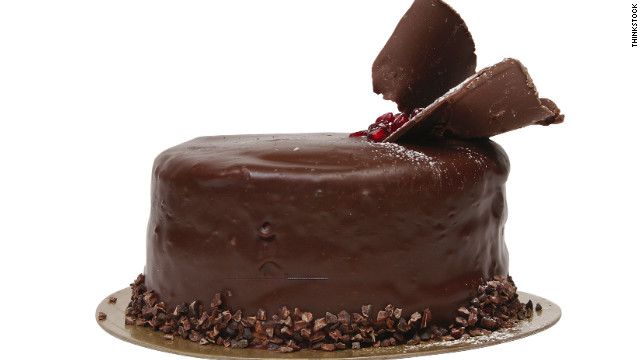 Here we are, three weeks into 2014 already. How's the year going so far? Are you keeping those New Year's resolutions? Are all the holiday decorations put away? Have you recovered from the shock of of your holiday spending? With all the post holiday discipline we impose on ourselves January can be a bit of a drag. It's time to snap out of those January blues and celebrate because Monday, January 27th is National Chocolate Cake Day!
Chocolate has been celebrated for centuries. Since its use by Mayan kings, it has played a role in religious ceremonies, been used as currency, used as rations to feed our military during the American Revolution and the Civil War and even been used to secure sexual favors! Perhaps I should save that information for Valentine's Day.
Chocolate was originally consumed as a beverage but in 1764 Dr. James Baker discovered how to make chocolate by grinding cocoa beans between two massive circular millstones...and the first chocolate "cake" was born.
Chocolate cake as we know it in this country came onto the scene in the mid- 1930's when the Duff Company of Pittsburg (a molasses manufacturer) introduced Devil's food chocolate cake mixes. Additional cake mixes were introduced a few years later by General Mills and Duncan Hines and chocolate cake rapidly gained in popularity.
According to TLC Cooking, chocolate cake is the second most popular dessert in America - second only to fudge. That being said, a fudgy chocolate cake should definitely top the list. By the way that all-American apple pie came in at number six. It's time to change the saying to "as American as chocolate cake!"
Punch the Clock Day is celebrated annually on January 27 in the United States!
This holiday celebrates the system of calculating employee work hours through the Punch Clock system and it's invention. On this holiday you are encouraged to share a day of celebration at your workplace. Management needs to have plenty of coffee, tea and doughnuts in the break room so you and all your work mates can get together on your coffee break and celebrate the punch clock.
A time clock, sometimes known as a clock card machine or punch clock or time recorder, is a mechanical (or electronic) timepiece used to assist in tracking the hours an employee of a company worked. In regards to mechanical time clocks this was accomplished by inserting a heavy paper card, called a time card, into a slot on the time clock. When the time card hit a contact at the rear of the slot, the machine would print day and time information on the card. This allowed a timekeeper to have an official record of the hours an employee worked to calculate and pay an employee.
The first time clock was invented in November 20, 1888, by Willard Bundy, a jeweler in Auburn, New York. A year later his brother, Harlow Bundy, organized the Bundy Manufacturing Company, and began mass producing time clocks." "Bundy Manufacturing, along with two other time equipment businesses, was consolidated into the International Time Recording Company (ITR)." "In 1911 ITR and two other companies were merged, forming Computing Tabulating Recording Corporation (CTR), which would later change its name to IBM." "In 1958 IBM's Time Equipment Division was sold to the Simplex Time Recorder Company." "The time cards usually had the workdays and time in and time out areas marked on them so that employees could "punch in" or "punch out" in the correct place. The employee was responsible to line up the correct area of the card to be punched with an indicator on the time card. Software applications offer such a system.
The first punch-card system to be linked to a Z80 microprocessor was developed by Kronos Incorporated in the late 1970s and introduced as a product in 1979. In the 1990s, time clocks started to move away from the mechanical version to computer based, electronic time tracking systems. On these systems, the employee either enters an employee number, swipes a magnetic stripe card, or brings an RFID tag into proximity with a reader, or uses some other device to identify the employee to the system. Based on the system being used, the employee then enters what should be recorded. This could be "punching in", "punching out", lunch breaks, reason for leaving early, or any other type of information the employer requires.
Today serves as an important day in history. Not only is January 27 National Chocolate Cake Day and one of the world's most prolific composer's birthday, but today also honors a man that deserves his own throne! Literally! Thomas Crapper
Thomas Crapper was born in Yorkshire in 1836, into a family of modest means. At 14 years of age he was apprenticed to a Master Plumber in Chelsea, London. After serving his apprenticeship and then working as a journeyman, he set up in his own right in 1861 as a plumber in Robert Street, Chelsea.
Five years later he moved to larger premises, Marlboro' Works, in nearby Marlborough Road. He quickly gained a singular reputation for quality and service; the company expanded and by 1907 had established a flagship store on the King's Road opposite Royal Avenue.

It is popularly thought that Mr. Crapper invented the W.C., and that the vulgar word for faeces is a derivative of his name, but neither belief is true. However, etymologists attest that the American word, "crapper", meaning the W.C. is directly from his name. He relentlessly promoted sanitary fittings to a somewhat dirty and sceptical world and championed the 'water-waste-preventing cistern syphon' in particular. Indeed, he invented the bathroom showroom and displayed his wares in large plate glass windows at the Marlboro' Works. This caused quite a stir and it is said that ladies observing the china bowls in the windows became faint at this shocking sight!

Mr. Crapper's inventiveness was well known; he registered a number of patents, one of which was the 'Disconnecting Trap' which became an essential underground drains fitting. This alone was a great leap forward in the campaign against disease. Amongst others was one for a spring-loaded loo seat which, as the encumbent arose, leapt up pulling rods which automatically flushed the cistern! This was rather less successful. Over time, the rubber buffers on the underside of the seat began to perish, and became sticky. This caused the seat to remain down, attached to the loo pan for a few seconds as the user got to his feet. Seconds later the seat, under stress from the powerful springs, would free itself and sweep violently upwards - striking the unfortunate Victorian on the bare bottom! The device became popularly known as the 'Bottom Slapper', consequently was not a commercial triumph.

By the 1880's, Crapper & Co.'s reputation was such that they were invited to supply the Prince of Wales (later Edward VII) at Sandringham. Subsequently, Windsor Castle, Buckingham Palace and Westminster Abbey all benefited from Crapper goods and services. Today, the Crapper manhole covers in the Abbey are popular for brass rubbings! Crapper & Co. remained by Royal Appointment to Edward when he became king and was also warranted by George V, as Prince of Wales and once again as king.

Thomas Crapper died in 1910 and was buried near the grave of the cricketer, W.G. Grace, in Elmers End Cemetery. The company continued under the guidance of his old partner Robert M. Wharam, his son Robert G. Wharam and Mr. Crapper's nephew George Crapper. However by the late 1950s, after the demise of the original partners, it was evident to Robert G. Wharam that with no Crappers or Wharams left to run the business, the sale of the company was becoming inevitable. In addition, perhaps people cared little for quality and tradition during that period. In 1963 came the end of an era; Thomas Crapper & Co. became the property of a rival, Messrs. John Bolding & Sons, Ltd..

Subsequently this distinguished firm endured fallow years - BUT SURVIVED - and is now an independent company once again. Having held four royal warrants and having existed through five reigns over 148 years, Thomas Crapper & Co. is once again manufacturing the finest bathroom fittings.
Wolfgang Amadeus Mozart's Birthday
January 27 is an important day in history for a variety of reasons. Not only is today National Chocolate Cake Day and Thomas Crapper Day, but today is also the birthday of one of the world's most significant and prolific composers in history!
Wolfgang Amadeus Mozart was born in Austria on this day in 1756. He was the only surviving son of his parents, Leopold and Maria. His father was a violinist and composer and both Wolfgang and his sister were introduced to music at young ages. The children soon embarked on several European tours showcasing their musical talents.
A few years later, an archbishop appointed Mozart assistant concertmaster where he composed operas, symphonies and sonatas. At the age of 21, he wrote Piano Concerto Number 9 in E Flat Major, and the rest, as they say, is history! Despite his father's disapproval, Mozart went on to marry his sweetheart, Constanze. The couple eventually had six children together - only two survived. Although a success, he was plagued with financial problems and failing health for years. Wolfgang Amadeus Mozart died in 1791. He was only 35 years old.
Vietnam Peace Day
The United States, South Vietnam, Viet Cong, and North Vietnam formally sign "An Agreement Ending the War and Restoring Peace in Vietnam" in Paris. Due to South Vietnam's unwillingness to recognize the Viet Cong's Provisional Revolutionary Government, all references to it were confined to a two-party version of the document signed by North Vietnam and the United States—the South Vietnamese were presented with a separate document that did not make reference to the Viet Cong government. This was part of Saigon's long-time refusal to recognize the Viet Cong as a legitimate participant in the discussions to end the war.
The settlement included a cease-fire throughout Vietnam. It addition, the United States agreed to the withdrawal of all U.S. troops and advisors (totalling about 23,700) and the dismantling of all U.S. bases within 60 days. In return, the North Vietnamese agreed to release all U.S. and other prisoners of war.
Both sides agreed to the withdrawal of all foreign troops from Laos and Cambodia and the prohibition of bases in and troop movements through these countries. It was agreed that the DMZ at the 17th Parallel would remain a provisional dividing line, with eventual reunification of the country "through peaceful means." An international control commission would be established made up of Canadians, Hungarians, Poles, and Indonesians, with 1,160 inspectors to supervise the agreement. According to the agreement, South Vietnamese President Nguyen Van Thieu would continue in office pending elections. Agreeing to "the South Vietnamese People's right to self-determination," the North Vietnamese said they would not initiate military movement across the DMZ and that there would be no use of force to reunify the country.
Footnote: The last U.S. serviceman to die in combat in Vietnam, Lt. Col. William B. Nolde, was killed by an artillery shell at An Loc, 60 miles northwest of Saigon, only 11 hours before the truce went into effect.