National Croissant Day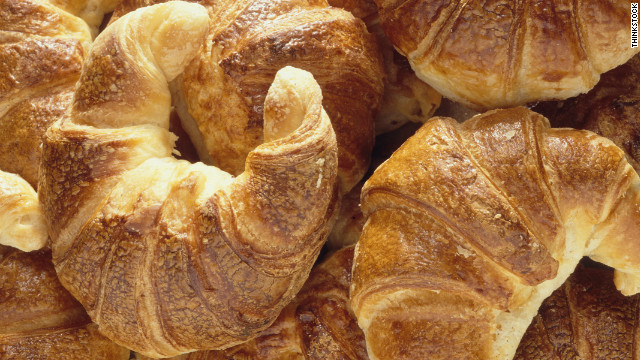 Have a croissant for breakfast, lunch, or dinner. January 30 is National Croissant Day.
We think of French when mention Croissant. It is not the general knowledge that Austria is the country of "birth" of this famous pastry. The journey from Austria to France of Croissant is as interesting as any of mysterious historical stories.
In 1683, Vienna (the capital of Austria) was under siege by over a hundred thousand Ottoman Turks. After several months of trying to starve the city into submission, the Turks attempted to tunnel underneath the walls of the city. Fortunately for the entire city, some bakers hard at work in the middle of the night heard the sounds of the Turks digging and alerted the city's defenders. This advance warning gave the defenders enough time to do something about the tunnel before it was completed. Soon, King John III of Poland arrived at the head of an army that defeated the Turks and forced them to retreat.
To celebrate the end of the siege and the part they had played in lifting it, several bakers in Vienna made a pastry in the shape of the crescents they had seen on the battle standards of the enemy. They called this new pastry the "Kipferl" which is the German word for "crescent" and continued baking if for many years to commemorate the Austrian victory over the Turks in 1683. It was not until 1770 that the pastry came to be known as the croissant when Austrian Princess married King Louis XVI of France.
Marie Antoinette introduced the Austrian pastry to the France but the legends about the lady and her favorite pastry are various.
Princess Marie came to France as a new bride when she was only 15. The young queen missed the simple cake in the shape of crescent of her homeland. To honor their new queen, the bakers in Paris made some "kipferls" of their own. The only difference was that they called it by the French word for crescent, "croissant" and made it looks more complex for royal dining table.
There is another story telling that Marie Antoinette with easygoing temperament refused to dine with members of royal French family. She often sat at the table, not removing the gloves. Until she came back her room, she required the dishes from her homeland – which always included Kipferl and she gradually accepted its complex version – Croissant.
Whatever the legend, we must mention Marie Antoinette as an important factor in the history of Croissant, as a symbol of nation pride of a princess – a queen.
Basically, Croissant is an frugal kind of breakfast pastry, made from pate feuilletee (soft flour of flour, yeast, butter, milk and salt). Croissant is simple without the filling, so that the quality of the pastry depends totally on the quality of dough. Currently in Austria and Italy, Croissant retain the traditional characteristics, given that the lightness of Croissant is perfectly suitable for breakfast.
When introduced into France, Croissant becomes more sophisticated, influenced by the cuisine style of this country. French Croissant might have the filling from chocolate, jam, raisins or cream cheese. Even in some regions, they make croissants with fruity or meaty filling.
Traditional or modern style, simple or complex, the croissants always give elegant taste and sweet features. The simplicity in appearance and taste of croissants is exactly what European people love about it as a frugal but delightful breakfast.
Celebrate National Croissant Day by enjoying a delicious croissant.
National Escape Day
Are you feeling a little down in the dumps lately? Have those depressing winter blues set in? If you're sick and tired of feeling sick and tired, well, no worries. Today is all about taking a well-deserved break from all the hassles and struggles of everyday life. January 30th is National Escape Day.
So go ahead and make a run for it! Whether you escape to a tropical paradise or head to your nearest restroom to soak in some suds, today is all about taking a moment out of your hectic day to pamper the most special person in your life – you!
While anywhere warm and tropical sounds perfect right about now, for many people, a cruise or tropical vacation just isn't in the budget. But there are some affordable and free things you can do for a virtual escape.
How to Celebrate National Escape Day
Pamper yourself - Get a message.
Get a manicure/pedicure.
Take a relaxing bubble bath surrounded by scented candles and a glass of your favorite bubbly. Let Calgon take you away!
If you've been considering a new look lately, today's the day. Change your hairstyle or color then celebrate the new and improved you!
Put out the Do Not Disturb Sign and tell your family you are taking a moment. Then do it.
Get out of the house! Go for a walk or run despite the weather.
Love the one you're with!
Make it date night!
No housework or cooking today - you are officially off duty!
Order in!
Start that yoga class you've been putting off.
Go out with the girls!
Crank up your favorite music and get your dance on!
Grab a few of your favorite flicks, curl up with a nice blanket, some sweet treats and delicious snacks, and make it movie night and laugh or cry your heart out!
Enjoy your four-legged friends. Take them for a walk, play, cuddle and enjoy!
While it's not quite as good as actually being there, check out this online virtual vacation to popular destination spots around the globe with the Robot Flaneur site.
Get yourself some bubble wrap and go at it in honor of Bubble Wrap Appreciation Day!
Do something nice for someone in need.
National Inane Answering Message Day
If you've ever had to push 200 buttons to talk to an actual human being, endure blaring music, annoying background noises or long-winded messages when calling a friend, acquaintance or business, today is your lucky day!
January 30th is National Inane Answering Message Day! This annual "holiday" was created by the folks at Wellcat to encourage folks to "change, shorten, replace or delete those ridiculous and/or annoying answering machine messages that waste the time of anyone who must listen to them."
Whether you have an answering machine or handy-dandy gadget with voice mail, today is the perfect opportunity to get rid of the old and bring on a brand new, creative and much more appropriate greeting! Changing your outgoing message from time-to-time only takes a few minutes and is much more fun for listeners. Whether your message is humorous, professional or short-and-sweet, kick things up a notch or two by changing that outgoing message. Some people may be so impressed they may have to call back just to listen again!
If you need a few suggestions to get you started, check out the helpful outgoing message tips below.
Outgoing Message Examples & Tips That Don't Suck
Listen to Radio Shack's outgoing messages, with and without music.
Carl Kasell shares some interesting outgoing message ideas.
Cutesy and silly messages may not be the right choice if you are a business or on the hunt for a job. Check out the Professional Business Voicemail Etiquette for helpful tips.
Be careful not to divulge too much personal information on your outgoing message. Check out a few of these safety tips.