Floral Design Day
Floral Design Day is a day to celebrate floral design as an art form.
It is celebrated every year on Feb 28th. Proclaimed by Governor Weld of Massachusetts in 1995.
As someone interested in Floral Art we thought that you would be interested to learn a little bit about Floral Design Day.
The original idea behind Floral Design Day, was an unique way to celebrate a special birthday of Carl Rittner, who founded our school.
Mr. "R" as our students affectionately called him, founded The Rittners School of Floral Design, in Boston, over sixty years ago, and was a pioneer in floral art education. Through the years, his humor, patience and wealth of floral industry knowledge have had a marked impact upon thousands of students from all over the globe.
So it was particularly meaningful when Gov. Weld of Massachusetts proclaimed Floral Design Day as part of Mr. Rittner's special birthday celebration.
The idea of a holiday that celebrates floral design as an art form, is a wonderful one whose time has come. And so, Mr. R and the rest of us here at Rittners, wanted to see Floral Design Day continue to be observed as an event in its own right.
Floral design is a proud art form that has spanned thousands of years, with a diversity of styles reflecting varying social, religious, and cultural trends.
Floral art is a very unique art form in that it plays an important role in our social interactions, for decorating, establishing and maintaining relationships, and generally enhancing the overall quality of our lives.......
The floral industry is a multibillion dollar industry that brightens our lives at such holidays as Thanksgiving, Christmas, Valentines' Day, Mother's Day & Secretaries Day as well as on an everyday basis, and in so doing, contributes to our economy.
Besides which, making floral designs is a lot of fun and makes us feel good!!
International Sword Swallower's Day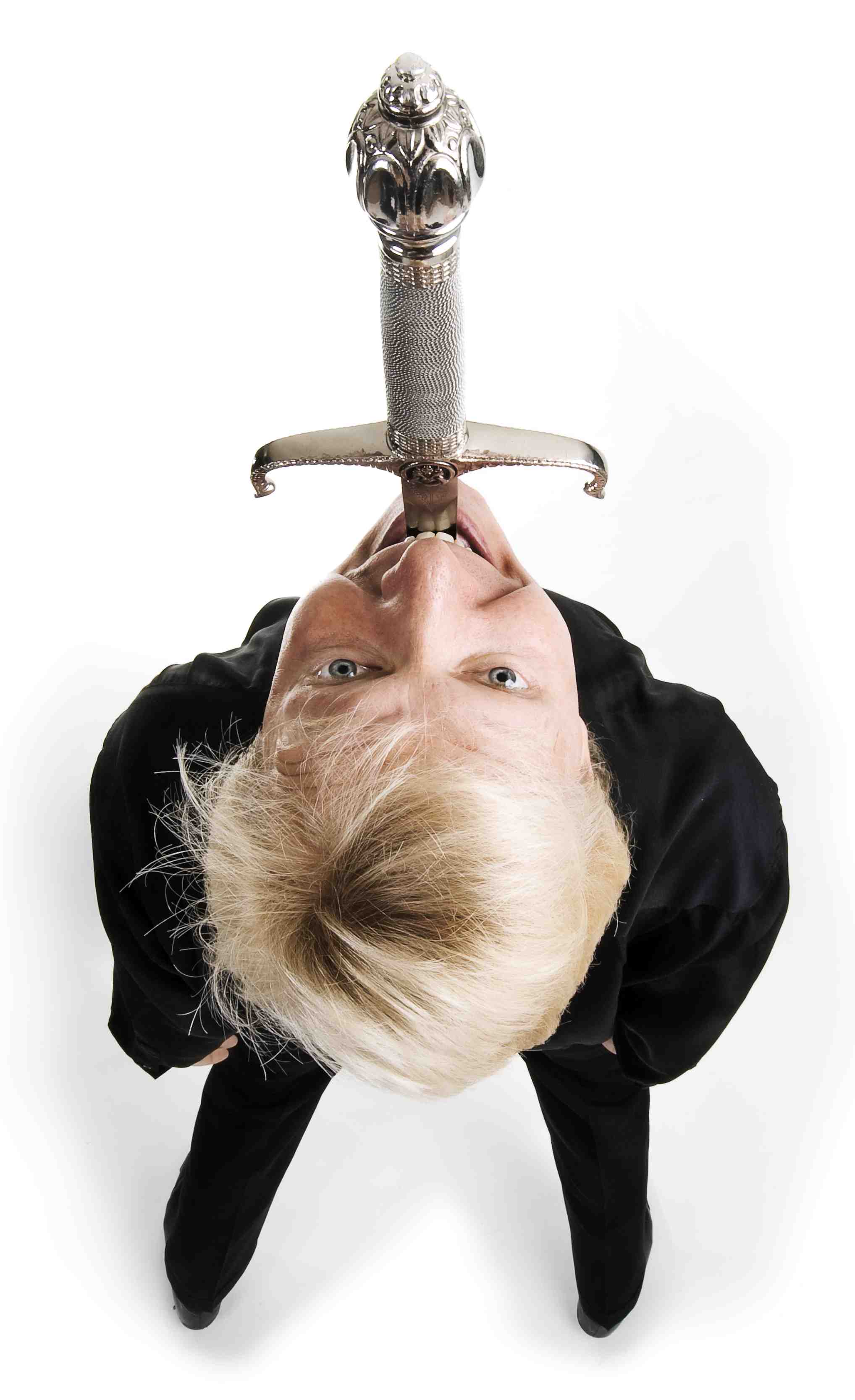 The Sword Swallowers Association International reports that there are less than a few dozen professional sword swallowers actively performing around the world today. On International Sword Swallower's Day, Saturday, February 28, 2015, the world will have the rare opportunity to witness them defy death and do what they do best -- doing the impossible and swallowing swords -- all at once!
Sword Swallowers Association International (SSAI) President Dan Meyer announced the 8th annual International Sword Swallower's Day to raise awareness of sword swallowers worldwide. Founded by SSAI and co-sponsored by Ripley Entertainment, International Sword Swallower's Day 2015 will be observed on February 28th, 2015 in conjunction with February as National Swallowing Disorders Month.
"Last year we had 44 sword swallowers swallow 89 swords at 14 Ripley's Believe It or Not! Odditoriums. This year we expect a record turnout with over 50 sword swallowers doing incredible stunts and setting record numbers!" Meyer said. SSAI President Sword Swallower Dan Meyer at Ripleys Believe It or Not London
"Sword swallowers have been risking our lives to perform sword swallowing for over 4000 years," explains Meyer. "But many people either don't believe what we do is real, or they think the art has died out."
"We established International Sword Swallower's Day to promote this ancient art still carried on by a few dozen surviving performers -- to raise awareness of the medical contributions sword swallowers have made in the fields of medicine and science, to honor veteran performers, and to raise funds for esophageal cancer research and the Injured Sword Swallower's Relief Fund." Meyer explains.
"Most of all, we do it to correct myths and educate the public and medical professionals by doing free demonstrations for the public and media around the world on this day."
"Many of us have been performing for years and we love our work!" explains Meyer, a 35-time world record holding sword swallower who performs at Ripley's Believe It or Not museums and speaks in 35 countries around the world. "International Sword Swallower's Day is a great chance for us to show the world what we really do and how we do it!" For International Sword Swallower's Day 2013, Meyer swallowed a 23 inch sword and used it to pull a 3700 lb car by sword out of Ripley's Believe It or Not Baltimore.
"Most people don't realize the dangers involved in sword swallowing or the contributions sword swallowers have made to the fields of science and medicine over the past 150 years." Meyer explains. In 1868, a sword swallower was used by Dr. Adolf Kussmaul in Freiburg Germany to develop the first rigid endoscopy. In 1906 a sword swallower underwent the first esophageal electrocardiogram in Wales.
Other sword swallowers have been prodded and examined by doctors and scientists at medical centers over the past 150 years without recognition.
"We want to change all that. That's why we celebrate International Sword Swallower's Day." Meyer explains.
In 2006, the first comprehensive medical study on sword swallowing, "Sword Swallowing and its side effects", was published by the prestigious British Medical Journal. Co-authored by Meyer and British radiologist Dr. Brian Witcombe, the historic two-year study was the first comprehensive medical research conducted on sword swallowers in the 4000 year history of the art. The research won its authors the 2007 Ig Nobel Prize in Medicine at Harvard University.
Since some sword swallowers perform charitable work for the medical community to raise awareness of esophageal cancer, dysphagia, GERD, and other upper gastrointestinal and swallowing disorders, SSAI encourages sword swallowers to perform demonstrations at medical facilities throughout the day. Sword swallowers will also perform at hospitals, nursing homes, and orphanages for those who would otherwise have difficulty getting to theaters to see live performances.
"Sword swallowers who participate in these activities find them rewarding," explains Meyer. "Many people who have never had the opportunity to see sword swallowing firsthand will finally have a chance to witness it!"
"Because sword swallowing is so rare, sword swallowers usually perform solo," Meyer says. "International Sword Swallower's Day gives us a chance to work together to be part of something bigger."
Why is Ripley co-sponsoring International Sword Swallower's Day? "Because it's great entertainment!" said Tim O'Brien, former VP of Communications for Ripley Entertainment Inc. "Sword swallowers and Ripley go way back to the very first Ripley's Believe It or Not! Odditorium set up at the Chicago World's Fair in 1933. There, three performers, two of whom were ladies, mesmerized the huge crowds. Ripley's has been home to sword swallowers around the world ever since!"
"It's a huge honor for us to carry on the tradition of sword swallowers who have performed at Ripley's Believe It or Not! museums over the years." Meyer explains.
"In light of this, SSAI is extending an open invitation to sword swallowers worldwide to join us in celebrating International Sword Swallower's Day by swallowing swords with us at Ripley's Believe It or Not Odditoriums around the world."
National Chocolate Soufflé Day
A real chocolate pick-me-up - February 28 is National Chocolate Soufflé Day!
Soufflés may be the only thing to rival the kind of lift many women achieve with gallons of hairspray - not to mention the fact that they taste like heaven.

A French word which literally means "puffed up," is a culinary term in both French and English (and used in many other languages) for a light, frothy dish, just stiff enough to hold its shape, and which may be savory or sweet, hot or cold.The basic hot souffle has as its starting point a roux--a cooked mixture of flour and butter...This type of souffle was a French invention of the late 18th century. Beauvilliers was making souffles possibly as early as 1782 (though he did not publish his L'Art du cuisinier until 1814). Recipes for various kinds appear in Louis Ude's The French Cook of 1813, a work which promises a "new method of giving good and extremely cheap fashionable suppers at routs and soirees. Later, in 1841, Careme's Patissier Royal Parisien goes into great detail on the technique of making souffles, from which it is clear that cooks had been having much trouble with souffles that collapsed. The dish acquired a reputation for difficulty and proneness to accidents which it does not really deserve...There are some Ukranian and Russian dishes of the hot souffle type, independently evolved and slightly different in composition."
The flavorful base is usually made with a French crème pâtissière (pasty cream), but the secret to this lightly baked cake is whipped egg whites. The name comes from a French verb, souffler, which literally means to "blow up" or "puff up," and that's exactly the magic that happens when you bake custard and egg whites together.
Your best bet for baking individual or even one large chocolate soufflé is the ramekin. When you're ready to take them out of the oven, it will be puffy and fluffy - and then deflate a little about ten minutes later. But, don't worry! It's supposed to do that.
Get fancy and even if you're not in trouble with your significant other, make them feel special and bake an individual chocolate soufflé for your sweetie. One little investment of your time can go a long way.
When it comes to holidays, February 28 isn't your average, run-of-the-mill special day.Not only is it National Public Sleeping Day, Feb. 28 is also National Tooth Fairy Day! Hooray!
Tooth Fairy
This annual "holiday" celebrates one of children's most beloved visitors, the Tooth Fairy. While Santa Claus brings gifts and the Easter Bunny brings eggs of all shapes and sizes, the Tooth Fairy has a pretty popular arrangement with children all over the world.
The tooth fairy is a fantasy figure of early childhood. The folklore states that when a child loses a baby tooth, if he or she places it beneath the bed pillow, the tooth fairy will visit while the child sleeps, replacing the lost tooth with a small payment.

In early Europe, it was a tradition to bury baby teeth that fell out. When a child's sixth tooth falls out, it is a custom for parents to slip a gift or money from the tooth fairy under the child's pillow, but to leave the tooth as a reward. Some parents also leave trails of glitter on the floor, representing fairy dust.

In northern Europe, there was also a tradition of tann-fé or tooth fee, which was paid when a child lost their first tooth. This tradition is recorded in writings as early as the Eddas, which are the earliest written record of Norse and Northern European traditions.

The reward left varies by country, the family's economic status, amounts the child's peers report receiving and other factors. A 2011 study found that American children receive $2.60 per tooth on average.
National Public Sleeping Day
If the winter blues have you down in the dumps these days, this may be your lucky day! And if a little nap sounds perfect right about now, go grab your blankie! February 28 is (National) Public Sleeping Day! Hooray!
While the origins of this annual "holiday" are unknown, chances are pretty good the creator was probably just as tired as the rest of us. While sleeping on the job is not recommended, anyone can celebrate National Public Sleeping Day. Whether you choose to do it on the bus, on the train, in the cafeteria or in the confines of your own home, a little snooze may just be what the doctor ordered!
So turn off all those handy-dandy electronic gadgets, put a "Do Not Disturb" sign on the door, turn off the lights and get ready to enjoy an afternoon siesta. When you wake up, chances are pretty good you'll be refreshed and ready to get back to work. Just remember - it's back to the old routine tomorrow!
Rare Disease Day is an annual, awareness-raising event co-ordinated by EURORDIS at the international level and by National Alliances and Patient Organisations at the national level.
The main objective of Rare Disease Day is to raise awareness amongst the general public and decision-makers about rare diseases and their impact on patients' lives.
The campaign targets primarily the general public but it is also designed for patients and patient representatives, as well as politicians, public authorities, policy-makers, industry representatives, researchers, health professionals and anyone who has a genuine interest in rare diseases.
Since Rare Disease Day was first launched by EURORDIS and its Council of National Alliances in 2008, more than 1000 events have taken place throughout the world reaching hundreds of thousands of people and resulting in a great deal of media coverage.
The political momentum resulting from the Day has also served for advocacy purposes. It has notably contributed to the advancement of national plans and policies for rare diseases in a number of countries.
Even though the campaign started as a European event, it has progressively become a world event, with over 70 countries participating in 2013. We hope many more will join in 2014. Our objective is for the WHO to recognize the last day of February as the official Rare Disease Day and to raise increasing awareness for Rare Diseases worldwide.
A disease or disorder is defined as rare in Europe when it affects fewer than 1 in 2000.
A disease or disorder is defined as rare in the USA when it affects fewer than 200,000 Americans at any given time.
One rare disease may affect only a handful of patients in the EU (European Union), and another touch as many as 245,000. In the EU, as many as 30 million people alone may be affected by one of over 6000 rare diseases existing.
80% of rare diseases have identified genetic origins whilst others are the result of infections (bacterial or viral), allergies and environmental causes, or are degenerative and proliferative.
50% of rare diseases touch children.
Characteristics of rare diseases
Over 6000 rare diseases are characterized by a broad diversity of disorders and symptoms that vary not only from disease to disease but also from patient to patient suffering from the same disease.
Relatively common symptoms can hide underlying rare diseases leading to misdiagnosis and delaying treatment. Quintessentially disabling, the patients quality of life is affected by the lack or loss of autonomy due to the chronic, progressive, degenerative, and frequently life-threatening aspects of the disease.
The fact that there are often no existing effective cures adds to the high level of pain and suffering endured by patients and their families.
Common problems faced
The lack of scientific knowledge and quality information on the disease often results in a delay in diagnosis. Also the need for appropriate quality health care engenders inequalities and difficulties in access to treatment and care. This often results in heavy social and financial burdens on patients.
As mentioned, due to the broad diversity of disorders and relatively common symptoms which can hide underlying rare diseases, initial misdiagnosis is common. In addition symptoms differ not only from disease to disease, but also from patient to patient suffering from the same disease.
How can things change?
Although rare disease patients and their families face many challenges, enormous progress is being made every day.
The ongoing implementation of a better comprehensive approach to rare diseases has led to the development of appropriate public health policies. Important gains continue to be made with the increase of international cooperation in the field of clinical and scientific research as well as the sharing of scientific knowledge about all rare diseases, not only the most "recurrent" ones. Both of these advances have led to the development of new diagnostic and therapeutic procedures.
However, the road ahead is long with much progress to be made.