Facebook's Birthday
What does the future look like? According to Facebook, exactly 11 years after the social network was created, the future is called Paper. But it's not quite as nostalgic as it sounds. This is the future where we write, film and share our stories via our mobile phones. A sleek cut-down version of the Facebook site, Paper replaces buttons with touch screen swipes, and uses full-screen to play video on the handheld devices, where the future of the internet will be fought.
But Mark Zuckerberg, Facebook's 29-year-old founder, also wants to hire human editors to promote the most interesting content, harking back to newspapers themselves. In this case, the retro nomenclature represents something more: a desire to find new ways to make Facebook more relevant to the human desire for communication, by enlisting people themselves.
It is a sign that Facebook is looking to secure its place in the firmament by branching out into new forms of communication. By the end of 2013, Facebook was being used by 1.23 billion users worldwide, adding 170 million in just one year.
Yet the scale of the ambition is a far cry from when Zuckerberg was an ambitious and competitive freshman at Harvard. Immortalised in The Social Network, Zuckerberg launched the site from his dorm room on 4 February 2004 – a technological replacement for a college directory and messages left on student doors.
It was a hit almost immediately, although in today's terms the early progress sounds modest. In 2006, Facebook already had 12 million users across US colleges, 60% of whom logged in everyday. But by then it was already valued at $100m (£61m).
Meanwhile, Zuckerberg himself may come to be known as the most underestimated man of his generation, steering Facebook from an idea to link students to the default communication platform for the online western world.
The site is now worth $135bn with revenues of $7.87bn in 2013, including $1.5bn in profit. Globally, 556 million people now access the site every day on their smartphone or tablet and at the end of 2013, for the first time, Facebook made more than $1bn in revenue from mobile advertising in just one quarter.
Part of Facebook's success has been timing, says Dr Bernie Hogan, research fellow at the Oxford internet institute, because the world was ready for a shared list of connections that works like a supercharged, definitive phone book for the digital age. "Before Facebook, we had to cover up our identities online and there was uncertainty over who to trust. Facebook gave us the notion that it was safe, and useful."
Facebook's neutrality is partly why younger users are attracted to new and more edgy platforms such as the messaging app Snapchat, says Hogan, though they will a retain a presence on Facebook to show a safe, public face.
From its earliest days, Facebook has navigated – even pioneered – the territory around privacy, and how we express our personal identities online. This has been a precarious journey, and in September 2006 – before the site was open beyond the US college network – it was dealing with concern over the introduction of the newsfeed and over-sharing users' personal information.
In most cases, Facebook has adapted in response to feedback. Even the most controversial features it has eventually killed off – such as Beacon, which published users' purchases and related advertiser information in feeds – have still informed the site's development.
But as Facebook advanced it also helped create a world in which people live with dual identities –online and in real life. "People have really gotten comfortable not only sharing more information and different kinds, but more openly and with more people," said Zuckerberg in 2010 during an intense few months as controversy raged over the complexity of Facebook's privacy settings. "That social norm is just something that has evolved over time."
But Zuckerberg's own attitude to real identities has shifted. Facebook's currency of real-world identities, both for users and advertisers, has been replaced with a recognition that for some exchanges – like those of rival messaging app Snapchat – anonymity and a different, less committed style of engagement are attractive.
"I don't know if the balance has swung too far, but I definitely think we're at the point where we don't need to keep on only doing real identity things," he told BusinessWeek recently. "If you're always under the pressure of real identity, I think that is somewhat of a burden."
Facebook has been aggressively exploring mobile since its IPO, when investors expressed concern that its strategy was too focused on desktop. Its repositioning as a mobile-first business has been nothing short of remarkable; Zuckerberg himself even removed his desktop screen from his desk and viewed the site purely on his smartphone. Becoming a mobile company was Facebook's most urgent priority, he told staff. In April 2012 he stunned the tech industry by paying $1bn for Instagram, a photo-sharing app with 100 million users.
"Facebook is a bad investment," squealed a Forbes headline from 2012, cautioning that this looked like a defensive move to buy a mobile-ready rival. "Facebook will have to fend off more and more young companies gnawing at its core. The odds are that Zuckerberg will one day face an opponent that can't be bought."
Criticised for being overvalued at the time of its 2012 flotation, Facebook got off to an uncertain start as a publicly traded company, but has since found its feet: floated at $38 a share, the stock now changes hands at $61.76.
Christopher Poole, founder of irreverent cult bulletin board 4chan, is critical of Facebook's concept of being a mirror to human identity. "Relationships are not reducible to the things we do," Hogan says. "Relationships are built on time spent together. On Facebook, you aren't saying: 'This is special because you did it with me.' You're saying: 'This is special because I did it.'
"It's very healthy that we don't take Facebook too seriously, that we don't conflate selective moments with real, lived experience. We need to distinguish our exhibited selves from our real selves."
However, the Edward Snowden files, which revealed the extent of US and UK government surveillance of web users, brought with them a crisis of confidence. Many web businesses, like Facebook, have battled to convince users to trust them with their data, offering powerful, useful services for free in return for selling targeted ads.
Zuckerberg was one of those to speak out unambiguously after the first revelations. "The government response was: 'Oh don't worry, we're not spying on any Americans.' Oh, wonderful: that's really helpful to companies trying to serve people around the world, and that's really going to inspire confidence in American internet companies. I thought that was really bad," he said.
Advertisers, however, do not appear to have been put off. Facebook accounted for 5.7% of all global digital advertising revenues in 2013, and 18.4% of mobile ad spend, according to eMarketer.
Venture capitalist Saul Klein, who worked with Facebook when with Skype, feels Zuckerberg has been hugely underestimated. "What Facebook is doing with a site used by 1 billion people a day is an order of magnitude greater than anything – it's a remarkable feat of engineering," he said, pointing to the fact that London is still the only English-speaking city in Facebook's top 10. "It's not just about the US anymore – tech is now a global phenomenon. I'm not sure even Facebook quite understands that – they are the canary in that coalmine."
Meanwhile, while many computer scientists have built successful companies, not least his idol Bill Gates, Facebook has arguably not just given engineers power but structured its very businesses processes in "the hacker way". An oft-repeated slogan on Facebook's office reads "move fast and break things", a strategy that means working in a continual state of development. Its founder's self belief has been noticeable from the start. "Zuckerberg always felt Facebook could be much bigger than anyone could see," said Klein. That belief also inspired a remarkable confidence to say no. Aged 22, Zuckerberg turned down a $1bn acquisition offer from Yahoo.
"There is no CEO in the world that could walk in and do that job. There is no preparation for it – it is completely unprecedented. He has lots of self confidence, lacks ego and is very mature."
Liberace Day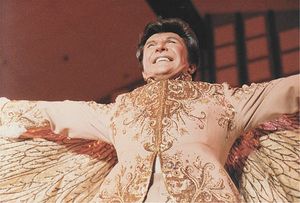 Liberace Day pays tribute to the flamboyant pianist who died on this day in 1987.
Władziu Valentino Liberace (May 16, 1919 – February 4, 1987), mononymously known as Liberace, was an American pianist and vocalist.
A child prodigy and the first generation son of working class immigrants, Liberace's career spanned four decades of concerts, recordings, television, motion pictures, and endorsements. At the height of his fame from the 1950s to the 1970s, Liberace was the highest-paid entertainer in the world, with established residencies in Las Vegas, and an international touring schedule. Liberace embraced a lifestyle of flamboyant excess both on and off stage, acquiring the sobriquet "Mr. Showmanship". Liberace was recognized during his career with two Emmy Awards, six gold albums and two stars on the Hollywood Walk of Fame.
Throughout his career, Liberace publicly denied his homosexual orientation and successfully sued both The Daily Mirror newspaper and Confidential magazine, who reported some of his gay relationships, winning damages and legal fees. Toward the end of his life, his former chauffeur and lover, Scott Thorson, unsuccessfully sued him for palimony, slander and conversion of property. Liberace also released a coffee table book on his life and performed 21 sold out shows at Radio City Music Hall which set box office records a few months before his death in Palm Springs, California on February 4, 1987. Liberace's death remains controversial because there had been rumors prior to his death that he had contracted HIV, which his management, publicist, friends, and even Liberace himself had vehemently denied. Against the wishes of his estate, the Riverside County coroner ordered an official autopsy and determined that Liberace had died of an AIDS-related illness, making him the second major celebrity after Rock Hudson to officially succumb to the illness during the early days of media frenzy surrounding the disease.
Worth over $110 million at the time of his death, Liberace bequeathed the bulk of his estate to his scholarship foundation, but his official museum closed its doors in 2010 due to an economic downturn. In November 2013, a few dozen of his famous costumes and cars went on display for a six-week period at the Cosmopolitan Las Vegas in an exhibition titled "Too Much of a Good Thing Is Wonderful", Liberace's unofficial motto, and an often-used one liner from his act.
National Create A Vacuum Day
National Create A Vacuum Day is celebrated on February 4th of each year. In everyday usage, vacuum is a volume of space that is essentially empty of matter, such that its gaseous pressure is much less than atmospheric pressure. The word comes from the Latin term for "empty". A perfect vacuum would be one with no particles in it at all, which is impossible to achieve in practice. Physicists often discuss ideal test results that would occur in a perfect vacuum, which they simply call "vacuum" or "free space", and use the term partial vacuum to refer to real vacuum. The Latin term in vacuo is also used to describe an object as being in what would otherwise be a vacuum.
The quality of a vacuum refers to how closely it approaches a perfect vacuum. Other things equal, lower gas pressure means higher-quality vacuum. For example, a typical vacuum cleaner produces enough suction to reduce air pressure by around 20%. Much higher-quality vacuums are possible. Ultra-high vacuum chambers, common in physics and engineering, operate below one trillionth (10−12) of atmospheric pressure, and can reach ≈100 particles/cm3. Outer space is an even higher-quality vacuum, with the equivalent of just a few hydrogen atoms per cubic meter on average. However, even if every single atom and particle could be removed from a volume, it would still not be "empty" due to vacuum fluctuations, dark energy, and other phenomena in quantum physics.
Vacuum has been a frequent topic of philosophical debate since ancient Greek times, but was not studied empirically until the 17th century. Evangelista Torricelli produced the first laboratory vacuum in 1643, and other experimental techniques were developed as a result of his theories of atmospheric pressure. A torricellian vacuum is created by filling a tall glass container closed at one end with mercury and then inverting the container into a bowl to contain the mercury.
Vacuum became a valuable industrial tool in the 20th century with the introduction of incandescent light bulbs and vacuum tubes, and a wide array of vacuum technology has since become available. The recent development of human spaceflight has raised interest in the impact of vacuum on human health, and on life forms in general.
National Homemade Soup Day
National Homemade Soup Day is celebrated annually on February 4 in the United States.
This day celebrates homemade soup in every way. On this day we are encouraged to get back to homemade comfort foods like homemade soup. There's nothing more comforting and homey than a nice pot of homemade soup simmering on the stove top is it? Don't waste your time opening a can soup today. On National Homemade Soup Day, remember your favorite homemade soup recipes, pick one and celebrate by making your family a pot of the real stuff. Real Homemade Soup.
Evidence of the existence of soup can be found as far back as about 20,000 BC. Boiling was not a common cooking technique until the invention of waterproof containers (which probably came in the form of clay vessels). Animal hides and watertight baskets of bark or reeds were used before this. To boil the water hot rocks were used. This method was also used to cook acorns and other plants.

The word soup comes from French soupe ("soup", "broth"), which comes through Vulgar Latin suppa ("bread soaked in broth") from a Germanic source, from which also comes the word "sop", a piece of bread used to soak up soup or a thick stew.

The word restaurant (meaning "[something] restoring") was first used in France in the 16th century, to refer to a highly concentrated, inexpensive soup, sold by street vendors, that was advertised as an antidote to physical exhaustion. In 1765, aParisian entrepreneur opened a shop specializing in such soups. This prompted the use of the modern word restaurant for the eating establishments.

In the US, the first colonial cookbook was published by William Parks in Williamsburg, Virginia, in 1742, based on Eliza Smith'sThe Compleat Housewife; or Accomplished Gentlewoman's Companion and it included several recipes for soups and bisques. A 1772 cookbook, The Frugal Housewife, contained an entire chapter on the topic. English cooking dominated early colonial cooking; but as new immigrants arrived from other countries, other national soups gained popularity. In particular, German immigrants living in Pennsylvaniawere famous for their potato soups. In 1794, Jean Baptiste Gilbert Payplat dis Julien, a refugee from the French Revolution, opened an eating establishment inBoston called The Restorator, and became known as "The Prince of Soups". The first American cooking pamphlet dedicated to soup recipes was written in 1882 by Emma Ewing: Soups and Soup Making.

Portable soup was devised in the 18th century by boiling seasoned meat until a thick, resinous syrup was left that could be dried and stored for months at a time.
National Signing Day, usually the first Wednesday of February, is the first day that a high school senior can sign a binding National Letter of Intent for college football with a school that is a member of the United States National Collegiate Athletic Association (NCAA). Although all NCAA sports have at least one National Signing Day, and most have two, college football's version is by far the most widely followed by fans and sports media.
National signing day is usually on the first Wednesday in February. Until 1981, several college football conferences, including the Southeastern Conference (SEC) and Atlantic Coast Conference (ACC), held conference signing days on the second Saturday in December to have recruits sign conference letters-of-intent. The College Football Association, led by several prominent college head football coaches, proposed a resolution to eliminate conference signing days during their 1980 convention, and have a singular signing day in their places, called a National Signing Day. In 1981, the last year for conference signing days, recruits had to sign both conference and national letters-of-intent if their school was in the Big Eight or Southwest Conferences (four members of the latter conference later joined the former, which became known as the Big 12 Conference after the expansion). The conference letters-of-intent restricted a recruit to signing with only one school in a conference, but was unrestricted to signing with a school outside of the conference. The national letters-of-intent restricted a recruit to signing with only one school in the NCAA. The NCAA ruled in January 1981 to abolish early signing days and have a National Signing Day on the third Wednesday in February. National Signing Day has since typically been on the first Wednesday in February.
One such situation regarding players holding press conferences to announce their decisions involved offensive lineman Antonio Logan-El. Highly recruited out of high school, Logan-El initially verbally committed to the University of Maryland. On National Signing Day in 2006, he held a nationally-televised press conference at the ESPN Zone in Baltimore. Among the attendees of the press conference was the Maryland Terps' head coach Ralph Friedgen's wife. He took out a picture of himself with Penn State head coach Joe Paterno during the press conference and announced his decision to sign with Penn State.
National Stuffed Mushroom Day
Every year on the 4th day of February in the United States of America, mushroom lovers have a reason to celebrate and experiment with a variety of fillings for this healthy fungus. That is because this day marks National Stuffed Mushroom Day.

Stuffed mushrooms are traditionally considered to be an Italian-American dish, and they are often made with breadcrumbs, parmesan and other cheeses, herbs and a fair helping of butter or olive oil. However, mushrooms may be stuffed with a wide range of ingredients including crab and other seafoods, as well as vegetables and meats. There are also several types of mushrooms that may be stuffed, although button mushrooms, crimini mushrooms and portabella mushrooms seem to be the most common.

Like many other food holidays, it is difficult to dig up the precise origins of National Mushroom Day. Such holidays are often started by companies or groups tied to the industry, and they may be proclaimed by all levels of regional and national legislation.

The history of the mushroom itself dates back to France in the 19th century, when citizens of this country began growing the fungi for consumption. The brown crimini mushroom was the standard around the world until tastes became more exotic and people embraced shitakes, morels and other more "gourmet" mushrooms.

Some Italian restaurants may run specials for National Stuffed Mushroom Day. Those who wish to create their own celebrations may choose to make some stuffed mushrooms from a classic or experimental recipe and share with friends and family.
National Thank a Mailman Day
Today is National Thank a Mailman Day! In 1775, the Second Continental Congress established the Constitutional Post—the first organized mail service in America. Before this act, people relied on friends, merchants, or private messengers to carry their letters. It was an unreliable system, and colonial British postal inspectors often intercepted confidential messages.
As the nation's first Postmaster General, Benjamin Franklin established many of the conventions we are accustomed to today, including a standardized rate chart based on weight and distance. Before the invention of the stamp in 1847, the writer could pay the postage in advance or leave it for the recipient to pay upon delivery!
Over the past two centuries, the Postal Service has grown and changed dramatically, but its mission of promoting free and open communication has remained the same. To celebrate National Thank a Mailman Day, take a moment to appreciate this historic service and thank your mail carrier the next time you see him or her!
National Quacker Day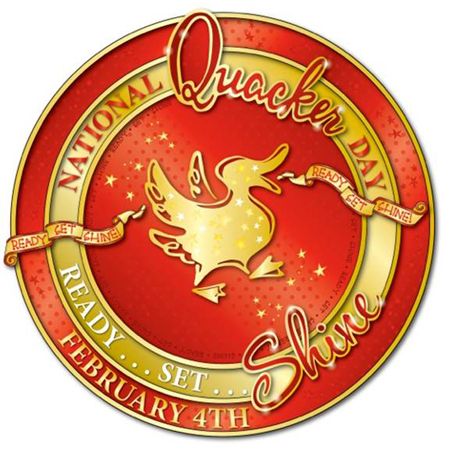 National Quacker Day, celebrated on the anniversary of Quacker Factory being offered on QVC, acknowledges the 2 million Quackers who love to dress for attention.
The Quacker Factory is a mythical, magical little cottage, nestled beside the beach in a quaint Floridian seaside town called Quack Harbor. As you approach 'The Factory', down a cobblestone walkway, you pass a charming picket fence covered with ivy. The sun is shining. The birds are chirping. Ocean breezes and clean salt air cause a rustle in the coconut palms.
Listen! From the nearby pond you can hear the occasional quacking of ducks.
Wonderful, delightful ducks! They look so calm and unruffled on the surface as they go by…but we know they're paddling like hell underneath! Those ducks are our inspiration.
Come on in. Our creator, Jeanne Bice, designed the Quacker Factory to be a special place, where you'll want to linger and enjoy. It's open and airy, with billowing curtains. Wide windows are shaded by tropical shutters. The floors are bleached-out, smooth pine boards—perfect for going bare foot. Wicker furniture with fluffy cushions covered with bright colored gingham. The walls are hung with angels galore, and fresh-cut flowers in vases and buckets are everywhere. Favorite tunes from the 50's and 60's are playing in the background. Feel free to sing along.
Step out to the wraparound porch where you'll see both the beach and the pond with our beloved ducks. Take a seat in one of our comfy rockers, sip a fresh ice-cold lemonade and settle in. This is where we make dreams come true!
The Quacker Factory is our inspiration station. It's the place we go when we're looking for all sorts of 'things 'in our life. When we're looking for fun, joy and happiness—we go to the Quacker Factory. We go there when we're looking for new outcomes in our careers, or when we're looking for different experiences with our loved ones. We go to The Quacker Factory when we are looking for new and exciting things to create and to share with others. We go there to DREAM.
Most of all, the Quacker Factory is a place where we can go and, without inhibitions…BELIEVE! We can believe in ourselves. We can believe in our work. We can believe in our friends and family. And we gather here to believe in YOU!
We believe in you as a unique and special person who looks for unique and special things to bring HAPPY in your life. At Quacker Factory we believe life is a party. And you deserve to be happy…and celebrate everyday!
So please come and explore all we have created and gathered to share with you. Explore the different shops in the Quacker Factory General Store. You'll find all sorts of delightful, quacky and inspiring ways to add happy to your life…and to share with those you love.
USO Day
On USO Day we celebrate the anniversary of the United Service Organization that was formed in 1941. The USO shows their appreciation and gratitude to troops (and their families) for the dedication and sacrifices they make. The USO is a non-profit private organization whose mission is "to lift the spirits of America's troops and their families" (USO.org). Their motto is "Until Everyone Comes Home".
Throughout our country's history, Americans have felt profound appreciation and gratitude for the dedication and sacrifice of our troops and their families. The USO provides a tangible way for all of us to say thank you, as it has for 70 years.
Thanks to your generosity, the USO fulfills its mission of lifting the spirits of America's troops and their families. Through the USO, you touch their lives through an extensive range of programs at more than 160 locations in 27 states and 14 countries, and at hundreds of entertainment events each year. Thousands of USO volunteers do everything possible to provide a home away from home for our troops and to keep them connected to the families they left behind.
The USO makes sure your help goes to those who need it the most: troops serving in combat, their families, our wounded warriors and their families, and families of the fallen.
As a nonprofit, non-political organization, the USO is now, and always will be, about our troops. Wherever and whenever they go, the USO will be there, until everyone comes home.
World Cancer Day
World Cancer Day is a chance to raise our collective voices in the name of improving general knowledge around cancer and dismissing misconceptions about the disease. From a global level, we are focusing our messaging on the four myths above. In addition to being in-line with our global advocacy goals, these overarching myths leave a lot of flexibility for members, partners and supporters to adapt and expand on for their own needs.
What if the entire world joined forces to fight cancer? Tuesday, February 4th is World Cancer Day, a time when organizations and individuals around the world send a message: Ending cancer should be a global health priority.
One of the most visible events marking the occasion in the United States will be in New York, where the Empire State Building will be lit blue and orange on February 4th for the fourth year in a row. The colors are those of the Union for International Cancer Control (UICC), which organizes World Cancer Day.
This year the UICC will focus on dispelling damaging myths and misconceptions about cancer. The organization aims to improve knowledge about cancer and dismiss these 4 myths:
Myth 1: We don't need to talk about cancer.
Truth: While cancer can be a difficult topic to address, particularly in some cultures and settings, dealing with the disease openly can improve outcomes at an individual, community and policy level. The American Cancer Society has lots of pointers for talking about cancer, whether it's with friends and family, your doctor, or others.
Myth 2: Cancer… There are no signs or symptoms.
Truth: For many cancers, there are warning signs and symptoms and the benefits of early detection are indisputable.
Myth 3: There is nothing I can do about cancer.
Truth: There is a lot that can be done at an individual, community and policy level, and with the right strategies, a third of the most common cancers can be prevented, according to the UICC. Avoiding tobacco, maintaining a healthy body weight, eating right and getting enough exercise, and getting appropriate cancer screening tests can all make a significant difference.
Myth 4: I don't have the right to cancer care.
Truth: All people have the right to access proven and effective cancer treatments and services on equal terms, and without suffering hardship as a consequence. The American Cancer Society is committed to fighting cancer worldwide.
The latest cancer statistics from the World Health Organization's International Agency for Research on Cancer predict that if current trends continue, the global burden of new cancer cases will surge from 14.1 million in 2012 to 19.3 million by 2025.