Girl Scout Day
Girl Scout Day is celebrated on March 12th of each year in remembrance of when Girls Scouts of the United States of America was established on March 12, 1912.

The Girl Scouts of the United States of America (GSUSA) is a youth organization for girls in the United States and American girls living abroad. It was founded by Juliette Gordon Low in 1912 and was organized after Low met Robert Baden-Powell, the founder of Scouting, in 1911. Upon returning to Savannah, Georgia, she telephoned a distant cousin, saying, "I've got something for the girls of Savannah, and all of America, and all the world, and we're going to start it tonight!"

GSUSA aims to empower girls and to help teach values such as honesty, fairness, courage, compassion, character, sisterhood, confidence, and citizenship through activities including camping, community service, learning first aid, and earning badges by acquiring other practical skills. Girl Scouts' achievements are recognized through rank advancement and by various special awards such as the bronze award. Girl Scouts welcomed girls with disabilities early in their history, at a time when they were not included in most other activities.

Membership is organized according to grade with activities designed appropriately for each level. The GSUSA is a member of the World Association of Girl Guides and Girl Scouts (WAGGGS), and has an extensive history of accepting girls from any background.

In 1994, the Chronicle of Philanthropy, an industry publication, released the results of the largest study of charitable and non-profit organization popularity and credibility. The study showed that the Girl Scouts was ranked as the 8th "most popular charity/non-profit in America" of over 100 charities researched with 41% of Americans over the age of 12 choosing Love and Like A Lot for the Girl Scouts. It describes itself as "the world's preeminent organization dedicated solely to girls".
National Alfred Hitchcock Day
Alfred Hitchcock was one of the greatest movie directors of the 20th Century. He is known for the thrillers that he authored and directed. He was even knighted by the Royalty of England for his exceptional talent. Some of the noteworthy movies are: Psycho, Dial M for Murder and The Birds. During the 1950s he shifted from England to America. He became so popular in Hollywood that in America March 12th is dedicated to this great movie icon of all times.
Director, producer and screenwriter Alfred Joseph Hitchcock was born in London, England, on August 13, 1899, and was raised by strict, Catholic parents. He described his childhood as lonely and sheltered, partly due to his obesity. He once said that he was sent by his father to the local police station with a note asking the officer to lock him away for 10 minutes as punishment for behaving badly. He also remarked that his mother would force him to stand at the foot of her bed for several hours as punishment (a scene alluded to in his film Psycho). This idea of being harshly treated or wrongfully accused would later be reflected in Hitchcock's films.
Hitchcock attended the Jesuit school St. Ignatius College before going on to attend the University of London, taking art courses. He eventually obtained a job as a draftsman and advertising designer for the cable company Henley's. It was while working at Henley's that he began to write, submitting short articles for the in-house publication. From his very first piece, he employed themes of false accusations, conflicted emotions and twist endings with impressive skill. In 1920, Hitchcock entered the film industry with a full-time position at the Famous Players-Lasky Company designing title cards for silent films. Within a few years, he was working as an assistant director.
In 1925, Hitchcock directed his first film and began making the "thrillers" for which he became known the world over. His 1929 film Blackmail is said to be the first British "talkie." In the 1930s, he directed such classic suspense films as The Man Who Knew Too Much (1934) and The 39 Steps (1935).
In 1939, Hitchcock left England for Hollywood. The first film he made there, Rebecca (1940), won an Academy Award for best picture. Some of his most famous films include Psycho (1960), The Birds (1963) and Marnie (1964). His works became renowned for their depictions of violence, although many of his plots merely function as decoys meant to serve as a tool for understanding complex psychological characters. His cameo appearances in his own films, as well as his interviews, film trailers and the television program Alfred Hitchcock Presents (1962-65), made him a cultural icon.
Hitchcock directed more than 50 feature films in a career spanning six decades. He received the American Film Institute's Life Achievement Award in 1979. One year later, on April 29, 1980, Hitchcock died peacefully in his sleep in Bel Air, California. He was survived by his lifetime partner, assistant director and closest collaborator, Alma Reville, also known as "Lady Hitchcock," who died in 1982.
Well, this day, all Hitchcock lovers spend the evening paying tribute to this legend by watching their favorite Hitchcock movies. Many theaters also arrange special screenings of his movies on this day. Fans arrange private movie screenings at their homes or clubs. Those who prefer privacy will also do the same –watch their favorite Hitchcock movies, but only with their partner or all by themselves. The suspense and psychoanalytical thrillers are even today as bone chilling as they used to be. This shows the artistic excellence of this master psycho-thriller movie maker.
So, do remember this year on the 12th of March, your date with the legendary movie maker Alfred Hitchcock.
National Baked Scallops Day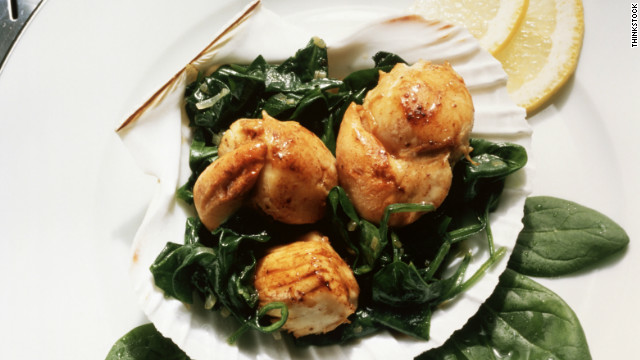 It was just a few days ago when we celebrated a seafood dish. March 9 was National Crab Meat Day. Here's another seafood to celebrate. March 12 is National Baked Scallops Day.
Scallops are a popular seafood that is loved by millions. The white and meaty scallops encased in the shell have a mild, sweet flavor and are packed with nutrients that promote health for your health.
Scallops are usually sautéed in butter, or else breaded and deep fried, but today we celebrate with baked scallops.
Scallops are high in protein, contain virtually no saturated fat and are a good source of important minerals including magnesium, phosphorus and potassium.
Scallops are also a good source of vitamin B12 - a three-ounce serving (90 grams) provides half of a day's vitamin B12 requirement that the body needs to make red blood cells and to maintain a healthy nervous system.
Here's how a 3-ounce (90 gram) serving of scallops measure up in terms of nutrition:
Calories 101
Protein 21 grams
Fat 1.3 grams
Saturated fat 0.1 grams
Cholesterol 48 milligrams
Plus, you get 50 milligrams of magnesium, 304 milligrams of phosphorus, and 1.2 micrograms of vitamin B12.
There are many ways to prepare scallops, making them incredibly versatile. If you have been accustomed to frying your scallops, try something new today. Consider baking your scallops instead with this quick and easy baked scallops recipe.
Enjoy your baked scallops today!


Plant a Flower Day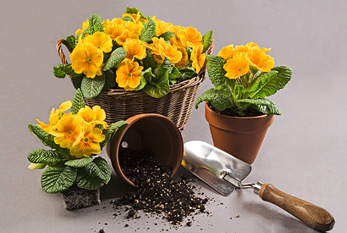 Plant a Flower Day takes place on March 12. The aim of this day is to plant flowers, e.g. in your garden. Planting is the process to place a seed or plant in soil or other substrate in order that it may live and grow.
In modern times, people have sought ways to cultivate, buy, wear, or otherwise be around flowers and blooming plants, partly because of their agreeable appearance and smell. Around the world, people use flowers for a wide range of events and functions that, cumulatively, encompass one's lifetime. People therefore grow flowers around their homes and dedicate entire parts of their living space to flower gardens.
A flower, sometimes known as a bloom or blossom, is the reproductive structure found in flowering plants (plants of the division Magnoliophyta, also called angiosperms). The biological function of a flower is to effect reproduction, usually by providing a mechanism for the union of sperm with eggs. Flowers may facilitate outcrossing (fusion of sperm and eggs from different individuals in a population) or allow selfing (fusion of sperm and egg from the same flower). Some flowers produce diaspores without fertilization (parthenocarpy). Flowers contain sporangia and are the site where gametophytes develop. Flowers give rise to fruit and seeds. Many flowers have evolved to be attractive to animals, so as to cause them to be vectors for the transfer of pollen.
In addition to facilitating the reproduction of flowering plants, flowers have long been admired and used by humans to beautify their environment, and also as objects of romance, ritual, religion, medicine and as a source of food.
World Day Against Cyber Censorship
Every year an event called World Day Against Cyber Censorship is held online. This event was organized to support a single Internet without restrictions and emphasize how governments around the world deter and censor free speech online.
World Day Against Cyber Censorship was observed for the first time in 2008, when the Reporters Without Boundaries and Amnesty International sent an observation request to the Chief Executive Officers of Yahoo!, Google, Inc., and Microsoft Corporation.
World Day Against Cyber Censorship established its own award – Netizen Prize, that is presented to all Internet users, cyber-dissidents, bloggers or a group who has made a notable contribution to the defense of online freedom of speech and expression.
Another notable feature of World Day Against Cyber Censorship is a list of the enemies of the Internet. The first list was made in 2006 and it included 13 countries, where news and information online were censored, as well as Internet users were systematically repressed.
World Kidney Day
On Thursday March 12th we are celebrating the 10th Anniversary of World Kidney Day (WKD), the most widely celebrated event focused on kidney health across the globe. WKD is jointly organized by the International Society of Nephrology (ISN) and the International Federation of Kidney Foundations (IFKF). This year's theme "Kidney Health for All" reminds us that not all of us are equal with regards to risk for kidney disease and access to treatment.
With 10% of the population worldwide having some form of kidney damage, there is a long road ahead to raise awareness about the dangers of kidney disease. Chronic Kidney Disease (CKD), which is predicted to increase by 17% over the next decade, is now recognized by WHO and other organizations as a global public health issue.
Some communities in both higher and lower income countries are at greater risk than others because of their ethnic origin, socioeconomic status and/or where they live. This has major public health implications because of the extremely high costs of renal replacement therapy. African, American Indian, Hispanic, Asian or Aboriginal populations are known to suffer from higher rates of diabetes and high blood pressure which are both leading causes for Chronic Kidney Disease (CKD). These populations are therefore at higher risk of developing severe renal disease and ultimately kidney failure. As an example, in the US, African Americans are 3 times more likely to experience kidney failure. Compared with Caucasians, African Americans have a much higher average blood pressure, develop hypertension earlier in life and have greater risks of complications such as CKD, stroke and heart disease.
In addition, there are a number of key issues and challenges in tackling Chronic Kidney Disease in vulnerable populations: poor water hygiene, lack of hydration, unhealthy choice of food and beverages, language barriers, education and literacy levels, low income, unemployment, lack of adequate health insurance, and certain culture-specific health beliefs and practices – just to name a few.
WKD Steering Committee IFKF Co-chair, Dr. Guillermo Garcia Garcia reminds us how it is like to deal with kidney disease in a country poorly equipped to address this issue: "To have end­stage renal disease in Mexico, for example, is a tragedy. If you don't have Social Security, if you don't have private insurance, you are condemned to die."
On World Kidney Day, drink a glass of water and give one too – There are many ways to show your support to the kidney cause: on March 12, 2015 we invite the whole civil society, governments, health professionals and patients to drink to their kidneys and to give a glass of water to their families, friends and co-worker. This is a both a symbolic gesture and a conversation starter to raise awareness about the risks, dangers and burden of kidney disease and how to prevent and treat it in a simple manner across the globe - hopefully making people more conscious about their lifestyle choices.
The WKD Steering Committee ISN Co-chair, Dr. Philip Li is calling on the whole kidney community and beyond to get involved in this global celebration day: "Sharing a glass of water on March 12 is a good way to remind us that kidneys are vital organs and that they should be taken care of, wherever you live and whether you're at risk or not. Taking steps to live a healthy lifestyle clearly helps to reduce risk, and early detection and treatment can slow or prevent the progression of kidney disease."
Water may protect your kidneys, however there is no scientific evidence that drinking water lowers the risk for CKD.
A Growing Global Online Campaign – We are building on last year's outstanding results to encourage our kidney community to show their support online and engage in the fight against CKD. For more information and details of events around the globe in celebration of World Kidney Day – please see www.worldkidneyday.org