Awkward Moments Day
Have you ever experienced an awkward moment you could not get out of your head? It could be that you embarrassed yourself in front of your crush, family, friends or even your boss. From walking into the wrong bathroom, getting into an "I thought you were someone else" scenario or walking in on people making out—we all know what an awkward moment is. Awkward moments can range from funny, embarrassing to utterly weird. But hey, everyone's had their share of awkward moments at some point in their lives and Awkward Moments Day is for commemorating those times and laughing together about them.

There is not a lot of information about where or when the Awkward Moments Day actually began. But what is known about it is Awkward Moments Day was to be celebrated after St. Patrick's Day

Awkward moments happen all the time, and to some folks more than others! For anyone who's ever wished the ground would open up and swallow them, Awkward Moments Day is a celebration of all awkward moments. From walking out of a public toilet with loo roll on a shoe, to realizing you've been speaking to someone everyday for a year, and don't know their name, life is full of these moments. Although there isn't much information regarding the origins of Awkward Moments Day, many people have commented on how interesting it is that Awkward Moments Day is the day after St Patrick's day! Awkward Moments Day can boast a mascot though, the awkward turtle.
So, if anything awkward happens on Awkward Moments Day, be sure to see the humor, of the situation, and have a good laugh about it, before moving on to the next one!
Forgive Mom and Dad Day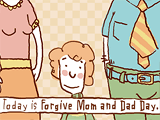 Parenting is an enormously challenging task and although some parents are better than others, none are perfect. Forgive Mom & Dad Day presents a perfect opportunity to let go of past hurts and frustrations, to let well-meaning but disappointing parents off the hook, and to find freedom from nagging resentments. Forgiving opens the door to a brighter future.
Today is a special holiday, a day many moms and dads may have looked forward to. It is the day they expect their children to forgive them for the many mistakes they have made, the harsh words they have spoken and in some cases the abuse they have dealt.
Young children are very humble. When they are corrected they don't hold a grudge. Even while they cry, they want to be held by their parents. However, as they grow older they lose that humility and begin to be resentful.
We may not want to acknowledge our role in all this as parents, but we are partly to be blamed. We are fully aware that children live what they learn. In many situations we have taught them to hold a grudge. For instance, if we rehash things they have done in the past when correcting them for something they have done, and the two incidents do not remotely have any bearings on each other, we are demonstrating to them that lack of forgiveness.
When parents after an argument or misunderstanding refuse to speak to, or be respectful or kind to one another, we are teaching that to our children. Sometimes it goes as far as refusing to meet our obligations to our family because we are upset with something our spouse did. The impact of that demonstration of lack of forgiveness cannot be under estimated.
As our children grow into young adults we are able to see in them that battle to forgive or to hold on to a grudge. They want to forgive, they just don't know how; they have not always seen it genuinely demonstrated to them.
I am not saying that this is true across the board; I am saying that in many families that's the case.
There is a need for change
Begin this process for change by first asking your children for forgiveness, especially for the wrongs done to them that have hurt them the most.
Begin the process of self-forgiveness by changing your attitude and actions towards your children. Adopt a higher code to live by and demonstrate that to your children every day. Forgiveness is embedded in a higher code of conduct. Honesty will be included in that higher code of conduct. That means you will take full responsibility for your actions instead of blaming others.
Humility is hitched to forgiveness. It takes humility to ask for forgiveness or to forgive others. A person who thinks that she is always right is not humble. Even when they are in the right, a humble person will suffer the wrong and ask for forgiveness for the sake of peace.
Once you have forgiven do not repeat the matter. Repeating a matter creates disunity and is a breeding ground for the holding of grudges.
If we demonstrate forgiveness, teaching it to our children by our example, then we will raise them to be quick to forgive.
Speak respectfully to each other
When things are not going smoothly, speak respectfully to each other. The children deserve that also, regardless of their ages. Remember that our pre-teens and teenagers want to be treated as adults. Although we may not be able to do so at all time because they sometimes act as babies, we must remember to maintain that same level of respect when correcting them.
Do not allow your emotion to block your ability to think logically. The only way you can do this is to plan ahead how you would deal with a situation. When that situation arises you would already have a plan to deal with it. Then you can go about handling the matter in a very calm and respectful manner.
There are times situations would arise that you could not have imagined, however, because you have practiced being calm and methodical in the situations you have prepared for, you will be able to use those same skills in dealing with the unexpected. That may include taking a few minutes to think before taking action.
Forgive others everyday or every minute of every day that they may or may not ask for it.
Apologize to your children for even the things you may have inadvertently done to hurt them in any way. They will mirror that behavior, making Forgive Mom and Dad Day an everyday event in your household.
Kick Butts Day
Kick Butts Day is a national day of activism that empowers youth to stand out, speak up and seize control against Big Tobacco. The next Kick Butts Day is March 18, 2015. We're expecting more than 1,000 events in schools and communities across the United States and even around the world.
On Kick Butts Day, teachers, youth leaders and health advocates organize events to:
Raise awareness of the problem of tobacco use in their state or community;
Encourage youth to reject the tobacco industry's deceptive marketing and stay tobacco-free; and
Urge elected officials to take action to protect kids from tobacco.
Kick Butts Day is organized by the Campaign for Tobacco-Free Kids. The first Kick Butts Day was held in 1996.
While Kick Butts Day is officially held on one day each year, our hope is that every day will be Kick Butts Day in the fight against tobacco. You can use our Activities Database to organize events and take a stand against tobacco on any day of the year. By making every day Kick Butts Day, we can win the fight against tobacco use, the number one cause of preventable death in the United States and around the world.
The Campaign for Tobacco-Free Kids is a leading force in the fight to reduce tobacco use and its deadly toll in the United States and around the world. Our vision: A future free of the death and disease caused by tobacco.
We work to save lives by advocating for public policies that prevent kids from smoking, help smokers quit and protect everyone from secondhand smoke. To achieve our mission, we:
Promote public policies proven to reduce tobacco use and exposure to secondhand smoke. These include higher tobacco taxes, comprehensive smoke-free laws, well-funded tobacco prevention and stop-smoking programs, and tough regulation of tobacco products and marketing.
Expose and counter tobacco industry efforts to market to children and mislead the public.
Strengthen tobacco control efforts in the United States and worldwide by providing support and information to our many partners.
Mobilize organizations and individuals to join the fight against tobacco.
Empower a tobacco-free generation by fostering youth leadership and activism.
Inform the public, policy makers and the media about tobacco's devastating consequences and the effectiveness of the policies we support.
The Campaign for Tobacco-Free Kids is a 501(c)(3) non-profit organization that accepts no government or tobacco industry funding. We rely on contributions from individuals, philanthropic foundations, corporations and other non-profit organizations.
National Agriculture Day
Every year, producers, agricultural associations, corporations, universities, government agencies and countless others across America join together to recognize the contributions of agriculture. National Agriculture Day will be celebrated on March 18, 2015.
It's a day to recognize and celebrate the abundance provided by agriculture. Every year, producers, agricultural associations, corporations, universities, government agencies and countless others across America join together to recognize the contributions of agriculture.
National National Agriculture Day falls during National Ag Week, March 15-21, 2015.
The Agriculture Council of America hosts the campaign on a national level. However, the awareness efforts in communities across America are as influential - if not more - than the broad-scale effort. Again this year, the National Agriculture Day Planning Guide has been created to help communities and organizations more effectively host National Agriculture Day events.
National Agriculture Day is about recognizing - and celebrating - the contribution of agriculture in our everyday lives. The National Agriculture Day program encourages every American to:
Understand how food and fiber products are produced.
Value the essential role of agriculture in maintaining a strong economy.
Appreciate the role agriculture plays in providing safe, abundant and affordable products.
Agriculture provides almost everything we eat, use and wear on a daily basis. But too few people truly understand this contribution. This is particularly the case in our schools, where students may only be exposed to agriculture if they enroll in related vocational training.
By building awareness, the Agriculture Council of America is encouraging young people to consider career opportunities in agriculture.
Each American farmer feeds more than 144 people ... a dramatic increase from 25 people in the 1960s. Quite simply, American agriculture is doing more - and doing it better. As the world population soars, there is an even greater demand for the food and fiber produced in the United States.
Put simply, get involved! Your participation in National Agriculture Day is critical in helping us spread this positive message about agriculture. If you are interested in planning an event, download your Planning Guide today. Of course, there are other ways you can lend your support, including sending a letter to your local newspaper, calling your Congressional representatives or simply sharing information about agriculture with youngsters in your community.
National Biodiesel Day
The national trade association representing the biodiesel industry (NBB founded in 1992) started the national biodiesel day in 2002. The date chosen for celebrating is March 18th the birth date of the diesel engines inventor.
Rudolf Diesel originally designed the diesel engine to run on peanut oil. In a 1912 speech, Diesel said "the use of vegetable oils for engine fuels may seem insignificant today, but such oils may become, in the course of time, as important as petroleum and the coal tar products of the present time." Nearly one hundred years later that sounds prophetic.
Biodiesel is widely available across South Carolina. Most diesel engines do not have a problem burning biodiesel. If you are thinking of burning a tank in celebration of Biodiesel Day, you may want to do some research.
Biodiesel offers greater lubrication for engines, but may release deposits accumulated on tank walls and pipes from previous diesel fuel storage. The release of deposits may clog filters.
Biodiesel is sold under the moniker of B20, which is a twenty percent mixture of biodegradable vegetable oils to eighty percent petroleum diesel fuel. Carbon monoxide emissions from B20 fuel are reduced by twelve percent and unburned hydrocarbons are reduced by twenty percent.
Rudolf Diesel became a millionaire from sales of the rights to his engine to a beer manufacturer, Adolphus Busch. March 17th brings a celebration with green beer. March 18th brings a celebration of green fuel. Think green one more day.
National Lacy Oatmeal Cookie Day
Celebrated annually on March 18th, it is National Oatmeal Cookie Day. This day is also known as National Lacy Oatmeal Cookie Day and is celebrated, by some, on April 30th. The difference between a regular oatmeal cookie and a lacy oatmeal cookie is the lacy oatmeal cookies are wafer-thin and typically accompany a scoop of ice cream or sorbet.
It wasn't until the early 1900′s that oatmeal became a major ingredient in the American diet. Originating in England, oatmeal cookies have been around since the 1800′s. It is believed that they were created after the oatcake. Soldiers used to carry oatcakes with them for a quick boost of energy during battle. Most research has found that the first recorded oatmeal raisin cookie recipe was written by Fannie Merritt Farmer in 1896. Considered as a "health food," the cookies quickly became popular, and by early 1900′s a recipe for the delicious treats appeared on containers of Quaker Oats. Oatmeal cookies are an excellent source of iron and fiber.
There are many different recipes for the oatmeal cookie. They can be made with a variety of oats, such as old fashioned oats, quick cooking oats, oat bran or oat flour. For a healthier cookie, there is the option to add fruits (such as raisins), nuts and sugar substitute. Chocolate chips and other candies are also a popular "add in" to oatmeal cookie recipes.
National Sloppy Joe Day
National Sloppy Joe Day is celebrated each year on March 18th.
One of America's, all-time favorite, hot sandwiches is describes as the following: "A Sloppy Joe is an American dish of ground beef, onions, sweetened tomato sauce or ketchup and other seasonings, served on a hamburger bun."
A sloppy joe is a sandwich, originating in the United States, consisting of ground beef, onions, tomato sauce or ketchup, Worcestershire sauce, and other seasonings, served on a hamburger bun. Commercially made sauces are also available.
Early 20th century American cookbooks offer plenty of sloppy-joe type recipes, though they go by different titles: Toasted Deviled Hamburgers, Chopped Meat Sandwiches, Hamburg a la Creole, Beef Mironton, and Minced Beef Spanish Style.
Marilyn Brown, Director of the Consumer Test Kitchen at H.K. Heinz in Pittsburgh, says their research at the Carnegie Library suggests that the Sloppy Joe began in a Sioux City, Iowa, cafe as a "loose meat sandwich" in 1930, the creation of a cook named Joe.
References to Sloppy Joes as sandwiches begin by the 1940s. One example is a 1944 Coshocton Tribune ad under the heading "Good Things to Eat" says "Sloppy Joes' - 10c - Originated in Cuba - You'll ask for more - The Hamburg Shop" and elsewhere on the same page, "Hap is introducing that new sandwich at The Hamburg Shop - Sloppy Joes - 10c."
The term "Sloppy Joe's" had an earlier definition of any cheap restaurant or lunch counter serving cheap food quickly, since 1940 or a type of casual clothing.