Casimir Pulaski Day is a legal holiday in Illinois, in the United States, on the first Monday of March. It celebrates the birthday of Casimir Pulaski, a Polish born soldier who contributed to the United States' independence.

Casimir Pulaski Day is included in classroom studies in some schools in Illinois. Some classes engage in historical activities related Casimir Pulaski's role in the American Revolutionary War in the late 18th century.

The day is also celebrated among Americans in other states, including Polish-American communities. Various events may include group gatherings, street parades, and public ceremonies.

Casimir Pulaski Day is a legal holiday in Illinois so some schools, libraries, banks and courts are closed.

Federal and state offices, as well as many commercial operations, usually remain open. People wishing to travel via public transport in Illinois on Casimir Pulaski Day may need to check with the local public transit authorities on possible timetable changes.

Casimir Pulaski (Kazimierz Pułaski) is known for his contributions to American independence. He was known as the "Father of American Cavalry". He was born in Warka, Poland, on March 4, 1747. His father was one of the founding members of the Confederation of Bar, which begin in 1768 and took up arms against Russia, which controlled Poland at the time. After his father's death, Casimir took over military command and his brilliance earned him an impressive reputation. However, it was not long before he was accused of being involved in a plot to kill the king and was forced into exile.

Pulaski travelled to Paris and met Benjamin Franklin, who enlisted him to help in the American Revolution in North America. He soon joined George Washington's army. His first military engagement against the British troops was at the Battle of Brandywine on September 11, 1777. After a dashing charge at Brandywine that allowed the American army to escape from the British, he was rewarded with a commission as brigadier general and the command of all American cavalry.

In 1779 Pulaski and his troops broke the British siege of Charleston, South Carolina. He was then sent to Savannah in a joint campaign with French allies. Seeing the French attack failing, Pulaski went into battle to rally the soldiers and was hit by a shot from a cannon. He died two days later (October 11, 1779) and was buried at sea. The United States Congress passed a joint resolution conferring honorary US citizenship on Pulaski in 2009, sending it to the president for approval. President Barack Obama signed the bill on November 6, 2009.
Fun Facts About Names Day
Fun Facts About Names Day is day to explore for interesting facts about names. These can be facts about your name (first or last), about a friend or family member's, or about names in general. Below are some ideas...
What does your name mean?
What famous people have shared your name?
Was your name changed when it was Americanized?
What other words or phrases can you make from your name by rearranging the letters?
Does Pigpen in the Peanuts cartoon (or other cartoon/fictional characters) have a last name?
What were the names of the dogs who lived in the White House?
This holiday is part of the Celebrate Your Name Week (CYNW) which was established in 1997 by onomatology hobbyist Jerry Hill.
Here's some fun facts to get you started:
Adolph Blaine Charles David Earl Frederick Gerald Hubert Irvin John Kenneth Lloyd Martin Nero Oliver Paul Quincy Randolph Sherman Thomas Uncas Victor William Xerxes Yancy Zeus Wolfeschlegelsteinhausenberdorft, Sr., had a name for every letter of the alphabet and—you will not be surprised to hear—holds the record for the longest name officially used by a person. He shortened his name to Mr. Wolfe Plus 585, Sr.
There are several people who have the last name "Name." So when one of them is asked, "Last name, please?" and he answers, "Name," I bet the asker says, "That's right, your name, please." And it would go round and round like that for a while...how tiresome!
Some characters have official names that you may not know. For example, did you know that the prisoner and the police officer on the Monopoly gameboard have names? They are Jake the Jailbird and Officer Edgar Mallory. Also, the dog playing piece has the name Scotty.
Names change a lot. For example, the name of the building we know as the White House used to be more boringly called the President's Palace, the President's House, or the Executive Mansion...until Theodore Roosevelt started referring to it as the White House. Also, the band we know and love as the Beatles used to be called the Quarrymen, Johnny and the Moondogs, the Moonshiners, and Long John and the Silver Beatles.
We call some countries and towns their actual names, but for others we use an English translation of the name. For example, Italy is Italia in the Italian language, and its capital city, Rome, is really Roma. One of the most interesting Italian cities is Venice—but in Venice, it's called Venezia! Okay, all of those names are pretty similar in both languages, but consider Japan: in Japanese, the nation is called Nippon or Nihon. If you have ever seen Japanese stamps or money and wondered what "Nippon" means, now you know!
Find out lots more fun name facts
here
.
NEA's Read Across America Day (Dr. Seuss's Birthday)
NEA's Read Across America is an annual reading motivation and awareness program that calls for every child in every community to celebrate reading on March 2, the birthday of beloved children's author Dr. Seuss.
NEA's Read Across America also provides NEA members, parents, caregivers, and children the resources and activities they need to keep reading on the calendar 365 days a year.
In cities and towns across the nation, teachers, teenagers, librarians, politicians, actors, athletes, parents, grandparents, and others develop NEA's Read Across America activities to bring reading excitement to children of all ages. Governors, mayors, and other elected officials recognize the role reading plays in their communities with proclamations and floor statements. Athletes and actors issue reading challenges to young readers. And teachers and principals seem to be more than happy to dye their hair green or be duct-taped to a wall if it boosts their students' reading.
The Beginning
In May 1997, a small reading task force at NEA came up with a big idea. "Let's create a day to celebrate reading," the group decided. "We hold pep rallies to get kids excited about football. We assemble to remember that Character Counts. Why don't we do something to get kids excited about reading? We'll call it 'NEA's Read Across America' and we'll celebrate it on Dr. Seuss's birthday." And so was born on March 2, 1998, the largest celebration of reading this country has ever seen.
The Purpose of Read Across America
Motivating children to read is an important factor in student achievement and creating lifelong successful readers. Research has shown that children who are motivated and spend more time reading do better in school.
National Banana Cream Pie Day
It's National Banana Cream Pie Day! People have been making pies filled with cream, pudding, and custard since the Medieval times. Similar inventions from that era include Napoleons, cream puffs, and éclairs.
Bananas are the fruit of Musa acuminata . Acuminata means long-pointed or tapering, not referring to the fruit, but to the flowers giving birth to the fruit.

Antonius Musa was the personal physician to Roman emperor Octavius Augustus, and it was he who was credited for promoting cultivation of the exotic African fruit from 63 to 14 B.C.

Portuguese sailors brought bananas to Europe from West Africa in the early fifteenth century. Its Guinean name banema, which became banana in English, was first found in print in the seventeenth century.

The original banana has been cultivated and used since ancient times, even pre-dating the cultivation of rice. While the banana thrived in Africa, its origins are said to be of East Asia and Oceania.

The banana was carried by sailors to the Canary Islands and the West Indies, finally making it to North America with Spanish missionary Friar Tomas de Berlanga.

Sweet bananas are mutants
These historical bananas were not the sweet yellow banana we know today, but the red and green cooking variety, now usually referred to as plantains to distinguish them from the sweet type.

The yellow sweet banana is a mutant strain of the cooking banana, discovered in 1836 by Jamaican Jean Francois Poujot, who found one of the banana trees on his plantation was bearing yellow fruit rather than green or red. Upon tasting the new discovery, he found it to be sweet in its raw state, without the need for cooking. He quickly began cultivating this sweet variety.

Soon they were being imported from the Caribbean to New Orleans, Boston, and New York, and were considered such an exotic treat, they were eaten on a plate using a knife and fork. Sweet bananas were all the rage at the 1876 Philadelphia Centennial Exposition, selling for a hefty ten cents each.

Traditional banana cream pie recipes call for a crust made out of graham crackers or pastry dough; a layer of sliced bananas; a custard filling made with eggs, milk, sugar, and vanilla; and a topping of whipped cream or meringue. Common embellishments include pecans or drizzles of chocolate and caramel.
Celebrate National Banana Cream Pie Day with a big slice of banana cream pie from your favorite local bakery!
Old Stuff Day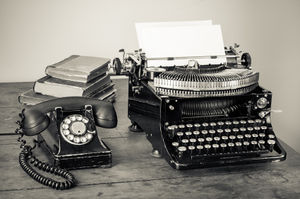 Old Stuff Day is celebrated on March 2nd of each year. What's it about? Well, it's pretty self-explanatory, really. It's about old stuff.
It's a day to be nostalgic: Find some old photographs, trinkets and toys, then share happy memories with friends and family over a coffee.
It's a day to appreciate the vintage: Visit a junk shop or antique store and find yourself something interesting, be it a gramophone, a paisley hat or an original Han Solo action figure still in its original packaging (good luck with that last one).
It's a day to declutter: Sort through all of the old stuff in your home. Do you still need it all? If there's something you can get rid of, don't just throw it in the junk; it could make a thoughtful gift, or at the very least you could help a charity store by donating it to them.
It's a day to learn: The History Channel. Wikipedia. Genealogy. Family stories. Public libraries. Books, books and more books! There's so much to discover, so best get started!
Most importantly, it's a day to reflect: We are the present, but our kids are the future, and as they grow it's our world that will be considered old. CDs and DVDs will certainly become old stuff, and perhaps printed newspapers will too, what with recent developments in glass technologies. But you never know what other everyday objects will eventually become antiquated; perhaps one day the computer will seem outdated and cumbersome as humankind connects via some kind of thought-based WiFi. It's amazing how quickly science fiction becomes reality, so let's appreciate the old stuff before we join its ranks!