Day of The Dude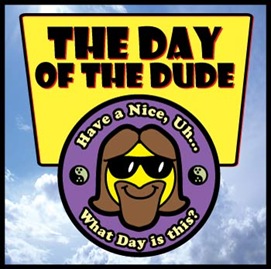 Each religion or philosophy has a special day where all believers or sympathizers unite in celebration. There can be as many religious holidays in a year as may be chosen by each congregation. As many races there are in the world, so are the religious groups or sects. One latest addition is Dudeism, a religion of taking things easy where members are called "Dudes" regardless of gender. The Day of the Dude is always celebrated worldwide on the 6 day of March each year.
Dude, referring to a person in the American English slang, also refers to believers of Dudeism. Just as Catholics and Christians celebrate Christ's birth on Christmas Day, so do Dudeism have its Day of the Dude. The first official annual sacred Dudeist holy day, the Day of the Dude, was on March 6, 2010. This is to celebrate the day that the Big Lebowski was bestowed to the world in 1998.
This special day is observed in many ways by believers of Dudeism, such as, bonfire with barbeque parties; drinking white Russians while film watching; or organizing events and have it promoted for free by The Dudespaper via center@dudeism.com. Bowling tournaments or group discussions on Dudeist philosophy is the common event organized.
Dudeism is a philosophy and lifestyle inspired by the protagonist of the Coen Brothers' 1998 film The Big Lebowski. Dudeism's stated primary objective is to promote a modern form of Chinese Taoism, outlined in Tao Te Ching by Laozi (6th century BC), blended with concepts by the Ancient Greek philosopher Epicurus (341-270 BC), and presented in a style as personified by the character of Jeffrey "The Dude" Lebowski, a fictional character portrayed by Jeff Bridges in the film. Dudeism has sometimes been regarded as a mock religion, though its founder and many adherents regard it seriously.
Donating to the group or purchasing Dudeism shirts and reading materials are also welcome. People are also encouraged to share photos and videos of their activities for the day. For a solitary private observance, bathing with candles and whale sounds are recommended. Supporters are also invited to write articles on how they spent the Day of the Dude and send it to The Dudespaper.
Dress in Blue Day
National Dress in Blue Day is celebrated each year on the first Friday of March. In 2015, the 7th Annual National Dress in Blue Day will be on Friday, March 6th. If that day doesn't work for you, don't worry! You can hold a Dress in Blue Day fundraiser or event any time in March!
Colon cancer is the third most common cancer in the United States and the second leading cause of cancer death. But it doesn't have to be this way; through screening, it is one of the most preventable diseases.
Facts*:
Approximately 140,000 Americans are diagnosed with colon cancer every year
Colon cancer often has no symptoms until it's at an advanced stage
You can reduce your risk through regular screenings
Beginning at age 50 (or earlier if you are high risk), everyone should talk to a doctor about getting a screening test for colon cancer
There are currently more than one million colon cancer survivors in the United States
The Colon Cancer Alliance first launched the National Dress in Blue Day program in 2009 to bring national attention to colon cancer and to celebrate the courage of those affected by this disease. Today, individuals, businesses and community groups across the country participate in National Dress in Blue Day by wearing blue and encouraging others to do the same. By "going blue," we hope to raise public awareness and educate people on the facts about colon cancer and how they can reduce their risk of the disease. Get involved!
The Colon Cancer Alliance was created in 1999 out of the need to promote public awareness about colon cancer and provide support for those affected by the disease. We've now grown to become the leading colon cancer patient advocacy group in the country. Our vision is for a world free of colon cancer where education, early detection and treatment lead to survivorship for all. With that vision in front of us, we're working tirelessly to knock colon cancer out of the top three cancer killers. We are doing this by championing prevention, funding cutting-edge research and providing the highest quality patient support services.
It all began with Anita Mitchell, a stage IV colon cancer survivor who had lost a close friend and her father to the disease. Ms. Mitchell saw a need to bring greater awareness to a cancer not many people wanted to discuss. What started in her child's classroom in 2006 is now a nationally-recognized event where individuals across the country unite to celebrate and honor those who have battled this disease and work to knock it out of the top three cancer killers for good. Learn more about how it got started.
Similar to breast cancer's pink ribbon, the nationally-recognized blue star represents the eternal memory of the people whose lives have been lost to the disease and the shining hope for a future free of colon cancer.
Employee Appreciation Day
Bosses across the United States have the chance to support, thank and reward workers on Employee Appreciation Day on the first Friday in March.
Employee Appreciation Day is a non-official day and there's no real authority on what needs to be done, but if you're a boss and want to show your team just how much you appreciate them, you could try out some of these ideas:
Treat your staff to breakfast, lunch or snacks.
Host an office party or an after-work get-together for your staff.
Give workers some of the day off.
Organize an outdoor team building exercise, like a tug-of-war or an fun office quiz.
Take fun pictures and post them on the company social media pages to show the world just how much you care!
Businesses carry on as usual on Employee Appreciation Day. It is an observance in the US, but not a public holiday.
Known in the US as the "Guru of Thank You", Dr. Bob Nelson, a founding member of the Recognition Professionals International (RPI) (previously NAER- National Association for Employee Recognition), had the honor of kick starting the first Employee Appreciation Day in 1995.
Training new staff is costly, and employers use all manners of techniques to boost worker morale and help retain employees and their valuable expertise. Employee Recognition is a large industry in its own right, and there are university studies dedicated to organizational behavior all over the world.
Middle Name Pride Day
Whether it be Horton, Eunice, or that special family name that's been passed down for the last five generations, your middle name is part of defining who you are, and where you fit in your own family. Celebrate your middle name in all its guts, glory and finery on Middle Name Pride Day!
It may embarrass you, it may describe your personality in some way, or it may be something you actually like and appreciate. Whatever your middle name is, today is the day for you to write it down, share it with someone, or shout it out with pride. After all, your full name is part of who you are – and your middle name was chosen by your parents or loved ones as a way to link your whole name together. It is special, no matter how cringy, and deserves its place in the limelight!
Holiday founded by Jerry Hill, who established this day so people won't feel ashamed of their middle name and embrace it.
"It just seemed that people can tend to hide a middle name. They might do so for any number of reasons. What MNPD represents is a chance to let a person's middle name receive the recognition that its giver most likely intended for it." –Jerry Hill
How to celebrate: Don't know why you were given the middle name that you have? Today would be the perfect day to find out. Take pride and reveal your middle name to at least three people who don't know what your middle name is. Also, call others by their middle name today. If you don't have a middle name, ask why.
Remember, your middle was the one chosen most carefully because it has to match your first and last. Your middle name might also mean more than your first; your parents might have wanted to name you after a special relative, for example, but did not want it to be the main one so they just sneaked it in there. It makes you stand out more than your first name, be proud of it!
National Day of Unplugging
Do you have multiple cell phones? Take your ipad to the beach on vacation? Ever find it hard to get through a conversation without posting an update to Facebook? Is your computer always on?
We increasingly miss out on the important moments of our lives as we pass the hours with our noses buried in our iPhones and BlackBerry's, chronicling our every move through Facebook and Twitter and shielding ourselves from the outside world with the bubble of "silence" that our earphones create.
If you recognize that in yourself – or your friends, families or colleagues— join us for the National Day of Unplugging, sign the Unplug pledge and start living a different life: connect with the people in your street, neighborhood and city, have an uninterrupted meal or read a book to your child.
The National Day of Unplugging is a 24 hour period – running from sundown to sundown – and starts on the first Friday in March. The project is an outgrowth of The Sabbath Manifesto, an adaption of our ancestors' ritual of carving out one day per week to unwind, unplug, relax, reflect, get outdoors, and connect with loved ones.
The National Day of Unplugging is a project of Reboot. Reboot affirms the value of Jewish traditions and creates new ways for people to make them their own. Inspired by Jewish ritual and embracing the arts, humor, food, philosophy, and social justice, we produce creative projects that spark the interest of young Jews and the larger community. Among our productions are events, exhibitions, recordings, books, films, DIY activity toolkits, and apps. Since our inception, 480 network members, 700 community organization partners, and hundreds of thousands of people have looked to Reboot to rekindle connections and re-imagine Jewish lives full of meaning, creativity, and joy.
National Dentist's Day
National Dentist's Day is celebrated on March 6. Dentists aren't the most popular people, but they helps you to keep your teeth healthy - you can thank them for their work today! A dentist, also known as a 'dental surgeon', is a healthcare practitioner that specializes in the diagnosis, prevention, and treatment of diseases and conditions of the oral cavity.
By nature of their general training, a licensed dentist can carry out most dental treatments such as restorative, orthodontics, prosthetic, endodontic therapy, periodontal therapy, and extraction of teeth, as well as performing examinations, taking x-rays and diagnosis. Additionally, dentists are allowed to engage in oral surgery when performing invasive procedures such as dental implant placement.
Dentists can also prescribe medications such as antibiotics, fluorides, pain killers, local anesthetics, sedatives/hypnotics and any other medication that serve in the treatment of the various conditions that arise in the head and neck. All dentists in the U.S. must graduate from high school and complete required courses such as general biology, general chemistry, organic chemistry, physics, and statistics/calculus.
Dentistry is important in helping us maintain good oral health. Brushing our teeth, flossing each day, and seeing our dentist for maintenance check-ups and treatment are ways we care for our teeth and gums. Our teeth are very important to us. They are the first step in good digestion since they perform the critical step in breaking down food so we can swallow it and so the rest of digestion goes more smoothly. Dentists act as our partners in achieving excellent oral health.
While I was growing up, my mom and dad encouraged me to brush my teeth every day and took me in for regular dental check-ups. I taught good oral hygiene to my children. When they were very young I made their initial appointment and trip to the dentist a field trip to just simply go in and meet the dentist, sit in the chair, have their teeth counted, and get familiar with the tools. The dentist told them about the process. He did a wonderful job familiarizing my children with visiting a dentist. When it was time for their very first real check-up neither of them were afraid.
National Dentist Day can be a reminder to make an appointment with the dentist. Some people are afraid to go to the dentist. Some people have taken the firm stance that they hate the dentist. But fear of and hate for the dentist is not going to fight cavities or gingivitis. Those things are best fought with a dentist's help.
Some people have full blown dentist phobia. Those with a phobia of the dentist usually go through the entire scenario in their minds and predict the worst process and outcomes before they have even made an appointment. One of the first steps that can be taken is to think more realistically about a visit to the dentist. Even if you have had painful experiences in the dentist's office, realistically, not all visits will be very painful if you follow a maintenance plan to keep your teeth and gums healthy.
Overcoming your fear of the dentist is important. A support person, a friend or family member that is not afraid of the dentist, can be a valuable tool in working through the fear of going to the dentist. If your dentist knows you have a phobia he or she will likely be willing to spread needed dental work out over a span of a few appointments instead of having all work done at once.
Sometimes taking small steps can be advantageous in overcoming this fear. You can watch educational videos about dentistry to become more familiar with the ins and outs of dentistry. This knowledge may help you to view the process in a more logical and reasonable way.
Another small step to take in your efforts to overcome the phobia is to tell your dentist of your fear and arrange to just sit in the waiting room once in a while or sit in a dentist's chair for a while. The longer you can sit in these locations, the more benefit you will get from the exposure. In performing these actions, you are exposing yourself to the environment, and the goal, over time, is to form a new impression in your mind about the dentist. Some dentists specialize in treating people who are fearful of the dentist. It is important for you to feel comfortable with your dentist.
If your fear is great, consider finding a therapist who can help you develop coping skills. Relaxation techniques can be learned to assist you when you are feeling distressed about a visit to the dentist. Remember that the dentist is not your enemy; your negative interpretation of the dentist is your enemy. That is not to say that all your negative perceptions about the dentist are unfounded. You may very well have had some very nasty experiences in a dentist's chair. Identifying the ideas that cause you anxiety can help you reformulate how you will think about the situation.
Dentists act as our partners in achieving excellent oral health. On this National Dentist Day, remember to make an appointment with your dentist. If you have a phobia of the dentist, take strides to overcome that fear and establish a working relationship with your dentist so you can have healthy teeth and gums and have a smile you can be proud of.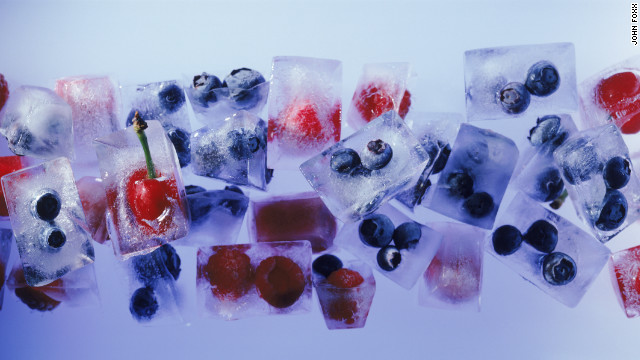 Ice, ice baby! March 6 is National Frozen Food Day.
We're not just talking about the pre-packaged meal you pop in the microwave when you're too tired to cook, we're talking about the four or five or six cases of the freezer section in your grocery store.
Since humans realized that keeping food cold kept it edible longer, the race was on to find the coldest form of food storage possible. Even though the first domestic refrigerator was invented in 1834, freezers were slower to catch on. It wasn't until the mid-20th century that people started keeping both a refrigerator and a freezer in their homes.
The technique for flash freezing food was invented by Clarence Birdseye (you probably recognize his last name from some of the frozen vegetables at the grocery store). In 1924, Birdseye was, of all things, working as a fur trader in Canada. He noticed that when local Inuit caught fish, it froze almost immediately but was still delicious when thawed out months later. He recognized that freezing food quickly meant its taste and texture could be preserved.
The science is relatively simple; slowly freezing food causes large ice crystals to form within the food. These crystals wreak havoc on the food's cells, bursting them open. When thawed, slowly frozen food is mushy, dry and lacked texture. But, flash – or blast – freezing means smaller ice crystals and less cell disruption.
Some people snub their noses at frozen food, and yes, the fresh option is generally better. But, consider this: Some fresh food needs to travel to its final destination over a period of days, so the food is picked right before it's ripe. That means it can't ripen any more once it's been picked, so it's hard to find fresh food that's at its peak ripeness. Frozen food, on the other hand, can be picked at optimal ripeness and then flash frozen on sight before traveling to its final destination.
National Oreo Cookie Day
Most of us have grown up with Oreo cookies. There are photos of us with chocolaty remnants smeared across our faces. They've caused great disputes as to the best way to eat them - dunking them in milk or twisting off one side and eating the middle first. Besides eating them plain, there are recipes galore on how to use Oreos in cakes, milkshakes, and additional desserts. Oreos had become part of twentieth century culture.
Though most of us have spent a lifetime cherishing Oreo cookies, did you know that since their introduction in 1912, the Oreo cookie has become the best selling cookie in the U.S.?
Oreos Are Introduced
In 1898, several baking companies merged to form the National Biscuit Company (NaBisCo), the maker of Oreo cookies. By 1902, Nabisco created Barnum's Animal cookies and made them famous by selling them in a little box designed like a cage with a string attached (to hang on Christmas trees).
In 1912, Nabisco had a new idea for a cookie - two chocolate disks with a creme filling in between. The first Oreo cookie looked very similar to the Oreo cookie of today, with only a slight difference in the design on the chocolate disks.
The shape and design of the Oreo cookie didn't change much until Nabisco began selling various versions of the cookie. In 1975, Nabisco released their DOUBLE STUF Oreos. Nabisco continued to create variations:
1987 -- Fudge covered Oreos introduced
1991 -- Halloween Oreos introduced
1995 -- Christmas Oreos introduced
2015 -- Red Velvet Oreos introduced
The Mysterious Name
So how did the Oreo get its name? The people at Nabisco aren't quite sure. Some believe that the cookie's name was taken from the French word for gold, "or" (the main color on early Oreo packages). Others claim the name stemmed from the shape of a hill-shaped test version; thus naming the cookie in Greek for mountain, "oreo." Still others believe the name is a combination of taking the "re" from "cream" and placing it between the two "o"s in "chocolate" - making "o-re-o." And still others believe that the cookie was named Oreo because it was short and easy to pronounce.
No matter how it got named, over 362 billion Oreo cookies have been sold since it was first introduced in 1912, making it the best selling cookie of the 20th century.
National White Chocolate Cheesecake Day
Today is National White Chocolate Cheesecake Day! What can make cheesecake even better? Making it from chocolate, of course! There's no better dish to dedicate a day to celebrating – especially if that involves eating it. Whoever decided to start White Chocolate Cheesecake Day must have been a big fan of this tasty dessert.
Cheesecake is a beloved dessert around the world. While many assume that it has its origins in New York, it actually dates back much further. Let's go back over 4,000 years to ancient Greece! Sit back, grab a creamy slice of cheesecake and learn all about this dessert's rich history.
Cheesecake Travels the Globe

The first "cheese cake" may have been created on the Greek island of Samos. Physical anthropologists excavated cheese molds there which were dated circa 2,000 B.C. Cheese and cheese products had most likely been around for thousands of years before this, but earlier than this goes into prehistory (that period in human history before the invention of writing) so we will never really know. In Greece, cheesecake was considered to be a good source of energy, and there is evidence that it was served to athletes during the first Olympic games in 776 B.C. Greek brides and grooms were also known to use cheesecake as a wedding cake. The simple ingredients of flour, wheat, honey and cheese were formed into a cake and baked – a far cry from the more complicated recipes available today!

The writer Athenaeus is credited for writing the first Greek cheesecake recipe in 230 A.D. (By this time, the Greeks had been serving cheesecake for over 2,000 years but this is the oldest known surviving Greek recipe!) It was also pretty basic - pound the cheese until it is smooth and pasty - mix the pounded cheese in a brass pan with honey and spring wheat flour - heat the cheese cake "in one mass" - allow to cool then serve.

When the Romans conquered Greece, the cheesecake recipe was just one spoil of war. They modified it including crushed cheese and eggs. These ingredients were baked under a hot brick and it was served warm. Occasionally, the Romans would put the cheese filling in a pastry. The Romans called their cheese cake "libuma" and they served it on special occasions. Marcus Cato, a Roman politician in the first century B.C., is credited as recording the oldest known Roman cheesecake recipe.

As the Romans expanded their empire, they brought cheesecake recipes to the Europeans. Great Britain and Eastern Europe began experimenting with ways to put their own unique spin on cheesecake. In each country of Europe, the recipes started taking on different cultural shapes, using ingredients native to each region. In 1545, the first cookbook was printed. It described the cheesecake as a flour-based sweet food. Even Henry VIII's chef did his part to shape the cheesecake recipe. Apparently, his chef cut up cheese into very small pieces and soaked those pieces in milk for three hours. Then, he strained the mixture and added eggs, butter and sugar.

It was not until the 18th century, however, that cheesecake would start to look like something we recognize in the United States today. Around this time, Europeans began to use beaten eggs instead of yeast to make their breads and cakes rise. Removing the overpowering yeast flavor made cheesecake taste more like a dessert treat. When Europeans immigrated to America, some brought their cheesecake recipes along.
Adding Signature Ingredient

Cream cheese was an American addition to the cake, and it has since become a staple ingredient in the United States. In 1872, a New York dairy farmer was attempting to replicate the French cheese Neufchatel. Instead, he accidentally discovered a process which resulted in the creation of cream cheese. Three years later, cream cheese was packaged in foil and distributed to local stores under the Philadelphia Cream Cheese brand. The Philadelphia Cream Cheese brand was purchased in 1903 by the Phoenix Cheese Company, and then it was purchased in 1928 by the Kraft Cheese Company. Kraft continues to make this very same delicious Philadelphia Cream Cheese that we are all familiar with today.
New York Style Cheesecake

Of course, no story of cheesecake is complete without delving into the origins of the New York style cheesecake. The Classic New York style cheesecake is served with just the cake – no fruit, chocolate or caramel is served on the top or on the side. This famously smooth-tasting cake gets its signature flavor from extra egg yolks in the cream cheese cake mix.

By the 1900s, New Yorkers were in love with this dessert. Virtually every restaurant had its own version of cheesecake on their menu. New Yorkers have vied for bragging rights for having the original recipe ever since. Even though he is best known for his signature sandwiches, Arnold Reuben (1883-1970) is generally credited for creating the New York Style cheesecake. Reuben was born in Germany and he came to America when he was young. The story goes that Reuben was invited to a dinner party where the hostess served a cheese pie. Allegedly, he was so intrigued by this dish that he experimented with the recipe until he came up with the beloved NY Style cheesecake.
To celebrate National White Chocolate Cheesecake Day, bake a delicious white chocolate cheesecake or pick one up from your local bakery!