ASPCA Day
On April 10, 1866, the American Society for the Prevention of Cruelty to Animals (ASPCA) is founded in New York City by philanthropist and diplomat Henry Bergh, 54.
In 1863, Bergh had been appointed by President Abraham Lincoln to a diplomatic post at the Russian court of Czar Alexander II. It was there that he was horrified to witness work horses beaten by their peasant drivers. En route back to America, a June 1865 visit to the Royal Society for the Prevention of Cruelty to Animals in London awakened his determination to secure a charter not only to incorporate the ASPCA but to exercise the power to arrest and prosecute violators of the law.
Back in New York, Bergh pleaded on behalf of "these mute servants of mankind" at a February 8, 1866, meeting at Clinton Hall. He argued that protecting animals was an issue that crossed party lines and class boundaries. "This is a matter purely of conscience; it has no perplexing side issues," he said. "It is a moral question in all its aspects." The speech prompted a number of dignitaries to sign his "Declaration of the Rights of Animals."
Bergh's impassioned accounts of the horrors inflicted on animals convinced the New York State legislature to pass the charter incorporating the ASPCA on April 10, 1866. Nine days later, the first effective anti-cruelty law in the United States was passed, allowing the ASPCA to investigate complaints of animal cruelty and to make arrests.
Bergh was a hands-on reformer, becoming a familiar sight on the streets and in the courtrooms of New York. He regularly inspected slaughter houses, worked with police to close down dog- and rat-fighting pits and lectured in schools and to adult societies. In 1867, the ASPCA established and operated the nation's first ambulance for horses.
As the pioneer and innovator of the humane movement, the ASPCA quickly became the model for more than 25 other humane organizations in the United States and Canada. And by the time Bergh died in 1888, 37 of the 38 states in the Union had passed anti-cruelty laws.
Bergh's dramatic street rescues of mistreated horses and livestock served as a model for those trying to protect abused children. After Mary Ellen McCormack, 9, was found tied to a bed and brutally beaten by her foster parents in 1874, activists founded the New York Society for the Prevention of Cruelty to Children. Bergh served as one of the group's first vice presidents.
Golfer's Day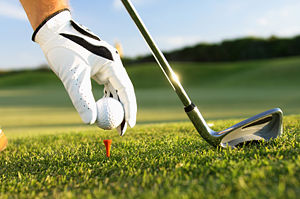 If you've had a "rough" day or are tired of puttering around the house - get a "grip." There's no need to get "teed" off today. April 10 is Golfer's Day.
This annual "holiday", also referred to as Golf Day, is dedicated to those who love the sport of golf. Rodman Wanamaker, along with charter members, founded the Professional Golfers Association of America (PGA) on this day back in 1916.
Some people believe that the word "golf" is derived from the phrase "gentlemen only, ladies forbidden." However, very few words commonly used in the English language today gained their origins from acronyms. Other possibilities include the Dutch word "kolf," a kind of stick or club, or "goulf," a Scottish word meaning "to strike or cuff."

No matter what the origin of the word, the game we currently recognize as golf originated in Scotland, somewhere in the 14th century. The earliest recorded use of the term in reference to the game was a ban enacted by King James II in 1457, who thought that young men spent too much time golfing, and not enough time practicing archery! The earliest golf club (building, not stick) was established in 1552, after the ban was lifted in 1502. J.R.R Tolkein, author of the Lord of the Rings books, had a different opinion. According to him, the game was invented when a hobbit used a club to knock the head off of the goblin Golfimbul, which sailed through the air and landed in a hole!

On Golfer's Day we celebrate, not the game itself, but the men and women who play it, even the lowliest duffer who shanks their ball all the way into the jungle. Clearly the best way to celebrate is to hit the links yourself, but that may not always be an option for you. Perhaps you do not live near one of the approximately 31,000-32,000 golf courses in the world.

Or maybe you just don't enjoy the full-sized game yourself? Fear not! For you, there is the game of miniature golf! That game was created in 1916 when the first minigolf course was built in Pinehurst, North Carolina. While it lacks the long distance shots and wide, grassy fields, minigolf has unique challenges and features all its own, such as complicated bank shots and ramps. It even has its own international regulatory body, The World Minigolf Sport Federation (WMF).

So, you want to enjoy playing golf without leaving your home? That's fine too. The history of golf in video games goes all the way back to 1979 when Magnavox released a game simply called "Golf" for their Magnavox Odyssey2 console. Since then, there have been over eighty different versions of the sport to pp up on computers and gaming systems. Video game golfers have included everyone from Tiger Woods to the characters from Adult Swim's Aqua Teen Hunger Force.

For the more inventive celebrant, there is the option of another sort of "game." Walk up behind friends or co workers and pretend to narrate their actions as if you were a golf announcer. Go online and learn some golf slang and try to work it into everyday conversations. Do you best Bob Hope impression and carry a club around with you all day. Or, at least work on your imaginary golf swing.

If you are still looking for something to do, why not kick back and drink an Arnold Palmer, a drink made of half lemonade and half iced tea made famous by the golfer of the same name. The best time to do this is while sitting down to watch a golf movie. There are dozens to choose from, from comedies like the classic Caddyshack or Happy Gilmore, to more dramatic films like Tin Cup or The Legend of Bagger Vance.

As the day comes to a close and you watch your balls sailing over water hazards and past bunkers, pause to reflect on the day. Golf may not be a team sport, but it is best enjoyed with friends and family. In the end, enjoying Golfer's Day is a good excuse to get together with the people you care about and spend time enjoying one another's company. Turn to your loved ones and say, "Hey, you can be my caddy any day." Then softly clap as the sun slowly dips below the horizon.
Regardless of how young or old you happen to be or whether you consider yourself a novice or pro, today is the perfect day to get out on the course, play a round or two and take your best swing.
International Safety Pin Day
10 April is International Safety Pin Day.
Apparently the inventor of the Safety Pin, Walter Hunt, was never short on clever ideas – he invented a flax spinning machine, a fire engine gong, a forest saw and a coal-burning stove, among others. But as good as he was with coming up with clever new inventions, finances probably wasn't his strong suit.
Consider the safety pin, for example…
Legend has it that, faced with a $15 debt to a friend, Hunt figured the best way to get the money was to invent something new. So, armed with a piece of sharpened brass wire which he coiled in the middle and equipped with a clasp at the end to hold and shield the sharp edge, he created the first safety pin. He patented the concept on 10 April 1849, sold it to W. R. Grace and Company for $400, paid his friend the $15 he owed, and was left with the rather attractive sum of $385 for his efforts. Not too shabby! Sadly for Hunt the story didn't end there. The new owners of the safety pin patent ran with the concept and is said to have made millions from the invention. I can imagine this must have left Hunt with a rather sour taste in the mouth, but then again, he may not have noticed, most likely being kept busy working on some other new inventions already.
To this day, Walter Hunt's safety pins remains one of those super-useful things to have around in the house, the car and anywhere you may ever have a need for a fastener or a pin. The safety clasp means you won't hurt yourself feeling around for it in a cupboard or the car's cubbyhole, and beyond its function as a 'normal' pin, it's great for holding together torn or damaged clothing, or any variety of other things that need holding together.
And of course, if you're that way inclined, you can even use it as a piece of emergency jewelry!
National Cinnamon Crescent Day
National Cinnamon Crescent Day is celebrated on April 10 every year in the United States of America. Cinnamon crescent rolls are essentially cinnamon rolls that are made using crescent roll dough (which may either be bought or made at home) filled with cinnamon, sugar, butter and sometimes raisins. They may also be frosted if desired.
The history of cinnamon dates back to ancient times, and it was used by ancient Egyptians as part of the mummy embalming process. Cinnamon has been used as a medicine to treat throat maladies, and was also used to preserve meats. In modern times, cinnamon is primarily grown in tropical areas such as South America and the West Indies.
There is little documentation available for National Cinnamon Crescent Day. The holiday may have been started by a company that makes crescent roll dough or cinnamon, or could possibly be the work of a group or individual that adores this food. Such food holidays are sometimes proclaimed by government officials at the state, federal or local level.
Any celebrations for National Cinnamon Crescent Roll Day are likely to be local and not widespread. Food companies may use the opportunity to promote their products, and thus there may be advertisements about the day. Those who wish to celebrate at home can make a batch of cinnamon crescent rolls for friend and family.
National Farm Animals Day
Old MacDonald would love this holiday! April 10th is National Farm Animals Day, an annual event that helps shine the spotlight on the plight of slaughter animals.
This special day also helps find homes for abused, neglected and/or abandoned farm animals and also brings attention to the many benefits of a compassionate, meat-free diet. The annual holiday is the brainchild of animal lover, vegetarian and Celebrity Pet Lifestyle Expert, Colleen Paige, who also founded National Puppy Day.
While many people enjoy a great burger or steak out on the barby, many people don't know or just don't want to think about the cruel horrors many farm animals endure. Sadly, many farm animals are raised in inhumane and downright disgusting conditions and suffer their entire lives only to end up on the dinner plate. This important holiday brings attention to the unnecessary suffering these amazing creatures endure.
The Farm Sanctuary is a vital non-profit organization that has played a role in hundreds of animal rescues throughout its 25 year history. The organization also has a Volunteer Program if you'd like to help. Please consider making a small donation to this wonderful organization that helps defend and rescue farm animals in need.
Vegetarian 'Fair'
There are many health benefits of a meat-free diet. Vegetarians usually have lower cholesterol, lower BMI, lower risk of Type 2 diabetes and certain types of cancer, and a longer life expectancy – about 7 years. Plus you'll save money at the grocery store too. Switching to a vegetarian diet is not only good for you, it's good for the millions of farm animals that are slaughtered each and every day and the environment as well. The Mayo Clinic has some good tips on how to get the best nutrition when you are on a vegetarian diet.
If you have considered switching to a meat-free diet, today is the perfect time to give it a go. With so many people switching to a vegetarian lifestyle, finding delicious meat-free recipes and fabulous meals is easy peasy. Please visit Veg for Life for more information. And speaking of veggie recipes, Vegetarian Times is touted as having the largest collection of vegetarian recipes in the world!
National Sibling Day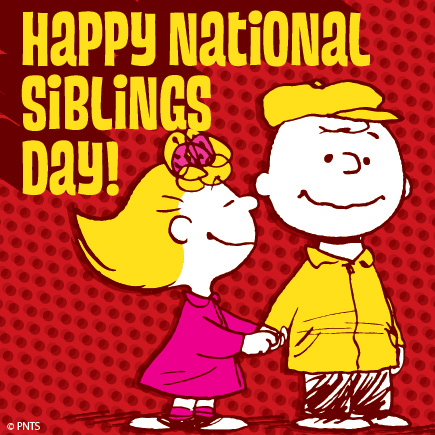 National Siblings Day is an American celebration held annually on April 10 to honor the relationships of siblings. It is not federally recognized, unlike Mother's Day and Father's Day, although this is the stated goal of the National Siblings Day Foundation. Since 1998, the governors of 45 states have officially issued proclamations to recognize National Siblings Day in their state.
It's a day of celebration and recognition for brothers and sisters. Siblings Day can be celebrated by sending a card or gift or making a dinner invitation to your siblings. The day was established by Claudia Evart after losing both of her siblings early in life. She has chosen April 10, the birthday of her late sister, Lisette.

A sibling is one of two or more individuals having one or both parents in common. A male sibling is called a brother, and a female sibling is called a sister. In most societies throughout the world, siblings usually grow up together, facilitating the development of strong emotional bonds such as love, hostility or thoughtfulness. The emotional bond between siblings is often complicated and is influenced by factors such as parental treatment, birth order, personality, and personal experiences outside the family.