12th April each year is observed as Big Wind Day- the day when the highest wind speed ever was recorded at 231 miles per hour by the staff of Mount Washington Observatory. Americans declared it as a National Holiday since then.
We can celebrate this day by planning a holiday with family and friends, go for a picnic along the beach side or a park to enjoy the wind.
April 12, 1934 was a historical day for New Hampshire because this was the day when three weather surveyors of Mount Washington Observatory recorded the natural wind velocity of 231 miles per hour.
Sources say that in 1996, Australia recorded a non-tornadic wind of speed 408 km/h but perhaps we believe April 12 to be a historical day for all of us.
To celebrate this day, we can organize a small party including activities like story-telling to kids, asking kids to make a drawing or a documentary of the Big Wind Day, play games or plan a act on this historical incident.
Drop Everything and Read Day (D.E.A.R.)
D.E.A.R. stands for "Drop Everything and Read," a national month-long celebration of reading designed to remind folks of all ages to make reading a priority activity in their lives. Because, what's more fun(damental) than reading, really?
D.E.A.R. programs have been held nationwide on April 12th in honor of Beverly Cleary's birthday, since she first wrote about D.E.A.R. in Ramona Quimby, Age 8 (pages 40-41). Inspired by letters from readers sharing their enthusiasm for the D.E.A.R. activities implemented in their schools, Mrs. Cleary decided to give the same experience to Ramona and her classmates. As D.E.A.R. has grown in popularity and scope, the program has expanded to span the entire month of April . . . offering classrooms and communities additional time to celebrate!
Yes, of course! We encourage you to "Drop Everything and Read" every day throughout the year. The goal of the program is to prompt people to make reading a regular part of their routine . . . whether they're reading solo or together with their classmates, parents, or friends. So, go ahead and join the millions of families, schools, bookstores, and communities who have participated throughout the years and pledge to "drop" what you're doing in order to read a good book.
As an organization, library, school, or bookstore, you can participate by hosting a "Drop Everything and Read" event at your location (or elsewhere) during the month of April. As an individual, you can participate by attending an event in your community or by reading at home with your children, siblings, or friends.
Global Day of Action on Military Spending
Global Day of Action on Military Spending (GDAMS) takes place every year in mid-April. The day was originally proposed by the International Peace Bureau (IPB) and the Institute for Policy Studies (IPS) with the aim of promoting a common awareness of the huge amounts of money spent on military. military expenses reach about $1.700 billion each year. On GDAMS groups around the world advocate a shift of budget priorities and promote spending this amount of money on human development.
Whole libraries have been written about the use of weapons in armed conflict. Far less has been said about their effects on sustainable development, which is crucial from a human security perspective.
The IPB contrasts the high levels of military spending (estimated by the Stockholm International Peace Research Institute in 2011 as being US $1.738 billions at worldwide level) against, for instance, the failure to fulfill the pledges of the Millennium Development Goals suggesting that, in general: "Research on the causes of violent conflicts shows a myriad of factors, but does not indicate that building bigger armies is the key to keeping a county safe from warfare. In fact, funds spent on weapons may drain resources from social, political, and economic development that may address root causes of conflict." The amount of money spent on the defense sector equals $4.7 billion a day or $249 per person. According to the World Bank and the Office of Disarmament Affairs (ODA), only about 5% of this amount would be needed each year to achieve the Millennium Development Goals by 2015.
The negative effects of high militarization include not just the direct ones of money and resources being spent on weapons systems instead of being used for human development but also the associated costs of negative health consequences of research, development, testing and even the safe decommissioning of such weapons, especially nuclear, biological and chemical ones.
As is obvious, the greater the military expenditure, the less there is left to spend on other aspects, both at communal but also at individual level, such as building and maintaining infrastructure, education and health.
In the words of Dwight D. Eisenhower: "Every gun that is made, every warship launched, every rocket fired signifies, in the final sense, a theft from those who hunger and are not fed".
International Day for Street Children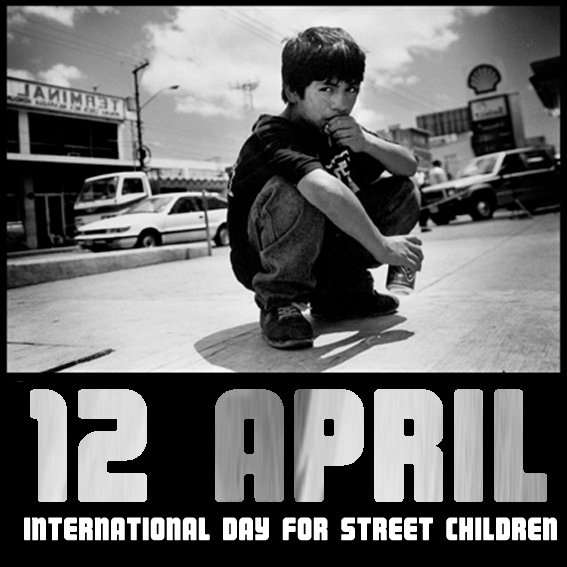 This year, the fourth International Day for Street Children will take place on 12th April, providing a platform for millions of street children around the world to speak out so that their rights cannot be ignored.
The Consortium for Street Children (CSC) launched International Day for Street Children in 2011, with help from its global corporate partner Aviva, to ensure that millions of street children around the globe have their voices heard. Every year since then support has grown, and the day is now celebrated in over 130 countries by street children and their champions.
Celebrated by street children, NGOs, celebrities, policy makers, businesses and individuals around the world, the Day now has high profile supporters including Steven Gerrard, Danny Boyle, John Major and Bianca Jagger.
"If the whole world was listening, what would you say?"
This is the question CSC is asking street children all around the world ahead of this year's International Day for Street Children, giving them the platform to speak out about the issues that affect them.
In the run up to 12th April, CSC will be sharing their answers on their Twitter account @streetchildren with the dedicated hashtag #TweetForTheStreet.
Join the campaign today by using #TweetForTheStreet so the voices of street children can be heard to raise awareness and challenge misconceptions about street children.
CSC, with the involvement of major sponsors Aviva and HSBC, is working towards official UN recognition of International Day for Street Children.
If it becomes an official UN Day – like World Water Day or World AIDS Day – then vital pressure will be placed on governments around the world to recognise and support street children. It will mean street children will finally get the help and attention they deserve.
So far, over 6,000 people have shown their support for the International Day for Street Children by signing the petition here.
Join us in spreading the word so that these children will be impossible to ignore.
International Day of Human Space Flight
The United Nations (UN) celebrates the International Day of Human Space Flight on April 12 each year. The day remembers the first human space flight on April 12, 1961.
The International Day of Human Space Flight celebrates the start of the space era for humankind, reaffirming the important contribution of space science and technology in today's world. The day also aims to promote aspirations to explore and maintain outer space for peaceful purposes.
Activities to promote the day have included photo exhibitions, conferences showcasing technology used for outer space, and the release of commemorative stamps.
April 12, 1961, was the date of the first human space flight, carried out by Yuri Gagarin. This historic event opened the way for space exploration. In 2011 the UN declared April 12 as the "International Day of Human Space Flight" to remember the first human space flight and to promote the exploration and use of outer space for peaceful purposes and to the benefit of humankind.
Commemorative stamps depicting human space flight have been released on or around the International Day of Human Space Flight in the past. A statue of Yuri Gagarin, the world's first cosmonaut to journey in outer space, is located about 40km (about 25 miles) from Saratov, Russia. It was erected in 1981.
National Grilled Cheese Sandwich Day
It's National Grilled Cheese Sandwich Day! Although it only requires three ingredients (bread, cheese, and butter), grilled cheese is one of the most popular comfort foods in the world.
The Ancient Romans were the first civilization to make a cooked bread and cheese sandwich, but many cultures have invented their own take on this ancient dish. In France, people enjoy Croque Monsieur (a grilled ham and cheese sandwich) while in Switzerland it is customary to melt the cheese and toast the bread separately before combining them. The classic American grilled cheese sandwich emerged in the 1920's when inexpensive cheese and affordable sliced bread became available. It is now a staple in cafés, diners, and school cafeterias across the country.
To celebrate National Grilled Cheese Sandwich Day, enjoy a grilled cheese sandwich cooked your favorite way and served with a side of tomato soup!
National Licorice Day
Don't leave the house without your spare licorice wheel because April 12 is National Licorice Day!
Love it or hate it, people have strong emotional connections and definite opinions on this chewy rope candy.
Made using the extract of the licorice plant root, sugar and a binding agent like gelatin, licorice whips get their signature shape from old-fashioned molds. Believe it or not, the super sweetness of licorice candy results from the extract's natural sweetening component, glycyrrhizin - which weighs in about 50 times sweeter than sucrose.
Licorice root has also been used for its medicinal purposes. Alexander the Great even gave his troops rations of the root because it helps quench your thirst. But this really only applies to black licorice - red licorice isn't really licorice at all. While the shape is the same, there's a twist: Twizzlers, Red Vines and your classic favorites are flavored with anything but licorice extract.
For a different way to sate your licorice cravings, make these adorable lifesaver cookies, complete with licorice strips. Can you say beach party?
Happy World Cosmonauts Day! Or if you prefer, Russian Cosmonaut Day, Yuri's night or International Day of Human Space Flight.
That's right, April 12th is the celebration of the first successful manned space flight by Russian cosmonaut Yuri Gagarin in 1961. This year, the United Nations have made it an official resolution, with more than 50 states taking part in drafting the document. However, in Russia, they have been celebrating this day since 1962.
Yuri Gagarin was a 27-year-old cosmonaut who circled the Earth on the Vostok 1 spacecraft before returning successfully – and safely – back to Soviet soil after 1 hour and 48 minutes. Yuri instantly became a national hero of the Soviet Union and a world-famous figure. His accomplishment was celebrated with lavish parades so elaborate and spectacular, they are only overshadowed by the majesty of the Soviet World War II victory parades. Yuri also earned the country's highest honor, the title of Hero of the Soviet Union.
Today, the official celebration continues with an annual ceremony in the Russian city of Korolyov, followed by a visit to Gagarin's grave in the Red Square, continuing on to Cosmonauts Alley and the Monument to the Conquerors of Space and concludes with a visit to the Noyodevichy Cemetery.
Meanwhile other countries around the world honor Yuri Gagarin's memory by holding Yuri's night – a worldwide party to celebrate Yuri's accomplishment and to promote space travel and exploration. This year there will be nearly 470 events in 71 different countries.
If you plan on celebrating Cosmonauts Day, here are some interesting facts about Yuri and his mission that you can use to impress your friends and other space-loving acquaintances.
* Yuri was a 27-year-old Senior Lieutenant in the Soviet Air Force. Gagarin was chosen for this mission because of his outstanding performance in training, peer votes and because he was rather short – the Vostok 1 cockpit was very small.
* Yuri was not the first living thing to go into space. The United States sent fruit flies to space in 1947, Albert II, a rhesus monkey, in 1949, and several mice in the 50s. The first living being to complete an orbit was a dog named Laika, sent up by the Soviet Union in 1957, followed by two more dogs, Belka and Strelka, in 1960. Ham the Chimp was the first chimpanzee launched into space by the United States in January '61, just months before Yuri's historic flight.
* Apparently on his way to the launch pad, Yuri had to stop the bus so he could "relieve himself" before taking off. Today, all male cosmonauts observe this sacred launch-day tradition based on Yuri's preflight experience.
* Right before takeoff, Yuri and rocket designer, Sergei Korolyov, were discussing last minute preparations. Sergei reminded him that he had sausage, candy and jam (to go with tea!) Yuri's response "The main thing is that there is sausage – to go with the moonshine!"
* In a 2010 Space Foundation survey, Gagarin was ranked the 6th most popular space hero, tied with James T. Kirk, captain of the Starship Enterprise (on the television show Star Trek).
* During the fall of the Soviet Union, many statues of Russia's Communist leaders were torn down and destroyed; however, Yuri's statues were preserved.
Walk on Your Wild Side Day
April 12, is 'Walk On Your Wild Side' day. How does one celebrate this, and why? And how does this relate to stress relief?
First, let's tal about why this unique 'holiday' deserves to be observed. Sometimes it can be great for your mental health to try something new--the weight of a hectic routine (or a mundane one, for that matter) can be stressful. Having a change of scene can provide a mental and emotional break that can relieve stress for thoe approaching burnout. Trying an adventurous activity that you've only been imagining can give you a dose of positive emotion and fun in your life that can give you a bit of the "weekend effect", which can be good for you all week. Working toward a goal that's been on your vision board, bucket list or long-term to-do list can give you a boost of self-confidence and get you closer to your dreams. All of these things can add to your happiness and reduce your stress. And they're a good way to make the most of National Humor Month and Stress Awareness Month--both of which are April.
As for the "how," that's up to you. One person's "work" is another person's "wild." Ditto for activities that may feel normal or even mundane for some people, or overly challenging for others--what feels wild to you is all that's important today. (Bright lipstick, lunch at a new place, writing a short story and sharing it with friends--these are just a few of the simpler ways people have celebrated this holiday.)
To make things more fun, however I would encourage you to come up with a few ideas and share them. You can share them on Twitter with the hashtag: #WalkOnYourWildSide or you can post this blog to Facebook and start a thread of comments on different ways to celebrate. Or just do your wild thing and quietly explain why, if asked. What you do and how you share it is up to you. (But I recommend Twitter--I'll retweet my favorites to spread the fun!) Get wild!