Income Tax Pay Day
Many United States residents mark Tax Day as the deadline to file their income tax details to the Internal Revenue Service (IRS). The date is usually on or around April 15. However, this deadline may be extended to accommodate holidays or extreme weather conditions.
A large proportion of residents of the USA have to inform the IRS of all income that they received in the previous fiscal year. Some groups, particularly veterans, pensioners and some low-income families, do not have to file a tax return unless they wish to qualify for certain types of income subsidy. Others may wait until the last moment to file their tax return and pay any money they owe. Some people may find that filing a tax return is complicated, while others may feel that they should not have to pay income tax. In the United States, income tax returns may be filed on paper or electronically. Now, people are encouraged to file a return via Internet as this is efficient and reduces the risk of mistakes being made or documents being lost in the post.
Income tax was first introduced in the United States of America in 1861. A rate of three percent was levied on incomes above $800 per year and the resulting revenue was used to help fund the American Civil War effort. However, income tax was seen as unconstitutional and the law was repealed in 1872. The idea of a tax on personal income, at a rate of two percent, was reintroduced in the Revenue Act of 1894, but the legal status of this kind of tax was still unclear. In 1913, the "Sixteenth Amendment" to the Constitution of the United States was ratified. This cleared the way for the modern income tax system in the USA.
The details of the income tax system have changed greatly since 1913. The top rates of tax have varied enormously and were particularly high during the First and Second World Wars and the Great Depression. Individuals and families with very low levels of income do not have to pay income tax and may receive some subsidy via the tax system.
In 1913 Tax Day, or the filing deadline, was fixed on March 1. However, it was moved to March 15 in 1918 and April 15 in 1955, where it has remained since then. If April 15 falls on a Saturday, Sunday or a civil holiday, such as Patriot's Day, the deadline is extended to the next working day. An extension due to a holiday may only affect certain states. In 2007, the residents of some states were granted an extension due to the disruption to public life in many areas caused by a huge Nor'easter storm. In some years in Washington DC, Emancipation Day may be the reason to extend the deadline for filing an income tax return (Tax Day). In 2007, the observance Emancipation Day in Washington DC had the effect of nationally extending the 2006 income tax filing deadline from April 16 to April 17. This 2007 date change was not discovered until after many forms went to print.
Jackie Robinson Day
On this day in 1947, Jackie Robinson, age 28, becomes the first African-American player in Major League Baseball when he steps onto Ebbets Field in Brooklyn to compete for the Brooklyn Dodgers. Robinson broke the color barrier in a sport that had been segregated for more than 50 years. Exactly 50 years later, on April 15, 1997, Robinson's groundbreaking career was honored and his uniform number, 42, was retired from Major League Baseball by Commissioner Bud Selig in a ceremony attended by over 50,000 fans at New York City's Shea Stadium. Robinson's was the first-ever number retired by all teams in the league.
Jack Roosevelt Robinson was born January 31, 1919, in Cairo, Georgia, to a family of sharecroppers. Growing up, he excelled at sports and attended the University of California at Los Angeles, where he was the first athlete to letter in four varsity sports: baseball, basketball, football and track. After financial difficulties forced Robinson to drop out of UCLA, he joined the army in 1942 and was commissioned as a second lieutenant. After protesting instances of racial discrimination during his military service, Robinson was court-martialed in 1944. Ultimately, though, he was honorably discharged.
After the army, Robinson played for a season in the Negro American League. In 1945, Branch Rickey, general manager of the Brooklyn Dodgers, recruited Robinson, who was known for his integrity and intelligence as well as his talent, to join one of the club's farm teams. In 1947, Robinson was called up to the Majors and soon became a star infielder and outfielder for the Dodgers, as well as the National League's Rookie of the Year. In 1949, the right-hander was named the National League's Most Valuable Player and league batting champ. Robinson played on the National League All-Star team from 1949 through 1954 and led the Dodgers to six National League pennants and one World Series, in 1955. He was inducted into the Baseball Hall of Fame in 1962, his first year of eligibility.
Despite his talent and success as a player, Robinson faced tremendous racial discrimination throughout his career, from baseball fans and some fellow players. Additionally, Jim Crow laws prevented Robinson from using the same hotels and restaurants as his teammates while playing in the South.
After retiring from baseball in 1957, Robinson became a businessman and civil rights activist. He died October 24, 1972, at age 53, in Stamford, Connecticut.
McDonald's Day
On April 15, 1955, Ray Kroc opened his own McDonald's franchise in Des Plaines, Illinois (seen below). While tons of people head to this so-called "first McDonald's" every year, the fact is, the building standing there is not only not the first McDonald's (Kroc actually opened the ninth location of the franchise), it's not even the original building, but just a reconstruction. Even so, that spot of ground did have a huge impact on American life as we know it and spawned what was at one point the largest restaurant chain in the world --the title is now held by Yum! Brands (KFC, Taco Bell, etc.) and followed by Subway.
When I was a kid, I always thought whoever Mr. McDonald was, he must be super rich. As it turns out, Richard and Maurice McDonald, who started the original restaurant, only made $2.7 million on the deal. While that does seem like a good amount of cash, just think how much the restaurant is worth these days. To make matters worse, the brothers insisted on retaining the rights to their first restaurant in San Bernardino, so Ray opened a McDonald's restaurant right by theirs and ran them out of business. Worse still, even though the original deal involved the brothers earning 0.5% of the chain's annual revenues, Kroc refused to honor that part of the verbal agreement after the McDonald's brothers refused to sell him their original restaurant and the land it stood on.
And it's not like the McDonald's Brothers didn't do anything but open an everyday burger joint; if they did, Ray probably wouldn't have been so interested in taking the whole thing over. They innovated many of the ideas that have made modern fast food restaurants so successful, including assembly line kitchens, simplistic menus and self-serve counters. The menus had nothing on them but hamburgers, cheeseburgers, French fries, potato chips, sodas, milkshakes and apple pies. Because things were so quick and efficient, prices were about half of what it cost to get a similar meal at a diner.
McDonald's Across the Globe
It wasn't too long after Kroc took over completely that the chain expanded out of America, first to Canada, then Costa Rica, Panama, Japan, Europe and Australia. These days, there's McDonald's located all over the world. In fact, the image above shows just how widely spread they are in the U.S.
While this world-wide globalization has led to many negative views of the corporation, some people say the company has actually helped improve the standard of service in some areas of the world. For example, when McDonald's opened in Hong Kong in 1975, it was the first restaurant to consistently offer clean public restrooms. Soon afterwards, customers began to demand the same from other restaurants in the area.
Whether McDonald's has a positive or negative impact in the country it enters may be a matter of opinion, but one thing the restaurant takes great pride in is their localization of the menu based on the native tastes of the area. Some interesting menu items from around the world include:
Quebec has a regional treat known as poutine, which is a dish with French fries and cheese curds covered in gravy. McDonald's in the area serve this as a popular side dish.
Throughout Canada, you can order chicken fajitas from McDonald's. This seemed weird to me that you can't find these in South Western American states where fajitas are a popular staple of Mexican restaurants.
In Egypt, you can find Big Macs with chicken or fish in place of beef and a "McFalafel" sandwich.
Throughout the Middle East, McDonald's offers a "McArabia" sandwich, which is a piece of flat bread with chicken or beef patties. They also serve a special wrap called the Paneer Salsa wrap, which takes fried, seasoned cottage cheese and wraps it in flat bread with veggies.
Most Indian menus are largely different than those in America, as pig and cow products are not served outside of Southern India. The chicken and fish are also prepared in separate areas because or strict religious laws regarding the preparation of food for vegetarians. One of the area's specialties is the Maharaja Mac, which was originally made with lamb meat but now is made with chicken. They also serve a dish called the McCurry pan, which consists of a bowl made from flakey dough filled with chicken in a tomato-curry sauce. Of all the international McDonald's menu items, I think this is the one I'd want to try the most.
Throughout Asia, you can order a side of McRice in place of fries, this is just an order of plain rice with a cool name.
In China, you can enjoy pineapple and taro pies and a Shogun burger with teriyaki pork. You might also consider the Rice Fantastic, which is like a beef or chicken sandwich with rice patties in place of buns.
On the Chinese island of Cheung Chau, you can also enjoy mushroom burgers in place of beef during the local Bun Festival.
In Japan, they serve something called the Ebi Fillet-O, which is a fried shrimp sandwich. There is also a Tamago Double Mac, which has three beef paties, a poached egg, bacon and pepper sauce. You can even top off your meal with tea milkshakes.
In Thailand they sell corn pies.
In Finland and Norway, you can have wraps with fried fish instead of chicken or beef.
In El Salvador, you can often have French fries made with yucca instead of potatoes.
In Mexico, a popular breakfast option is the McMolletes, English muffins with refried beans, cheese and pico de gallo salsa.
In New Zealand, a popular favorite is the Kiwiburger, which has beef, a poached egg, veggies, cheese and beetroot.
Good Ol' American Innovation
Even in America, certain locations have their own specialty treats. The McLobster and McCrab are served seasonally throughout New England. And in the late 1990's, Chicago locations offered a hamburger with barbecue sauce and Canadian bacon that was dubbed "the Beef Wennington" after a notable Chicago Bulls player.
Many of the company's biggest successes were actually created locally by franchisees, including the Filet-O-Fish, the Big Mac and the Egg McMuffin. The Filet-O-Fish was made by a Cincinnati franchise owner who wanted to offer his Catholic customers a meal they could still eat on Fridays and during lent. Ray Kroc tried a similar idea at his original restaurant, but his Hula Burger, a sandwich a pineapple slice in place of meat was a huge flop.
As for the Big Mac, it was created by an early Pittsburgh franchiser who wanted to serve something adults would enjoy when feeding their kiddos at the restaurant. The corporate heads told him he could only create new menu items creating ingredients on the existing menu, which is where the Big Mac was born.
The Egg McMuffin was in a similar position as the Big Mac inventor, only he went ahead and added a new creation to the menu without contacting headquarters. The corporation was quite upset that he started selling the McMuffin without their blessing, but they quickly changed their minds when they saw how popular it was.
National Glazed Spiral Ham Day
April 15 is National Glazed Spiral Ham Day.
Americans have become accustomed to serving ham on special holidays like Christmas and Thanksgiving, but there's no law that says ham can only be served in November and December. When you don't have to worry about in-laws, five side dishes, three desserts and someone breaking a limb during the annual family flag football game, ham isn't nearly as threatening to prepare at home.
Most of the hams you will find at the grocery store are cured, meaning they're already cooked through and the hard work has already been done! These hams can still be glazed at home and usually will benefit from a couple hours in the oven.
There are many ways to do this, but more often than not you'll see a sugar-based glaze; sugar caramelizes and makes the skin of the ham nice and crispy.
Most glazes contain dark brown sugar, molasses or honey. They might also have mustard or fruit juice or something spicy like a chili pepper in them. Whichever route you decide to take, the ham should be basted with the glaze every 20 minutes or so.
Most pre-cooked hams come already sliced, which is where the word "spiral" comes into play. If you're carving your ham at home, just make sure you use a sharp knife and stick to the same concept - cut one slice all the way around the bone.
National Rubber Eraser Day
If you have ever made a mistake, today is for you.
If you haven't, then you're not human so why are you reading this post?
On April 15, 1770 an English man named Joseph Priestley officially discovered the erasing properties of Indian rubber – a vegetable gum from North America – and elementary math homework has never been the same. So let's celebrate National Rubber Eraser Day by stepping away from the computer, picking up a pencil (not the pen! drop it!), scribbling something, and enjoying that lovely eraser on the back of the pencil.
Or, if you're really into this holiday, go grab a great big pink eraser and shade a drawing with it. It may be the first time you've picked on up since elementary school, but I bet it still feels nice to make mistakes disappear.
National Take a Wild Guess Day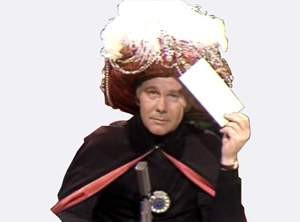 Guess what? … It's National Take a Wild Guess Day! (And yes, 99% of the time I ask this question the correct answer is, in fact, "chicken-butt"). Today we honor all kinds of intuitions, divinations, hunches, and sixth senses. Whether you're putting all your chips in before the next spin of the roulette wheel, taking bets on the sex of your unborn child, or giving a new restaurant a crack at your wallet based on it's charming facade, we all make guesses throughout our lives. Sometimes these hypotheses can bring us great joy or encourage us to take chances (I'm not discounting love by any means, but isn't marriage really a commitment to the person that, either based on accumulated evidence or sheer hope, you guess will make the best partner for you today and every day for the rest of your life?) At other times guessing can become an substitute for the pains of reality or even an addiction (need I mention that roulette wheel again?)
I've always been more of a planner than a guesser. Like most little girls and boys, I dreamed of all the things I wanted to do and be when I grew up. However, I never actually spent any time guessing how my future would unfold. I never wondered how many children I would have (two, of course, since that's what I'd planned…and definitely before I turned thirty! *sigh*), where I would live, or what I would do for a job. I kind of just assumed I'd figure it all out when I got there, probably because I've always seen myself as an active participant in my own life. It sounds so exceedingly simple when it's put into words, but if you read between the lines it quickly becomes clear that this belief actually puts me in a precarious position, perpetuated by the Type-A control freak within. Because, when you get right down to it, reality isn't entirely of our own making. While we do play an active part in creating our own futures, sometimes Life gets in the way — and whether Life has presented you with a wonderful gift or dealt you a devastating blow, he will always have his say.
National That Sucks Day
April 15th already sucks but now it's really official.
That's because a veterinarian in Bandon, Oregon, has declared this Tuesday (Apr. 15) as "National That Sucks Day."
Bruce Novotny says he created "National That Sucks Day" to "reflect on the many things that suck in life, like aging, death, stress, the V.P. shooting a 78-year-old man in the face, etcetera."
He figures April 15 is the perfect day to celebrate all that sucks in the world because it's not only the day when taxes are due but it's when the Titanic sank; Abe Lincoln died and when the first McDonalds opened its doors.
National That Sucks Day is just entering its second year but it already has its own holiday icon: A cranky curmudgeon named "Sir Isuck Newton."
Novotny suggests people celebrate the sucky day by holding a rotten Easter egg hunt or playing "Pin the tail on the human."
You can find out more information about ``National That Sucks Day'' at – where else? – www.thatsucks.net but Novotny doesn't expect net nerds to be impressed.
As he puts it, "It sucks."
President Abraham Lincoln Dies
President Abraham Lincoln, the 16th president of the United States, dies from an assassin's bullet. Shot by John Wilkes Booth at Ford's Theater in Washington the night before, Lincoln lived for nine hours before succumbing to the severe head wound he sustained.
Lincoln's death came just after the surrender of Confederate General Robert E. Lee's army at Appomattox Court House, Virginia. Lincoln had just served the most difficult presidency in history, successfully leading the country through civil war. His job was exhausting and overwhelming at times. He had to manage a tremendous military effort, deal with diverse opinions in his own Republican party, counter his Democratic critics, maintain morale on the northern home front, and keep foreign countries such as France and Great Britain from recognizing the Confederacy. He did all of this, and changed American history when he issued the Emancipation Proclamation, converting the war goal from reunion of the nation to a crusade to end slavery.
Now, the great man was dead. Secretary of War Edwin Stanton said, "Now, he belongs to the ages." Word spread quickly across the nation, stunning a people who were still celebrating the Union victory. Troops in the field wept, as did General Ulysses S. Grant, the overall Union commander. Perhaps no group was more grief stricken than the freed slaves. Although abolitionists considered Lincoln slow in moving against slavery, many freedmen saw "Father Abraham" as their savior. They faced an uncertain world, and now had lost their most powerful proponent.
Lincoln's funeral was held on April 19, before a funeral train carried his body back to his hometown of Springfield, Illinois. During the two-week journey, hundreds of thousands gathered along the railroad tracks to pay their respects, and the casket was unloaded for public viewing at several stops. He and his son, Willie, who died in the White House of typhoid fever in 1862, were interred on May 4.
Titanic Remembrance Day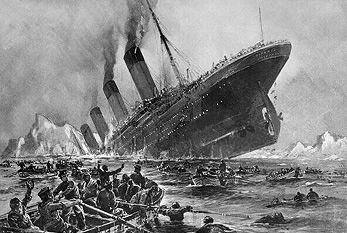 Titanic Remembrance Day is celebrated April 15th of each year.
RMS Titanic was a British passenger liner that sank in the North Atlantic Ocean on 15 April 1912 after colliding with an iceberg during her maiden voyage from Southampton, UK to New York City, US. The sinking of Titanic caused the deaths of 1,502 people in one of the deadliest peacetime maritime disasters in modern history. The RMS Titanic was the largest ship afloat at the time of her maiden voyage. She was the second of three Olympic class ocean liners operated by the White Star Line, and she was built by the Harland and Wolff shipyard in Belfast with Thomas Andrews, who perished with the ship, as her naval architect. On her maiden voyage, she carried 2,224 passengers and crew.
Under the command of Edward Smith, her passengers included some of the wealthiest people in the world, as well as hundreds of emigrants from Great Britain and Ireland, Scandinavia and elsewhere throughout Europe seeking a new life in North America. The ship was designed to be the last word in comfort and luxury, with an on-board gymnasium, swimming pool, libraries, high-class restaurants and opulent cabins. She also had a powerful wireless telegraph provided for the convenience of passengers as well as for operational use. Though she had advanced safety features such as watertight compartments and remotely activated watertight doors, she lacked enough lifeboats to accommodate all of those aboard. Because of outdated maritime safety regulations, she carried only enough lifeboats for 1,178 people—slightly more than half of the number travelling on the maiden voyage, and one-third her total passenger and crew capacity.
After leaving Southampton on 10 April 1912, Titanic called at Cherbourg in France and Queenstown (now Cobh) in Ireland before heading westwards towards New York. On 14 April 1912, four days into the crossing and about 375 miles (600 km) south of Newfoundland, she hit an iceberg at 11:40 pm ship's time. The glancing collision caused Titanic's hull plates to buckle inwards along her starboard side and opened five of her sixteen watertight compartments to the sea; the ship gradually filled with water. Meanwhile, passengers and some crew members were evacuated in lifeboats, many of which were launched only partly loaded. A disproportionate number of men were left aboard because of a "women and children first" protocol followed by the officers loading the lifeboats. By 2:20 AM, she broke apart and foundered, with well over one thousand people still aboard. Just under two hours after the Titanic foundered, the Cunard liner RMS Carpathia arrived on the scene of the sinking, where she brought aboard an estimated 705 survivors.
The disaster was greeted with worldwide shock and outrage at the huge loss of life and the regulatory and operational failures that had led to it. Public inquiries in Britain and the United States led to major improvements in maritime safety. One of their most important legacies was the establishment in 1914 of the International Convention for the Safety of Life at Sea (SOLAS), which still governs maritime safety today. Additionally, several new wireless regulations were passed around the world in an effort to learn from the many missteps in wireless communications—which could have saved many more passengers. Many of the survivors lost all of their money and possessions and were left destitute; many families, particularly those of crew members from Southampton, lost their primary bread-winners. They were helped by an outpouring of public sympathy and charitable donations. Some of the male survivors were accused of cowardice for leaving the ship while people were still on board; the White Star Line's chairman, J. Bruce Ismay, faced social ostracism for the rest of his life.
The wreck of the Titanic remains on the seabed, split in two and gradually disintegrating at a depth of 12,415 feet (3,784 m). Since its discovery in 1985, thousands of artifacts have been recovered and put on display at museums around the world. Titanic has become one of the most famous ships in history, her memory kept alive by numerous books, folk songs, films, exhibits, and memorials.
World Art Day
World Art Day is an international celebration of the fine arts which was declared by the International Association of Art (IAA) in order to promote awareness of creative activity worldwide.
A proposal was put forward at the 17th General Assembly of the International Association of Art in Guadalajara to declare April 15 as World Art Day, with the first celebration held in 2012. This proposal was sponsored by Bedri Baykam of Turkey and co-signed by Rosa Maria Burillo Velasco of Mexico, Anne Pourny of France, Liu Dawei of China, Christos Symeonides of Greek Cyprus, Anders Liden of Sweden, Kan Irie of Japan, Pavel Kral of Slovakia, Dev Chooramun ofMauritius, and Hilde Rognskog of Norway. It was accepted unanimously by the General Assembly.
The date was decided in honor of the birthday of Leonardo da Vinci.(ownpage) Da Vinci was chosen as a symbol world peace, freedom of expression, tolerance, brotherhood and multiculturalism as well as art's important to other fields.
The first World Art Day on April 15, 2012 was supported by all IAA national committees and 150 artists, including those of France, Sweden, Slovakia, South Africa, Cyprus and Venezuela, but the intention of the event is universal. Events varied from special museum hours to conferences and more. For example Venezuela held outdoor art exhibitions with paintings, sculptures, prints, video and more, as well as a Florentine cooking demonstration in honor of Da Vinci.
More events were held in 2013 all over the world including the Mbombela municipal art museum in South Africa. However, there was controversy at celebrations in Sweden when the Swedish minister of Culture, Lena Adelsohn Liljeroth, cut into the genitals of a cake representing a black African woman. The performance art was meant to be a statement against genital mutilation but many found the depiction racist.
World Art Day has also been supported online, especially by the Google Art Project.
World Art Day/IAA is next week April 15th, 2015 and the Downtown Art Walk is leading the way and putting Downtown Los Angeles on the map as one of the first sites in the US to take part in World Art Day! Along with special events happening around the neighborhood April 15th, we're holding a contest in collaboration with IAA-UNESCO and French artist Marie-Pierre, alias O.d'Offin. We want you to be a part of it! Souces: Downtown LA Art Walk Arts & Entertainment