Astronomy Day
Astronomy Day is a movement designed to share the pleasure of astronomy with the normal people. It's an annual event which helps in bringing Astronomy to the People. On this Day, thousands of people get the opportunity to look through a telescope and interact with various professionals, astronomers, groups and astronomy enthusiasts.
The event was started by Doug Berger, the president of the Astronomical Association of Northern California, in 1973. His intention was to set up various telescopes in different locations like street corners, shopping malls and parks, etc. So that passersby could enjoy fabulous views of the heavens. Since then the event has popularized and is now sponsored by a number of astronomical organizations around the world.
Astronomy Week was organized to give sponsoring organizations a period of time to host special events. Groups may host events on Spring or Fall Astronomy Day or on both dates. Spring Astronomy Day occurs between mid April and mid May on a Saturday close to or before the 1st quarter Moon. Fall Astronomy Day occurs between mid September and mid October. The Astronomy Day this year is on 25th April 2015.
Many countries host Astronomy Day activities, these are USA, England, Canada, Finland, Sweden, New Zealand, Philippines, Argentina, Malaysia and many more. Activities include talks and discussions by astronauts and astronomers, display of Moon rocks and Moon gravity simulator, models of the solar system, outdoor observing during day and night time with a telescope, different games are organized and prize distribution, etc.
East Meets West Day
East Meets West Day also know as Elbe Day, April 25, 1945, is the day Soviet and American troops met at the River Elbe, near Torgau in Germany, marking an important step toward the end of World War II in Europe. This contact between the Soviets, advancing from the East, and the Americans, advancing from the West, meant that the two powers had effectively cut Germany in two.
Elbe Day has never been an official holiday in any country, but in the years after 1945 the memory of this friendly encounter gained new significance in the context of the Cold War between the U.S. and the Soviet Union.
The first contact between American and Soviet patrols occurred near Strehla, after First Lieutenant Albert Kotzebue, an American soldier, crossed the River Elbe in a boat with three men of an intelligence and reconnaissance platoon. On the east bank they met forward elements of a Soviet Guards rifle regiment of the First Ukrainian Front, under the command of Lieutenant Colonel Alexander Gardiev. The same day, another patrol under Second Lieutenant William Robertson with Frank Huff, James McDonnell and Paul Staub met a Soviet patrol commanded by Lieutenant Alexander Silvashko on the destroyed Elbe bridge of Torgau.
On April 26, the commanders of the 69th Infantry Division of the First Army and the 58th Guards Rifle Division of the 5th Guards Army (Soviet Union) met at Torgau, southwest of Berlin. Arrangements were made for the formal "Handshake of Torgau" between Robertson and Silvashko in front of photographers the following day, April 27.
The Soviet, American, and British governments released simultaneous statements that evening in London, Moscow, and Washington, reaffirming the determination of the three Allied powers to complete the destruction of the Third Reich.
Hairstylists Appreciation Day
Hairstyle Appreciation Day is observed on April 25. It celebrates the uniqueness of all styles of hair and honors the people who make artful hairstyles possible. Hairstyling is an artful skill, on April 25 you can show your favorite hairstylist your appreciation.
A hairstyle's aesthetic considerations may be determined by many factors, such as the subject's physical attributes and desired self-image or the stylist's artistic instincts. Physical factors include natural hair type and growth patterns, face and head shape from various angles, and overall body proportions; medical considerations may also apply. Self-image may be directed toward conforming to mainstream values, identifying with distinctively groomed subgroups, or obeying religious dictates, though this is highly contextual and a "mainstream" look in one setting may be limited to a "subgroup" in another.
A hairstyle is achieved by arranging hair in a certain way, occasionally using combs, a blow-dryer, gel, or other products. The practice of styling hair is often called hairdressing, especially when done as an occupation.
International Marconi Day
International Marconi Day commemorates the great work of Guglielmo Marconi in the invention of radio. It is a 24 hour amateur radio event that is held every year to celebrate the birth anniversary of renowned inventor Guglielmo Marconi on 25th April 1874.
International Marconi Day is organized by the Cornish Radio Amateur Club G4CRC/GX4CRC /GB4IMD. More than 50 stations around the world being set up at various historic sites with links to the inventors work participate in the event. Participatingstations are from England, Wales, Scotland, Northern Ireland, France, Netherlands, Spain, Austria, Germany, Portugal, Canada, Australia and USA.
The event is normally held on the Saturday nearest to Marconi's birthday, when amateur radio stations had been established and operated from original historic Marconi sites. These stations are known as the 'Award Stations'. These Award stations have to confirm their participation in the event every year.
International Marconi day celebrates its 28th year which will be held on 25th April 2015. The purpose of International Marconi day is to provide opportunity to amateurs' radio enthusiasts around the world to make contacts with historic Guglielmo Marconi sites using high frequency communications techniques similar to those used by Guglielmo Marconi and to gain an attractive Award for achieving the required number of Marconi stations worked.
Since then communication techniques have changed significantly but the spirit of International Marconi Day basically remains that of making point-to-point contact between two stations using only the High Frequency bands. The organizing Committee of the event has therefore decided that the application ofthe Internet to communicate between stations will not count towards the Award.
National DNA Day
Celebrate the 11th anniversary of the completion of the Human Genome Project and learn more about genetics and genomics on National DNA Day, April 25th.
National DNA Day is a special day when teachers, students, and the public can learn more about genetics and genomics. The National Human Genome Research Institute (NHGRI) at the National Institutes of Health has sponsored DNA Day for the past ten years, to commemorate the completion of the Human Genome Project in April 2003 and of Watson and Crick's discovery of the double helix structure of DNA.
Cambridge University scientists James D. Watson and Frances H.C. Crick announce that they have determined the double-helix structure of DNA, the molecule containing human genes.
Though DNA--short for deoxyribonucleic acid--was discovered in 1869, its crucial role in determining genetic inheritance wasn't demonstrated until 1943. In the early 1950s, Watson and Crick were only two of many scientists working on figuring out the structure of DNA. California chemist Linus Pauling suggested an incorrect model at the beginning of 1953, prompting Watson and Crick to try and beat Pauling at his own game. On the morning of February 28, they determined that the structure of DNA was a double-helix polymer, or a spiral of two DNA strands, each containing a long chain of monomer nucleotides, wound around each other. According to their findings, DNA replicated itself by separating into individual strands, each of which became the template for a new double helix. In his best-selling book, The Double Helix (1968), Watson later claimed that Crick announced the discovery by walking into the nearby Eagle Pub and blurting out that "we had found the secret of life." The truth wasn't that far off, as Watson and Crick had solved a fundamental mystery of science--how it was possible for genetic instructions to be held inside organisms and passed from generation to generation.
Watson and Crick's solution was formally announced on April 25, 1953, following its publication in that month's issue of Nature magazine. The article revolutionized the study of biology and medicine. Among the developments that followed directly from it were pre-natal screening for disease genes; genetically engineered foods; the ability to identify human remains; the rational design of treatments for diseases such as AIDS; and the accurate testing of physical evidence in order to convict or exonerate criminals.
Crick and Watson later had a falling-out over Watson's book, which Crick felt misrepresented their collaboration and betrayed their friendship. A larger controversy arose over the use Watson and Crick made of research done by another DNA researcher, Rosalind Franklin, whose colleague Maurice Wilkins showed her X-ray photographic work to Watson just before he and Crick made their famous discovery. When Crick and Watson won the Nobel Prize in 1962, they shared it with Wilkins. Franklin, who died in 1958 of ovarian cancer and was thus ineligible for the award, never learned of the role her photos played in the historic scientific breakthrough.
National Rebuilding Day
National Rebuilding Day is the signature event of Rebuilding Together. Held on the last Saturday in April, National Rebuilding Day is the day when affiliates plan projects to celebrate the organization's mission and to bring national attention to the plight of America's low-income homeowners. The day is embraced by community leaders and national corporate sponsors as a way of bringing impact to America's communities in a single day.
Rebuilding Together (or RT) is a national US non-profit organization working to preserve affordable homeownership and revitalize neighborhoods by providing free home repairs and modifications to low-income homeowners. By utilizing CapacityCorps members, RT's own branch of AmeriCorps members, neighbor volunteers, skilled trades people, the support of local businesses and donors, and major corporate partners, RT is able to offer every repair at no cost to the homeowner.
Celebrating more than 25 years of service, Rebuilding Together collectively has completed work on more than 100,000 homes across the nation, which amounts to roughly 10,000 homes per year. With the help of 3.4 million volunteers and donors, RT has delivered over $1.5 billion in market value since its founding, transforming every $1 donated to RT into $4 to the community.[1] Today, the Rebuilding Together Affiliate Network consists of 187 offices throughout the United States. Community-level RT offices act in partnership with and on behalf of Rebuilding Together Inc national headquarters, located in Washington D.C.. These local offices are called Rebuilding Together "affiliates," often abbreviated RT with the corresponding community affiliation (i.e. Rebuilding Together New Orleans is known as "RTNO").
Rebuilding Together continues forward with its mission of seeking to provide a safe and healthy home for every person by bringing neighbor volunteers and communities together to improve the homes and lives of low-income homeowners. Inside this core mission, Rebuilding Together has several targeted programs that address the needs of specific homeowner populations: veterans, elderly, disabled, and others. The work of Rebuilding Together positively impacts the condition of the surrounding community as well, through community center rehabilitation, playground builds, and partnerships with organizations focused on energy efficiency, sustainable community gardens, volunteer engagement, and homeowner education. Home by Home, Block by Block, entire communities are transformed.
National Sense of Smell Day
National Sense of Smell Day is an annual event sponsored by the Sense of Smell Institute. It is held on the last Saturday of April at children's museums and science centers across the United States. The day is focused on how the sense of smell plays an important role in daily life and how it interacts with other senses (particularly taste). Typically, museums and science centers celebrating the day will feature hands-on activities and informational displays about the sense of smell.
Olfaction, also known as olfactics, is the sense of smell. This sense is mediated by specialized sensory cells of the nasal cavity of vertebrates, which can be considered analogous to sensory cells of the antennae of invertebrates. In humans, olfaction occurs when odorant molecules bind to specific sites on the olfactory receptors. These receptors are used to detect the presence of smell. They come together at the glomerulus, a structure which transmits signals to the olfactory bulb (a brain structure directly above the nasal cavity and below the frontal lobe). Many vertebrates, including most mammals and reptiles, have two distinct olfactory systems—the main olfactory system, and the accessory olfactory system (used mainly to detect pheromones). For air-breathing animals, the main olfactory system detects volatile chemicals, and the accessory olfactory system detects fluid-phase chemicals.[3] Olfaction, along with taste, is a form of chemoreception. The chemicals themselves that activate the olfactory system, in general at very low concentrations, are called odorants. Although taste and smell are separate sensory systems in land animals, water-dwelling organisms often have one chemical sense.
Volatile small molecule odorants, non-volatile proteins, and non-volatile hydrocarbons may all produce olfactory sensations. Some animal species are able to smell carbon dioxide in minute concentrations.
National Zucchini Bread Day
Zucchini bread is a delicious type of quick bread that is sweet and moist. The primary ingredient in zucchini bread is of course zucchinis, but you can also add various other ingredients. Many people like to add dried cranberries, orange zest, or cinnamon to make the bread spicy. Many chefs agree that zucchini bread is a great recipe for beginner cooks because it is so easy to make.
Did you know that zucchini is actually just a small summer squash? They're usually yellow or light green in color and are shaped like a cucumber.
In addition to being used to make zucchini bread, zucchini is great when grilled or incorporated into stir-fry dishes. You can steam it, fry it, bread it, or grill it. Any way you cook zucchini, it's healthy and delicious!
Enjoy a slice of zucchini bread today in honor of National Zucchini Bread Day!
Parental Alienation Awareness Day
Parental Alienation Awareness Day takes place on April 25. This date has been chosen as Parental Alienation Awareness Day (PAAD), part of a global awareness campaign to raise awareness about parental alienation. The idea was introduced in Canada by Sarvy Emo in late 2005, with the original date being March 28. This was changed after the start of the campaign for marketing reasons and was put into practice in 2006.
Parental alienation is a social dynamic, generally occurring due to divorce or separation, when a child expresses unjustified hatred or unreasonably strong dislike of one parent, making access by the rejected parent difficult or impossible. These feelings may be influenced by negative comments by the other parent and by the characteristics, such as lack of empathy and warmth, of the rejected parent. The term does not apply in cases of actual child abuse, when the child rejects the abusing parent to protect themselves.
Parental alienation is controversial in legal and mental health professions, both generally and in specific situations. Terms related to parental alienation include child alienation, pathological alignments, visitation refusal, brainwashing, pathological alienation, the toxic parent and parental alienation syndrome though the last term is a specific formulation of a medical syndrome proposed by psychiatrist Richard Gardner that is not well accepted.
Plumber's Day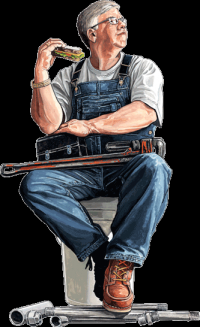 Most people take plumbing for granted. It works so well we never think about it. But that's no accident. It's a testament to America's hardworking, highly skilled plumbers - from the industrial hydraulic engineer to the guy who turns the wrench.
Of course, it wasn't always thus. People hand-carried water from rivers. Did their business in the bush, or in cesspools, out-houses and chamber pots they'd toss into foul, unsanitary streets. Think about all the squalor and disease that plumbers have saved mankind from suffering. Has there ever been a more noble Profession?
Plumbing takes expertise, and accreditation. It's often hard work, shimmying under foundations, dodging dirt and spiders, digging septic tank holes, lugging 200 lb. showers up stairs. Not to mention a certain unmentionable: what plumbers call "solids." Truly, these guys do our dirty work
So when we heard there was a holiday dedicated to Plumbers — declared by congress no less — we thought it high time it was paid some attention!
(We're talking about Plumber's Day, Monday April 25th, celebrated as part of National Plumbing Industry Week, which is declared by resolution in the U.S. House and most state legislatures for the last week of April.)
Red Hat Society Day
The Red Hat Society (RHS) is a social organization originally founded in 1998 in the United States for women age 50 and beyond, but now open to women of all ages. As of 2011, there were over 40,000 chapters in the United States and 30 other countries.
The founder of the Society is artist Sue Ellen Cooper, who lives in Fullerton, Orange County, California. In 1997, Cooper gave a friend a 55th birthday gift consisting of a red bowler purchased at an antique store along with a copy of Jenny Joseph's poem "Warning". The opening lines of the poem read:
"When I am an old woman I shall wear purpleWith a red hat that doesn't go and doesn't suit me."
Cooper repeated the gift on request several times, and eventually several of the women bought purple outfits and held a tea party on April 25, 1998.
After spreading by word of mouth, the Society first received national publicity in 2000 through the magazine Romantic Homes and a feature in The Orange County Register. Cooper then established a "Hatquarters" to field the hundreds of e-mail requests for help starting chapters. She now serves as "Exalted Queen Mother", and has written two best-selling books about the Society, "The Red Hat Society: Friendship and Fun After Fifty" published in April 2004 and "The Red Hat Society's Laugh Lines: Stories of Inspiration and Hattitude" published in April 2005."
Save the Frogs Day
Save The Frogs Day takes place on the last day of April each year. Conceived and coordinated by SAVE THE FROGS!, Save The Frogs Day is the world's largest day of amphibian education and conservation action. On this day we encourage the appreciation and celebration of amphibians by people from all walks of life. Only a small proportion of the public is aware that frogs are disappearing, and amphibian conservation efforts will not be successful with an un-informed public. Our goal is to make the amphibian extinction crisis common knowledge, and Save The Frogs Day is our best way to make this happen!
Since 2009 our supporters have held over 923 Save The Frogs Day educational events in 59 countries: Australia, Bangladesh, Belize, Bhutan, Bolivia, Brazil, Canada, Chile, China, Colombia, Costa Rica, Croatia, Czech Republic, Dominica, Dominican Republic, Ecuador, Estonia, Germany, Ghana, Guatemala, Hungary, India, Indonesia, Ireland, Italy, Kenya, Liberia, Madagascar, Malaysia, Mauritius, Mexico, Nepal, New Zealand, Nigeria, Pakistan, Panama, Papua New Guinea, Peru, Philippines, Portugal, Romania, Sierra Leone, South Africa, South Korea, Spain, Sweden, Switzerland, Taiwan, Tanzania, Turkey, Uganda, Ukraine, United Kingdom and the USA. These events have helped educate tens of thousands of people about the importance of frogs and ways to protect amphibian populations!
Save The Frogs Day events have included protests at the US Environmental Protection Agency for its failure to ban harmful endocrine-disrupting pesticides; parades through major urban centers; frog art and photo exhibits in town centers; habitat restoration at critical frog habitats; nature walks to teach people about their local amphibians; and numerous presentations on amphibian conservation in schools and universities. Because of Save The Frogs Day and our worldwide network of volunteers, the frogs now have assistance all around the planet, and the next generation of humans is growing up with the knowledge needed to protect amphibians from extinction.
World Malaria Day is commemorated every on 25 April. It recognizes global efforts to control malaria. Globally, 3.3 billion people in 106 countries are at risk of malaria. In 2009, 781 000 people died from malaria, mainly women and children in Africa
World Malaria Day was established in May 2007 by the 60th session of the World Health Assembly, the decision-making body of the World Health Organization. The day was established to provide "education and understanding of malaria" and spread information on "year-long intensified implementation of national malaria-control strategies, including community-based activities for malaria prevention and treatment in endemic areas."
Malaria is a mosquito-borne infectious disease of humans. It is widespread in tropical and subtropical regions, including much of Sub-Saharan Africa, Asia and the Americas. The disease results from the multiplication of malaria parasites within red blood cells, causing symptoms that typically include fever and headache, in severe cases progressing to coma, and death.
Malaria is not just a disease commonly associated with poverty but also a cause of poverty and a major hindrance to economic development. Tropical regions are affected most, however malaria's furthest extent reaches into some temperate zones with extreme seasonal changes. The disease has been associated with major negative economic effects on regions where it is widespread. During the late 19th and early 20th centuries, it was a major factor in the slow economic development of the American southern states.
World Penguin Day
April 25 is World Penguin Day. On the 25th of April every year, the Adelie penguins in the Antarctic begin their annual northward migration. The Adelies start migrating in the Antarctic fall season and won't return to their colonies until the following spring. In true synchronized fashion, the Adelies dive into the frigid waters answering their Nature's call to migrate. They will swim north for only a few hundred miles (around 600km) and stay among icebergs that are floating about, feasting on krill and other penguin delicacies.
In actuality, these penguins don't technically go anywhere when they migrate. They'll bob around in the ocean and rest on the ice until it's time to head back home to Antarctica. Actually, the reason they do this is because the days in Antarctica are becoming darker during this time of year. Adelies do not see too well in the dark so they migrate north so they can hunt for food, otherwise they would starve.
Penguins are found in Antarctica, South Africa, Australia, New Zealand, Chile, Peru, the Falkland Islands, and the Galapagos Islands. Penguins are probably the world's most popular bird – think of Happy Feet, March of the Penguins, Pingu and penguin books to name a few uses in popular culture. These charismatic flightless birds are funny to watch on land but are graceful and rapid in water. They occur only in the seas of the Southern hemisphere; there are seventeen species of penguin ranging from the Galapagos to Antarctica.
Penguin facts:
Volunteer Point on the Falkland Islands is the world's largest accessible king penguin colony with 1000 pairs of breeding penguins.
Unlike many other penguins which get around obstacles by sliding on their bellies, Rockhoppers will try to jump over them as their name suggests. Rockhopper penguins are the smallest of the Falkland penguins and they come to the Falklands to breed on cliff tops in October. 70% of the world's Rockhopper population is in the Falklands.
The macaroni penguin is probably the most abundant penguin species in the world; the estimated world population exceeds 11 million pairs.
The gentoo penguin is the third largest species of penguin after the emperor and king penguin.
Magellanic penguins ( named after Ferdinand Magellan) are also known in the Falklands as the jackass penguin because of their braying call. They arrive in September but leave in April to migrate as far as Brazil. They breed in underground burrows, up to 6 meters deep, providing effective protection from predators and the harsh weather.
The Galapagos Penguin is the only penguin specie that ventures north of the equator in the wild.
Penguins can drink sea water.
Chinstrap Penguins get their name from the thin black band under their head. At times it looks like they're wearing a black helmet, which might be useful as they're considered the most aggressive type of penguin.
Penguin's black and white plumage serves as camouflage while swimming. The black plumage on their back is hard to see from above, while the white plumage on their front looks like the sun reflecting off the surface of the water when seen from below.
Little Blue Penguins are the smallest type of penguin, averaging around 33 cm (13 in) in height. The Emperor Penguin is the tallest of all penguin species, reaching as tall as 120 cm (47 in) in height.
How to celebrate World Penguin Day
This is a holiday to have fun with and put your penguin passion front and center. So have a blast and try to do lots of things "penguinish", whether dressing in plenty of black and white, wearing penguin apparel and / or accessories, eating fish (healthy), waddling every now and then (remember to stretch first), telling penguin jokes (keep them clean), watching a penguin video (be it a nature film, animated or something in between like Mr. Popper's Penguins), read about penguins (plenty of kids and adult books are available), visit penguins at your local zoo or aquarium, adopting a penguin or maybe even treating yourself by buying up hordes of penguin merchandise.
World Veterinary Day
Whether you're a cat person, a dog person, a rabbit person or a horse person, there's one thing all animal lovers can agree on, and that's the fantastic work carried out by veterinarians. Celebrate with your pet on World Veterinary Day by buying them a treat or a new toy to show them how much they mean to you as you appreciate the work veterinarians do to keep pets healthy.
World Veterinarian Day was created in 2000 by the World Veterinary Association to highlight and promote the lifesaving work performed by veterinarians around the globe. Each year, a different theme is chosen which helps pet owners to remember the importance of various aspects of animal care, and how vets can help, for example ensuring your pet's vaccinations are up to date.
Veterinary medicine is the branch of medicine that deals with the prevention, diagnosis and treatment of disease, disorder and injury in animals. The scope of veterinary medicine is wide, covering all animal species, both domesticated and wild, with a wide range of conditions which can affect different species.
Veterinary medicine is widely practiced, both with and without professional supervision. Professional care is most often led by aveterinary physician (also known as a vet, veterinary surgeon or veterinarian), but also by paraveterinary workers such as veterinary nurses or technicians. This can be augmented by other paraprofessionals with specific specialisms such as animalphysiotherapy or dentistry, and species relevant roles such as farriers.
Veterinary science helps human health through the monitoring and control of zoonotic disease (infectious disease transmitted from non-human animals to humans), food safety, and indirectly through human applications from basic medical research. They also help to maintain food supply through livestock health monitoring and treatment, and mental health by keeping pets healthy and long living. Veterinary scientists often collaborate with epidemiologists, and other health or natural scientists depending on type of work. Ethically, veterinarians are usually obliged to look after animal welfare.
On this special day, why not raise a paw, hoof or claw to say thank you to our veterinarians.