If you've ever been in a hospital, you know that the first person you tend to encounter is the Hospital Admitting Clerk. What an admitting clerk goes through on a daily basis is perhaps not appreciated by those who are coming in. After all, they're usually coming in sick, in pain, and generally not with their best game face on. They deal with all the illnesses you bring in, the cranky children, the attitude that comes when you're in pain that you can't help. Hospital Admitting Clerks Day is dedicated to them.

They listen to your woes, call your insurances, and have to explain to customers that don't want to hear it exactly what their health care is going to cost. In big hospitals they take your phone calls, calm worried family and friends, and generally do everything they can to ease the panic that can come working in that environment. We rarely remember them, it's always the Doctors name that sticks with us, or the nurses. But not the lonely vanguard at the front desk that admits us, sends us to triage, and is our first contact as we seek care.

The best way to celebrate this day is by making a point of going in and thanking these wonderful workers. There is no part of the process of you getting in to get the medical care you need that they aren't involved with, and they're the ones who see you on your way out and set up a new appointment. Considering all they deal with every day, don't you think it is time you gave a little back?

To make the day really special for them, you can do something as simple as collect a bunch of flowers for the staff behind the desk, and bring them in with a card wishing them a happy "Hospital Admitting Clerk" day. You could print up plaques or fliers for your favorite clerks, or even just go into the facility you do business with and thank them for their service. It is not a common thing for them to receive such gratitude, especially without them having performed some recent service for it.
To think, in the middle of all the other work they perform, these clerks answer your calls, monitor the control centers in the hospital to be on the ball should any emergencies pop up in the hospital itself. They are also charged with protecting your valuable HIPAA information, all of the medical records and insurance and other personal information you provide to your health care provider every time you visit.

So if you've ever been into the hospital, or have a family member who works in one, it may be time to think about thanking these wonderful people for all they do. They truly are the backbone that helps the rest of the officer run. They handle all the administrative tasks, make sure the doctors know when your appointments are, and generally keep everything flowing nicely throughout the day. Not just making and receiving faxes, but actually keeping those machines running. There isn't a single aspect of the hospitals infrastructure they don't shepherd on its proper course.

One great idea is to contact your local medical facilities and talk to the management about organizing a thank you party on this day for the Medical Admitting Clerks there. You may even be able to contact local merchants, like Starbucks, restaurants, even gift shops, and get them involved in promoting this holiday and the work that these wonderful people do. This Medical Admitting Clerks Day, it's time to thank yours!


International Weed Out Hate Day
We want to help you get the most out of your gardening experience, by helping you nurture your spirit as well as the plants in your garden. In the same manner that we compost plant waste into rich fertile substrate, we offer tips for rooting out and composting our inner weeds, into spiritual substrate. Freed from these limitations, our spirits, like our flowers can shout out a garden jubilee. This process begins at home and school by encouraging our kids of different ethnicities and religions--to grasp onto and root out weeds of hatred--together.
Dâimyo Jackson, the world's most famous living Michael Jackson Action Show Entertainer, has teamed up with us for making this spiritual fitness regimen as easy and as much fun as child's play. Through his musical gardening swing, he helps us connect with the spirits of Dr. Martin Luther King, Jr. and Michael Jackson, the King of Pop, for weeding out hate and sowing the seeds of love.
During a normal year, school children may learn about Dr. Martin Luther King, once or perhaps twice a year. The objective of "weed out hate" is to have kids relate to his principles every time a weed pops up. Through This repetition, rooting out acculturated racism, anti-Semitism or any form of prejudice becomes second nature.
Just as with any other diet, there is no getting around it. You need the right food. Dâimyo's Gardening Swing Music CD and our Social Inclusion Classroom Peace Seeds, are now available in our Garden Jubilee Shop at affordable prices."
In 1946, Ross Daniels, invented the Ross Root Feeder®, an irrigation tool that to this day nurtures the deepest roots of trees and shrubs and connects millions of home owners to nature. My goal is to carry the torch and take my grandfather's vision to the next level—to better connect future generations of gardeners, and kindergartners, with nature for the higher purpose of improving the fabric of society.
In a similar manner that root feeding unlocks stagnant soil for facilitating absorption of nutrients and water through the tree's root structure for optimal fruit harvest, Weed Out Hate root feeds our children for yielding fruits of the connections to nature, friends, family, and society. Weed Out Hate removes the obstacles that prevent us from feeling and drawing upon the strong roots that we already have. It's a great treatment for enriching and stimulating our education roots. It empowers even the smallest child to condition his future self as well as the future garden by learning to remove acculturated prejudice in a similar manner that one extracts weeds in the garden-roots and all.

After devoting 30 years of my professional life working within the green industry and the past five years of researching the spiritual, cultural, and ecological roots of global gardening trends, the time has come to sow the seeds of this inspiration and wisdom in the land where Abraham Lincoln's roots ran deepest-Springfield, IL.
National Chocolate Mousse Day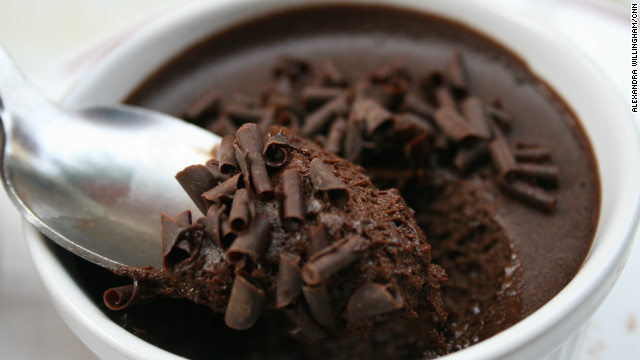 April 3 is National Chocolate Mousse Day!
Forget the spoon and just stick your face into a mess of mousse today. While you won't want to comb this kind through your hair, it sure tastes like a chocoholic's dream.
A French word that literally means "froth" or "foam," mousse is both rich and airy, combining the best of both dessert worlds. The secret to its cloud-like texture is beaten egg whites or whipped cream.
The origins of chocolate mousse are relatively unknown. After being introduced to chocolate by the Spanish, French chefs have been cooking with chocolate since the early 17th century. Mousse, which means "foam", originated in France in the 18th century. It was only a matter of time until cooking with chocolate and making dishes with foamy textures came together for "mousse au chocolat."
The first written record of chocolate mousse in the United States comes from a Food Exposition held at Madison Square Garden in New York City in 1892. A "Housekeeper's Column" in the Boston Daily Globe of 1897 published one of the first recipes for chocolate mousse. The recipe yielded a chocolate pudding-type dish, instead of today's stiff, but fluffy, mousse.
Mousse became as we know it with the introduction of egg whites, separated from the yolks. The introduction of electric mixers made the foaming process much, much easier. Whipping egg whites by hand is not as effective or efficient.
Everybody seems to have their own ideas when it comes to adding flavorings and even toppings, but the main ingredients in a chocolate mousse rarely change: chocolate, egg whites, and sugar. Some recipes also call for cream, butter and/or egg yolks. While some of us extreme-chocolatiers prefer the taste of the chocolate shining through the mousse, the addition of some liqueurs is also absolutely divine.
As with any recipe that calls for chocolate, the secret is using the very best chocolate you can. Your mousse is only as good as your chocolate.
Julia Child is often credited with making the perfect chocolate mousse. Her precise recipe includes eggs, dark-brewed coffee, butter, bittersweet chocolate, dark rum and vanilla extract.
And as David Lebovitz says, since he isn't one to argue with Julia, these individual mousses don't need any adornment once you're ready to serve. A spoon should suffice!
National D.A.R.E Day


Each year one day, National D.A.R.E. Day, is set aside to celebrate the contributions and accomplishments of D.A.R.E., as well as the students having graduated from D.A.R.E. their D.A.R.E. Officers and schools and law enforcement agencies hosting D.A.R.E.
In 2014, National D.A.R.E. Day will be observed on Thursday, April 3rd. Please join with others in the nationwide observance commemorating D.A.R.E.'s thirty years of service to students and their parents.
D.A.R.E. trains local police officers who in turn serve as a local resource in helping educate young people on how to resist peer pressure and refrain from drug use, violence, and other high-risk behaviors.
D.A.R.E. was founded in 1983 in Los Angeles. Thirty years later, D.A.R.E is now in over 70% of the school districts nationwide. D.A.R.E. implementations can also be found in 53 other nations around the world.
As a Nation, we must work to raise a drug-free and healthy generation of 21st-century leaders. Substance abuse and its consequences have grave impacts on our society—destroying lives, tearing apart families, and introducing drug-related violence to our neighborhoods.
Young Americans especially need the help and support of caring adults to resist pressure to use drugs or engage in other harmful activities.
We must address the use of illegal drugs, tobacco, and alcohol, as well as prescription drug abuse, among youth by building knowledge of the warning signs and risks associated with substance abuse. Though parents must take the lead in teaching the value of drug-free living, friends, mentors, teachers, and neighbors also have roles to play in helping adolescents understand the dangers of alcohol and drug addiction.
By joining together to tackle this issue and encourage positive behavior, communities can help young people reject the pressure to try illicit substances or engage in other hazardous activity
National Don't Go To Work Unless It's Fun Day


Don't go to Work Unless It's Fun Day is just that, if it's fun, go to work. If it's not, then don't go. However, make sure that you don't lose your job if you don't show up. You could also make sure that it will be a fun day at work by having some type of activity or game. Employers especially should create a reason for it to be a fun on this day so that everyone is sure to come to work.
While we definitely like the concept of this holiday, it does appear to be significantly redundant with International Fun at Work Day which is usually celebrated on April 1st. It seems overkill to have two holidays so similar, so close together -- especially when asking your employer for a fun day.
Based on this, we feel that one of these holidays should be depreciated. Which one? Our vote is for dropping this holiday in favor of International Fun at Work Day based on the following...
One of the primary things that we feel makes a holiday a holiday, is the back story. Basically, how did the holiday get started? Who was behind it? With International Fun at Work Day we've been able to find its origin, while with this one we haven't been able to find any info about it.
Having date significance is another important factor. While International Fun at Work Day is celebrated on April 1st which is a great tie-in to April Fools Day, we've found no date tie-in for Don't go to Work Unless it's Fun Day.
Most workplace holidays are celebrated during the work week. For this holiday, many times April 3rd will be on a weekend, which for many people is not much of a celebration on those years. Whereas International Fun at Work Day is usually celebrated on April 1st, but if April 1 falls on a weekend, then it's the first Thursday in April.
National Find a Rainbow Day


From a symbol for social change, a bridge connecting heaven and earth, to the U.S. Army 45th Infantry Division patch and the spot where you will find a leprechaun's gold, the rainbow has been used to symbolize joy and goodness in mankind. National Find a Rainbow Day is April 3, and to celebrate, Rainbow International has ways to find the silver lining in any situation.
Make obstacles a challenge
If obstacles damper and cloud your day, turn them into challenges. Once you accept the obstacles as a challenge you can make gray clouds go away and find your rainbow. Completing the obstacles will allow you develop new qualities and improve your character.
Make a list
When faced with a difficult situation, create in your head or on paper a list of things you are thankful for. By doing this you will see all the positives you have going for you and it will bring your rainbow to light. By having a list of positives your spirit will be lifted and give you positive energy.
Understand your limits
By acknowledging what you can control and letting go of what you cannot, the stuff you cannot fix will start to become less of a priority, allowing you to focus on what you can control and fix. Bring out your rainbow by handling what you can and letting go of what you can't.
Be optimistic
Have a glass is half-full attitude. You will always be able to find your rainbow if you have a consistently positive attitude. By being positive you can bring those around you up and positive as well.
Consider it could be worse
Similar to being optimistic, thinking it could be worse allows you to see that your situation isn't as bad as you might think. There is always something that could make your situation even more stressful than it already is. By remembering that it could be worse the silver lining, and rainbow, will start you show.
Rainbow International will be celebrating National Find a Rainbow Day and by using these tips you can find your own rainbow, and possibly pot of gold, at the end of the day, no matter how stressful or tough.


National Tweed Day
April 3 is National Tweed Day. Like many non-traditional holidays, the origins of this particular holiday are unknown. But what makes this special day a bit more unusual is that no one is quite sure what the annual event celebrates.
Boss Tweed
Some believe National Tweed Day recognizes the infamous senator-turned-crook, William "Boss" Tweed, who was born on this day in 1823. Considered the "poster boy" for political corruption, he was the wealthiest and most powerful politician at the time. Even to this day, Tweed is still considered one of the most notorious politicians in American history. It is estimated he stole up to $200 million of public money, which was a heck of a lot of dough back in the day. He endured several stints in the slammer, and died in jail in 1878.
Tweed Fabric
For some, National Tweed Day celebrates the rough, woolen twill material often used in apparel and accessories originating from Scotland. Rumor has it Sherlock Holmes, James Bond and Professor Henry Jones of Indiana Jones, frequently wore tweed.
And speaking to Tweeds, National Tweed Day could also celebrate the curvaceous 1982 Playboy Playmate, actress and reality-star, Shannon Tweed, right? The beautiful celeb recently married long-time boyfriend and notorious bachelor, Gene Simmons. The couple have two children.
How to Celebrate National Tweed Day
Get your tweed on by sporting tweed today.
Visit the Tweed Museum of Art – Yes, there really is one.
Take a listen to Tweed Music, the "psychedelic combination dream melting jam, funk, electronica and experimental rock." Yep.
Listen to the "uplifting" tune by Bob Dylan, Tweedle Dee & Tweedle Dum.
Speaking of music, visit the Tweed River Music Festival.
Learn how tweed is made.
Visit the River Tweed, famous for its salmon fishing.
Learn about the Tweed Water Spaniel, a breed of dog that has been extinct since the 1800's.
National Walk to Work Day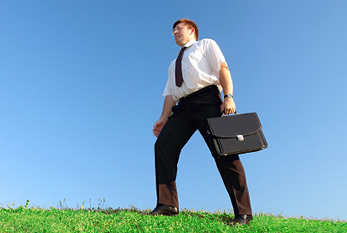 National Walk to Work Day was held on a Friday in April in the USA, beginning in 2004. The day was promoted by Prevention magazine and endorsed by the US Department of Health and Human Services and the American Podiatric Medical Association. National coordination for the event was no longer current as of 2015.
You are encouraged to walk for all or part of your commute to work. Aim for a minimum 15 minute walk each way. If you take public transportation, try walking to a further stop before boarding, or getting off a stop early and walking the rest of the distance to work. If your commute is too long, make it a Walk to Lunch Day. Invite your co-workers to join with you for Walk to Work Day, or join you in a Walk to Lunch.
Walking for 30-60 minutes a day greatly reduces your risk of dying from heart disease, cancer, stroke, and diabetes. By finding a way to make walking part of each day, you are giving yourself proven health benefits far beyond any promised by herbs, vitamins, or prescription drugs.

Sustained walking sessions for a minimum period of thirty to sixty minutes a day, five days a week, with the correct walking posture, reduce health risks and have various overall health benefits, such as reducing the chances of cancer, type 2 diabetes, heart disease, anxiety and depression. Life expectancy is also increased even for individuals suffering from obesity or high blood pressure. Walking also increases bone health, especially strengthening the hip bone, and lowering the more harmful low-density lipoprotein (LDL) cholesterol, and raises the more useful good high-density lipoprotein (HDL) cholesterol.

The CDC's (Center for Disease Control and Prevention) fact sheet on the Relationship of Walking to Mortality Among U.S. Adults with Diabetes states that those with diabetes who walked for 2 or more hours a week lowered their mortality rate from all causes by 39%. "Walking lengthened the life of people with diabetes regardless of age, sex, race, body mass index, length of time since diagnosis, and presence of complications or functional limitations."


Pony Express Day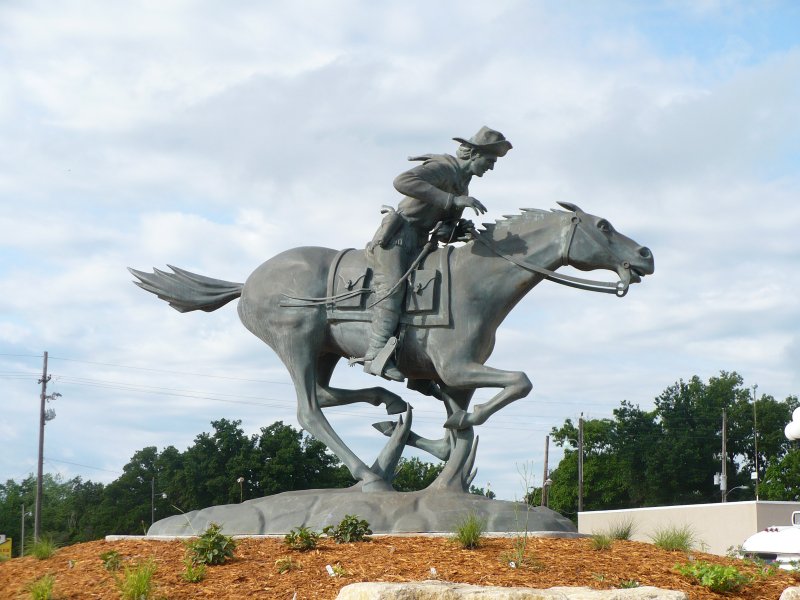 On this day in 1860, the first Pony Express mail, traveling by horse and rider relay teams, simultaneously leaves St. Joseph, Missouri, and Sacramento, California. Ten days later, on April 13, the westbound rider and mail packet completed the approximately 1,800-mile journey and arrived in Sacramento, beating the eastbound packet's arrival in St. Joseph by two days and setting a new standard for speedy mail delivery. Although ultimately short-lived and unprofitable, the Pony Express captivated America's imagination and helped win federal aid for a more economical overland postal system. It also contributed to the economy of the towns on its route and served the mail-service needs of the American West in the days before the telegraph or an efficient transcontinental railroad.
The Pony Express debuted at a time before radios and telephones, when California, which achieved statehood in 1850, was still largely cut off from the eastern part of the country. Letters sent from New York to the West Coast traveled by ship, which typically took at least a month, or by stagecoach on the recently established Butterfield Express overland route, which could take from three weeks to many months to arrive. Compared to the snail's pace of the existing delivery methods, the Pony Express' average delivery time of 10 days seemed like lightning speed.
The Pony Express Company, the brainchild of William H. Russell, William Bradford Waddell and Alexander Majors, owners of a freight business, was set up over 150 relay stations along a pioneer trail across the present-day states of Missouri, Kansas, Nebraska, Wyoming, Colorado, Utah, Nevada and California. Riders, who were paid approximately $25 per week and carried loads estimated at up to 20 pounds of mail, were changed every 75 to 100 miles, with horses switched out every 10 to 15 miles. Among the riders was the legendary frontiersman and showman William "Buffalo Bill" Cody (1846-1917), who reportedly signed on with the Pony Express at age 14. The company's riders set their fastest time with Lincoln's inaugural address, which was delivered in just less than eight days.
The initial cost of Pony Express delivery was $5 for every half-ounce of mail. The company began as a private enterprise and its owners hoped to gain a profitable delivery contract from the U.S. government, but that never happened. With the advent of the first transcontinental telegraph line in October 1861, the Pony Express ceased operations. However, the legend of the lone Pony Express rider galloping across the Old West frontier to deliver the mail lives on today.
World Party Day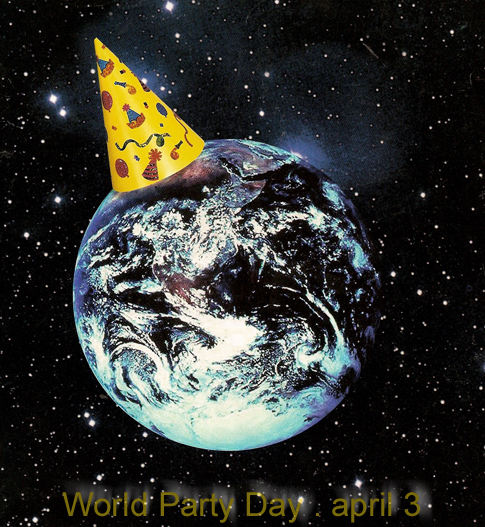 World Party Day is celebrated on April 03, 2014. World Party Day (P-Day) is celebrated every year as a synchronized global mass celebration of a better world and the active creation of desirable reality. The celebration has no religious or political ties and recognizes a "universal human right to fun, peace and life."
The idealized objective is a global Party of all Parties where every person in the world is in synch no matter what they are doing, to appreciate, participate in and celebrate social existence. Via holiday slogans, greetings and mottos, Party is defined as the opposite of War.
World Party Day began as a grassroots effort in 1996 and was one of the first global efforts in a growing number of movements of synchronized human celebration to bring about improved social conditions. World Party Day is observed yearly through personal and public observances of party-like atmosphere.