Every Day is Tag Day
Little lost pet. Big scary world.
It's a big, scary world out there for cats and dogs who are lost and alone, far from home. And even though you may think your pet would never run away -- never be one of the lost ones cowering in an alley or running across a busy street -- the sad fact is that it can happen to any pet.
Millions of dogs and cats are taken to animal shelters as strays each year -- but only about 15 percent of dogs and 2 percent of cats who end up in shelters without an ID tag or microchip are reunited with their owners.
Why? Because their owners failed to put identification on their animals. Yet even the most responsible pet owners can be accidentally or unexpectedly separated from their pets.
That's why American Humane Association celebrates Every Day Is Tag Day™ on the first Saturday in April each year: to encourage all pet owners to tag and microchip their companion animals.
Pet care is about more than providing food, water and shelter. Pet care also includes tagging and microchipping your pet.
Tips to Make Every Day Tag Day:
Make sure your pet wears a collar with a current ID tag, rabies tag, and city/county license. Include a contact name, address, and daytime and evening phone numbers.
Keep your pet's licenses, ID tag, and microchip current. Make sure to update the tag if you change your address or phone numbers.
When moving or traveling, place a temporary tag on your pet with the phone number of someone who knows how to reach you.
Remember that even indoor pets need tags. Many strays in shelters are indoor pets who escaped and got lost.
Don't wait until it's too late! Tag and chip your pet today.
Tag and microchip your pets
What to do if your pet gets lost
International Day for Mine Awareness and Assistance in Mine Action
The United Nations' International Day for Mine Awareness and Assistance in Mine Action is observed on April 4 each year. This day aims to raise awareness about landmines and progress toward their eradication.
Awareness programs and activities to mark the day take place in many countries around the world on April 4 every year. Activities for these awareness-raising events include photo exhibits, press conferences, film screenings, educational displays and community chats. Public events may include public statements from land mine survivors, mine action theatre performances and mine risk education demonstrations.
The day aims to raise awareness about landmines and progress toward their eradication. "Mine action" refers to a range of efforts to clear landmines and explosive remnants of war and to mark and fence off dangerous areas. It also includes assisting victims, teaching people how to remain safe in a mine-affected environment, advocating for universal participation in international treaties related to landmines, explosive remnants of war and their victims, and destroying landmines stockpiled by governments and non-state armed groups.
On 8 December 2005, the United Nations (UN) General Assembly declared that April 4 of each year would be officially proclaimed and observed as International Day for Mine Awareness and Assistance in Mine Action. It was first observed on April 4, 2006.
It called for continued efforts by states, with assistance from the UN and relevant organizations, to help establish and develop national mine-action capacities in countries where mines and explosive war remnants constitute a serious threat to the safety, health and lives of people, or hinders social and economic development at the national and local levels.
According to the Landmine Monitor Report 2005, 84 countries were affected by landmines and unexploded ordnance, which together kill or maim between 15,000 and 20,000 adults and children annually. The UN works together with countries to find and destroy these devices. It also helps to provide various mine-action services in many countries.
International Pillow Fight Day
I couldn't believe it when I heard ... that yes, International Pillow Fight Day really will be taking place!
The Urban Playground Movement has described public spaces in our cities as 'public living rooms'. Or I suppose, in this case, it would be bedrooms!
Lots of places around the world have had great fun getting involved with pillow fight day. See some absolutely fantastic pictures of the day taking place around the world - from Amsterdam, Budapest, to New York.
The basic idea is to get every major city in the world involved in this organised event! Flash-mobs like this are getting more and more common, and I think its a great way to let loose amidst our often stressful working weeks!
The first flash-mob apparently took place in Macy's, New York, in 2003. The Oxford Dictionary describes the flash-mob as an 'unusual and pointless act' - basically separating it from more serious gatherings like protests and so on. But that is the point - its not meant to mean anything serious, its all about having fun and now the world is going crazy with silent discos and pillow fights!
So for this year keep checking the International Pillow Fight Day website for event updates. Participants are already confirming that they will take part again.
Some tips - don't hit people too hard with your pillows! They might be made of feathers but can still pack a punch (I would know, having been on the receiving end!). It might be a difficult rule to remember once you get into the swing of it, but still an important safety rule!
National Cordon Bleu Day
It's National Cordon Bleu Day! Did you know that "cordon bleu" means "blue ribbon" in French? In the 1500's, the Order of the Knights of the Holy Spirit became known as "Les Cordon Bleus." The knights used a blue ribbon to hang their talisman, and eventually the term became associated with distinction and honor. Today, we still award blue ribbons for excellence!
In the culinary world, cordon bleu is a savory roulade dish made with chicken (or veal), ham, and Swiss cheese. Contrary to popular belief, chicken cordon bleu did not originate at Le Cordon Bleu culinary arts school. As with most dishes, it evolved over time and first appeared in America during the 1960s.
To celebrate National Cordon Bleu Day, cook up some delicious chicken cordon bleu for your family to enjoy tonight! Bon appétit!
National Tell-A-Lie Day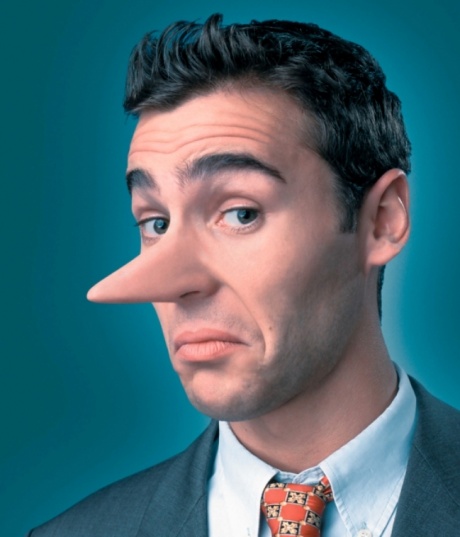 Believe it or not, there is actually a holiday that's all about dishonesty. April 4 is Tell a Lie Day, also referred to as National Tell a Lie Day! No lie! Whether you prefer to call them fibs, little white lies, tall tales or stretching the truth, this annual "holiday" actually is about lying. Although it's not surprising the creator of this event is unknown (habitual liar, perhaps?), this annual holiday is observed yearly on April 4.
While many people say they don't do it, Psychology Today reports that the "average" person lies several times per day! But despite what our parents and teachers told us, it is totally acceptable to lie – but just this once. So go ahead - give it your best shot! But just remember, National Honesty Day is coming up at the end of April.
Liar, Liar Pants on Fire
What is the biggest whopper you ever told?
Is telling a white lie ok to spare someone's feelings? "Does this dress make me look fat" or "Do you like my new hair style?"
What is the worst lie someone ever told you and how long ago did it happen?
If you could lie without getting caught, would you do it more often?
Would you lie on a resume to get a job?
Have you ever "fibbed" on your income taxes?
How to Celebrate Tell a Lie Day
It's important to remember, some lies can be extremely hurtful and harmful to others. If you plan on telling a little white lie today, make sure you tell your friends, loved ones and co-workers that April 4th is Tell a Lie Day - it's all in fun. Honest engine!
Tangible Karma Day
The purpose of Tangible Karma Day is for people celebrating the event to de-clutter their lives and to give to other people who are in need. Tangible Karma is a company founded by Amber Nicole Dilger in 2005 and her idea was to recycle and reuse. You can visit their website to donate goods and track how they are used to help others. From this company came the inspiration for Tangible Karma Day.
There are several ways that people can celebrate Tangible Karma Day. One way is for individuals or groups to spend an hour of their day de-cluttering their lives and giving any unwanted items to those in need. Similarly, you can invite people to your home and gather together items to give to charity collectively. Another option is to volunteer at a shelter to help those in need for one day.
There are many ways you can spend this day. According to Tangible Karma, a few of them are house parties, visiting or volunteering at a shelter or simply by helping a friend. With a house party, the host or hostess has their friends drop off items that they want to give to charities. The hostess will keep a personal record of who donated what items and send them off to Tangible Karma to find those in need. When a response arrives for the item, the host/hostess then can inform the correct individual.
Visiting or volunteering at a shelter can make you more aware what exactly is needed there and what would be appreciated.
Helping a friend is wonderful way to lend support and encouragement. You can also help them to find ways to let go of items that are cluttering their lives.
Victims of Violence Wholly Day
One of three Days of Respect, today marks the anniversary of the assassination of Rev Dr. Martin Luther King. On Victims of Violence Wholly Day, programs are dedicated to visually affirming the principles of non-violence as preached by Dr. King.
The Days of Respect (Emancipation Days of Respect) are Humanitarian Day (January 15th – MLK's Birthday), Victims of Violence Wholly Day (April 4th – Anniversary of MLK's death) and Dream Day Quest and Jubilee (August 28th – Anniversary of King's "I Have a Dream" speech)
Just after 6 p.m. on April 4, 1968, Martin Luther King Jr. is fatally shot while standing on the balcony outside his second-story room at the Lorraine Motel in Memphis, Tennessee. The civil rights leader was in Memphis to support a sanitation workers' strike and was on his way to dinner when a bullet struck him in the jaw and severed his spinal cord. King was pronounced dead after his arrival at a Memphis hospital. He was 39 years old.
In the months before his assassination, Martin Luther King became increasingly concerned with the problem of economic inequality in America. He organized a Poor People's Campaign to focus on the issue, including an interracial poor people's march on Washington, and in March 1968 traveled to Memphis in support of poorly treated African-American sanitation workers. On March 28, a workers' protest march led by King ended in violence and the death of an African-American teenager. King left the city but vowed to return in early April to lead another demonstration.
On April 3, back in Memphis, King gave his last sermon, saying, "We've got some difficult days ahead. But it really doesn't matter with me now, because I've been to the mountaintop...And He's allowed me to go up to the mountain. And I've looked over, and I've seen the Promised Land. I may not get there with you. But I want you to know tonight that we, as a people, will get to the promised land."
One day after speaking those words, Dr. King was shot and killed by a sniper. As word of the assassination spread, riots broke out in cities all across the United States and National Guard troops were deployed in Memphis and Washington, D.C. On April 9, King was laid to rest in his hometown of Atlanta, Georgia. Tens of thousands of people lined the streets to pay tribute to King's casket as it passed by in a wooden farm cart drawn by two mules.
The evening of King's murder, a Remington .30-06 hunting rifle was found on the sidewalk beside a rooming house one block from the Lorraine Motel. During the next several weeks, the rifle, eyewitness reports, and fingerprints on the weapon all implicated a single suspect: escaped convict James Earl Ray. A two-bit criminal, Ray escaped a Missouri prison in April 1967 while serving a sentence for a holdup. In May 1968, a massive manhunt for Ray began. The FBI eventually determined that he had obtained a Canadian passport under a false identity, which at the time was relatively easy.
On June 8, Scotland Yard investigators arrested Ray at a London airport. He was trying to fly to Belgium, with the eventual goal, he later admitted, of reaching Rhodesia. Rhodesia, now called Zimbabwe, was at the time ruled by an oppressive and internationally condemned white minority government. Extradited to the United States, Ray stood before a Memphis judge in March 1969 and pleaded guilty to King's murder in order to avoid the electric chair. He was sentenced to 99 years in prison.
Three days later, he attempted to withdraw his guilty plea, claiming he was innocent of King's assassination and had been set up as a patsy in a larger conspiracy. He claimed that in 1967, a mysterious man named "Raoul" had approached him and recruited him into a gunrunning enterprise. On April 4, 1968, he said, he realized that he was to be the fall guy for the King assassination and fled to Canada. Ray's motion was denied, as were his dozens of other requests for a trial during the next 29 years.
During the 1990s, the widow and children of Martin Luther King Jr. spoke publicly in support of Ray and his claims, calling him innocent and speculating about an assassination conspiracy involving the U.S. government and military. U.S. authorities were, in conspiracists' minds, implicated circumstantially. FBI Director J. Edgar Hoover obsessed over King, who he thought was under communist influence. For the last six years of his life, King underwent constant wiretapping and harassment by the FBI. Before his death, Dr. King was also monitored by U.S. military intelligence, which may have been asked to watch King after he publicly denounced the Vietnam War in 1967. Furthermore, by calling for radical economic reforms in 1968, including guaranteed annual incomes for all, King was making few new friends in the Cold War-era U.S. government.
Over the years, the assassination has been reexamined by the House Select Committee on Assassinations, the Shelby County, Tennessee, district attorney's office, and three times by the U.S. Justice Department. The investigations all ended with the same conclusion: James Earl Ray killed Martin Luther King. The House committee acknowledged that a low-level conspiracy might have existed, involving one or more accomplices to Ray, but uncovered no evidence to definitively prove this theory. In addition to the mountain of evidence against him--such as his fingerprints on the murder weapon and his admitted presence at the rooming house on April 4--Ray had a definite motive in assassinating King: hatred. According to his family and friends, he was an outspoken racist who informed them of his intent to kill Dr. Martin Luther King, Jr. He died in 1998.
Vitamin C Day
The need to include fresh plant food or raw animal flesh in the diet to prevent disease was known from ancient times. Native peoples living in marginal areas incorporated this into their medicinal lore. For example, spruce needles were used in temperate zones in infusions, or the leaves from species of drought-resistant trees in desert areas. In 1536, the French explorer Jacques Cartier, exploring the St. Lawrence River, used the local natives' knowledge to save his men who were dying of scurvy. He boiled the needles of the arbor vitae tree to make a tea that was later shown to contain 50 mg of vitamin C per 100 grams.
Throughout history, the benefit of plant food to survive long sea voyages has been occasionally recommended by authorities. John Woodall, the first appointed surgeon to the British East India Company, recommended the preventive and curative use of lemon juice in his book "The Surgeon's Mate", in 1617. The Dutch writer, Johann Bachstrom, in 1734, gave the firm opinion that ''"scurvy is solely owing to a total abstinence from fresh vegetable food, and greens; which is alone the primary cause of the disease."''
While the earliest documented case of scurvy was described by Hippocrates around the year 400 BC, the first attempt to give scientific basis for the cause of this disease was by a ship's surgeon in the British Royal Navy, James Lind. Scurvy was common among those with poor access to fresh fruit and vegetables, such as remote, isolated sailors and soldiers. While at sea in May 1747, Lind provided some crew members with two oranges and one lemon per day, in addition to normal rations, while others continued on cider, vinegar, sulfuric acid or seawater, along with their normal rations. In the history of science this is considered to be the first occurrence of a controlled experiment comparing results on two populations of a factor applied to one group only with all other factors the same. The results conclusively showed that citrus fruits prevented the disease. Lind published his work in 1753 in his ''Treatise on the Scurvy''.
Lind's work was slow to be noticed, partly because his ''Treatise'' was not published until six years after his study, and also because he recommended a lemon juice extract known as "rob". Fresh fruit was very expensive to keep on board, whereas boiling it down to juice allowed easy storage but destroyed the vitamin (especially if boiled in copper kettles). For this otherwise unheard of feat, the British Admiralty awarded him a medal.
The name "antiscorbutic" was used in the eighteenth and nineteenth centuries as general term for those foods known to prevent scurvy, even though there was no understanding of the reason for this. These foods included but were not limited to: lemons, limes, and oranges; sauerkraut, cabbage, malt, and portable soup.
In 1907, Axel Holst and Theodor Frølich, two Norwegian physicians studying beriberi contracted aboard ship's crews in the Norwegian Fishing Fleet, wanted a small test mammal to substitute for the pigeons they used. They fed guinea pigs their test diet, which had earlier produced beriberi in their pigeons, and were surprised when scurvy resulted instead. Until that time scurvy had not been observed in any organism apart from humans, and had been considered an exclusively human disease.
Discovery of ascorbic acid
In 1912, the Polish-American biochemist Casimir Funk, while researching deficiency diseases, developed the concept of vitamins to refer to the non-mineral micro-nutrients which are essential to health. The name is a blend of "vital", due to the vital role they play biochemically, and "amines" because Funk thought that all these materials were chemical amines. One of the "vitamines" was thought to be the anti-scorbutic factor, long thought to be a component of most fresh plant material.
In 1928 the Arctic anthropologist Vilhjalmur Stefansson attempted to prove his theory of how the Eskimos are able to avoid scurvy with almost no plant food in their diet, despite the disease striking European Arctic explorers living on similar high-meat diets. Stefansson theorised that the natives get their vitamin C from fresh meat that is minimally cooked. Starting in February 1928, for one year he and a colleague lived on an exclusively minimally-cooked meat diet while under medical supervision; they remained healthy. (Later studies done after vitamin C could be quantified in mostly-raw traditional food diets of the Yukon, Inuit, and Métís of the Northern Canada, showed that their daily intake of vitamin C averaged between 52 and 62 mg/day, an amount approximately the dietary reference intake (DRI), even at times of the year when little plant-based food were eaten.)
From 1928 to 1933, the Hungarian research team of Joseph L Svirbely and Albert Szent-Györgyi and, independently, the American Charles Glen King, first isolated the anti-scorbutic factor, calling it "ascorbic acid" for its vitamin activity. Ascorbic acid turned out ''not'' to be an amine, nor even to contain any nitrogen. For their accomplishment, Szent-Györgyi was awarded the 1937 Nobel Prize in Medicine "for his discoveries in connection with the biological combustion processes, with special reference to vitamin C and the catalysis of fumaric acid".
Between 1933 and 1934, the British chemists Sir Walter Norman Haworth and Sir Edmund Hirst and, independently, the Polish chemist Tadeus Reichstein, succeeded in synthesizing the vitamin, making it the first to be artificially produced. This made possible the cheap mass-production of what was by then known as vitamin C. Only Haworth was awarded the 1937 Nobel Prize in Chemistry for this work, but the "Reichstein process" retained Reichstein's name.
In 1933 Hoffmann–La Roche became the first pharmaceutical company to mass-produce synthetic vitamin C, under the brand name of Redoxon.
In 1957 the American J.J. Burns showed that the reason some mammals were susceptible to scurvy was the inability of their liver to produce the active enzyme L-gulonolactone oxidase, which is the last of the chain of four enzymes which synthesize vitamin C. American biochemist Irwin Stone was the first to exploit vitamin C for its food preservative properties. He later developed the theory that humans possess a mutated form of the L-gulonolactone oxidase coding gene.
In 2008 researchers at the University of Montpellier discovered that in humans and other primates the red blood cells have evolved a mechanism to more efficiently utilize the vitamin C present in the body by recycling oxidized L-dehydroascorbic acid (DHA) back into ascorbic acid which can be reused by the body. The mechanism was not found to be present in mammals that synthesize their own vitamin C.
World Rat Day
April 4th, will mark the twelfth celebration of World Rat Day, a holiday designed to recognize the fancy rat as a wonderful pet and companion animal for people of all ages. Sometime in 2002 on the ratlist, the longest standing mailing list on the internet dedicated to the topic of the pet rat, a discussion was sparked about the possibility of initiating a holiday to honor and promote pet rats as the wonderful companion animals they are. The date of April 4th was selected to be World Rat Day because this is the only certain date associated with the beginning of the ratlist (under the current ownership of James Kittock and Robyn Arthur). Any day of the year could have been selected but April 4th was settled on as a small tribute to the rat list, a list that has truly been a great boon to all pet rats everywhere.
All true fans of the pet rat know that these dear, sweet animals deserve greater recognition and admiration, and that their image suffers from ignorance and unthinking prejudice. World Rat Day can be a day to win back some respect to rats through positive promotion, or at the very least, it will be a special day to offer delicious treats and fun gifts to our pets, making some rats very happy and getting some cute photographs in the process!
Many rat fanciers will choose to celebrate World Rat Day by planning private parties, with friends and family attending and possibly bearing gifts and treats to unsuspecting and surprised rats. World Rat Day greeting cards will surely make their way around the globe and in to the homes and hands of many grateful rats, although nobody can say whether they will be cherished or shredded. Many rat fanciers will probably plan larger events such as Ratfests, where many rat fanciers meet at a private home or special location to share food and rat-positive cheer. At least a few rat fanciers will seek out positive means to promote these special animals in various medias. World Rat Day lends itself well to organizing large-scale ratfests, contacting various medias for coverage in the "human interest" section of the newspaper, and even television programs. Whether World Rat Day is devoted to private parties or public outreach, we all will be prepared on World Rat Day to explain to anyone who asks that the pet rat is a wonderful pet with all the qualities necessary to become a part of the family. The pet rat is intelligent, devoted, clean, gentle, and imminently lovable. World Rat Day will prove all this to be true through the special efforts we make to honor our pet rats.