Draw a Picture of a Bird Day
Draw A Bird Day is April 8th of every year, all day long in whatever time zone you currently reside.

In 1943, Dorie Cooper was a 7 year old living in England. Her mother took her to a hospital in to visit her uncle who was wounded in the war. While they were there, Dorie's uncle was very distraught, having lost his right leg to a land mine. In an attempt to cheer him up, she asked him "Draw a bird for me, please" Even though he was unwell, he decided to do as Dorie asked. He looked out his window and drew a picture of a robin.
After seeing her uncle's bird picture, Dorie laughed out loud and proclaimed that he was not a very good artist, but that she would hang the picture in her room nonetheless. Her uncle's spirits were lifted by his niece's complete honesty and acceptance. Several other wounded soldiers also had their day brightened by the event and every time Dorie came to visit thereafter, they held drawing contests to see who could produce the best bird pictures. Within several months, the entire ward's walls were decorated by bird drawings.
3 years later, Dorie was killed after being struck by a car. At her funeral, her coffin was filled with bird images that had been made by soldiers, nurses and doctors from the ward where her uncle had been. Ever since then, those men and women remembered the little girl that brought hope to the ward by drawing birds on her birthday, April 8th.
Draw a Bird Day was never declared an official holiday, but it grew through those soldiers and medical personnel and their families. Today, it is celebrated world wide as a way to express joy in the very simplest of things in life and as a way to help soldiers everywhere forget war and suffering even if only for a short time.
International Romani Day
International Romani Day on April 8 is not just about celebrating Roma culture, it also highlights the persecution and discrimination that Roma people face in all areas of life.
The day was officially declared in 1990 in Serock, Poland, the site of the fourth World Romani Congress of the International Romani Union (IRU), in honour of the first major international meeting of Romani representatives, 7-12 of April 1971 in Chelsfield near London.
nternational Roma Day is an opportunity to celebrate Romani culture but also to highlight the persecution and discrimination that Roma people face in all areas of life.
"Stereotyping and negative perceptions of Roma people, embedded by some media and parts of the European public opinion feed discrimination in all spheres of life," said Jezerca Tigani, Europe and Central Asia Deputy Program Director.
"Governments must set the example and challenge social prejudices that foster discrimination against the Roma and ensure their equality. Instead, only too often governments neglect their responsibilities to their Roma citizens to the detriment of all."
Numbering between 10 and 12 million people, the Roma are one of Europe's largest and most disadvantaged minorities.
"International Roma Day means nothing if governments fail to guarantee basic rights to Roma" said Jezerca Tigani.
Even as events to mark this important annual event take place, Roma living in Belvil, an informal settlement in Belgrade, Serbia, will spend International Roma Day under the threat of forced eviction.
They were told two weeks ago about the eviction, but have no information about where they will go or what will happen to them.
Yet, a year ago on International Roma Day in 2011, the same Belvil residents were told by the City of Belgrade authorities that they would be resettled in prefabricated houses in settlements around the city. 12 months on, these promises have come to nothing
"This has been a really hard year for Roma in Belgrade, with more than eight forced evictions since last April " said Jezerca Tigani.
"The Serbian government continues to deny Roma the right to adequate housing – as they have done since April 2009, when Roma evicted from another informal settlement near Belvil, and spent International Roma Day, homeless on the side of the road."
In Romania, 76 families, the majority Roma, have to live with the consequences of eviction. They were forcibly evicted from Coastei Street in the center of the city of Cluj-Napoca in December 2010, and relocated on the outskirts of the city, where they live in overcrowded rooms next to a garbage dump and a former dump for chemical waste. Some of the Romani families were left homeless in the middle of the winter. For over a year they have been fighting for justice.
"We were already socially integrated when living in Coastei Street, we used to have jobs, the children went to high school, we had decent living standards, we had access to the park, etc. Here, by the garbage dump, we feel like in a ghetto, we feel discriminated against from all points of view," evicted Roma people told Amnesty International.
Millions of other Roma live in informal settlements, without adequate housing and often without access to running water or electricity. They are at greater risk of illness, but less able to access the health care they need.
In some countries Romani children are often placed in special schools designed for pupils with "mild mental disabilities" or segregated in separate schools and classes that offer an inferior education. In turn, they are severely disadvantaged in the labor market.
Unable to find jobs millions of Roma cannot access better housing, afford medication, or pay the costs of their children's schooling.
Socially marginalized, the Roma are also politically excluded.
The cycle continues, aggravated by the discrimination that is routinely denying the Roma equal opportunity, equal treatment and the full enjoyment of all their human rights.
Racially motivated violence against Roma is becoming an alarming trend in recent years, with isolated assaults or vigilante attacks targeting Roma settlements or communities.
Following a march attended by up to 2,000 people in the village of Gyöngyöspata by the far-right party Jobbik on 6 March 2011 three vigilante groups patrolled the village for almost a month. During this time, they were threatening, intimidating and harassing Romani residents. The Hungarian authorities failed to react adequately and prevent the abuses.
Instead of counteracting stereotypes and prejudices that fuel intolerance and hatred towards Roma, some governments and public officials actually strengthen them in their public discourse.
"It is time for governments in Europe to honour their obligations and protect their Roma citizens by ending discriminatory policies and practices that violate the human rights of Roma and keep them in a cycle of poverty and marginalization," said Jezerca Tigani.
When we think of the entire world that surrounds us, we should also appreciate what we have rather that what we do not and is generally out of our reach. This is what All is Ours Day is about. This is a day which rejoices in the fact that the world is full of things which belong to all of us in the world. National All is Ours Day is celebrated on the 8th of April every year.
Concept of National All is Ours Day
There are two aspects to this day. The first aspect is to highlight all the wonderful things in the world. We should become more aware of our surroundings and what exists in them. The other aspect compels people to actually consider that a lot of these things belong to everyone and so they can actually be shared with all. This is where the "all" comes in.
Activities on All is Ours Day
The first thing to do on this day is to spend time looking around and noticing how many wonderful things exist which can be shared with all of us. For example, the fragrance of a flower can be shared with someone by bringing to their notice what a beautiful thing exists and it is available to all.
Sharing is the main activity of this day, so take time out to share something special with another.
National all is Ours day is also a day of introspection. If we look around, we will realize how much we actually have to be grateful for and we should aim to be contented by what we have, rather than always yearning for what we do not.
National Dog Fighting Awareness Day
The ASPCA designated April 8 as National Dog Fighting Awareness Day (NDFAD) to increase understanding and awareness about dog fighting and to encourage animal-lovers across the country to take action against this brutal form of cruelty.
There are many ways to learn and take part in National Dog Fighting Awareness Day, now in its second year. For starters, watch and share the short documentary below to see for yourself why this issue needs to be in the national spotlight.
Well, dog-gone! Who knew? Organized dog fights still take place in many parts of the country, even though it's a felony offense across all 50 states.
So, the ASPCA is asking animal advocates to #GetTough on this cruel and barbaric practice by speaking out and creating a social movement by using its hashtag and spreading the word throughout the month of April, and especially on National Dog Fighting Awareness Day (NDFAD) on Wednesday, April 8.
"In recent decades, fights have become informal street corner and playground activities. Many people who participate in these fights lack even a semblance of respect for the animals, often starving and beating them to encourage aggressive behavior," the ASPCA said.
It's crazy to think that even the dog owners involved come from every community and all backgrounds, with audiences including lawyers, judges and teachers and other upstanding community leaders.
The main reason people participate is because of the financial benefits, sometimes bringing home sums of $20,000 to $30,000 from dog fights. Using breeds like the Fila Brasileiro, Dogo Argentino, Tosa Inu, Presa Canario and the American Pit Bull Terrier, to carry out the brutal blood sport.
Most fights involve some sort of "pit," between 14 and 20 feet square, confined by hay bales, plywood or chain link fencing, on grounds of dirt, wood, carpet or sawdust.
Once inside the fighting arena, the dogs line up about 12 to 14 feet apart and fight to the death. The losing dog is often discarded, killed or simply left with untreated injuries. If the loss is particularly "embarrassing" to the owner's reputation or status, it may be brutally executed as part of the "entertainment."
The ASPCA is doing all it can to combat these practices, assisting in raids and rescues alongside law enforcement agencies and by advocating for stronger laws and sentencing for those who commit this terrible crime.
But they need help. The #GetTough campaign will help raise awareness of the crime and encourage the Department of Justice to prosecute dog fighters with great frequency in 2015.
The ASPCA says there are 3 ways to get involved:
Download a #GetTough on dog fighting toolkit kit which includes a printable sign, Facebook & Twitter cover image, and digital shareables:http://www.aspca.org/GetTough
Take a photo with the #GetTough on dog fighting sign and post on social media using the #GetTough hashtag. Including your own pup in the photo is encouraged!
Ask the Department of Justice to #GetTough on dog fighters by creating harsher sentencing guidelines: http://bit.ly/1HxeMSL
#GetTough on dog fighting.
National Empanada Day
An empanada is a delicious Spanish and Portuguese type of stuffed bread, also known as "delicioco." Empanadas can be served hot or cold as the main course or as a side dish.
Empanadas are made by folding dough around a premade stuffing of chicken, cod, or pork loin. Other ingredients include tomatoes, garlic, and onion sauce.
Though this delectable dish originated in Europe, immigrants brought the recipe to various countries around the world where it was adopted and slightly altered to fit the tastes of that particular country. In Argentina, for example, empanadas are sometimes made with a fruit filling and served as dessert. In Jamaica, empanadas are referred to as "Jamaican patties" and are made with crispy pastry dough.
Empanadas were first served in the U.S. at Taco Bell, however they are now found on menus at Latin American restaurants around the world. To celebrate National Empanada Day, try making your own empanadas for dinner!
Trading Cards For Grown-ups Day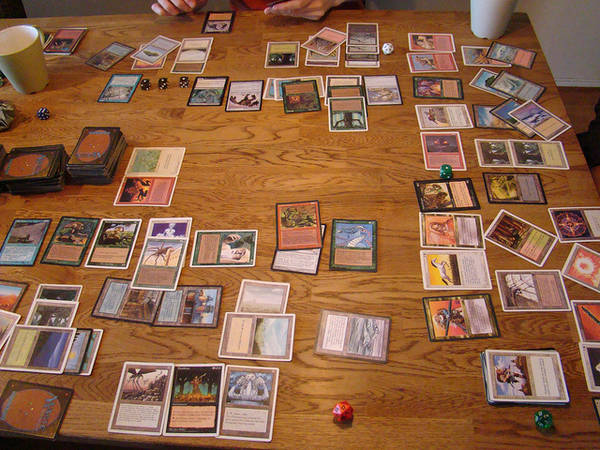 Happy Trading Cards For Grown-ups Day! A day for all those out there who have passed the age where trading cards were "cool" (I say that like they ever were, but really, trading cards kind of left the tiny corner of the playground they occupied by age 12 at the latest right?) but have never quite felt the need to let go of their trading cards. Whether it be for nostalgic reasons or because they will definitely be worth something someday (just like the beanie babies you still have in your closet) get out your trading cards and have a little trip down memory lane. Or, if you still actually use your cards instead of keeping them in your closet to collect dust as I do, perhaps get together with some people and celebrate.
Personally the cards that I have refused to let go of are my Magic: The Gathering cards. In case you missed out on this gaming wonder, put simply, players attempt to eliminate each others "life points" while retaining theirs by attacking and defending with various mythical monster, spell and trap cards. They used to be stupidly expensive and so my friends and I spent a while making do with the much cheaper Magic: The Gathering starter packs until our parents finally gave in.
Magic: The Gathering was first published in 1993 by Wizards of the Coast. Magic was the first trading card game produced and it continues to thrive, with approximately twelve million players.
And just to prove it to you…some of my treasured cards. Don't make the mistake of thinking I only kept some of them either…I have the full deck plus all those booster packs ;)
Vesākha
Vesākha, Wesak or Vesak, also known as Buddha Purnima and Buddha Day, is a holiday observed traditionally by Buddhists on different days in Sri Lanka, Nepal, Tibet,Bangladesh, Bhutan, India, and the South East Asian countries of Philippines, Singapore, Vietnam, Thailand, Cambodia, Laos, Malaysia, Myanmar and Indonesia, and other places all over the world. Sometimes informally called "Buddha's Birthday", it actually commemorates the birth, enlightenment (nirvāna), and death (Parinirvāna) of Gautama Buddha in the Theravada or southern tradition.
The exact date of Vesak is based on the Asian lunisolar calendars and is primarily celebrated in Vaisakha month of the Buddhist calendar and the Hindu calendar, and hence the name Vesak. In Nepal, which is considered the birth-country of Buddha, it is celebrated on the full moon day of the Vaisakha month of the Hindu calendar, and is traditionally called Buddha Purnima, Purnima meaning the full moon day in Sanskrit. In Theravada countries following the Buddhist calendar, it falls on a full moon Uposatha day, typically in the 5th or 6th lunar month. In China, Japan, and Korea, it is celebrated on the eighth day of the fourth month in the Chinese lunar calendar. The date varies from year to year in the Western Gregorian calendar, but usually falls in April or May. In leap years it may be celebrated in June.
The name of the observance is derived from the Pali term vesākha or Sanskrit vaiśākha, which is the name of the lunar month in the Hindu calendar falling in April–May (see Vaisakha). In Mahayana Buddhist traditions, the holiday is known by its Sanskrit name (Vaiśākha) and derived variants of it.
The decision to agree to celebrate Vesākha as the Buddha's birthday was formalized at the first conference of the World Fellowship of Buddhists held in Sri Lanka in 1950, although festivals at this time in the Buddhist world are a centuries-old tradition. The resolution that was adopted at the World Conference reads as follows:
" That this Conference of the World Fellowship of Buddhists, while recording its appreciation of the gracious act of His Majesty, the Maharaja of Nepal in making the full-moon day of Vesak a Public Holiday in Nepal, earnestly requests the Heads of Governments of all countries in which large or small number of Buddhists are to be found, to take steps to make the full-moon day in the month of May a Public Holiday in honour of the Buddha, who is universally acclaimed as one of the greatest benefactors of Humanity. "
On Vesākha Day, Buddhists all over the world commemorate events of significance to Buddhists of all traditions: The birth, enlightenment and the passing away of Gautama Buddha. As Buddhism spread from India it was assimilated into many foreign cultures, and consequently Vesākha is celebrated in many different ways all over the world. In India, Vaishakh Purnima day is also known as Buddha Jayanti day and has been traditionally accepted as Buddha's birth day.
In 1999, the United Nations resolved to internationally observe the day of Vesak at its headquarters and offices.