Golden Spike Day
On this day in 1869, the presidents of the Union Pacific and Central Pacific railroads meet in Promontory, Utah, and drive a ceremonial last spike into a rail line that connects their railroads. This made transcontinental railroad travel possible for the first time in U.S. history. No longer would western-bound travelers need to take the long and dangerous journey by wagon train, and the West would surely lose some of its wild charm with the new connection to the civilized East.
Since at least 1832, both Eastern and frontier statesmen realized a need to connect the two coasts. It was not until 1853, though, that Congress appropriated funds to survey several routes for the transcontinental railroad. The actual building of the railroad would have to wait even longer, as North-South tensions prevented Congress from reaching an agreement on where the line would begin.
One year into the Civil War, a Republican-controlled Congress passed the Pacific Railroad Act (1862), guaranteeing public land grants and loans to the two railroads it chose to build the transcontinental line, the Union Pacific and the Central Pacific. With these in hand, the railroads began work in 1866 from Omaha and Sacramento, forging a northern route across the country. In their eagerness for land, the two lines built right past each other, and the final meeting place had to be renegotiated.
Harsh winters, staggering summer heat, Indian raids and the lawless, rough-and-tumble conditions of newly settled western towns made conditions for the Union Pacific laborers--mainly Civil War veterans of Irish descent--miserable. The overwhelmingly immigrant Chinese work force of the Central Pacific also had its fair share of problems, including brutal 12-hour work days laying tracks over the Sierra Nevada Mountains. On more than one occasion, whole crews would be lost to avalanches, or mishaps with explosives would leave several dead.
For all the adversity they suffered, the Union Pacific and Central Pacific workers were able to finish the railroad--laying nearly 2,000 miles of track--by 1869, ahead of schedule and under budget. Journeys that had taken months by wagon train or weeks by boat now took only days. Their work had an immediate impact: The years following the construction of the railway were years of rapid growth and expansion for the United States, due in large part to the speed and ease of travel that the railroad provided.
Mother's Day
Mother's Day is a holiday honoring motherhood that is observed in different forms throughout the world. The American incarnation of Mother's Day was created by Anna Jarvis in 1908 and became an official U.S. holiday in 1914. Jarvis would later denounce the holiday's commercialization and spent the latter part of her life trying to remove it from the calendar. While dates and celebrations vary, Mother's Day most commonly falls on the second Sunday in May and traditionally involves presenting mothers with flowers, cards and other gifts.
Celebrations of mothers and motherhood can be traced back to the ancient Greeks and Romans, who held festivals in honor of the mother goddesses Rhea and Cybele, but the clearest modern precedent for Mother's Day is the early Christian festival known as "Mothering Sunday." Once a major tradition in the United Kingdom and parts of Europe, this celebration fell on the fourth Sunday in Lent and was originally seen as a time when the faithful would return to their "mother church"—the main church in the vicinity of their home—for a special service. Over time the Mothering Sunday tradition shifted into a more secular holiday, and children would present their mothers with flowers and other tokens of appreciation. This custom eventually faded in popularity before merging with the American Mother's Day in the 1930s and 1940s.
Did You Know? More phone calls are made on Mother's Day than any other day of the year. These holiday chats with Mom often cause phone traffic to spike by as much as 37 percent.
The roots of the modern American Mother's Day date back to the 19th century. In the years before the Civil War (1861-65), Ann Reeves Jarvis of West Virginia helped start "Mothers' Day Work Clubs" to teach local women how to properly care for their children. These clubs later became a unifying force in a region of the country still divided over the Civil War. In 1868 Jarvis organized "Mothers' Friendship Day," at which mothers gathered with former Union and Confederate soldiers to promote reconciliation.
Another precursor to Mother's Day came from the abolitionist and suffragette Julia Ward Howe. In 1870 Howe wrote the "Mother's Day Proclamation," a call to action that asked mothers to unite in promoting world peace. In 1873 Howe campaigned for a "Mother's Peace Day" to be celebrated every June 2. Other early Mother's Day pioneers include Juliet Calhoun Blakely, a temperance activist who inspired a local Mother's Day in Albion, Michigan, in the 1870s. The duo of Mary Towles Sasseen and Frank Hering, meanwhile, both worked to organize a Mothers' Day in the late 19th and early 20th centuries. Some have even called Hering "the father of Mothers' Day."
The official Mother's Day holiday arose in the 1900s as a result of the efforts of Anna Jarvis, daughter of Ann Reeves Jarvis. Following her mother's 1905 death, Anna Jarvis conceived of Mother's Day as a way of honoring the sacrifices mothers made for their children. After gaining financial backing from a Philadelphia department store owner named John Wanamaker, in May 1908 she organized the first official Mother's Day celebration at a Methodist church in Grafton, West Virginia. That same day also saw thousands of people attend a Mother's Day event at one of Wanamaker's retail stores in Philadelphia.
Following the success of her first Mother's Day, Jarvis—who remained unmarried and childless her whole life—resolved to see her holiday added to the national calendar. Arguing that American holidays were biased toward male achievements, she started a massive letter writing campaign to newspapers and prominent politicians urging the adoption of a special day honoring motherhood. By 1912 many states, towns and churches had adopted Mother's Day as an annual holiday, and Jarvis had established the Mother's Day International Association to help promote her cause. Her persistence paid off in 1914 when President Woodrow Wilson signed a measure officially establishing the second Sunday in May as Mother's Day.
Anna Jarvis had originally conceived of Mother's Day as a day of personal celebration between mothers and families. Her version of the day involved wearing a white carnation as a badge and visiting one's mother or attending church services. But once Mother's Day became a national holiday, it was not long before florists, card companies and other merchants capitalized on its popularity.
While Jarvis had initially worked with the floral industry to help raise Mother's Day's profile, by 1920 she had become disgusted with how the holiday had been commercialized. She outwardly denounced the transformation and urged people to stop buying Mother's Day flowers, cards and candies. Jarvis eventually resorted to an open campaign against Mother's Day profiteers, speaking out against confectioners, florists and even charities. She also launched countless lawsuits against groups that had used the name "Mother's Day," eventually spending most of her personal wealth in legal fees. By the time of her death in 1948 Jarvis had disowned the holiday altogether, and even actively lobbied the government to see it removed from the American calendar.
While versions of Mother's Day are celebrated throughout the world, traditions vary depending on the country. In Thailand, for example, Mother's Day is always celebrated in August on the birthday of the current queen, Sirikit. Another alternate observance of Mother's Day can be found in Ethiopia, where families gather each fall to sing songs and eat a large feast as part of Antrosht, a multi-day celebration honoring motherhood.
In the United States, Mother's Day continues to be celebrated by presenting mothers and other women with gifts and flowers, and it has become one of the biggest holidays for consumer spending. Families might also celebrate by giving mothers a day off from activities like cooking or other household chores. At times Mother's Day has also been a date for launching political or feminist causes. In 1968 Coretta Scott King, wife of Martin Luther King Jr., used Mother's Day to host a march in support of underprivileged women and children. In the 1970s women's groups also used the holiday as a time to highlight the need for equal rights and access to childcare.
Mothers at the Wall Day
This is a day for mothers who have lost a child to war. There is nothing more devastating that losing your child. If you have lost one who went off to fight for our country, you have the heartfelt sympathies of an entire nation at your feet as you go to the Vietnam Memorial Wall for the special Mother's Day ceremony.
The Name Addition Ceremony is held on Mother's Day each year. Each year, names that have met the Department of Defense criteria for addition to The Wall, having sustained wounds in Vietnam from which they eventually perished, are unveiled on the black granite of the Vietnam Veterans Memorial in Washington, DC.
This year, 2015, The names of seven American service members will be engraved on the black granite walls of the Vietnam Veterans Memorial, and the status designations will be changed for five others whose names are already on The Wall. These changes will bring the total number of names on the Vietnam Veterans Memorial to 58,307 men and women who were killed or who remain missing in action.

On Sunday, May 10 at 10 a.m., VVMF will host the annual Name Additions Ceremony, during which the changes will be commemorated. Each spring, VVMF works with the Department of Defense to make sure The Wall is accurate. Names are added for those service members who have met the Department of Defense criteria for addition to The Wall, having sustained wounds in Vietnam from which they eventually perished. Those service members who in the last year were returned or accounted for will have their statuses changed from MIA to KIA.

Weather permitting, work to inscribe the names and change designations will be complete this week. When names are added, the highly technical procedure requires meticulous work to match the stroke and depth of the surrounding names to within 1/1,000 of an inch. The physical work of adding the names and changing designations will be performed by James Lee of the Colorado-based company, Engrave Write.

The Department of Defense sets the criteria for and makes decisions about whose names are eligible for inscription on The Wall. The Vietnam Veterans Memorial Fund pays for the name additions and status changes, and works with the National Park Service to ensure long-term preservation and maintenance of The Wall.
Mother Ocean Day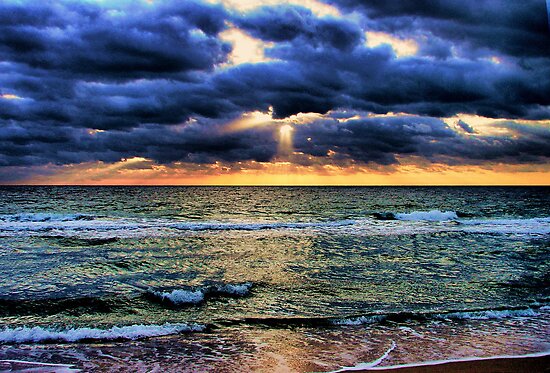 Water is essential to human life. In fact, it is essential to all of the forms of life known to humankind in general, as there are no known species that can survive without it. Though marine biologists are unsure just how many kinds of creatures reside in our planet's 5 oceans, it is estimated that about one-quarter of all of the Earth's species do. Not to mention how very important the oceans are to our civilization—for thousands of years, braving their waters has been one of the bravest feats a human being could accomplish, one that often led to amazing discoveries and the general increase of our knowledge of the planet we inhabit. For all of these reasons and many, many more, Mother Ocean Day is a long-overdue celebration of our oceans in all of their majesty and peril.

Mother Ocean Day is relatively a new celebration, as it was introduced for the first time in 2013. It is a concept thought up by the South Florida Kayak Fishing Club that has since sought the approval of the City of Miami to declare this a day official. The point, of course, is to take a day to celebrate the beauty and wonder of the ocean, and it is no surprise that inhabitants of Florida were the ones to come forward with this idea, as Florida is famous for particularly gorgeous white sand beaches and clear, aquamarine waters.

There are many things people can do on Mother Ocean Day, what's important is to pay homage to this incredible force of nature and enjoy what it has to offer to the full. Taking to the waves, whether this be on a boat or a surfboard, is one way to enjoy the day. Snorkeling and diving are both unforgettable ways to get to know the ocean better by taking a look at some of the plants, fish and other creatures living in it. If you prefer to stay on dry land, a picnic on the beach enjoying the calm, soothing sound of the waves could be the perfect way for you to appreciate the ocean. Just remember to clean up afterwards! And for those who wish to celebrate the day from the comfort of their own home, eating a meal made from foods of the ocean, such as fish and shellfish, could be a deliciously appropriate way to go about observing this occasion. For example, have you ever tried langoustines? Langoustines are an excellent alternative to lobsters, as they are much cheaper, but have a similar flavor some chefs even find superior to lobster because of its delicate sweetness. They are also surprisingly easy to prepare—all you really need is some salty water to briefly boil them, and some garlic butter to brush over them. If you love your barbecue, langoustines can also be barbecued and then dipped in a simple dijon mustard sauce. Originally, langoustines were eaten in Europe, but they have recently become popular in North America as well, so if you have never tried them, this day is the perfect time!

However, regardless of whether it's Mother Ocean Day or not, we should always respect the oceans and the beaches leading into them by never polluting them in any way, so future generations can enjoy them as much as we do today.
National Astronomy Day
National Astronomy Day, part of Astronomy Week, is aimed at connecting the public to astronomers and astronomy enthusiasts. It was started by Doug Berger, the president of the Astronomical Association of Northern California in 1973. He had the idea to set up various telescopes in busy urban locations so that passersby could enjoys views of the stars. His idea took off and the event has grown to include several sponsoring organizations associated with astronomy.
Astronomy Day changes every year based appropriately on the first quarter moon, which is generally between mid-April and mid-May. Check with you local science museum or planetarium to see if they have any special events to celebrate National Astronomy Day!
Astronomy is a natural science which is the study of celestial objects (such as stars, galaxies, planets, moons, asteroids,comets and nebulae), the physics, chemistry, and evolution of such objects, and phenomena that originate outside theatmosphere of Earth, including supernovae explosions, gamma ray bursts, and cosmic microwave background radiation. A related but distinct subject, physical cosmology, is concerned with studying the universe as a whole.
Astronomy is one of the oldest sciences. The early civilizations in recorded history, such as the Babylonians, Greeks, Indians,Egyptians, Nubians, Iranians, Chinese, and Maya performed methodical observations of the night sky. However, the invention of the telescope was required before astronomy was able to develop into a modern science. Historically, astronomy has included disciplines as diverse as astrometry, celestial navigation, observational astronomy and the making of calendars, but professional astronomy is nowadays often considered to be synonymous with astrophysics.
During the 20th century, the field of professional astronomy split into observational and theoretical branches. Observational astronomy is focused on acquiring data from observations of astronomical objects, which is then analyzed using basic principles of physics. Theoretical astronomy is oriented toward the development of computer or analytical models to describe astronomical objects and phenomena. The two fields complement each other, with theoretical astronomy seeking to explain the observational results and observations being used to confirm theoretical results.
Astronomy is one of the few sciences where amateurs can still play an active role, especially in the discovery and observation of transient phenomena and Amateur astronomers have made and contributed to many important astronomical discoveries.
National Clean Up Your Room Day
It's National Clean Up Your Room Day! Have you been avoiding your spring-cleaning this year? Today is the day to get motivated! Whether you decide to tackle a messy closet, a mounting pile of laundry, a whole room, or even the entire house, it'll be well worth the effort.
The tradition of spring-cleaning dates back to the days when people relied on fire to light and heat their homes through the winter. After months of being shut up with no fresh air, everything in the house would be covered in soot and ash. Spring-cleaning traditionally took place on the first warm day of the season. The entire family would roll up their sleeves and move all the furniture and linens outdoors. They would then clean the house from top to bottom, scrubbing down the walls, beating the dirt out of the carpets, and dusting everything in sight.
Begin your spring-cleaning by putting things away in their proper places and creating piles for trash and donations. Once you've decluttered it will become much easier to do the actual vacuuming, dusting, and scrubbing. When you've completed your project, remember to reward yourself for all your hard work! Happy National Clean Up Your Room Day!
National Shrimp Day
Grab some fresh fruit of the sea – May 10 is National Shrimp Day!
Whether you bake, boil, fry, grill, put 'em in a stew, serve 'em Southern-style with grits, stir into a scampi or stick on top of a cocktail, shrimp can be served so many ways, you'll run out daylight first.
At the base of soups or used for flavoring, shrimp is at the heart of Asian cooking. In Spain, folks like to toss them in with paella while Italians include shrimp in their pasta dishes. Coconut shrimp is a favorite in Caribbean cuisine, and curried shrimp is alive and well in Southeast Asia. And of course, fried shrimp is king here in the U.S.
But no matter where you are, you'll have to peel and devein those little beauties first. The shell is easy to detach – just hold the tail and peel away. To get rid of the digestive tract, just cut a slit in the back of the shrimp and remove it with a deveining tool, or even a knife, skewer or toothpick.
Pop shrimp all day long with these fun, tasty and varied ways. Summer is well on its way, so there's no better time to test out your favorite shrimp dishes ... or become a shrimp boat captain, if you're so inclined.
Stay Up All Night Night
Everyone has pulled an all-nighter at least once in their lives—some for fun, like singing songs around a campfire, others for something not so fun, like finishing homework due the next day or working a late shift. For one day of the year, you can stay up in unison as hundreds of people across the world celebrate Stay Up All Night Night! This is a chance to let loose and make some exciting plans with your friends, or just see where the night takes you. Whatever happens, the rule is simple: no sleep till morning! So why not challenge yourself and see how long you can stay awake before nodding off, or why not have your friends stay over and place a bet on who will fall asleep first? As long as you don't have anything important to do the next day, go for it!
Staying up all night is definitely no new concept. People like medical professionals have been staying up all night to do their jobs for hundreds of years, with countless people's lives depending on whether they would have their wits about them at 3 a.m. Today, tens of other jobs require work to be done 24 hours a day, 7 days a week. In the United States, an estimated 26% of the population works nights, so it is quite probable that you know someone who does this. What you may not know, however, is just how many risks working nights poses to your health, from sleep disturbances to obesity, from fatigue to depression, and from cardiovascular disease to fertility problems, to name but a few. And can you imagine just how hard it could be to concentrate on performing a complex medical procedure in the middle of the night? Stay Up All Night Night was created to help those of use who don't have to stay up all night to do our jobs understand how much effort actually goes into that.
The best way to celebrate this night is to stay up all night. Of course, you don't have to make a point of trying to work through the night, as it could be difficult for a person who doesn't do this on an everyday basis to focus properly. It's enough that you try to stay awake all through the night, whatever you may be doing. So, are you up for a challenge? Great! Have some friends come over and do something to keep you all awake. You can stay up and cook or bake, play your favorite card game, go out on the town, or watch movies (horror movies maybe more effective at keeping people awake!). Basically, you can do anything you want, although consuming alcohol could be very counterproductive, as it tends to make people sleepy. If you want to make things more interesting, maybe every person coming over to spend the night can put up a certain sum of money, with the person staying awake the longest getting to take the jackpot? Whatever you decide to do, this night is almost certain to be an eye-opener to everyone who thinks that staying awake all night when everyone you know is asleep is just as easy as staying awake during daylight hours.
World Lupus Day
World Lupus Day began with a Proclamation 10 years ago by an international steering committee representing lupus organizations from 13 different nations when they met in Eaton, United Kingdom to organize the first observance of World Lupus Day. The Proclamation is a call to action for governments around the world to increase their financial support for lupus research, awareness and patient services.
The Proclamation reflects the emerging issues that people with lupus around the world must face every day. The Proclamation serves to give a single voice to all individuals affected by this devastating and debilitating chronic disease.
Lupus is a chronic, autoimmune disease that can damage any part of the body (skin, joints, and/or organs inside the body). Chronic means that the signs and symptoms tend to last longer than six weeks and often for many years. In lupus, something goes wrong with your immune system, which is the part of the body that fights off viruses, bacteria, and germs ("foreign invaders," like the flu). Normally our immune system produces proteins called antibodies that protect the body from these invaders. Autoimmune means your immune system cannot tell the difference between these foreign invaders and your body's healthy tissues ("auto" means "self") and creates autoantibodies that attack and destroy healthy tissue. These autoantibodies cause inflammation, pain, and damage in various parts of the body.
Every day, more than 5 million people worldwide struggle with the often debilitating health consequences of lupus, a potentially fatal autoimmune disease capable of damaging virtually any part of the body, including the skin, heart, lungs, kidneys, and brain.