International Awareness Day
May 12th is International Awareness Day for Myalgic Encephalomyelitis/Chronic Fatigue Syndrome (ME/CFS). Awareness Day events also recognize Fibromyalgia (FM), Multiple Chemical Sensitivities (MCS), Gulf War Syndrome (GWS), Lyme Disease, and other chronic neuro-endocrine-immune diseases (NEIDs). Awareness Week runs from May 12th-18th, and the whole of May is Awareness Month. As with many awareness campaigns, ribbons are worn to show support for the campaign – blue for ME/CFS, purple for FM, and green for MCS.
A multitude of Awareness and Fundraising events are taking place this weekend, all across the real and virtual worlds, so I've been trawling the web to find out what's going on. I found an incredible range of events – educational walks and fun runs; a gala fundraising concert in Vancouver, Canada; Sleepathons and Virtual Discos on Facebook; talks featuring Drs Bateman, Kogelnik and Vallings (the Bateman and Kogelnik talks will be webcast)…and just when you thought you'd seen it all, Bob Miller is Skydiving to raise money for Simarron Research, and you can watch live on the internet as the Niagara Falls is illuminated in blue to represent ME and in purple to represent Fibromyalgia!
In the UK, the major event is the 'All Fall Down for M.E.' protest outside parliament; there are also over 50 Lyme Disease Awareness Protests in more than 25 countries. I've listed all the major events I could find below – if I've missed something significant, please add your comments to this article and I'll add your event to the list.
How to Get Involved
Clark Ellis has written a good article on ProHealth summarising the history of ME Awareness Day (founded by Tom Hennessey in the early 1990s in commemoration of Florence Nightingale's birthday), and exploring where you can go for information and how to get involved, so I won't duplicate that here…but I'll just offer a few general thoughts and ideas to get you started…
You don't have to leave the house to get involved. You can 'Like' the pages of ME/CFS and FM organizations, change your profile pictures to the ME/CFS blue ribbon (just search google for 'ME/CFS blue ribbon' or check out the ME Awareness Words and Pictures using the link below), upload a video of yourself to YouTube, or simply email your friends asking them to donate to your favourite ME/CFS charity.
Don't forget the 'real world'! Letters to the local press, or your local and national government representatives, can reach a wider audience who may not stumble across the online campaigns. There are some great ideas from FM/CFS/ME Resources; see the link below.
If you're thinking of organizing an event or demonstration, check out Rivka's guide first (under Resources below).
Whatever you're doing, don't forget to ask for money as well. Awareness is all-important, of course, but if you're talking to the public, make sure you also recommend your favourite charity or non-profit – ideally an organization that funds biomedical research (as well as Phoenix Rising, of course!). Offer people a way to make a positive contribution.
Remember that ME Awareness lasts for the whole of May, and you can campaign and fundraise whenever you like: if you're out of time to do something for the 12th, you can still do it later, when you have time and energy.
Above all, make it fun! Whatever you do, it will be more successful if you enjoy it!
International Myalgic Encephalomyelitis/Chronic Fatigue Syndrome Awareness Day
International ME/CFS Day raises awareness about ME/CFS, a widespread and debilitating condition. This event promotes a greater understanding of ME/CFS and the impact it can have on a person's life.
International ME/CFS Day is set to fall on the birth date of the pioneering nurse, Florence Nightingale (for information about Miss Nightingale view the National Nurses Week listing. This event also wraps around this birth date).
Myalgic Encephalomyelitis (ME) / Chronic Fatigue Syndrome (CFS), is a chronic, debilitating condition which brings a wide range of symptoms that can vary in type and intensity.
Persistent Fatigue
Chronic fatigue and post exertional malaise are usually the defining symptoms of this condition. Chronic Fatigue Syndrome (CFS) may be diagnosed when a person has experienced persistent fatigue for more than 6 months. Fatigue is different to tiredness; symptoms of tiredness indicate that a person is sleepy and needs to rest. A person with fatigue will experience low energy levels often without tiredness, although they may still need to rest as they have little energy. The level of fatigue experienced can vary over the course of a week, day, or even an hour.
Varying levels of fatigue add to the frustration this condition can bring to the sufferer (and suffer they do). When a person experiences periods of higher energy, they do not know if this change marks a recovery or if a relapse, a worsening of symptoms, will follow with increased activity. With this condition it can be difficult planning activities when you do not know how you will feel.
Post Exertional Malaise
A second common symptom is 'post exertional malaise'. This is a term which describes a symptom in which exercise or exertion can bring on malaise (illness). In the case of people with ME/CFS, malaise often occurs during a period some 24-72 hours after exertion. For example, in some cases, a short walk can worsen ME/CFS symptoms two days later.
This lack of understanding about the delayed onset of symptoms has, in the past, made it harder to test for ME/CFS. Follow up tests, taken less than 24 hours after an initial exercise test, may show that the patient can still perform activities at the same level (before post exertional malaise has a chance to take hold).
Brain Fog & Other Symptoms
People with this condition also experience an array of symptoms which may include cognitive dysfunction, muscle pain, depression, anxiety, mood swings, head ache and sensitivity to light and noise. 'Brain Fog' is loose term often used by people with ME/CFS to describe a state in which their mind is not functioning properly. When someone has 'brain fog' their memory may be poor, they may be unable to concentrate and when they talk they may find it hard to recall certain words.
Understanding The Effects Of This Condition
Coping with these symptoms on a daily basis, and on a timescale often measured in years, can be very hard; the impact this condition can have on a persons life is immense.
Many adults with ME/CFS are unable to work; long term unemployment brings further consequences. When children have this condition, their education is often affected.
M.E./CFS often affects a persons social life as communication can be tiring and their symptoms mean they are often unable to commit to social activities. In recent times, the internet and social networking has helped people with this condition connect with others.
International Nurses' Day
International Nurses Day is observed on May 12. It is celebrated around the world to mark the contributions nurses make to society. In January 1974, 12 May was chosen to celebrate the day as it is the anniversary of the birth of Florence Nightingale, who is widely considered the founder of modern nursing. Each year, ICN prepares and distributes the International Nurses' Day Kit. The kit contains educational and public information materials, for use by nurses everywhere.
Nursing is a profession within the health care sector focused on the care of individuals, families, and communities so they may attain, maintain, or recover optimal health and quality of life. Nurses may be differentiated from other health care providers by their approach to patient care, training, and scope of practice. Nurses practice in a wide diversity of practice areas with a different scope of practice and level of prescriber authority in each. Many nurses provide care within the ordering scope of physicians, and this traditional role has come to shape the historic public image of nurses as care providers.
The American Nurses Association states nursing is the protection, promotion, and optimization of health and abilities, prevention of illness and injury, alleviation of suffering through the diagnosis and treatment of human response, and advocacy in the care of individuals, families, communities, and populations.
Limerick Day
There was a young fellow named LearWho invented Limericks, we hear,so now we conversein humorous verseon Limerick Day every year
Named for the Irish city of Limerick, this much loved verse form was popularised by Edward Lear (not invented alas, but 'popularize' didn't scan…) and could date back as much as five hundred years. Its distinctive metre and AABBA rhyming scheme lend themselves well to nonsense verse, and so Limericks are often childish or obscene. The best ones tend to be both.
Why not celebrate Limerick Day this year with a copy of Edward Lear's original 1846 opus, 'A Book of Nonsense', and recite all 72 of his Limericks to your astounded family, friends and colleagues? Alternatively, make up some of your own! All it takes is some spare time, a sense of rhythm and a warped or filthy imagination.
Edward Lear (12 May 1812 – 29 January 1888) was an English artist, illustrator, author and poet, and is known now mostly for his literary nonsense in poetry and prose and especially his limericks, a form he popularized. His principal areas of work as an artist were threefold: as a draughtsman employed to illustrate birds and animals; making colored drawings during his journeys, which he reworked later, sometimes as plates for his travel books; as a (minor) illustrator of Alfred Tennyson's poems. As an author, he is known principally for his popular nonsense works, which use real and invented English words.
National Fibromyalgia Awareness Day
On May 12 of each year, people world-wide strive to spread awareness for fibromyalgia and other chronic pain conditions through events, online ventures, and personal efforts.
Fibromyalgia (FM) is a syndrome of widespread pain, aching and stiffness of muscles, often accompanied by fatigue, sleep disturbances and multiple tender points.
This syndrome was termed Fibromyalgia from the three Latin words: fiber (meaning fibrous tissue such as ligaments, tendons or fascia); myo (meaning muscle tissue)" and algia (pain). In FM the symptoms can vary from person to person.
There is no definitive biological marker or test. In addition to pain and fatigue, other symptoms include:
Headaches
Facial / TMJ pain
Numbness and tingling
Difficulty concentrating (often referred to as "fibro fog" or "brain fog")
Hypersensitivity to the environment
Irritable Bladder
Chest Pain
Dizziness and Balance Problems
Memory Lapses
Anxiety or Panic Disorders
Weight Change
Fibromyalgia is a chronic condition characterized by widespread muscoloskeletal pain that is present above and below the waist in 11 out of 18 "tender points.
The 18 tender points of fibromyalgia
What causes fibromyalgia is not well understood; however, most patients describe a physical trauma, such as a whiplash or neck injury from a car accident, as the beginning of their fibromyalgia pain.
National Nutty Fudge Day
Between the crunchy nuts and chocolatey smooth fudge flavor, it's hard to resist nutty fudge! Fudge was accidentally invented in the United States in the late 1880's when a baker was trying to make caramel. Following its creation, fudge recipes began appearing around the world in many different variations. To this day, nutty fudge remains one of the most popular fudge recipes.
Did you know that Cole Porter loved fudge so much that he used to have nine pounds of it shipped to him each month from his hometown? Now that's some serious dedication to your taste buds!
To celebrate National Nutty Fudge Day, buy some to enjoy with coworkers, friends and family. Yum!
National Odometer Day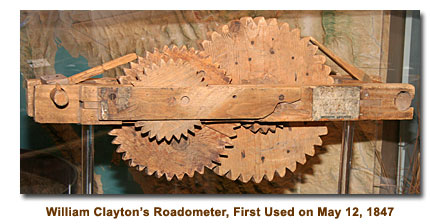 May 12 is National Odometer Day!
An odometer is an apparatus built into your vehicle (whether it be a car, truck, etc.) that records and displays how many miles it has been driven. This number can be important, especially when selling or reselling your car, or for insurance purposes.
May 12 was deemed National Odometer Day because on this day in 1847, William Clayton invented the first odometer (called the "roadometer" back then), however variations existed prior to this day.
An odometer records the distance that a vehicle travels. A speedometer measures the speed of a moving vehicle. A tachometer indicates the speed of rotation of the engine.
Vitruvius
According to Encyclopedia Britannia, "About 15 BC, the Roman architect and engineer Vitruvius mounted a large wheel of known circumference in a small frame, in much the same fashion as the wheel is mounted on a wheelbarrow; when it was pushed along the ground by hand it automatically dropped a pebble into a container at each revolution, giving a measure of the distance traveled. It was, in effect, the first odometer."
Chang Heng
Chang Heng the inventor of the known seismograph, also invented an odometer that had a figure that struck a drum as each li or 0.5 km went by to measure distance.
Blaise Pascal
Blaise Pascal (1623 - 1662) invented a prototype of an odometer, a calculating machine called a pascaline. The pasacaline was constructed of gears and wheels. Each gear contained 10 teeth that when moved one complete revolution, advanced a second gear one place. This is the same principal employed in the mechanical odometer.
Thomas Savery - Odometer used on Ships
Thomas Savery (1650 - 1715) was an English military engineer and inventor who in 1698, patented the first crude steam engine, among Savery's other inventions was an odometer for ships, a device that measured distance traveled.
Ben Franklin - Odometer used to Measure Postal Routes
Ben Franklin (1706-1790) is best known as a statesman and writer, however he was also an inventor who invented swim fins, bifocals, a glass armonica, watertight bulkheads for ships, the lightning rod, a wood stove, and an odometer. While serving as Postmaster General in 1775, Franklin decided to analyze the best routes for delivering the mail. He invented a simple odometer to help measure the mileage of the routes that he attached to his carriage.
William Clayton, Orson Pratt, Appleton Milo Harmon - Odometer called the Roadometer
An odometer called the roadometer was invented in 1847 by the Morman pioneers crossing the plains from Missouri to Utah. The roadometer attached to a wagon wheel and counted the revolutions of the wheel as the wagon traveled. It was designed by William Clayton and Orson Pratt, and built by carpenter Appleton Milo Harmon.
William Clayton was inspired to invent the roadometer by his first method of recording the distance the pioneers travelled each day. Clayton had determined that 360 revolutions of a wagon wheel made a mile, he then tied a red rag to the wheel and counted the revolutions to keep an accurate record of the mileage travelled. After seven days, this method became tiresome and Clayton went on to invent the roadometer, first used on the morning of May 12, 1847. William Clayton is also known for his writing of the pioneer hymn "Come, Come, Ye Saints."
"I walked some this afternoon in company with Orson Pratt and suggested to him the idea of fixing a set of wooden cog wheels to the hub of a wagon wheel, in such order as to tell the exact number of miles we travel each day. He seemed to agree with me that it could be easily done at a trifling expense."
"Brother Appleton Harmon is working at the machinery for the wagon to tell the distance we travel and expects to have it in operation tomorrow, which will save me the trouble of counting, as I have done, during the last four days."
"About noon today Brother Appleton Harmon completed the machinery on the wagon called a 'roadometer' by adding a wheel to revolve once in ten miles, showing each mile and also each quarter mile we travel, and then casing the whole over so as to secure it from the weather." ~ From William Clayton's Journal
Samuel McKeen - Odometer used on Carriage
In 1854, Samuel McKeen of Nova Scotia designed an early version of the odometer, a device that measures mileage driven. His was attached to the side of a carriage and measured the miles with the turning of the wheels.