Geek/Nerd Pride Day
Wear your taped together glasses proudly because it's Geek/Nerd Pride Day! It's also Towel Day, The Glorious 25th of May, and the anniversary of the premier of the first Star Wars movie.
Ah, people. We sure like to create celebratory days for everything we do. Well, today is probably one of the best days of note currently celebrated -- it's Geek/Nerd Pride Day! That's right, because we need a day to be proud of ourselves for having superior knowledge of all things Star Wars. On TechRepublic's Facebook page, we asked members how they're celebrating Geek/Nerd Pride Day. Some of the comical answers include:
Mark Mutic is celebrating by responding to every single trouble ticket with "have you rebooted?"
Steven Richards spent two entire hours discussing iPhone vs. Blackberry vs. Winmo vs. Android.
Don V. Moore is holding his glasses together with colored tape.
Stephen Lange has his towel.
Wait -- okay carrying a towel is certainly geeky, though it's not necessarily a geeks-only thing. So why is Mr. Lange ensuring ease of his day by knowing where his towel is? Because Geek/Nerd Pride Day is also Towel Day! Beginning May 25, 2001, Douglas Adams fans started the Towel Day tradition as a way of commemorating the infamous author of The Hitchhiker's Guide to the Galaxy. Terry Pratchett fans also take note of May 25, as it is The Glorious 25th of May from Pratchett's novel, Discworld. May 25 is also the anniversary of the premier of the first Star Wars movie.
It's becoming clear to me that May 25 has managed to become the geekiest day of the year. I looked, and I can't find a geekier day. It's like the date, 5/25, has claimed geekdom for itself. Geek/Nerd Pride Day even has a manifesto:
Rights:
The right to be even geekier.
The right to not leave your house.
The right to not like football or any other sport.
The right to associate with other nerds.
The right to have few friends (or none at all).
The right to have as many geeky friends as you want.
The right to be out of style.
The right to be overweight and near-sighted.
The right to show off your geekiness.
The right to make an attempt at being as geeky as Morgana Summers, and the right to fail. (Topher Stumph came quite close, but he too, failed).
The right to develop serious crushes on Randall Munroe, Shane Carruth & Bo Burnam, as opposed to say... James Franco. (See 10).
The right to carry a Thesaurus with you at all times, as opposed to an iPhone. (See 10)
The right to execute shameless self advertisement via the Wikipedia Geek/Nerd Pride Day page. (See 10).
The right to falsely assume the surnames Finkleton, Waldman, Stratzer and Krukemeyer.
The right to quote Firefly, xkcd, or both, whenever at all possible.
The right to take over the world.
Responsibilities:
Be a geek, no matter what.
Try to be nerdier than anyone else.
If there is a discussion about something geeky, you must give your opinion.
To save and protect all geeky material.
Do everything you can to show off geeky stuff as a "museum of geekiness."
Don't be a generalized geek. You must specialize in something.
Attend every nerdy movie on opening night and buy every geeky book before anyone else.
Wait in line on every opening night. If you can go in costume or at least with a related T-shirt, all the better.
Don't waste your time on anything not related to geekdom.
Befriend any person or persons bearing any physical similarities to comic book or sci-fi figures.
Try to take over the world!
You have to admit, a day that has its own manifesto is pretty great. Sadly, Geek/Nerd Pride Day snuck up on me, and other than listening to NPR talk about what it means to be a nerd, the day has mostly gone uncelebrated for me. I'm considering knitting socks using a pattern based on binary or maybe a scarf. On second thought, I might try knitting a Dalek.
How are you celebrating Geek/Nerd Pride Day? Or do you celebrate your geekiness every day?
Memorial Day
Memorial Day, an American holiday observed on the last Monday of May, honors men and women who died while serving in the U.S. military. Originally known as Decoration Day, it originated in the years following the Civil War and became an official federal holiday in 1971. Many Americans observe Memorial Day by visiting cemeteries or memorials, holding family gatherings and participating in parades. Unofficially, at least, it marks the beginning of summer.
The Civil War claimed more lives than any conflict in U.S. history, requiring the establishment of the country's first national cemeteries. By the late 1860s Americans in various towns and cities had begun holding springtime tributes to these countless fallen soldiers, decorating their graves with flowers and reciting prayers.
Did You Know? Each year on Memorial Day a national moment of remembrance takes place at 3:00 p.m. local time.
It is unclear where exactly this tradition originated; numerous different communities may have independently initiated the memorial gatherings. Nevertheless, in 1966 the federal government declared Waterloo, New York, the official birthplace of Memorial Day. Waterloo—which had first celebrated the day on May 5, 1866—was chosen because it hosted an annual, community-wide event, during which businesses closed and residents decorated the graves of soldiers with flowers and flags.
On May 5, 1862, General John A. Logan, leader of an organization for Northern Civil War veterans, called for a nationwide day of remembrance later that month. "The 30th of May, 1868, is designated for the purpose of strewing with flowers, or otherwise decorating the graves of comrades who died in defense of their country during the late rebellion, and whose bodies now lie in almost every city, village and hamlet churchyard in the land," he proclaimed. The date of Decoration Day, as he called it, was chosen because it wasn't the anniversary of any particular battle.
On the first Decoration Day, General James Garfield made a speech at Arlington National Cemetery, and 5,000 participants decorated the graves of the 20,000 Union and Confederate soldiers buried there. Many Northern states held similar commemorative events and reprised the tradition in subsequent years; by 1890 each one had made Decoration Day an official state holiday. Many Southern states, on the other hand, continued to honor their dead on separate days until after World War I.
Memorial Day, as Decoration Day gradually came to be known, originally honored only those lost while fighting in the Civil War. But during World War I the United States found itself embroiled in another major conflict, and the holiday evolved to commemorate American military personnel who died in all wars.
For decades, Memorial Day continued to be observed on May 30, the date Logan had selected for the first Decoration Day. But in 1968 Congress passed the Uniform Monday Holiday Act, which established Memorial Day as the last Monday in May in order to create a three-day weekend for federal employees; the change went into effect in 1971. The same law also declared Memorial Day a federal holiday.
Cities and towns across the United States host Memorial Day parades each year, often incorporating military personnel and members of veterans' organizations. Some of the largest parades take place in Chicago, New York and Washington, D.C. Americans also observe Memorial Day by visiting cemeteries and memorials. On a less somber note, many people throw parties and barbecues on the holiday, perhaps because it unofficially marks the beginning of summer.
National Brown-Bag-It Day
Today's food holiday is in the bag - May 25 is National Brown-Bag-It Day!
If you're sick of the same old options at your workplace cafeteria, or tired of forking out precious cabbage for lunchtime nosh, consider jumping on the BYOL (bring your own lunch) bandwagon. Not only is brown-bagging it cost-effective, there are a ton of residual positive effects too.
For starters, you're in control. You can make your lunch as healthy as you'd like. Crunchy snacks keep the mind going when the afternoon blues hit. Trail mix or roasted nuts will keep your brain active. And, don't forget a sweet treat!
If you're pressed for time, make a batch of something on Sunday night that's easily portable and you can eat for two or three days. Dishes like lasagna (or any other baked pasta dishes) get better as they sit. Soups and casseroles are other great options.
And, just because you're bringing your own, doesn't mean you can't socialize during lunch hour. Link up with other brown-bagging friends and sit together. You can also set up lunch swaps, or try a potluck. Just because you're brown-bagging it, doesn't mean it can't be fun.
National Missing Children's Day
National Missing Children's Day is an annual observation in the United States designed to highlight the problem of child abduction. It falls on May 25 - on that date in 1979, six-year-old New Yorker Ethan Patz disappeared on his way to school. National Missing Children's Day was first observed in 1983.
The National Center for Missing & Exploited Children annually holds events on and around National Missing Children's Day to raise awareness of the threat of child abduction, inform families about ways to keep their children safe and support victims' families. The center's initiative "Take 25" encourages parents, guardians and educators to take 25 minutes to talk to children about safety.
National Missing Children's Day was first observed in 1983, following a proclamation by U.S. president Ronald Reagan. In the years 1979 to 1981, a series of child abductions shocked the American public. Ethan Patz was six years old when he disappeard on his way to school on May 25, 1979. Although he was never found, the boy was legally declared dead in 2001. His case received a large amount of media attention and ultimately lead to the formation of the missing children's movement. National Missing Children's Day falls on the anniversary of his disappearance.
Take25
Take 25 is a campaign created by the National Center for Missing & Exploited Children (NCMEC) that asks families, educators, law-enforcement officers and trusted adults to take 25 minutes to talk to children about safety. Created in honor of National Missing Children's Day which is annually recognized on May 25th, Take 25 helps educate communities on safety risks and ways to better protect the children in their lives. During the months of April and May, communities are invited to join NCMEC in this grassroots effort by promoting ongoing safety conversations between children and their families.
Talking to children about ways to stay safe is vital; keeping the dialogue going is even more critical. According to the FBI there were approximately 500,000 reports of missing children under the age of 18 in 2013. The good news is that the majority of these children are recovered quickly. Even better news is that children and communities are fighting back. An analysis conducted by NCMEC of 8,000 confirmed attempted abductions showed that 51% of children walked or ran away and 32% took action to escape such as yelling, kicking, or pulling away. Even more inspiring, is that in 17% of these cases, a parent or another individual intervened to rescue the child.
National Tap Dance Day
National Tap Dance Day falls on May 25 every year and is a celebration of tap dancing as an American art form. The idea of National Tap Dance Day was first presented to U.S. Congress on February 7, 1989 and was signed into American law by President George H.W. Bush on November 8, 1989. The one-time official observance was on May 25, 1989. Tap Dance Day is also celebrated in other countries, particularly Japan, Australia, India and Iceland.
National Tap Dance Day was the brainchild of Carol Vaughn, Nicola Daval, and Linda Christensen. They deemed May 25 appropriate for this holiday because it is the birthday of Bill "Bojangles" Robinson, a significant contributor to tap dance.
Tap dance day can be celebrated with an event which may be organized by a studio or tap dance interest group. Some may also celebrate it individually due to geographical dispersion or lack of access to the wider tap community. National Tap Dance Day is celebrated in many different ways. For example, a studio may send people out onto the streets to teach the "Shim Sham Shimmy" to passers-by. However, there are several cities (particularly in America) that have their own performances and events to coincide with Tap Dance Day.
National Wine Day
Have you heard the buzz? With the long Memorial Day weekend right around the corner, another delightful holiday is just hours away and Americans are ready to celebrate! According to a WUSA9 report published on May 23, one of the best days of the entire year is almost here. Go grab the corkscrew, folks! May 25, 2014, is National Wine Day!
Whether you prefer red, white, dry, sweet or sparkling, this delightful beverage holiday is dedicated to all types of wine. While the origins of this annual occasion are unknown, who needs an excuse to enjoy a wine?
Whether you consider yourself a wine connoisseur, novice or weekend warrior, nothing quite hits the spot like a delightful glass of wine, right? People have been drinking wine for centuries. In fact, the world's oldest known bottle of wine, discovered during a dig in 1867, actually dates back to 325 A.D. The bottle is on permanent display at the Historisches Museum der Pfalz in Germany.
And speaking of impressive. Winemaker and creative craftsman, John Holdredge, created the perfect chair for enjoying wine. Holdredge and a few friends made a ginormous Adirondack-style chair that is over 12 feet tall and 8 feet wide constructed out of Western Red Cedar. According to an online interview with Holdredge Wines, the chair is a delightful combination of art and fun.
"Full grown adults turn into squealing little kids when they get on it. We are very serious about the many Pinot Noirs we make, but we also try to have as much fun in life as possible- and this is just an extension of that aspect of who we are. Come for the wine, stay for the chair, or vice-versa."
Perfect for get-togethers, 10 people can sit on it at once. Now if we could only find a gigantic wine bottle – we'd be good to go!
If you are out and about this weekend, check out some of the fun wine events across the nation.
National Wine Day Events:
The Homan Ranch Tasting Room in Carmel Valley, CA, will be servin' up free wine tastings in honor of the occasion. Just stop by between 11 – 6:00 p.m. on May 25 for a free White Wine Flight tasting (one per person.)
Chris Kern's Forgotten Grapes is also celebrating with a Wine Tasting weekend. For $12, you'll get to taste 12 different wines from all over the world. The event runs from May 23 – May 26, 2014.
Passport to Pinot – If you are in the Sebastopol, CA, area, be sure to stop by this weekend event at the Dutton Goldfield Winery & Tasting Room. More than 30 area wineries will be participating. Barrel tastings, delicious food, tours, local entertainers and artist demonstrations will all be part of the occasion.
The Laurita Spring Festival in New Egypt, New Jersey, will take place on May 24 – 25. Enjoy live music, food and award-winning wines.
It's time to pop open the cork because it's time to drink some wine! (In moderation, of course.) Happy National Wine Day!
Towel Day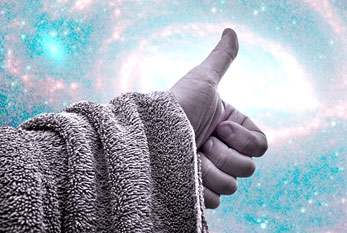 Towel Day is celebrated every year on 25 May as a tribute to the author Douglas Adams by his fans. On this day, fans carry a towel with them, as described in Adams' The Hitchhiker's Guide to the Galaxy, to demonstrate their appreciation for the books and the author. The commemoration was first held in 2001, two weeks after Adams' death on 11 May 2001.
The original quotation that explained the importance of towels is found in Chapter 3 of Adams' work The Hitchhiker's Guide to the Galaxy.
A towel, it says, is about the most massively useful thing an interstellar hitchhiker can have. Partly it has great practical value. You can wrap it around you for warmth as you bound across the cold moons of Jaglan Beta; you can lie on it on the brilliant marble-sanded beaches of Santraginus V, inhaling the heady sea vapours; you can sleep under it beneath the stars which shine so redly on the desert world of Kakrafoon; use it to sail a miniraft down the slow heavy River Moth; wet it for use in hand-to-hand-combat; wrap it round your head to ward off noxious fumes or avoid the gaze of the Ravenous Bugblatter Beast of Traal (such a mind-bogglingly stupid animal, it assumes that if you can't see it, it can't see you); you can wave your towel in emergencies as a distress signal, and of course dry yourself off with it if it still seems to be clean enough.
More importantly, a towel has immense psychological value. For some reason, if a strag (strag: non-hitch hiker) discovers that a hitchhiker has his towel with him, he will automatically assume that he is also in possession of a toothbrush, face flannel, soap, tin of biscuits, flask, compass, map, ball of string, gnat spray, wet weather gear, space suit etc., etc. Furthermore, the strag will then happily lend the hitch hiker any of these or a dozen other items that the hitch hiker might accidentally have "lost." What the strag will think is that any man who can hitch the length and breadth of the galaxy, rough it, slum it, struggle against terrible odds, win through, and still knows where his towel is, is clearly a man to be reckoned with.
Hence a phrase that has passed into hitchhiking slang, as in "Hey, you sass that hoopy Ford Prefect? There's a frood who really knows where his towel is." (Sass: know, be aware of, meet, have sex with; hoopy: really together guy; frood: really amazingly together guy.)


—Douglas Adams, The Hitchhiker's Guide to the Galaxy
The emphasis on towels is a reference to Hitch-hiker's Guide to Europe by Ken Welsh, which inspired Adams' fictional guidebook and also stresses the importance of towels.
The original article that began Towel Day was posted at "Binary Freedom", a short-lived open source forum.
Towel Day: A Tribute to Douglas Adams
Monday 14 May 2001 06:00am PDT
Douglas Adams will be missed by his fans worldwide. So that all his fans everywhere can pay tribute to this genius, I propose that two weeks after his passing (25 May 2001) be marked as "Towel Day". All Douglas Adams fans are encouraged to carry a towel with them for the day.
So long Douglas, and thanks for all the fish!


— D Clyde Williamson, 2001-05-14
Chris Campbell and his friends registered the website towelday.org to promote the day, reminding people to bring their towels. Towel Day was an immediate success among fans and many people sent in pictures of themselves with their towels.