Loomis Day
Loomis Day commemorates Mahlon Loomis, who patented his wireless telegraphing inventions on May 30, 1872 (whilst working as a dentist in Washington DC).
He had actually claimed to have succeeded in wireless telegraphy some 6 years earlier, though with no witnesses present to see this, May 30th is one of the earliest official recognitions of his triumph.
Mahlon Loomis (21 July 1826 – 13 October 1886) was a dentist, the inventor of artificial teeth (patent #10,847 May 2, 1854), and the earliest inventor of wireless communication (patent #129,971 July 30, 1872).
Loomis, a Washington, DC dentist, claimed to have transmitted signals in October 1866 between two Blue Ridge Mountain-tops 14 miles apart in Virginia, using kites as antennas, but without having identified the names of independent witnesses.
My Bucket's Got A Hole In It Day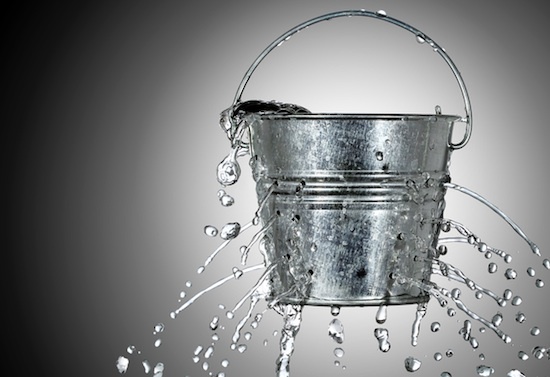 Happy My Bucket's Got a Hole in It Day! Yes, I'm serious. That's the official holiday of today, May 30th.
I bet you didn't even know today was a holiday, did you? And I'm almost certain you didn't know it was this holiday.
How May 30th came to be this holiday is shrouded in mystery. In fact, there seems to be no information whatsoever on the Internet. But people agree, today is a holiday celebrating a folk song once sung by Hank Williams and Ricky Nelson.
Some have suggested a link between the song, "My Bucket has a Hole in It," and the children's song, "There's a Hole in the Bucket," which would give it some more history. But in my searches, I find little evidence to support this claim.
We're left with very few answers about its origin. But the real question I'm begging to ask is how does one actually celebrate My Bucket's Got a Hole in It Day?
With little history and no legends connected to the holiday how are we supposed to know even where to start? If there was a legend of a fatherly Paul Bunyan-like giant who walked across the land dripping water out his hole-ridden bucket to help poor farmers, maybe we could come up with something.
The lyrics of the song don't really help. They're essentially nonsensical. I guess the holiday could be, "I can't buy a beer day," or, "buy a Ford day." But only Ford gets the better part of that deal.
We need some way to celebrate.
Hank Williams What about another dress up holiday? I always loved Halloween when I was a kid, so maybe for this we could dress up like Ricky Nelson or Hank Williams? Hmm… On second thought maybe this in not such a good idea. Dressing up is always complicated.
How about another holiday where we set off fireworks? No, that'd just increase the chance of getting injured (for me anyway).
Perhaps we could exchange small gifts or greeting cards? No, that would create another holiday men could forget too easily.
Maybe we could have a huge dance! America has been missing a good dancing holiday. We could play the various versions of the song and the dance would have a bluegrass feel to it. The men could stand in the corner with a bucket and try to find a woman that ain't got no man…
Honestly, the more I think about this holiday the sillier it seems.
In fact, I'm all out of ideas. Do you have any? Let me know on Facebook. How should we celebrate My Bucket's Got a Hole in It Day?


National Mint Julep Day
"Then comes the zenith of man's pleasure. Then comes the julep - the mint julep. Who has not tasted one has lived in vain...it is the very dream of drinks, the vision of sweet quaffings."
May 30 is National Mint Julep Day, so let's celebrate by deploying this appreciation of the julep published in the Lexington Herald in the late 1800s by Kentucky colonel Joshua Soule Smith.
A julep - from the Persian word julâb, meaning "rosewater" - is a drink in which liquor and syrup are poured over crushed ice, often with mint. There are so many ways to make your mint julep, and entire books have been written about julep lore and variations. (People fight duels over this stuff. Careful how you proclaim your preferred recipe.)
My favorite recipe comes from Chris McMillian at the Bar UnCommon in the Renaissance Pere Marquette Hotel in New Orleans, where a julep is as much a performance, or a ceremony, as a cocktail. This bourbon julep is very much Kentucky-style, with the peach syrup adding a bit of a Georgia note. Handheld or electric ice crushers are easy to find (I scored my Rival Ice-O-Matic on eBay for eleven bucks), but if you don't have one, you can crush the ice in a dishtowel, pillowcase, or canvas bag.
12 to 15 fresh spearmint leaves, plus one sprig
1 ounce simple syrup (or better yet, peach syrup – Monin brand is good)
2 1/2 ounces good bourbon whiskey
Superfine or powdered sugar (optional)
Place the mint leaves and 1/4 ounce syrup into a metal julep cup or glass, and use a wooden muddler or the back of a spoon to very gently press the leaves, working them up the sides of the glass. Use fresh mint and don't over-muddle, as mint gets bitter when you bruise it too much.
Pack the cup with crushed ice, mounding the ice over the rim of the glass. Drizzle the bourbon through the ice, then drizzle the remaining syrup on top. Clap the mint sprig between your hands to bruise it slightly, and garnish the drink with it. If you choose, dust the drink and the garnish with powdered sugar. If you use a straw, cut it short so your nose will catch the mint's aroma as you drink.
And if you want to change it up, go right ahead! Try different spirits, or syrups: cocktail historian David Wondrich favors a Cognac julep with a dark rum float, while writer Paul Clarke recommends a brandy-and-Champagne julep. You can also get interesting results with bourbon and pineapple syrup, and New York cocktail temple Death & Co. offers a rye whiskey julep made with Grade B maple syrup.
This particular unstirred version produces a drink that changes in the glass, getting sweeter as you drink it and nicely putting you in the mood for a second one. As a nod to the Kentucky Derby winner, I'll Have Another.
Saint Joan of Arc Day
Joan of Arc (ca. 1412 – 30 May 1431), nicknamed "The Maid of Orléans" (French: La Pucelle d'Orléans), is a folk heroine of France and a Roman Catholic saint. She was born a peasant girl in what is now eastern France. Claiming divine guidance, she led the French army to several important victories during the Hundred Years' War, which paved the way for the coronation of Charles VII of France. She was captured by the Burgundians, transferred to the English in exchange for money, put on trial by the pro-English Bishop of Beauvais Pierre Cauchon for charges of "insubordination and heterodoxy", and was burned at the stake for heresy when she was 19 years old.
Twenty-five years after her execution, an inquisitorial court authorized by Pope Callixtus III examined the trial, pronounced her innocent, and declared her a martyr. Joan of Arc was beatified in 1909 and canonized in 1920. She is – along with St. Denis, St. Martin of Tours, St. Louis IX, and St. Theresa of Lisieux – one of the patron saints of France. Joan said she had received visions from God instructing her to support Charles VII and recover France from English domination late in the Hundred Years' War. The uncrowned King Charles VII sent her to the siege of Orléans as part of a relief mission. She gained prominence when she overcame the dismissive attitude of veteran commanders and lifted the siege in only nine days. Several additional swift victories led to Charles VII's coronation at Reims.
To the present day, Joan of Arc has remained a significant figure in Western civilization. From Napoleon I onward, French politicians of all leanings have invoked her memory. Famous writers, filmmakers and composers who have created works about her include: William Shakespeare (Henry VI, Part 1), Voltaire (The Maid of Orleans), Friedrich Schiller (The Maid of Orleans), Giuseppe Verdi (Giovanna d'Arco), Pyotr Ilyich Tchaikovsky (The Maid of Orleans), Mark Twain (Personal Recollections of Joan of Arc), Jean Anouilh (L'Alouette), Bertolt Brecht (Saint Joan of the Stockyards), George Bernard Shaw (Saint Joan), Maxwell Anderson (Joan of Lorraine), Carl Theodor Dreyer (The Passion of Joan of Arc), Robert Bresson (The Trial of Joan of Arc), Arthur Honegger (Jeanne d'Arc au bûcher), Leonard Cohen (Joan of Arc), and Orchestral Manoeuvres in the Dark (Joan of Arc). Cultural depictions of Joan of Arc have continued in film, theatre, television, video games, music, and performances.
Water a Flower Day
If it hadn't been for coffee, cocoa, vanilla, lavender, chamomile, marijuana, and many other flowering plants and trees, our world would have been a barren, dismal place. So Water a Flower Day is that yearly reminder to show our flowers how much we appreciate them for their sumptuous colors, their fragrant blossoms and their medicinal, or sometimes lethal, properties.
The best way to celebrate Water a Flower Day is by giving all of your household and garden plants an aquatic treat. Also, studies show that gently caressing them in the way that a diaphanous zephyr would in their natural habitat promotes growth, so don't be shy, give their leaves a tender squeeze. Unless you own a Rafflesia Arnoldii, the largest flower on the planet, which doesn't have any leaves and is also known as the 'corpse flower' due to the odor it oozes when disturbed. That's one plant we wouldn't mind forgetting to water, isn't it? Best stick to roses and lilies, I say, and water them, stroke and sing to them like you would to a child. You'll be a better person for it and you'd make the world a brighter, sweeter and more colorful place.