Bike To School Day
The first-ever National Bike to School Day took place on May 9, 2012, in coordination with the League of American Bicyclists' National Bike Month. Almost 1,000 local events in 49 states and the District of Columbia joined together to encourage children to safely bicycle or walk to school.
The event builds on the popularity of Walk to School Day, which is celebrated across the country – and the world – each October. Many communities and schools have been holding spring walk and bicycle to school events for years. National Bike to School Day provides an opportunity for schools across the country to join together to celebrate and to build off of the energy of National Bike Month.
Organized by the Partnership for a Walkable America, Walk to School Day in the USA began in 1997 as a one-day event aimed at building awareness for the need for walkable communities. In 2000, the event became international when the UK and Canada (both of which had already been promoting walking to school) and the USA joined together for the first International Walk to School Day. Growing interest in participation all over the world led the International Walk to School Committee to shifts its promotion to International Walk to School Month for the entire month of October.
In the USA and Canada, International Walk to School Day galvanizes visibility for walking and bicycling to school. Over time, this event has been part of a movement for year-round safe routes to school and a celebration – with record breaking participation - each October. Today, thousands of schools across America and in more than 40 countries worldwide celebrate walking to school every October.
The success of Walk to School Day, as well as continued interest in bicycling to school, created a desire for a national event focused on bicycling to school. This goal became reality in 2012, when the first National Bike to School Day took place on May 9, in coordination with the League of American Bicyclists' National Bike Month.
Although Walk to School Day is focused more on walking and Bike to School Day is focused more on bicycling, both days welcome and encourage all forms of active transportation to school.
Quick Facts: The History of Walk to School Day and Bike to School Day:
The Partnership for a Walkable America sponsored the first National Walk Our Children to School Day in Chicago in 1997, modeled after the United Kingdom's walk to school events, and communities around the United States have been celebrating Walk to School Day ever since.
The event was established as "International" in 2000, when Canada and the U.K. joined with the U.S. to celebrate. Around the globe, International Walk to School Month brings together more than 40 countries in recognition of the common interest in walking to school.
In August 2005, federal legislation established a National Safe Routes to School Program that provided $612 million towards Safe Routes to School from 2005 to 2010. In July 2012, transportation legislation, MAP-21, was enacted that no longer provides dedicated funding for SRTS but instead places SRTS under a program called the Transportation Alternatives Program (TAP). However, many states still have dedicated SRTS funds.
More than 14,800 schools in all 50 states and the District of Columbia have been awarded federal funds for Safe Routes to School activities.
More than half of Walk to School events are part of ongoing activities to promote walking and bicycling throughout the year.
In 2006, world-wide interest led the International Walk to School Committee to establish International Walk to School Month – countries choose a day, week or use the entire month of October to promote walking to school.
Participation in Walk to School Day 2013 reached a record high, with more than 4,400 events registered from all fifty states and the District of Columbia. Many more communities held events but did not register.
The first-ever National Bike to School Day took place on May 9, 2012, as part of National Bike Month. 950 local events in 49 states across the U.S. encouraged children to safely bicycle or walk to school. Many communities and schools have been holding spring walk and bicycle to school events for years. National Bike to School Day provides an opportunity for schools across the country to join together and to build on the energy of National Bike Month. In 2013, more than 1,700 schools participated in National Bike to School Day on May 8.
Great American Grump Out
The Great American Grump Out is May 7. Will you meet the challenge??
So, just how nice did we have to be? Nice, nice, or just a little less vicious than usual?
Beth Teitell (Boston Herald) says, "Maybe we should set realistic goals. Instead of cutting off another driver and giving him the finger, just cut the jerk off and leave it at that. Or tailgate aggressively, but don't honk at the same time.
If you're talking to a friend from New York, don't say, "Yankees suck." Just bring it down a notch: "Yankees stink."
If you're at the supermarket and the shopper in front of you unloads 13 items in a 12-items-or-fewer line, glare, don't assault her.
Grumpiness is something everyone has felt or been subjected to at one time or another. Everyone succumbs to the "grouchies" now and then. If we weren't grumpy we'd probably explode.
However, some people always seem to get up on the wrong side of the bed. The Curmudgeons. You may recognize some of our classic Curmudgeons. They are grumpy, but they are good-humored, too. They also have character. And, the truth be told, many are just lovable old softies when you break through the crust.
Andy Rooney – 60 Minutes
Grumpy of the Seven Dwarfs
Oscar the Grouch – Sesame Street
Archie Bunker – All in the Family
Oscar Madison – The Odd Couple
Just the thought of a Grump Out is enough to put them in a bad mood.
Q & A
Q: What is the Great American Grump Out?
A: For those of you learning about the Grump Out for the first time, the Grump Out urges people to go for just 24 hours without being grumpy, crabby or rude.
Q: Is there any vital information I need to be aware of before I stop being grumpy for 24 hours?
A: Yes. Choosing to be un-grumpy could result in strengthening your immune system, diminishing tension in your central nervous system, relaxing your body, improving circulation, reducing your stress hormones and, possibly, making new friends.
Q: Is there anything that can help me through those 24 hours?
A: Yes. Wearing any type of smile. Secondly, carry a banana around with you. Not only is the banana the Grump Out's official fruit, but the banana provides a nutritional smile. [Hold it just right and it is a smile] If you begin to experience any withdrawal discomfort, simply turn that smiley banana upside down. It becomes a frown. Stare at it for a moment when no one is looking.
EVERYONE is invited to participate in the next Great American Grump Out. Even the crankiest of curmudgeons – those who like to sneer and jeer at the Grump Out – can participate.
International No Diet Day
The International No Diet Day (INDD) is celebrated on the first Tuesday in May. It is an annual celebration of body acceptance and diversity. This day is also dedicated to promoting a healthy life style and raise awareness of the dangers and futility of dieting. The symbol of the No Diet Day is a blue ribbon, similar to the red ribbon of the World AIDS Day.
International No Diet Day was created by Mary Evans Young in 1992, Mary is the director of the British group "Diet Breakers". After personally experiencing anorexia, she worked to help people appreciate themselves for what they are, and to appreciate the body they have.
There are several goals to the INDD: Celebrate the beauty and diversity of ALL our natural sizes & shapes; Declare a personal one-day moratorium on diet/weight obsession; Learn the facts about weight-loss dieting, health, and body size; Recognize how dieting perpetuates violence against women; Honor the victims of eating disorders and weight-loss surgery; Help end weight discrimination, sizism and fat-phobia.
National Beverage Day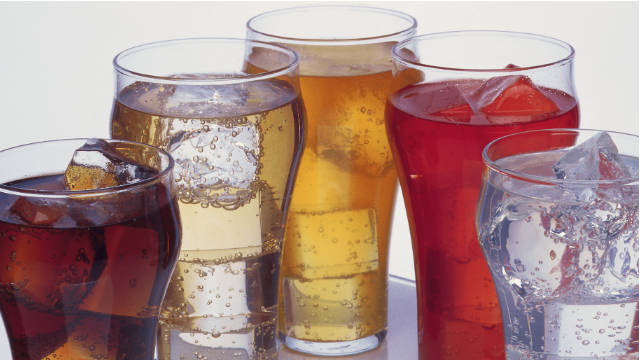 If you're feeling a bit parched right about now, you're in luck. Smack dab between National Orange Juice Day, Cinco de Mayo and National Cosmopolitan Day, is National Beverage Day, also referred to as Beverage Day! While the origins of this annual "holiday" are unknown, Beverage Day is observed around the country on May 6.
Whether you prefer something sweet or tart, ice cold or steaming hot or shaken or stirred, today is the perfect opportunity to raise your glass and indulge in a nice long sip of your favorite beverage and whet your whistle! Why not live a little and try one or two of the classic or soon-to-be-favorite recipes listed below in honor of the event?
Alcohol-Free Beverages
Beverages, Drinks & Cocktails with Alcohol
National

Crêpes

Suzette Day
We're fired up about May 6, which is National Crêpes Suzette Day!
Folded pancakes sit in a pool of caramelized orange sauce, and bonus – there's fire involved. What's not to love?
Crêpes are essentially a thinner, wider version of a pancake. There's no leavening agent in crêpe batter, and they cook much faster.
A good crêpe batter usually sticks to (or is close to) the following ratio: 1 cup of flour to 2 eggs and 2 cups of milk or water. Some recipes call for a mix of water and milk, and the amount of liquid will also vary on the amount of moisture in the air. Some recipes also add sugar or vanilla for a sweeter crêpe.
Crêpe batter is a lot runnier than pancake batter, so don't fret if yours looks watery. Sifting the flour goes a long way to ensure lump-free crêpes, and to be safe, let the batter rest in the refrigerator for at least 30 minutes before cooking.
Also, and this is true about 99% of the time, the first crêpe will always be a flop. Guaranteed. It's one of those ways the universe reminds us we're mere mortals. So don't be surprised if you throw the first one out - I do just for good luck, even if it's perfect.
Once your crêpes are ready, it's time for the sauce. Crêpes Suzette are often prepared table side in restaurants because they're flashy. The sauce the crêpes are served in contains an orange liqueur that is lit on fire, known as flambé. The flames burn off some of the excess alcohol and help to bring the sauce together. Of course, you don't have to get all fancy with a pyrotechnic display but, with practice, it's a neat party trick. Just make sure you ignite the alcohol when the pan is off the heat, especially if you're using a gas stove.
Other than orange liqueur, the sauce contains orange juice, orange zest and/or segments and sugar. The crêpes are folded in half to make a semi-circle, and then in half again so it looks like a pizza slice. The dish should be eaten as soon as the hot sauce is spooned over the crepes.
If you're making this at home and for a large group, the crêpes can be made ahead of time, but the sauce should be made just before serving. Plus, that way you get to show off your flambé skills.
National Day to Prevent Teen Pregnancy
Hundreds of thousands of teens nationwide are expected to participate in the 14th annual National Day to Prevent Teen Pregnancy on May 6. The purpose of the National Day is straightforward. Too many teens still think "It can't happen to me." The National Day helps teens understand that it can happen to them and that they need to think seriously about what they would do in the moment.
On the National Day, and throughout the month of May, teens will be invited to visit The National Campaign to Prevent Teen and Unplanned Pregnancy's teen website—StayTeen.org—to participate in our online National Day Quiz, which challenges them to think carefully about what they might do "in the moment" through a series of interactive scenarios.
The extraordinary declines in teen pregnancy and childbearing over the past two decades prove that progress can be made on tough issues. In fact, few social problems have improved quite as dramatically over the past two decades as teen pregnancy.
The latest news on the teen pregnancy front has been incredibly positive. Since the early 1990s, teen pregnancy and birth rates in the United State have declined by 52% and 57% respectively and are now at record low levels. The teen birth rate declined by an additional 10% in 2013 alone and is at historic lows for all age groups and all ethnic and racial groups.
Despite this progress, there is still much work to be done:
It is still the case that nearly 1 in 4 girls will get pregnant at least once before they turn 20, and that the rates in this country are far higher than other industrialized countries.
Rates are even higher for some groups. Forty-five percent of African-American teen girls and 40% of Latinas will have a pregnancy before they turn 20. Daughters of teen mothers are three times more likely to become teen mothers themselves and teen girls in foster care are 2.5 times more likely to become pregnant by age 19 than her peers not in foster care.
Parenthood is a leading cause of school dropout among teen girls. Thirty percent of teen girls who have dropped out of high school cited pregnancy or parenthood as a key reason, and the rate is higher for minority students: 36% of Hispanic girls and 38% of African American girls cited pregnancy or parenthood as a reason they dropped out.
Teen childbearing in the United States cost taxpayers (federal, state, and local) at least $9.4 billion in 2010, according to an analysis by The National Campaign. Most of the costs of teen childbearing are associated with negative consequences for the children of teen mothers, including increased costs for health care, foster care, incarceration, and lost tax revenue.
Clearly, we all need to continue helping teens postpone their families until they are older, through school, and in stable, committed relationships. We hope that the National Day Quiz will help teens think carefully about sex, relationships, contraception, the possibility of pregnancy, and the lifelong challenges of being a parent.
Thanks to the hard work of individuals in communities, coalitions, and programs across the country and the nearly 200 organizations and media outlets that serve as National Day partners, nearly 500,000 individuals nationwide participated in the 13th annual National Day to Prevent Teen Pregnancy. Participants were able to take the quiz online or download a print version and our National Day Quiz discussion guide—both available in English and Spanish—were downloaded thousands of times.
Each year, we ask teens to tell us what they thought about the National Day Quiz in a post-quiz evaluation survey and many do. In 2014, more than 9,200 teens shared their feedback on the National Day. Among our preliminary findings:
91% said the Quiz made them think about what they might do in similar situations;
72% said some of the situations in the Quiz were similar to things that they or their friends had faced in their own lives;
70% said the Quiz made the risks of sex and teen pregnancy seem more real to them;
69% said they'd talk to their friends about the situations described in the Quiz;
66% said the Quiz made them think about things they hadn't thought about before;
66% said they'd encourage others to take the Quiz;
60% said they 'd learned something new from the Quiz about the consequences of sex; and
50% said they'd talk to their parents or other adults about the situations described in the Quiz.
Here's what some of them had to say about the quiz:
"I thought it was a great way to present the issue in a new light and it made me rethink some decisions I would have made."
"It was a really interesting quiz and really fun. Much more interesting than the others boring quizzes they make us take in school."
"It was a great way to get us thinking about pregnancy and how to avoid it. I really liked creating my characters and thought the questions were really realistic!"
"The quiz was very real to me. I have had to say 'no' to sex in very similar situations. It gave me the encouragement I need to make good decisions in the future!"
"It really boosted my self-confidence when I made the right decisions in the virtual scenarios! It makes me feel safer to know that in these situations, I will probably make the right decisions."
There are lots of ways that you can participate in the National Day, from small (send out a Tweet or post to Facebook) to large (write an op-ed for your local paper); check out our Ideas for Getting Involved fact sheet to get your imagination working! And keep in mind—although the National Day is geared towards teens, it's the perfect opportunity for parents to take a second to talk to their young people about sex, love, relationships, birth control, dating, and how to handle difficult situations. Not sure how to get the conversation started? Check out 8 Tips for Talking to Your Teen to get some ideas on how to start a conversation.
Want to help us out via social media? Update your Facebook or Twitter covers with National Day-themed artwork or grab and post some of our sample social media language to your channels.
Easiest of all? Use your Twitter, Facebook, and/or Tumblr account to support our Thunderclap campaign. Just sign in using your social media channel and Thunderclap will automatically blast out a National Day-themed message to your network at noon EST on May 6th—it's that easy!
National Nurses Day
National Nurses Day, also known as National RN Recognition Day, is always celebrated on May 6th and opens National Nurses Week. National Nurses Week begins each year on May 6th and ends on May 12th, the birth date of Florence Nightingale.
National Nurses Week is one of the nation's largest health care events, recognizing the contributions and commitments nurses make and educating the public about the significant work they perform. The American Nurses Association (ANA) supports and encourages National Nurses Week through state and district nurses associations, educational facilities, and independent health care companies and institutions. The week-long celebration is designed to accommodate the variety of schedules nurses are required to work.
Activities during National Nurses Week typically include banquets and recognition dinners, state and city proclamations, continuing education seminars, and other community events. Nurses are typically honored with gifts, dinners, and flowers by friends and family members, coworkers such as doctors and administrators, and patients who want to show their appreciation.
The history of Nurses Day can be traced back to 1953 when Dorothy Sutherland of the U.S. Department of Health, Education, and Welfare sent a proposal to President Eisenhower to proclaim a "Nurse Day" in October of the following year. The proclamation was never made, but the following year National Nurses Week was observed from October 11 – 16, marking the 100th anniversary of Florence Nightingale's mission to Crimea.
In 1974, President Nixon proclaimed a "National Nurse Week." In 1981, a resolution was initiated by nurses in New Mexico to have May 6th declared "National Recognition Day for Nurses." This proposal was promoted by the ANA Board of Directors and in 1982, with a joint resolution, the United States Congress designated May 6th to be "National Recognition Day for Nurses." The proposal was signed by President Reagan, making May 6 the official "National Recognition Day for Nurses." It was later expanded by the ANA Board of Directors in 1990 to a week-long celebration (May 6-12) known as "National Nurses Week."
National Student Nurses Day is celebrated each year on May 8th. At the request of the National Student Nurses Association, the ANA Board of Directors designated May 8th as National Student Nurses Day beginning in 1998. And as of 2003, the ANA has declared that National School Nurse Day is celebrated on the Wednesday within National Nurses Week.
International Nurses Day is celebrated around the world on May 12th of each year. The International Council of Nurses (ICN) commemorates this day each year with the production and distribution of the International Nurses' Day Kit which includes educational and public information materials for use by nurses everywhere. The ICN has celebrated International Nurses Day since 1965.
National School Nurse Day
More than a century after Lina Rogers Struthers became the first school nurse in the United States there now are about 76,000 school nurses caring for students nationwide.
Those professionals will be recognized May 9 during National School Nurse Day, an annual observance that recognizes the vital work of school nurses and promotes increased understanding of their role.
It's also an opportunity for school nurses to pause to take pride in their careers and their contributions.
"Healthy children learn better is a simple truth, and school nurses help remove barriers to academic success," Linda Davis-Alldritt, president of the National Association of School Nurses (NASN), said in a statement.
National School Nurse Day was established in 1972 and is celebrated on the Wednesday during National Nurses Week, which runs from May 6 to 12. The theme of this year's observance is "Advocacy, Access, Achievement: Making the Connection."
A Brief History of School Nursing
In October 1902, Lina Rogers Struthers began working in the New York City school system as part of a month-long experiment to reduce health-related absenteeism. Promising results quickly followed and the city extended Struthers' appointment and she later was appointed superintendent of school nurses.
Spurred by the progress in New York, other cities followed suit in quick succession and hired school nurses, including Los Angeles, Boston, Philadelphia and Chicago.
The need for school nurses remains just as acute, Davis-Alldritt said, with children facing "more challenging issues today than in past decades."
"School nurses reduce absenteeism, provide better attendance rates and care for students in school so parents have to come pick up their children much less often," Davis-Alldritt said.
The Role of a School Nurse
For some children, the school nurse may be the only primary care provider they see on a regular basis. Nurses must deal with a wide range of illnesses and conditions, including seizures, diabetes, asthma and life-threatening allergies.
In addition, a school nurse's duties and responsibilities may include:
Reporting to public health officials to help identify and prevent epidemics and disease outbreaks
Functioning as a first responder to incidents on campus
Administering medication, monitoring respiratory status and blood glucose levels and observing for infectious diseases and physical and sexual abuse
Identifying and seeking to eliminate health threats in the school environment, such as allergens, unsafe equipment and facilities and lack of clean water
Providing screening and referral to encourage early intervention for vision and hearing problems
Serving as a liaison among healthcare providers, school personnel and families.
School nurses strive to provide these vital services even as budget cuts in many school districts lead to staffing shortages and fewer resources.
The lives of many children can be enriched and transformed because of the competence and commitment of a school nurse who manages complex health issues with specialized knowledge, skills and compassion.
National Tourist Appreciation Day
National Tourist Appreciation Day is celebrated in the US on May 6. This days falls during the National Travel and Tourism Week of May 5 through May 13.
Next to healthcare, the tourism industry is the top employer in most states (about 32) in the United States. In the retail sector, tourism and travel industry follows the automotive industry and food industry in terms of revenue generation. Tourism is one of the top activities next to shopping and outdoor activities. Nationwide celebrations were introduced to celebrate the success of this industry and to promote it further.
There is no record of the origin of the holiday. Moreover, there is no official legislature passing the celebration of this 'National day'. However, there is presidential proclamation and congressional resolution (1983) for the National Travel and Tourism Week. The first celebration of the week was in 1984. The US travel industry celebrates the week every year in creative ways. They conduct rallies and media outreach as part of the celebrations. The National Tourist Appreciation Day is celebrated as an element of this week.
The travel and tourism communities take the extra effort to pamper their tourist on this day. They extend special discounts, credits, freebies, and offers on this day. People, usually, try to plan their vacation around this time to benefit from these offers.


No Homework Day
Here's one you may wish to hide from your children! Although if they don't know about it, then there would not be many folks left to celebrate No Homework Day!
That's right, this is the day where children can tell their teachers and parents in complete honesty that they will not be doing their homework, in order to mark this special day. Spend some long hours on that favorite video game, go and hang out at the mall with friends, or just go to bed and catch up on needed sleep! Whatever is decided, children, university students, and even some of you mature students with impending homework deadlines can take a well-deserved break.
This is probably not a popular holiday with teachers and parents! But it is a day nevertheless to say put down the books and relax. (Unless, of course, you have a big exam or paper due the next day!)
Occupational Safety and Health Professional Day
Each and every day, men and women from around the world return home from work to their families injury and illness free thanks to occupational safety, health and environmental (SH&E) professionals, who have dedicated their careers to protecting people, property and the environment.
SH&E professionals work behind the scenes identifying and eliminating potential hazards in workplaces around the world, and their efforts are often achieved with little or no fanfare.
In an effort to recognize and to celebrate the lifesaving efforts of the thousands of SH&E professionals in the U.S. today, the American Society of Safety Engineers established Occupational Safety and Health Professional (OSHP) Day in 2006 to give these unsung heroes some much deserved recognition for the difference they make in the lives of every working man and woman.
Held every year during North American Occupational Safety and Health (NAOSH, May 4th-10th, 2014) Week during the first full week of May, OSHP Day will take place this year on May 6th. On this day we encourage employers, co-workers, and the general public to say "thank you" to those who spend work around the clock making sure that every day spent on the job is a safe one.
OSHP Day was also established to raise awareness and pride in the SH&E profession, and to salute the years of education, training and practical experience and skills that it takes to be qualified to identify workplace hazards, and to develop methods of prevention of on-the-job injuries, illness and property damage. Throughout the world, the SH&E profession has earned a reputation as being one of the most challenging and rewarding careers today!