The Saturday before Mother's Day is not a holiday marked on calendars, nor is it one in which Hallmark makes a card. It is not a holiday recognized by general society. It is Birthmother's Day.
A little background information for you. Birthmother's day was actually created by birthmothers, a group of Seattle area birthmothers, in an effort not only to educate, but more importantly, to honor and remember.
This group of birthmothers decided to create Birthmother's Day. The first gathering was on the Saturday before Mother's Day 1990.
I had never heard of Birthmother's Day until the year after I placed my daughter. I was invited by the adoption agency to a gathering at a park. We had lunch; we shared our stories, poems, our tears. We lit candles and said a prayer.
I know that that first year was very hard for me. The need to be acknowledge and reassured that I had made the right choice was a very big part of my life. I believe celebrating that first Birthmother's Day was helpful for me in being acknowledged and sharing my pain and tears with others who could understand me best.
Since that time, I have not acknowledged or been acknowledged on Birthmother's Day. I had not given Birthmother's Day another thought until this year, when asked for help in preparing an article for it.
There has been debate on the celebrating of Birthmother's Day. It goes along with the debate over using the term "birthmother"; for a woman who has placed a baby for adoption.
What is really behind celebrating the day separate from Mother's Day?
In all families, every member is identified by a term, such as mother, father, sister, brother. Today, we all know more then one family with step parents, half siblings, etc. Adoption blends two families forever and like it or not there needs to be some way to determine who is who.
Let's think a little about adoption in itself. Those of us involved in the adoption community; whether we are a birthparent, adoptive parent or adoptee, we all have our opinions and feelings on how we like or do not like to be acknowledged as one of the above titles. For some of us, adoption plays a big part of who we are, what we were and what we will become. For others, it is like comparing it to the color of our hair or our shoe size, it is a very small part of our personalities.
Let me tell you a little about myself and my feelings now, eight years into an open adoption. I think about my daughter at least every other day. A big, secret part of me will always wish to be known as more then just her birthmother. If we look at the real meaning of the word "birthmother," I do not want to be known as only the woman who gave her life, I feel like I am so much more to her; I want to be so much more to her.
That is the fine line in adoption that is drawn between birthmothers and adoptive mothers. As a mother in general, how many of us would like to have to share our children with "another" mother? Or is deciding to take on such a feat inherent in one deciding to place a child and one deciding to create their family through adoption?
Here we are back to the original subject; Birthmother's Day and should or shouldn't it be celebrated? And why or why not?
My opinion is any birthmother, first mother, natural mother, WHATEVER you decide you want to be known has has the right to do what makes her feel right about her choice or lack there of. For some, Birthmother's Day can be a day to celebrate giving birth and making a choice to place and making it about the need to be acknowledged for that choice.
Some can use the day as one to educate others about adoption and what it means to them. The grief, the loss, the pain of losing the chance to mother ones child and how it affects the rest of ones life, for the better, if there is such a thing, and the worse, which we all know there is some really strong "worse" feelings involved.
I think Birthmother's Day should be more about women who have placed, acknowledging each other and supporting one another, no matter whether it was a real choice or something that was forced upon us. We should stand together as mothers who have lost a child that cannot be replaced. We should say, "Here we are, this is our pain, our sorrow and it is real." And we should hold each other and know we are not alone.
If you feel like Birthmother's Day was created as part of the adoption propaganda that takes place, MAKE A CHANGE this year. Make it about Birthmothers, it is Birthmother's Day.
Cornelia de Lange Syndrome Awareness Day
Cornelia de Lange Syndrome Awareness Day is observed the second Saturday of May each year in order to shed light on this often misdiagnosed, little-known genetic syndrome.
Since Cornelia de Lange Syndrome is unfamiliar to most people, including professionals in the medical community, Awareness Day—celebrated since 1989 is an opportunity to educate all segments of the population about the syndrome.
Each year, parents, volunteers and others request official Awareness Day proclamations from governors and local leaders; hang awareness fliers in public places; make presentations to civic groups or health workers; write their local newspapers; and much more.
Cornelia de Lange Syndrome (CdLS) is a genetic disorder present from birth, but not always diagnosed at birth. It causes a range of physical, cognitive and medical challenges and affects both genders equally. CdLS does not discriminate—it's seen in all races and ethnic backgrounds. The occurrence of CdLS is estimated to be 1 in 10,000 live births.
Learning that your child may have CdLS may be hard to hear, but by contacting the CdLS Foundation, you're taking an important step. Foundation staff is available by phone or email to offer support, connect you with other families, and provide information from medical, educational and behavioral experts.
International Migratory Bird Day
International Migratory Bird Day (IMBD) celebrates and brings attention to bird migration, one of the most important and spectacular events in the Americas. IMBD began in 1993 and is now hosted at more than 600 sites from Canada to Argentina. Environment for the Americas, with the collaboration of international sponsors and partners, fosters bird conservation education in the Western Hemisphere through International Migratory Bird Day.
Though IMBD can be celebrated any day, the official day in Canada & the United States is the second Saturday in May. In Latin America & the Caribbean it is usually celebrated the second Saturday in October. Because birds do not migrate on one single day, we encourage organizations to celebrate when it is best for their schedule and when birds are present. Prompting annual activities is one aspect of IMBD, but encouraging year-round awareness and education is the goal. Every day is Bird Day!
Migratory birds are among the most beautiful, observable, and remarkable wildlife. They are symbolic harbingers of the seasons, provide countless economical and environmental services, and are indicators of healthy habitats. Public awareness and concern are crucial components of migratory bird conservation. Citizens who are enthusiastic about birds, informed about threats, and empowered to become involved in addressing those threats, can make a tremendous contribution to maintaining healthy bird populations. One of the most successful vehicles for engaging new environmental stewards is IMBD.
Across the Americas, Bird Day events and programs provide great ways for people to get involved in learning about birds and bird conservation. IMBD is celebrated in all 50 states, Canada, Mexico, Central and South America, and the Caribbean. Programs are hosted at a variety of venues such as universities, elementary schools, zoos, botanical gardens, national parks, protected wildlife areas, libraries, and museums. IMBD can be coordinated by students, city staff, bird clubs, teachers, and you. Join the campaign to increase awareness of our shared birds!
Letter Carrier's Stamp Out Hunger Food Drive Day
The NALC will conduct its 23rd annual food drive on Saturday, May 9. Letter carriers will collect non-perishable food donations on that day as they deliver mail along their postal routes.
It is the nation's largest single-day food drive, and is held annually on the second Saturday in May in 10,000 cities and towns in all 50 states, the District of Columbia, Puerto Rico, the Virgin Islands and Guam.
With the extreme weather experienced this winter by much of the country, along with the economic struggles many Americans face, the Letter Carriers' Food Drive never has been more important.
Letter carriers are honored to be able to help people in need," NALC President Fredric Rolando said. "We see the needs in the communities we serve, and we believe it's important to help meet those needs."
Hunger affects about 49 million people around the country, including millions of children and senior citizens. And one in four households with a member currently serving in the U.S. military turns to a food bank for food assistance.
Pantry shelves filled up through winter-holiday generosity often are bare by late spring. And, with most school meal programs not available during summer months, millions of children must find alternate sources of nutrition.
On Saturday, May 9, as they deliver mail, the nation's 175,000 city letter carriers will collect donations left by residents near their mail boxes. They will be joined by retired letter carriers, by family members and friends, and by countless volunteers to help collect and distribute the sacks of non-perishable food items that get left next to generous customers' mailboxes that morning.
People are encouraged to leave a sturdy bag containing non-perishable foods such as canned soup; canned vegetables; canned meats and fish; pasta; peanut butter; rice or cereal next to their mailbox before the regular mail delivery on Saturday.
Carriers will bring the food to local food banks, pantries or shelters, including many affiliated with Feeding America, which is a national partner in the drive, as are the U.S. Postal Service, United Way Worldwide, the National Rural Letter Carriers' Association, the AFL-CIO, Valpak and Valassis.
National Babysitters Day
This coming Sunday is Mother's Day, but the Saturday before that very important day celebrates a Mom's best friend. Yes, it's National Babysitters Day–being observed on May 9th this year. It's strange to see a child grow old enough to be a babysitter, but you also want your kids to have real babysitter skills–especially if they have siblings. And you need a babysitter who's part of the family.
Babysitting is temporarily caring for a child. Babysitting can be a paid job for all ages; however, it is best known as a temporary activity for young teenage girls who are too young to be eligible for employment in the general economy. It provides autonomy from parental control, and spending money, as well as an introduction to the techniques of child care. It emerged as a social role for teenagers in the 1920s, and became especially important in suburban America in the 1950s and 1960s, when there was an abundance of small children.
The majority of time, babysitting workers tend to be in middle school, high school or college (12-) There are some adults who have in home childcare as well. The type of work for babysitting workers also varies from watching a sleeping child, changing diapers, playing games, preparing meals, to teaching the child to read or even driving (if the age is right), depending on the agreement between parents and babysitter.
In some countries various organizations produce courses for babysitters, mainly focusing on child safety and first aid appropriate for infants and children. These classes or courses can be provided at local hospitals and sometimes even schools. These classes can equip the babysitter with information to keep both the child, or children, and sitter safe in various health and weather scenarios.
National Butterscotch Brownie Day
Today is National Butterscotch Brownie Day! Butterscotch brownies, also known as "blondies," are delicious baked goodies that date back to the 19th century. Recipes for these soft, chewy bars most likely evolved from Medieval gingerbread cake recipes. In fact, butterscotch brownies were around for almost a hundred years before chocolate brownies became popular!
To make butterscotch brownies, you need flour, baking powder, salt, butter, brown sugar, vanilla extract, eggs, and butterscotch. Popular add-in ingredients include walnuts, pecans, butterscotch pieces, chocolate chips, Nutella, banana, or cranberries. You can also choose to add a topping like chocolate Irish cream frosting or drizzled caramel. Yum!
To celebrate National Butterscotch Brownie Day, make a batch of homemade blondies to share with friends and family!
National Lost Sock Memorial Day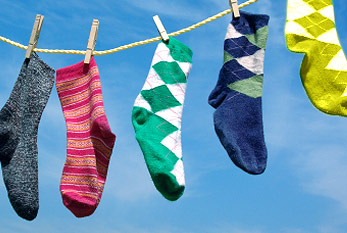 Lost Sock Memorial Day is celebrated on May 09. The problem is known to many people: a drawer full of socks and stockings, some of which no longer have a partner. The reason for the disappearance of single socks is still one of the unsolved mysteries of the world. Many devotees of Lost Sock Memorial Day suggests take the day as a chance to clean out your sock drawers and say good-bye to the wistful widows and sorrowful singles.
A sock is an item of clothing worn on the feet. The foot is among the heaviest producers of sweat in the body. Socks help to absorb this sweat and draw it to areas where air can evaporate the perspiration. In cold environments, socks decrease the risk of frostbite. Socks are manufactured in a variety of lengths.
National Miniature Golf Day
Today is National Miniature Golf Day! Did you know that miniature golf has been around since the 1800s? During this time, it was thought to be unladylike to swing a golf club above a woman's shoulder level. So in 1867, the Ladies' Putting Club of St. Andrews designed a scaled-down version that allowed women to join in the fun without creating a scandal!
Geometrically-shaped minigolf courses made of artificial materials (carpet) began to emerge during the early 20th century. The earliest documented mention of such a course is in the 8 June 1912 edition of The Illustrated London News, which introduces a minigolf course called Gofstacle.
The first standardized minigolf courses to enter commercial mass-production were the Thistle Dhu ("This'll Do") course 1916 in Pinehurst, North Carolina, and the 1927 Tom Thumb patent of Garnet Carter from Lookout Mountain, Tennessee. Thomas McCulloch Fairbairn (inventor), a golf fanatic, revolutionized the game in 1922 with his formulation of a suitable artificial green—a mixture of cottonseed hulls, sand, oil, and dye. With this discovery, miniature golf became accessible everywhere; by the late 1920s there were over 150 rooftop courses in New York City alone, and tens of thousands across the United States. This American minigolf boom of early 20th century came to an end during the economic depression in the late 1930s. Nearly all minigolf courses in the United States were closed and demolished before the end of the 1930s. A rare surviving example from this period is the Parkside Whispering Pines Miniature Golf Courselocated near Rochester, New York, and listed on the National Register of Historic Places in 2002.
The first miniature golf course in Canada was at the Maples Inn in Pointe-Claire, Quebec. The "Mapes" was constructed as a summer home in the 1890s but was renovated into a club in 1902, opened to the public in 1914, and had a miniature golf course in 1930. The popular nightspot burned in 1985.
To celebrate National Miniature Golf Day, enjoy a round or two of mini golf with some friends!
National Moscato Day
May 9th is officially National Moscato Day, established by Gallo Family Vineyards last year. Gallo has a recipe bank on their website for food and wine pairings. Let's take a look at some of them to help you celebrate.
Gooey Blondies are decadent and wonderfully paired with Moscato. The base is almost like a caramel from the melted butter and brown sugar. The blondies turned out like a combination between a cake, brownie, and cookie all in one. I changed it up a bit by substituting semi-sweet chocolate chips in place of peanut butter chips. I would probably do a combination of chocolate and peanut butter chips next time.
Bacon Wrapped Jalapeno Shrimp are an absolute hit at a party. If you don't have a grill, you can broil them in your oven. Use thinly sliced bacon or prosciutto to wrap the shrimp. Shrimp cooks really fast and you want to slightly crisp the bacon first. The flavors of the shrimp, bacon, cheese, and jalapenos work really well together. You'll have guests coming back for seconds so make plenty!
Fun facts:
The Muscat grape is one of the oldest known grape varietals.
For the third year in a row, Moscato grew faster than any other wine varietal in the U.S. with sales increasing by more than 25% in 2012.
Gallo Family Vineyards' volume growth for Moscato exceeded all other brands at its price point last year.
You'll be pleasantly surprised by the taste of this wine (peach, honey, and citrus flavors), especially with its affordable price tag of $5 and availability in Orange County from liquor to grocery stores. They have a taste profile map on their website where you can use the sliders and drag from dry to sweet and from light-bodied to full-bodied. It will pinpoint the wine of choice within their line so you can select the best one for your palette. They also have a Food & Wine Pairing Tool where you can pick your dish and spice profile. It will select the 3 wines that will pair well with your dish.