International Young Eagles Day
International Young Eagles Day is celebrated annually on the second Saturday of June.
Thousands of young people will take to the sky on Saturday, June 13, as EAA volunteers continue an outstanding aviation tradition—International Young Eagles Day. The annual event brings together children and pilots as part of the EAA Young Eagles program, the largest youth aviation education program ever created, which has flown more than 1.1 million young people free of charge since its inception in July 1992.
Each year since 1994, approximately 10,000 young people are flown on or around International Young Eagles Day. The flights are provided by volunteer EAA-member pilots in aircraft ranging from the newest airplanes to vintage biplanes. Such interesting aircraft as gliders, helicopters and even hot air balloons and blimps have also been used for Young Eagles flights.
More than 37,000 pilots have volunteered to support the program, including current program chairman Harrison Ford. The well-known actor and aviator has personally flown nearly 200 Young Eagles and is an outspoken advocate for the program.
"Aviation has provided me enjoyment and challenges," Ford said. "Flying can be a great teacher and motivator for young people. I encourage my fellow EAA members to give the gift of flight to a young person, especially on International Young Eagles Day. It is certainly an experience you'll both remember."
During International Young Eagles Day, pilots will fly young people on individual flights or as part of Young Eagles flight rallies, which often bring together hundreds of youngsters and dozens of aircraft in many communities.
The Young Eagles concept has been so successful became it's simple. A young person between the ages of eight and 17 is matched with a volunteer pilot. The pair then does a preflight "walk-around" of the aircraft, where the pilot explains the parts of the airplane and how they work. After reviewing the preflight safety checklists that pilots use prior to every flight, the pair takes off for a brief flight (typically 15-20 minutes) to experience the true sensation of flying an airplane.
After landing, the young person receives a Young Eagles certificate signed by the pilot and Harrison Ford. The new Young Eagle's name is then entered into the "World's Largest Logbook" that is on permanent display at the EAA AirVenture Museum in Oshkosh, Wis.
This year, Young Eagles are also encouraged to explore a new website—www.youngeagles.org—designed especially for them. Along with the World's Largest Logbook, the Young Eagles website is filled with interactive activities, games, aviation information and much more to support aviation interest among young people.
"Young people still have enormous curiosity about flying," Ford said. "I'm an active Young Eagles pilot because I know it makes a tremendous difference to these youngsters, not only because of what they learn during the flight, but the possibilities that are opened to them through our volunteers' efforts. That's why I urge every pilot to be a part of the Young Eagles program."
The EAA Young Eagles program is made possible through the participation of more than 80,000 pilot and ground volunteers, and also through the support of Jaguar Cars.
National Kitchen Klutzes of America Day
Are you the person who spills the milk? Are you the person who knocks the dish off the counter and breaks it? Well my accident-prone friends today is your day. On Kitchen Klutzes of America Day it's ok to be klutzey. Yep that's right! If you broke a dish today then be creative and crafty. Pick up the pieces and glue them on something and have some fun. Maybe you could make yourself a mozaick picture, frame or flower pot. Either way just know that spills and breaks don't matter at all today. We are all good at cleaning up the messes in life right? Just enjoy yourself and.... if you see someone be klutzy in the kitchen today... don't be mean by making them feel bad. Accidents happen all the time so live today on the lighter side of life
If cooking and baking just isn't your cup of tea, hold on to your apron strings. Move over, Lucy Ricardo, June 13 is National Kitchen Klutzes of America Day, a special holiday set aside for folks who should avoid the kitchen and all those fancy appliances altogether! While the origins of this "holiday" are unknown, one can only imagine who "invented" the day.
A klutz is a person who is clumsy, foolish, inept, or accident-prone. The term is perhaps derived from the Yiddish klots ('wooden beam'), cognate with the German Klotz, meaning a "block" or "lump". The British slang, pillock and the Australian slang, galah are used with similar meaning, particularly in terms of being foolish and inept.
The term klutz has largely permeated into the English language, even amongst speakers of English with no Yiddish or indeed Jewish heritage.
Now since we are talking about a kitchen klutz, this is a accident-prone person in the kitchen.
In honor of National Kitchen Klutzes of America Day, stand up and be proud and say it out loud! Know you are wonderful at so many other things - just stay out of the kitchen!
How to Celebrate National Kitchen Klutzes of America Day
Watch a few episodes of Lucy in the kitchen in the classic television series, I Love Lucy.
Sign up and take a few (or more) cooking classes.
If you can afford it, hire a chef to come to your home and whip up a fabulous meal!
Send a free e-card greeting to someone who matches the above description.
National Weed Your Garden Day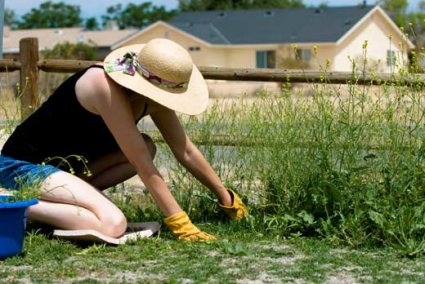 National Weed Your Garden Day is celebrated annually on June 13. This day is set aside for all gardeners to take an extra 5 or 10 minutes while weeding their gardens today.
One of the best gardening tips is to stay in control of your garden. Weeds grow fast, very fast and can soon become overwhelming. If you stay on top of them, it is much easier to maintain your garden. Weeding 5 or 10 minutes each day will make the job seem bearable and maybe even a little bit enjoyable and you will be in control and the weeds will not!!
Excessive and unwanted weeds will crowd out plant roots and steal the nutrients that are needed for the plants to grow nice and healthy.
Helpful tips on reducing weeds in your garden:
Cover the soil along rows and between plants with mulch.
Make sure to keep all weeds away from young plants.
It is okay to plant your plants closely together to leave less room for weed growth.
Have soil weed-free before planting.
Make sure you do not let any of the weeds flower out.
Keep the edges of your yard mowed low to lessen the invasion of weeds onto your property and into your garden.
Enjoy your gardening, your weeding and your fresh produce and Happy National Weed Your Garden Day!


Sewing Machine Day
Today is Sewing Machine Day! Thomas Saint patented the first sewing machine in 1790. Since then, the sewing machine has become one of the iconic symbols of the Industrial Revolution, representing the transition from traditional handmade goods to automated production.
For many decades the sewing machine was a standard household appliance, but it is no longer considered a domestic necessity. Although the heyday of the sewing machine has come and gone, we can still recognize its significance in our history. Without this important invention, the process of making clothing (and any sewn item) would be extremely tedious. Each article would have to be sewn by hand, stitch by stitch!
To celebrate Sewing Machine Day, dig out your sewing machine and start a new project, or sign up for a sewing class to learn this important handcraft!
World Gin Day
World Gin Day is celebrated on the second Saturday of June every year. The day is a celebration to give us a legitimate excuse to mix up and enjoy a cocktail or learn about all of the exceptional gin that is on the market. The day is to encourage people, especially Gin lovers to get into the fun activities and also joint in events of the day.
World Gin Day was founded by Neil Houston in 2009. On this day, he just meant to start off a day to bring his friends together and drink gin. Later, this day has grown into a global celebration when people join and enjoy gin together followed by many activities and events.
Things have calmed down a bit, with fewer new releases popping up on our website than in recent years. The focus over the past 12 months has been on small producers making their own gin, rather than the previously more common approach of taking a recipe to a large producer and having them make it. As more gin fans have realized that licensing a still isn't particularly difficult, they've been investing their savings and new distilleries have been popping up around the UK. However, it doesn't stop there, with the big names coming up with tweaks to their gins and reviving historical recipes, as well as crazy ideas from all over the place.
Worldwide Knit in Public Day
Worldwide Knit in Public Day was started in 2005 by Danielle Landes and takes place on the second Saturday of June each year. It began as a way for knitters to come together and enjoy each other's company.
Knit in Public Day is unique, in that it's the largest knitter run event in the world. Each local event is put together by a volunteer or a group of volunteers. They each organize an event because they want to, not because they have to. They bring their own fresh ideas into planning where the event should be held, and what people would like to do.
In the past some people have used this event as a means to show the general public that 'not only grannies knit!'. Knit in Public Day is really about showing the general public that knitting can be a community activity in a very distinct way. In some places there are many different knitting groups that never interact with each other, on Knit in Public Day they come together in one place, making them hard to miss.
2005 there were about 25 local events around the world. In 2006 there were about 70 local events. 2007 there were almost 200.
Over the years there have been local events in Australia, China, England, Finland, France, Ireland, Norway, South Africa, Sweden, United States, Germany… and so many more countries.