Garfield The Cat Day is celebrated annually on 19th June. The day is set aside to honour all things related to the ginger feline. Garfield was famously created by cartoonist Jim Davis and appeared in a cartoon strip on 19th June 1978. Garfield's owner: Jon Arbuckle and his dog friend; Odie, also appear in the cartoon strip.
The world renowned comic strip featuring Garfield is set in Muncie, Indiana. Topical subjects focused on are: obsessive eating, love for consuming lasagna and a distaste of Mondays. Davis took the human faculties, that we do not like discussing and anthropomorphised them in our ginger friend.
When celebrating Garfield the Cat day why not dress up as the cat himself? Organize a dress-up day at work where everybody has to come as a character from the well-known comic strip. You could donate money raised to a local charity and make it a real event! Alternatively, you could set up a local competition whereby youngsters test out their artistic skills by drawing a three frame cartoon strip based on Garfield.
Juneteenth
Juneteenth is the day of celebration in America which commemorates the setting free of slaves and the abolishment of slavery in the U S state of Texas on June 19, 1965. The day is also called the Emancipation Day or Freedom Day and is celebrated on the nineteenth of June or the whole week around the day. Juneteenth is a portmanteau of June Nineteenth formed by joining the two words. This holiday honors the African American heritage and commemorates the African American freedom and it is a day of reflecting the past and a day of renewal in to a new and kinder human race.
On September 22 1862, during the civil war, the president of United States, Abraham Lincoln issued an Emancipation Proclamation that declared the freedom of all slaves in the confederate state of America by the first of January 1963. But this proclamation had minimal or no effect on the practice of slavery in the state of Texas and the lives of the slaves remained the same. The proclamation did not have effect on the slaves of Texas because of minimum number of Union troupes in the state to enforce the new order.
The civil War ended on April 9th 1965 and two months later on June 19th Union General Gordon Granger landed at Galveston in Texas with the news that the war had ended two months earlier and the slaves were free. General Ganger's Order number 3 which declared the freeing of all the slaves from then on, was accepted with immediate jubilation and celebration. This order freed the bondage of the remaining 250,000 slaves in the state.
The Juneteenth became the official holiday of Texas in the year 1980 and later on the observation spread to many other states in America and even some other countries.
Juneteenth has been declared the official holiday of Texas but it is only a partial staffing holiday and the state offices do not close on the day. Thirteen other states also list it as an official holiday but the Lone Star State remains the only state granting it as a full state holiday, a day when government employees have the day off.
Juneteenth festival has been observed either as a day or week long celebration of the African American history and culture. The day's celebration is opened with a prayer or religious ceremony and includes a reading from the Emancipation Proclamation. Food and barbecue dinner are a specialty of the day and music and dance heightens the joyous celebration. Many events and competitions are hosted on the day and parades and rodeos are also conducted to mark the celebration. Baseball games, Miss Juneteenth contest, picnics, family gathering, barbecue cookouts, and parties are organized on the day which provides a chance for the African Americans community members to get together and enjoy the day.
Seminars and classes are conducted around the week or during the full month of June to discuss and educate about the condition prevailing in the country a century ago and the outlook of the people today. Government organizations and libraries create displays to honor the African American history. Many programs and competitions are conducted in the schools that educate the younger generation about the day.
The Juneteenth festival is a way to connect to the African American history and slavery. It is a time for reflection and also a time to recognize, encourage and respect different culture and different people.
Juneteenth festival is celebrated to commemorate the freedom of thousands of people from the hard and tiring life as a slave; it is a day to observe the African American freedom from the evil hands of slavery. This day gives us an opportunity to reflect, honor and pay respect to the suffering of the African slaves.
It is a day to honor the hardship, torture and suffering of the innocent slaves and a time for assessment, self improvement and planning for the future where this dark and cruel slavery or discrimination would never be repeated. The motive of the Juneteenth festival is to endorse family bonding and cultural awareness among the African American community. It is a day to acknowledge the 200 years of slavery and humiliation faced by the African Americans. On this day we can take at least one step towards oneness among the fellow human being; oneness irrespective of race, religion, sex or nationality.
National Flip Flop Day
National Flip Flop Day will be taking place Every year on the third Friday in June, so it's time to get those toes exposed and start enjoying summer!
The day is organised by Tropical Smoothie Cafe, a franchise in the USA that wants us to ditch our shoes and socks and get our flip flops on!
Now in its ninth year this annual extravaganza marks the start of summer, and customers who appear in one of the 300 stores between 2.00pm and 7.00pm in their flip flops get a free smoothie!
There is a serious side to the campaign though. The company makes a donation for every customer that wears flip flops to Camp Sunshine. This special camp was created in 1984 for children and their families who are dealing with life threatening illnesses like cancer, kidney diseases and lupus.
All sorts of support is available at the camp for both children and parents, and with the help of National Flip Flop Day they can continue doing their good work.
National Martini Day
National Martini Day takes place on June 19. The martini is a cocktail made with gin and vermouth, and garnished with an olive or a lemon twist. Over the years, the martini has become one of the best-known mixed alcoholic beverages. H. L. Mencken called the martini "the only American invention as perfect as the sonnet" and E. B. White called it "the elixir of quietude".
The traditional method of preparation is to pour gin and dry vermouth into a mixing glass with ice cubes, stir, strain into chilled cocktail glass, and garnish with a green olive or a twist of lemon peel. The ratio of gin to vermouth has been steadily increasing since the cocktail was created. During the latter part of the 20th century, 6:1, 8:1, 12:1, or even 50:1 or 100:1 martinis became considered the norm.
You need to prepare a martini? No problem, here is what you need to do to serve a straight Martini: Pour all ingredients (55ml gin and 15ml dry vermouth) into a mixing glass with ice cubes. Stir well. Strain in chilled martini cocktail glass. Squeeze oil from lemon peel onto the drink, or garnish with olive. To serve it on the rocks: Pour all ingredients over ice cubes in old-fashioned glass and garnish as above.
Ugliest Dog Day
If you don't believe beauty is truly in the eye of the beholder, this 'howliday' may give you 'paws.' As far as special days are concerned, June 20th is going to the dogs – literally!
Ugliest Dog Day not only is it Take Your Dog to Work Day, but June 19th also celebrates doggone ugly and the uglier the better! It's Ugliest Dog Day! Each year, a special day recognizes and celebrates mutts of all shapes and sizes. Whether big, small, thin or chunky, long-haired, short-haired or no hair at all, every dog deserves its day regardless of what he or she looks like, right?
The Annual World's Ugliest Dog Contest and Dog Lover's Festival
The World's Ugliest Dog Contest, held at the Sonoma-Marin Fairgrounds in California, sees all kinds of pedigree pooches, mixed mutts and everything in-between as they strut their stuff down the doggy red carpet. And if you think the contest is another walk in the park, think again! The competition for the Top Dog prize is pretty "ruff."
With the face only a mother could love, last year's winner, Yoda, passed away in March at the age of 15. Watch Yoda's winning 'feet' in the video on the left of the page. Just remember - dogs do go to Heaven regardless of their appearance!
Adopt an Animal In Need and Save a Life - Besides being entertaining, the competition has a serious message. The event also raises awareness about the plight of homeless, abandoned, neglected and abused dogs and encourages animal adoption. Due to high unemployment and a slow economy, many shelters have seen an increase in pet population. And through no fault of their own, many of these beautiful dogs never make it out alive.
If you have been considering adding a four-legged member to your family, please consider adopting a cat or a dog from your local shelter - before it's too late.
Work@Home Father's Day
National Work@Home Father's Day. Held each year on the Friday before Father's Day, it is the one day set aside to honor and celebrate those working fathers who have elected to work from home - either as home-based entrepreneurs or teleworkers - as a means to improve family interaction, professional satisfaction - and balance between the two.

Celebrate the CEO at your house. That's the "chief home officer," anyone who works at home. National Work@Home Father's Day is dedicated to fathers who have elected to work at home by telecommuting or fulfilling their dream of entrepreneurship. Fathers who work at home have more time to spend with their family, thanks to a zero-mile commute and a flexible work schedule. There will be no more missed milestones and you can have lunch with your young children.
Dads, consider working from home and say goodbye to the cubicle and a surly boss.
"Experience the joy of answering to another set of bosses. Sure they don't wear ties or hose, but they can be just as dictatorial -- and cry even louder when they don't get their way," according to the Chief Home Officer.
World Sauntering Day
What is Sauntering?
In layman's language, saunter means "leisurely walk or stroll."
But it is not a simple jog, walk, run or trot.
Sauntering is a kind of strolling.
It is a very stylish and casual of movement which leads anyone from one place to the other.
The dictionary meaning of sauntering is taking a stroll slothfully and pointlessly but enjoying it.
World Sauntering Day is celebrated on the 19th of June each year. The purpose is to remind us to take it easy, smell the roses, and enjoy life as opposed to rushing through it. It is also sometimes referred to as International Sauntering Day.

The exact year of its origin is unclear, but it is credited to have begun at Grand Hotel (Mackinac Island) in Michigan during the 1970s. A response by W. T. Rabe to a growing movement toward the recreation of jogging. The idea was to encourage people to slow down and appreciate the world around them.

Sauntering is a verb to describe a style of walking; it is not a sashay, prance, trot, or lollygag. Simply it is to walk slowly preferably with a joyful disposition. Sauntering has been spoken of most notably by many of the naturalist writers in history including Henry David Thoreau and John Burroughs.
History
World Sauntering Day got its origin in the year 1979 by W. T. Rabe a one-time publicist in Detroit, a director of public relations at Lake Superior State University and a manager at the Grand Hotel in Mackinac Island of Michigan
W. T. Rabe was the creator of a publicity stunt basically to encourage visitors and residents of the island to saunter, and to enjoy the beauty around them.
W. T. Rabe started it as a doze against jogging for which people went crazy then, and surprisingly the people who first sauntered on this day which later was declared as a holiday on the hotel's 660-foot front porch.
In fact not only in Michigan but in many other countries it has also been declared as a holiday, though might be an unofficial one.
This date also has its mark in the history of United States where June 19 is celebrated as Juneteenth day which symbolizes the end of slavery.
The reason behind it being that on 19th June in the year 1865 soldiers of the Union that was headed by Major General Gordon Granger, arrived at Galveston in Texas and That was really a great news as from then all the slaves were set free.
In honor to mark this freedom it came to be celebrated as the freedom day or rather the Juneteenth Day.
Also in China it is marked as the Dragon Boat Festival, also called as Fifth Month Festival or Summer Festival.
Similarly, Garfield, the famous lovely, cute cat Garfield created by Jim Davis celebrates his birthday on the same day.
Lou Gehrig the famous baseball player who died in the year 1941 also celebrates his birthday on 19th of June 1903.
Also in some places World Sauntering Day is celebrated on the 28th of August but the official date will always be June 19th.
How can the Day be Celebrated? There is no restriction as such on World Sauntering Day to move around or rather saunter. Anyone can do it men women even children of all ages or groups. In fact it is one day when every one has a chance to roam, rove and ruminate; all what pleases them.
Positive hues of the Day Celebration:
Well then if one is celebrating World Sauntering Day then he/she does not need to justify or give any reason as such as to why he/she is celebrating this day because it is legal to do so and no one can point it out.
So, life is often more enjoyable when one takes out time to saunter through it.
One will always love it even more if he/she saunter's along with friends and family.
So, it is better if one makes it a day that reminds him/her to spend time with friends and family and let the thoughts and views feel free to be shared with all.
This is a fast paced world where nobody has time for none .Everyone is busy sitting in front of their computers aiming to catch up with the rest who are already ahead.
So, I n this busy world when one is getting a day to actually celebrate in a manner where not only oneself but everybody around can be happy and make the others happy and show care with concern actually by simply enjoying a bit by sauntering then one should grab it immediately.
World Sickle Cell Day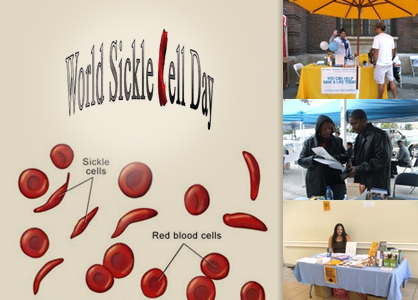 Sickle Cell Disease (SCD) is a serious condition that affects people all over the world; the complications that arise from it are usually fatal. Sickle cell disease is a set of red blood cell disorders that are mostly inherited. In sickle cell disease the red blood cells become tough and sticky and resemble 'sickles.' The infected cells perish early which leads to a constant depletion of red blood cells in the blood. Further as the blood moves through blood vessels, these infected cells get stuck to the walls and obstruct the blood flow which leads to more complications. With good medical care people with sickle cell disease can live into adulthood but with a decreased life expectancy.
sickle cell disease is common among the African, Asian nations and amongst people who do not have access to proper medical supervision and care. In the United States mainly the African-Americans are affected, with every one in 500 African-American child being affected with the disease. In Africa nearly 2% of newborns are affected with sickle cell disease. In the United Kingdom more than 200 newborns are infected with sickle cell disease. In the Middle East more than 6000 babies are born annually with sickle cell disease.
World Sickle Cell Day. In the year 2008, the General Assembly of the United Nations adopted a resolution which determines sickle cell disease as a public health problem and one of the world's foremost genetic disease, requiring heightened awareness and activism, diagnosis and management. The result of the resolution was that June 19th was declared as World Sickle Cell to increase awareness of the condition all over the world.
The World Health Organization (WHO) has started work on a war footing to promote a world wide agenda to address hemoglobin dysfunctions.
WHO has made a commitment to:
Recognize that sickle cell disease is a major health issue.
Increase awareness of the world community regarding sickle cell disease.
Eliminate harmful and wrong prejudices associated with sickle cell disease.
Urges member countries where sickle cell disease is a public health problem to establish health programs at the national level and operate specialized centers for sickle cell disease and facilitate access to treatment.
Promote satisfactory access to medical services to people affected with sickle cell disease.
Provide technical support to all countries to prevent and manage sickle cell disease.
Promote and help research to improve the lives of people affected with sickle cell disease.
The World Sickle Cell Day is celebrated across the globe with special emphasis in African Nations and Asia. The celebrations include a press, media campaigns, music shows, cultural activities, and talk shows.
Since no known cure exists for sickle cell disease, the main goal is to prevent further complications due to sickle cell disease. The main emphasis is hence on educating medical professionals, care givers, and associated personnel about prevention, research, and resources to minimize the complications due to sickle cell disease. Hence June 19th is devoted mainly to spread awareness, through talks, seminars, pamphlets, literature and consultations.